When I first started learning Arabic it was one word here and there. Today I can speak Moroccan Arabic; at least enough to get by but it took years of listening, repeating and making mistakes – and I still make a LOT of mistakes today. Learning Arabic for beginners is no easy task. If you're a native English speaker than count Arabic as one of the most difficult languages to learn, but that doesn't mean it's impossible!
Technology has made it easier than ever to pick up a new language. Whether you're thinking of moving to Morocco or another Arabic-speaking country to visit or to live you can learn before you go. Armed with just a pair of headphones, a smart phone and a subscription to Rosetta Stone you can begin your Arabic journey.
Before I suggested this route to you I tested out the program to see how well it would work.
I think that using this program will help give you a decent foundation in 5 key areas;
There are a wide variety of topics covered so you can get a solid base.
Having an audio guide is really helpful. Reading in Arabic (even when the words are transliterized) can be painful. You have no clue how it's supposed to sound so you then can't be sure if you're pronouncing things correctly.
You will begin to get used to seeing Arabic script.
It's easy to do a lesson here or there when you have 5 or 10 minutes, stop and pick it back up.
While I don't think using this will get you to the point of having in-depth conversations you will learn enough to make short requests, make small talk, and possibly more importantly, your ear will be used to hearing Arabic so you can understand better when spoken to.
This isn't just a word to word program. The lessons and vocabulary are a combination of singular terms paired with verbs, pronouns and additional vocabulary. This gets you to not only learning a wide variety of Arabic words but how to combine them.
This is an example of an exercise (on food). One or two images are shown with the word repeated twice, and then for the third placement you choose from three pop up images which is correct.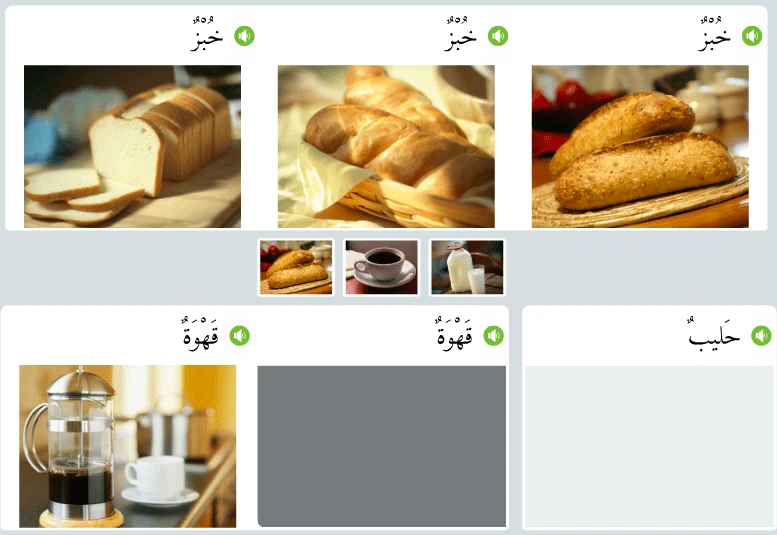 The lessons provide a verbal and written versions of the text. However if you have no familiarity with the Arabic alphabet chances are the written text won't be much help until you progress through some of the lessons and can pick up on similarities.
There's both an app for your smartphone and you can access via your computer or tablet. This is an online Arabic course so you will need an internet connection. This also tracks your progress so you can go back where you left off.
The lessons in the Arabic program include the following;
Language Basics*
Greetings and Introductions*
Work and School
Shopping*
Travel*
Past and Future
Friends and Social Life
Dining and Vacation*
Home and Health
Life and World
Everyday Things
Places and Events
If you're short on time, I've starred the lessons I think would be most important if you're just visiting an Arabic speaking country. That being said I noticed the lessons did build on each other so if you for example skip to lesson 8 you might be lost as the vocabulary may not be familiar.
For each of the lessons there are chances to hear what is being said and then matching, word replacement and oral repetition exercises. I especially appreciated the repetition exercises as pronunciation is something I always struggle with. It helped me see even when I thought I was saying things correctly, I wasn't.
You also can turn off the spoken part of the program if you're using it in a space that you can't talk out loud.
Example: In this exercise the text is spoken and you are asked to pair it with the correct picture.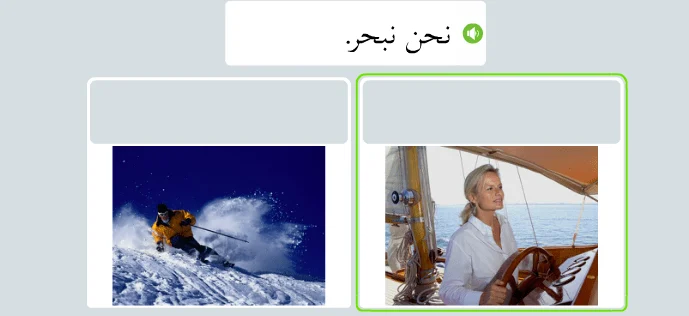 Using this Program and Speaking Moroccan Arabic
This program is MSA Arabic – it's the standard version spoken in the Middle East and what's taught in schools. This is not the dialect spoken in Morocco. BUT, that doesn't mean it's useless. For much of the basic vocabulary the suffix – toon or -oon is added to the end of a word. In Morocco if you drop that suffix the word IS the word that is used. So for example the word haleeboon is taught in the course. In Morocco you would just say haleb and it would mean the same thing (milk).
If you use the MSA word people in Morocco will understand you however you may not understand them as well. While some vocabulary is certainly different if you pay close attention you will learn things like pronouns and verbs that remain mostly consistent in Moroccan Arabic. There are of course some differences but for a short stay or for starting out in the language you won't face too many issues. As you get more exposure to the languages you will be able to see the differences yourself and adjust.
A secondary option might be to consider the French program if this all sounds a bit overwhelming!
If I speak no Arabic will I be able to speak some Arabic after using this?
The answer to that question depends on how much effort you put into the program and how actively you practice. This program will help give you a foundation for Arabic but as I stated earlier I don't think on completion you'll be having in-depth conversations. I think this is a solid beginning course. It will give you confidence and a good baseline in the Arabic language to expand on. You'll get familiar with a lot of vocabulary and also how phrases and sentences are constructed.
Who is this course NOT for?
If you want to only learn a dialect like Moroccan Arabic or Egyptian Arabic than this course will likely not help you much.
If you want to learn the step by step of how to write and read Arabic than this is not the right course for you.
If you are looking for a more advanced course (you already have basic Arabic knowledge) than this course likely isn't the right fit for you.
Who should try this course?
You want to learn some beginning Arabic phrases to either live or travel in an Arabic speaking country.
You want to go from knowing a few vocabulary words to understanding more about how to put words together in phrases and sentences.
You speak or learned an Arabic dialect but want to learn classical Arabic.
You know some vocabulary in a specific area (like food or numbers) but you want to expand that knowledge.
You have no knowledge of Arabic but are interested in learning for conversational purposes.
Overall I don't think this course will meet all the needs of someone who is going from 0 Arabic to fluency but I do think it's a good start for someone who has no knowledge or basic knowledge to begin growing their skills and learn enough to get around in an Arabic speaking country.
You can purchase subscriptions of 3 month, 6 month, 12 month or 24 month lengths. Getting the 12 month sub will get you a good deal – it's 50% off (as of January 2019) Save on Rosetta Stone 12-Month Subscription