Living in a city that gets more than double the number of tourists as residents yearly, there's a big industry that caters to tourists. The number one question I get is where to eat in Marrakech.
It makes sense.
Whenever we're out we see hundreds of them walking, eating, and enjoying the city. But, sometimes – ok lots of times – we cringe when we see what they're eating. This post isn't meant to say scare people – don't be afraid – consider it a little bit of help.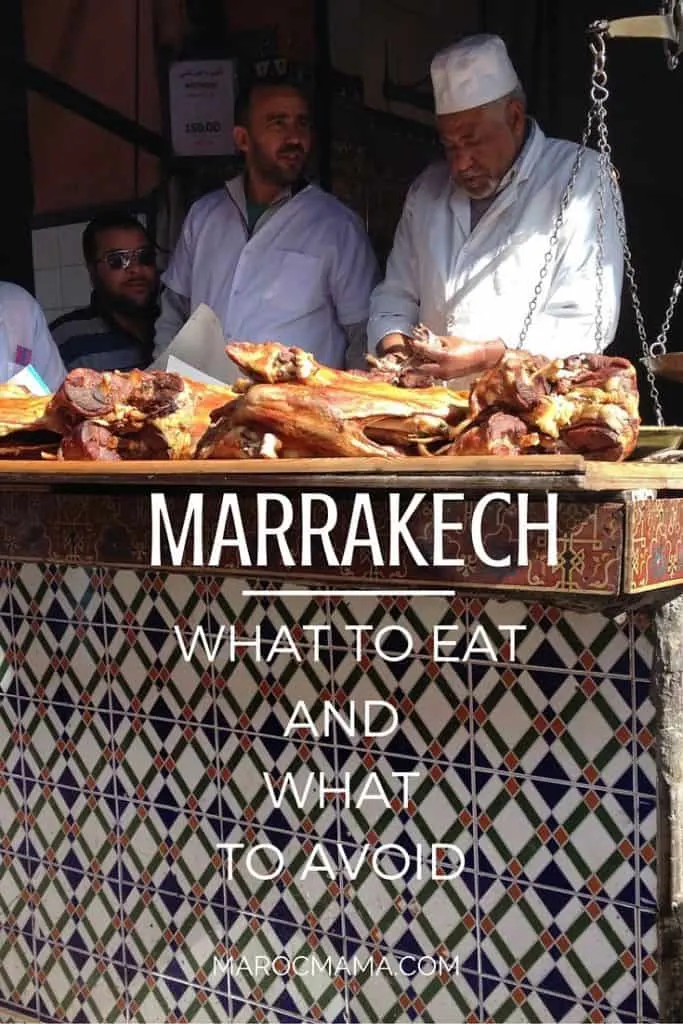 But after saying too many times in my head "oh, you really don't want to eat that," I knew we had to do something! So here's what to eat, and how to plan a culinary travel adventure when you visit Marrakech.
People walk away from Morocco and think one of two things about the food.
If they're like my dad they say, "no way, I never want to see another tajine in my life."
If they're like my mom they say, "when's the next meal ready?"
Besides palates what makes the difference? My dad came here fifteen years ago and we took a pre-arranged tour. We ate chicken and potato tajine almost daily for 10 days – and it wasn't even that good.
My mom? When she comes we eat meals at home and in some of our favorite restaurants for the entire stay. Needless to say they both have very different opinions of the food in Morocco based on the circumstances surrounding their visit. Keep in mind many of the best restaurants in Marrakech, aren't what you might think of as "restaurants."
So, let's get the negatives out of the way first.
What to avoid eating in Marrakech
Do not buy cookies from carts in Djem al Fna. They might look good but the quality isn't the same the ingredients, well who knows. Instead stick to patisseries. Patisserie Prince just off the square has really good cookies and pastries plus a nice interior sitting area to enjoy a treat without being hassled.
Likewise most of restaurants in the immediate square area are not that good. They're not dangerous to eat but they don't have the same care and attention paid. Opt for a pizza or other non-traditional Moroccan food or risk being disappointed with your meal.
Be careful eating at the food stalls in Djem al Fna. Almost every single article I read about food in Marrakech touts the open air food stalls in the square. But, there are only a few that you'll see Moroccans eating at. Look for the ones that have many Moroccan families eating. If all you see is tourists, keep your distance. We realize many people want to have this experience and so we've been researching the best stalls – see below.
Street food vendors selling fried fish. Marrakech is land locked so it takes some effort to get seafood here. Fried fish, french fries, and other fried treats are sold in street vendor stalls. I would encourage you to avoid all fried fish that you didn't see how it started (freshness). Any fried foods you're buying make sure to check the oil first. Just a peek is all you need, and it's usually in plain view. If it looks dark colored or that it's been in use for awhile- keep walking.
Ground beef can be iffy. Make sure any that you eat is cooked well – no rare or medium rare meat is advised.
Just because it's expensive or fancy doesn't make it good. There's some really amazing high class food here, and there's some really pretentious places that have mediocre food. Don't take a high price as equating high quality.
If you're lucky, then you are coming to visit friends who will hook you up with some amazing eats. If you're not, I'm going to share where we like to eat in hopes that you'll enjoy it too.
(Psst, traveling with kids – you might want to read this post too on Moroccan foods most kids love!)
What to Eat in Marrakech
Breakfast in Marrakech
Le Warner; Avenue Yacoub El Marini, Residence Al Andalous IV, N9A
We rarely go out for breakfast, not because I don't like to but because typically it's either something quick at home or eaten past the traditional breakfast hour. But, when we do go out we love this place. Spoiler alert it's not traditional Moroccan breakfast. If you're looking for breakfast in Marrakech consider visiting.
This restaurant has a 1950's American dinner theme but the food is a mix of American and European flair. They do serve food all day but we love their breakfast. Pancakes, waffles, eggs and HUGE breakfast plates are a few of the things on the menu. It's one of our kid's favorite places too.
Snack Othman; Boulevard Moulay Rachid, near Winoo – Gueliz
Expect big crowds nearly every morning for breakfast but if you come early your chances of grabbing one of the handful of seats are better. The menu here is really simple. You can order the beldi breakfast which is fresh batbout bread with the above condiments; honey, olive oil, argan oil, honey, and amalou as well as olives. You also can get khlii with eggs. Khlii is Morocco's famous dried meat that's packed in fat and then melted down along with fresh eggs. It's something you should try! To drink choose from Moroccan tea of a Moroccan smoothie with your choice of seasonal fruit.
Cafe 16 Place du 16 Novembre; Gueleiz
Located in the Marrakech Plaza, between Djem al Fna and Gueleiz is Cafe 16. I like this cafe because it offers simple foods that lack quality elsewhere. My favorite items are their salads that remind me of salad in the United States. Plenty of lettuce and toppings plus good dressings. The menu changes seasonally. They are open for breakfast, lunch, and dinner. The price is a little more than you'd pay in a neighborhood cafe but you can enjoy a filling lunch for 100 dirham or less.
Places to eat in Marrakech for lunch and dinner
This is the biggest meal of the day. Anytime between roughly 12 and 3pm people take lunch. Dinner is served later, much later. It could be anywhere from 7pm – 11pm. There's usually a "coffee break" (goute) in between. So, where do we go?
Bejghueni; 65, Rue Mohamed El Bekal | Gueliz
This is one of our favorite places to take guests that are visiting. The restaurants on this street almost all serve a variety of grilled meats along with sides and starters. Some have a more Middle Eastern feel than Moroccan. But, overall they're packed full of Moroccans with few tourists in site.
You pick and choose what you want. Feel free to add more as you go. You can also get specialties like grilled sheep liver and heart which may not be for everyone but they do it well. I love their lamb and chicken kebabs, stewed white beans, and tomato salad.
View this post on Instagram
Naranj, Riad Zitoun Jdid, Medina
This is one of my go to restaurants where I know I am guaranteed to have a great meal. There are a lot of options whether you eat meat or you're a vegetarian. The menu is Lebanese/Syrian inspired and you won't find a tajine in sight. If you want to come for dinner, make sure to have reservations. Lunch is usually easier to find a table.
The Food Stalls in Djem al Fna
When people ask me where to eat in the square I tend to balk. But I know it's a huge draw, an exciting atmosphere and something to experience. Recently the government has installed handwashing stations, water stations for vendors and standard stalls and seating. I still stand by my opinion that there is better food to be found elsewhere.
However, if you really want to have the experience stick with grilled foods – don't go for tajine or couscous here.
Le Trou au Mur – Derb Fernatchi – Medina
It's very rare that I find any restaurants that really surprise me. But, the first time we ate here I was honestly very impressed. You will find several classic Moroccan dishes on the menu here that you'll never find in another restaurant. There are also a few international dishes in case you're tired of Moroccan.
But, what I can say is that the flavors of real Moroccan cuisine are spot on in what they serve. I appreciate the subtle changes to appeal slightly more to a western palate (mostly including more textures in the dishes), while still remaining true to Moroccan flavors and traditions.
Ksar Essaoussan, 3 rue Essaoussan, Medina
We agree that some of the best food in the city is well hidden. It can be hard to find especially if you're not sure what you're looking for. Last month we were invited to dinner at Ksar Essaoussan by some friends. The restaurant is so well hidden they have a man in a red cloak waiting at the nearest big street to help you find your way.
It's in a renovated riad that serves only as a restaurant – no on-site accommodations. Reservations should be made, but what you'll find is a really great (dinner) meal of traditional Moroccan food for a very reasonable price. Their small menu, which is more than enough, comes in around $35 per person for all courses and drinks. (2023 update – I've gotten some mixed reviews on this restaurant lately so I will be checking it out again soon)
Amal Women's Training Center and Restaurant, rue Allal ben Ahmed, Gueleiz
I've said it before and I'll say it again. One of the best lunches to be had in the city is at the Amal Center. The quality is always reliable, and the cause couldn't be better. Come for couscous on Friday but come early or make reservations because it's increasingly popular not only with tourists but locals too. Their menu changes daily but there's always options for vegetarians and always a mixture of authentic Moroccan and international food. Be sure to linger over a pot of tea and cookies.
Cafe Clock, Derb Chatouka, Kasbah
Cafe Clock, of Fez fame, has opened a new restaurant in Marrakech. The location is in the Kasbah – MarocBaba's "home neighborhood" and we enjoy stopping in for the food as much as the memories. This restaurant is as much a cultural center as it is about the food. Thursday evenings play host to amateur storytellers who share the stories of Marrakech's famed Djem al Fna storytellers BUT in English. Concerts, art displays, yoga classes, cooking classes – you name it and it's probably happening here. They're famous for their camel burger (yes real camel meat) but the menu really does offer something for everyone.
MarocBaba and I also offer walking food tours of even more great places! We have several different types of tours though our most popular is our evening Marrakech street food tour. Our goal is to provide visitors with the opportunity to taste the real food of Marrakech, the kind that you would experience in someone's home and not just the tourist version of Moroccan food. We have nightly tours available and it's conducted in English. You can find out more and book your tour by visiting our website
Marrakech Food Tours
.
Can't take a tour or want more help planning a food lovers trip to Marrakech?
I've put together a guide that has over 50 of the best restaurants in Marrakech, insights on what to order and what you'll find on menus and so much more. This PDF guide will help you take the guesswork out of dining and stop relying on TripAdvisor restaurant reviews to make your best guess on where to eat.
You'll also find inside a 10-page gluten-free guide for Marrakech as well.
Grab your PDF copy of the complete guide to eating in Marrakech before you go.