Transferring through Heathrow can be a thing of pleasure or pain for travelers. While some dislike the largeness and congestion of the airport others find it interesting and fun. Whether you have four hours or 24 hours there's plenty to do in London and around Heathrow to make the most of your time.
What to do on a Layover in Heathrow
Maybe your layover isn't quite long enough that you're sure adventuring out into the city is for you at this point. Or, maybe you have a passport that makes going through immigration a little more involved. There's plenty to do inside of Heathrow airport while you wait.
In Terminal 5, check out the T5 art and sculpture gallery. Need a little relaxation before the next leg of your journey? Take advantage of spas such as Be Relax in Terminal 5B or The Travel Spa situated in the No1 Lounge and get a leisurely facial, massage or manicure.
If you'd rather just pull up your heels and relax check out one of the lounges at Heathrow. Priority Pass gives you access to 1000+ airport lounges worldwide including several here. You get all the same perks as any other lounge member including food, drinks, free WIFI, showers and more depending on the location and lounge.
T5 has been awarded the best airport terminal in the world for good reason! There are things to do in all of the other terminals but you'll find the best options here.
Where to Shop in Heathrow
If you're a reader than check out one of the many WH Smith shops in the airport to pick up the latest best seller or a classic to read while you wait or on your flight.
London Heathrow is a stellar shopping destination with including luxury brands like Burberry, Cartier, Chanel, Tiffanys & Co and many others present. Whether you can afford to purchase something or not, window-shopping is an easy way to pass the time.
Harrods and glorious Britain are two great options when you want to pick up some souvenirs.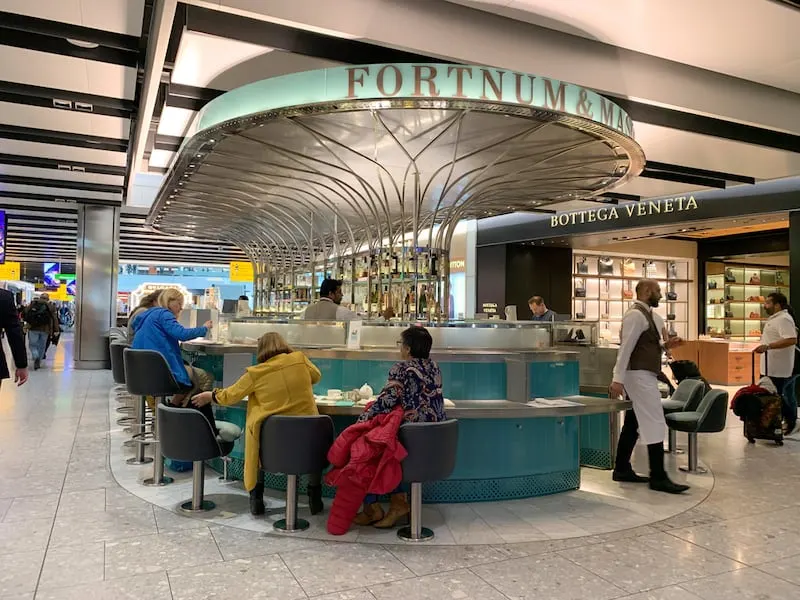 Where to Eat in Heathrow Airport
The food at London Heathrow reflects the cuisine that area is known for, including a restaurant by Gordon Ramsey and British Pubs. Gordon Ramsay Plane Food offers a range of dishes from chicken wings to braised lamb. If you have a long flight and aren't a fan of plane food (but seriously who is?) you can purchase a three course Plane Picnic for £14.00.
The Crown Rivers Bar & Food is an English pub featuring more than a dozen beers on tap, a full dinner and breakfast menu and takeaway meals. For a quick snack, check out Pret a Manger or Giraffe featuring sandwiches, smoothies, croissants, coffee and other quick meals. You can try a salad, sandwich, burger or some pub classics like lamb shank, scampi or the pie of the day.
If you're traveling with babies and toddlers, you can order in advance items like formula, milk, baby food pouches and snacks and pick them up before you board your flight. Planning in advance will help you take advantage of time during your layover to explore Heathrow airport or London itself.
There are also a wide variety of restaurants where you can grab a bite to eat. Check out the complete list here.
Pop into Boots if you just want a sandwich, chips and drink to take away for the most economical option.
If you or a member of your family has special dietary considerations, restaurants offering kosher, gluten-free, wheat-free, vegetarian, vegan, allergen aware, halal and dairy-free meals are categorized for your convenience.
Where to Relax in Heathrow
London Heathrow may be the best airport to relax in. If you would like a shower and a quick nap, there are sleep pods available for rent at Yotel in terminal 4. They range in size to fit up to 5 people and can be reserved before hand.
Spa
For the most relaxing, refreshing and rejuvenating experience available in an airport, head over to the Heathrow spa located off Terminal five in the Sofitel hotel. At the spa you can choose from over 25 treatments available or find a package deal that meets your needs. You can have a complete spa day with a vitality pool, sauna, steam room and relaxation room included with any treatment.
For a quicker stay, the be relax spa may be a better fit. Located directly in the terminal, they offer table massages, pedicures, manicures and a few other services to help you relax during your travels.
Visiting London City on a Heathrow Layover
If you have the time, you can also venture out of the airport. You can make it to the heart of London in about 45 minutes by taking the underground. Depending on how long your layover is, you can catch several of the main sights in London.
Guided Tours
If you'd like to see London but don't want the extra headache of planning things out there are several companies that offer private chauffeured tours though they do cost a pretty penny, they could be a great choice for tired families that don't want to miss out on the sights but need to rest up a bit. There are also plenty of bus tour options that leave straight from the Heathrow airport. They're less expensive, convenient and you don't need to handle any planning or arrangements yourself.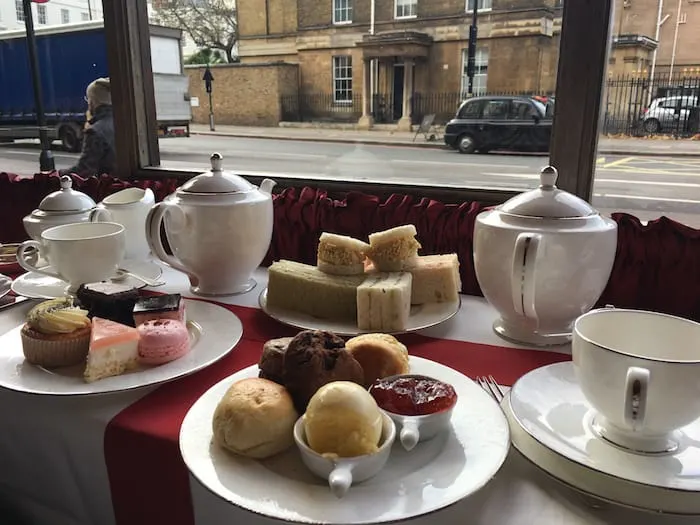 Visit London Itself: Specific Sightseeing
Before you go, if you'd like to leave your luggage, there are "Left Baggage" storage facilities that you can rent by the hour for between £7.50 and £27.50. It seems pricey, but if you want to make the most of your layover, carting your luggage (and potentially the luggage of other little people) around may prove a formidable task.
If you're ready to leave the airport to see some of the sights on your list and check out London itself, you can catch the Underground found in Heathrow's arrivals hall. You can get a one day travel card from a teller for zones 1-6 for about £17.
Heathrow airport is actually a bit of a distance from most attractions in London, so budget your time accordingly. If you would like to stick closer to the airport, Windsor Castle is the oldest and largest inhabited castle in the world and isn't too far.
If you're interested in more historic buildings, consider visiting the Ham House by the River Thames. The Royal Botanic Kew Gardens and Windsor Gardens are also fairly close by if you're craving some fresh air and gorgeous British botanicals.
Oddly enough, there are numerous amusement park options near Heathrow as well. From Legoland Windsor and Thorpe Park to Chessington World of Adventures, there are plenty of options for families and thrill-seekers alike.
If you're willing to venture further, there's plenty to see and do in London- choosing is the hardest part. Buckingham Palace and Big Ben are always at the top of everyone's lists, but there's plenty more to see. The Tower of London is a UNESCO World Heritage Site, Westminster Abbey is an example of gorgeous Gothic architecture, The Green Park, the smallest of London's 8 Royal Parks, is beautiful and located very close to Buckingham Palace thereby making it a convenient and restful stop.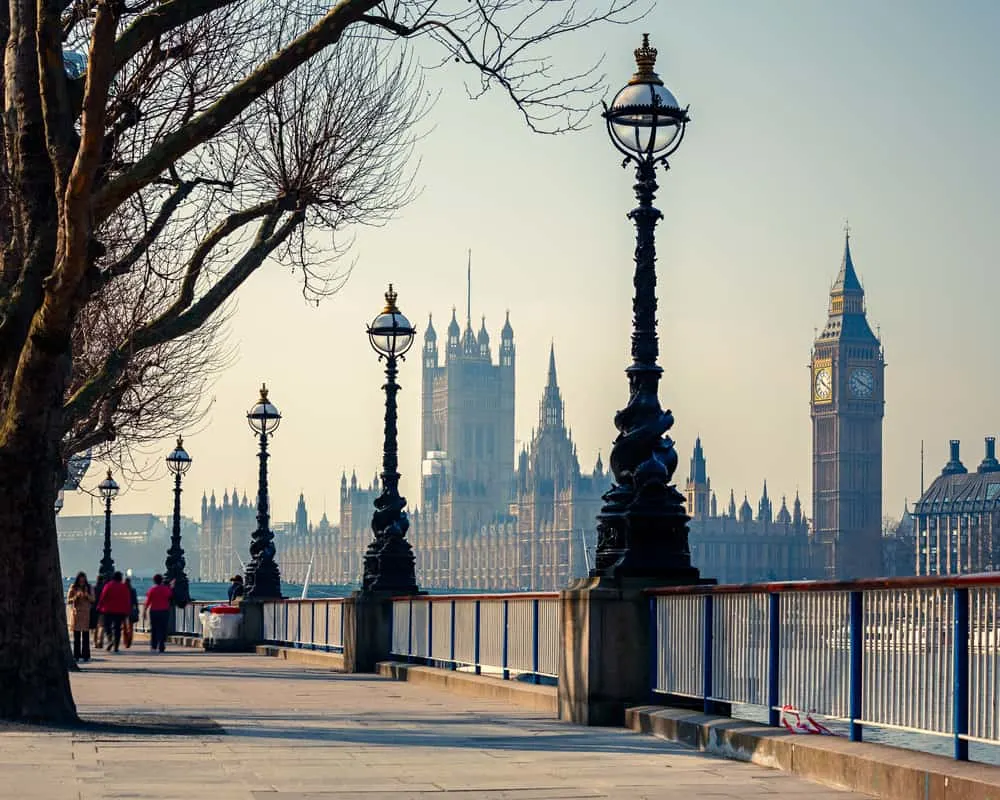 Spending the Night in Heathrow
Heathrow airport is quite large and generally very busy. If you're planning on sleeping in the terminal overnight or for a few hours, consider packing an eye mask and ear plugs. It'll quiet down a bit in the late night, but for the most part it's quite the busy airport.
Airport staff may or may not send non-EU travellers to a particular area in T3 to catch some z's. If you'd rather have private sleeping accommodations, YotelAir rents small rooms in T4 in four to 24 hour blocks around the clock. There are a couple other hotels in Terminals 4 and 5 but for all these options, you need to be able to prove valid entry into the UK.
Where to Stay Outside Heathrow Airport
These hotels are all very close to Heathrow though you do need to exit through security and immigration control to access them.
Holiday Inn Express – Heathrow Terminal 4
Staybridge Suites – Heathrow Bath Road
Holiday Inn – Heathrow Bath Road
Leonardo London Heathrow Airport
Layovers can be a drag and make you feel like you are being held hostage with nothing to do but buy overpriced and mediocre food. But a layover at London Heathrow can be the opposite with plenty of great options without the inflated airport prices.
Dan Bagby is a travel writer that believes you should never leave the honeymoon phase and experiencing travel together makes that easier. He blogs about couple's travel at Honeymoon Always. He is a contributor to this post.