When I purchased plane tickets to Morocco for myself and my toddler, the flight length alone had my heart and mind racing. Would my almost two-year old sleep on the plane or would he cry? How would he handle the time difference? Was Morocco actually toddler friendly?
We spent over three weeks living with locals, exploring Marrakech and discovering what it's like to haul a toddler around the city and nearby communities.
If you're debating a trip to Morocco with a toddler, do it! Despite all my worries, I found that Morocco was a wonderfully toddler friendly place to explore, and here's why:
Locals LOVE Kids
As a work-from-home mom, I've had plenty of opportunities to haul my kids around our hometown of Minneapolis, and my community is certainly family friendly, but let me tell you, the reaction my kids get to being out in public here is nothing compared to Morocco.
Moroccans LOVE little kids! People at every restaurant, shop, home and attraction we visited gave my son a genuine welcome, and never once did I feel he was a disturbance.
This wonderful love for kiddos also comes with your little ones being touched more often than you (or they) may be used to, so if you're germ conscience, you might decide to carry around hand sanitizer and wipes.
Toddler Friendly Foods Abound
Moroccan recipes use fresh, in-season ingredients, and most meals aren't overly complex, which is great for kids trying new foods! When we were in Morocco, my son fortunately hadn't hit his full blown picky stage, so he may have tried more foods than some toddlers, but even if I took him today, picky eating and all, I know he'd still eat most of what was offered.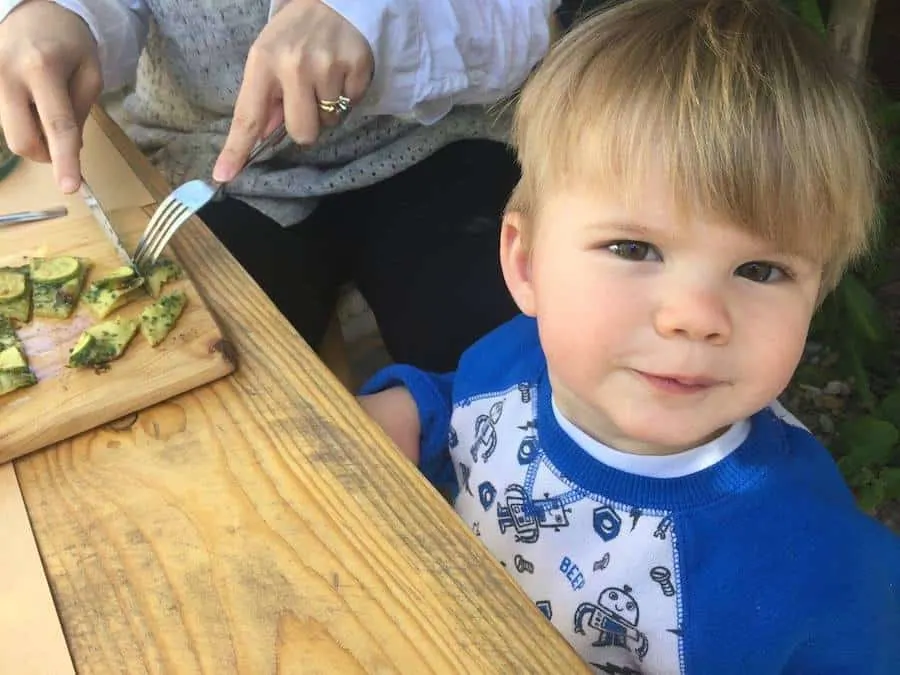 So what does a toddler eat in Morocco? Some of our favorites from the trip included:
Fruit Smoothies: Patisserie shops and stands in the market sell all varieties of delicious, made with real fruit, smoothies
Beghrir: light, airy, Moroccan pancakes
Msemmen: fried dough drizzled with honey or filled with savory spices like pizza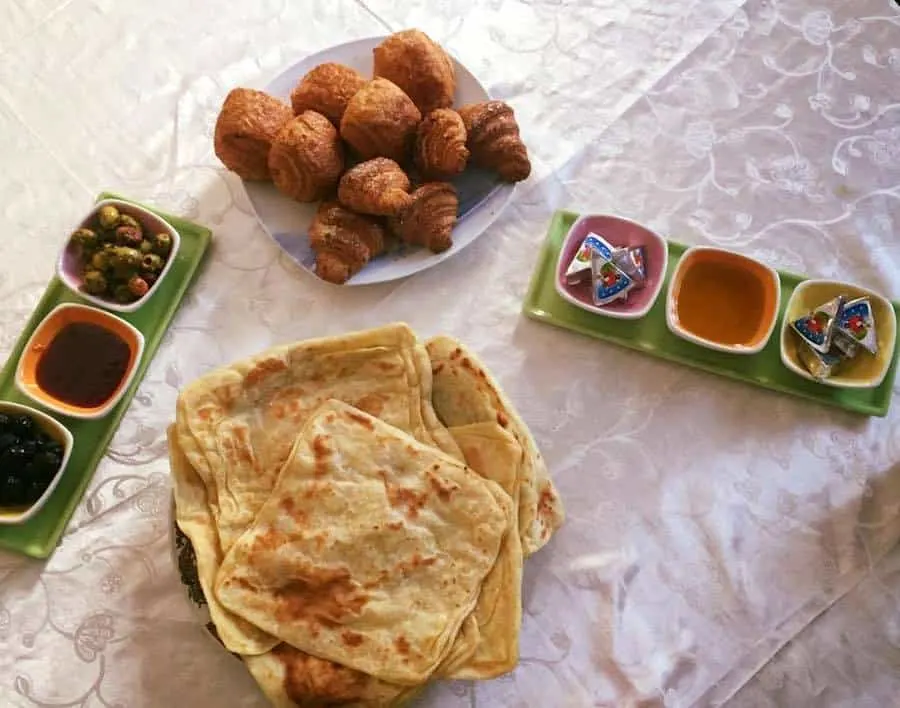 Olives: These were a big hit with my kiddo which surprised me, but olives are so different (and tasty) in Morocco than the states. He now is an olive connoisseur!
Dried Fruits/Nuts: Any spice stand will typically also have an amazing selection of dried fruits and nuts, and your kids will most likely be allowed to sample everything in the stall so you know if they will enjoy the goodies before you buy them.
Kebabs: grilled beef or lamb on skewers
Pizza: Yes, you can find pizza in Morocco!
Kefta Tajine: a go-to favorite, made of meatballs and eggs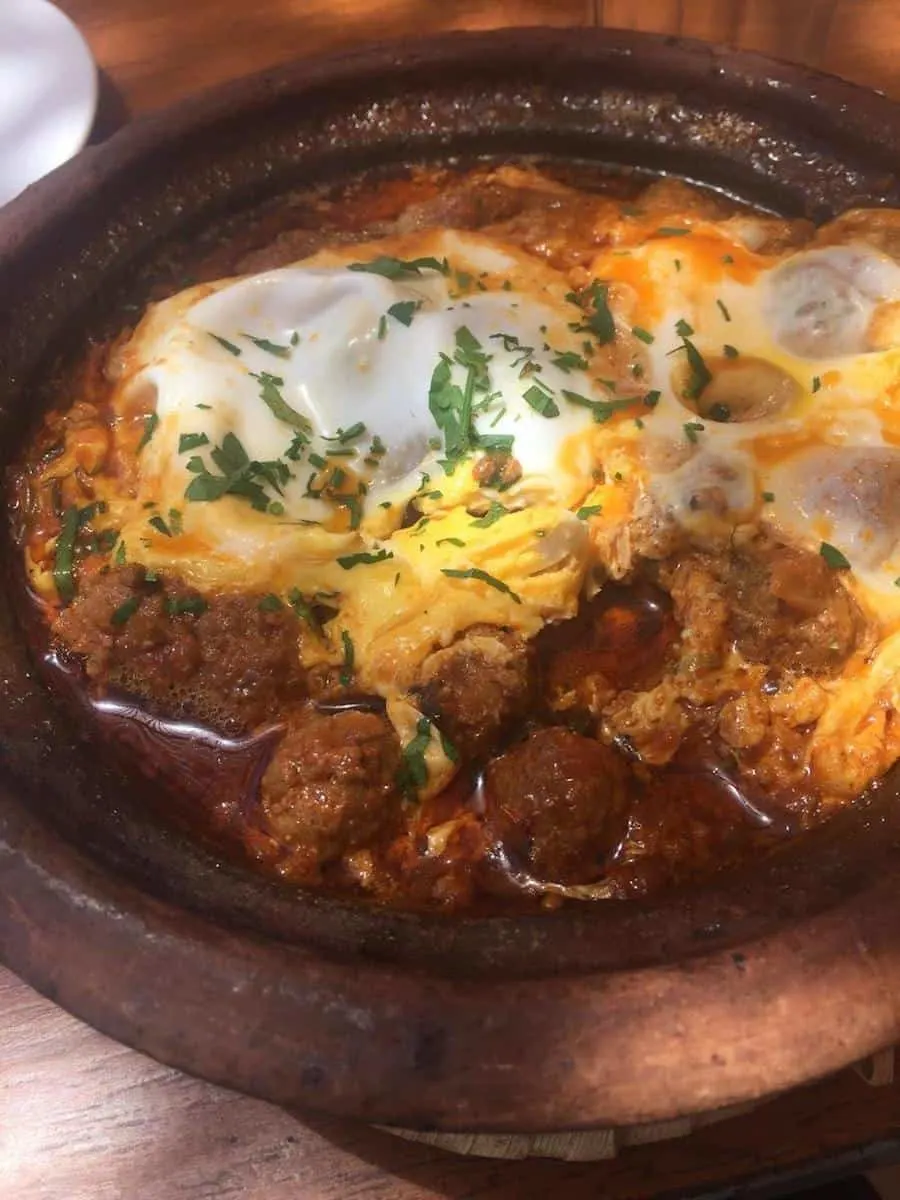 Booking accommodation where you can make a few of your own meals is also a great idea when bringing a toddler. Grocery shopping in Marrakech, whether it's at the open markets or in the grocery stores will give you the flexibility of buying ingredients for meals your toddler likes and also allows you to stock up on easy snacks (yogurt, bread & Nutella, bananas, etc). We made everything from burrito bowls to chicken and dumpling soup when we weren't dining out.
Also, the grocery stores are a great place to pick up little Moroccan tea spoons that are cheap and perfect toddler size! My son still uses them to this day.
Family Friendly Riads & Accommodations Are Available
There are loads of family friendly riads and hotels in Marrakech to choose from and don't be afraid to stay further from the city center if the opportunity presents itself. We stayed in a residential district outside of the Medina, and it was great for getting a break from the bustle and noise during nap time and bedtime. It also meant my little guy had more opportunity to interact with the neighborhood kids, which was such a delight to watch!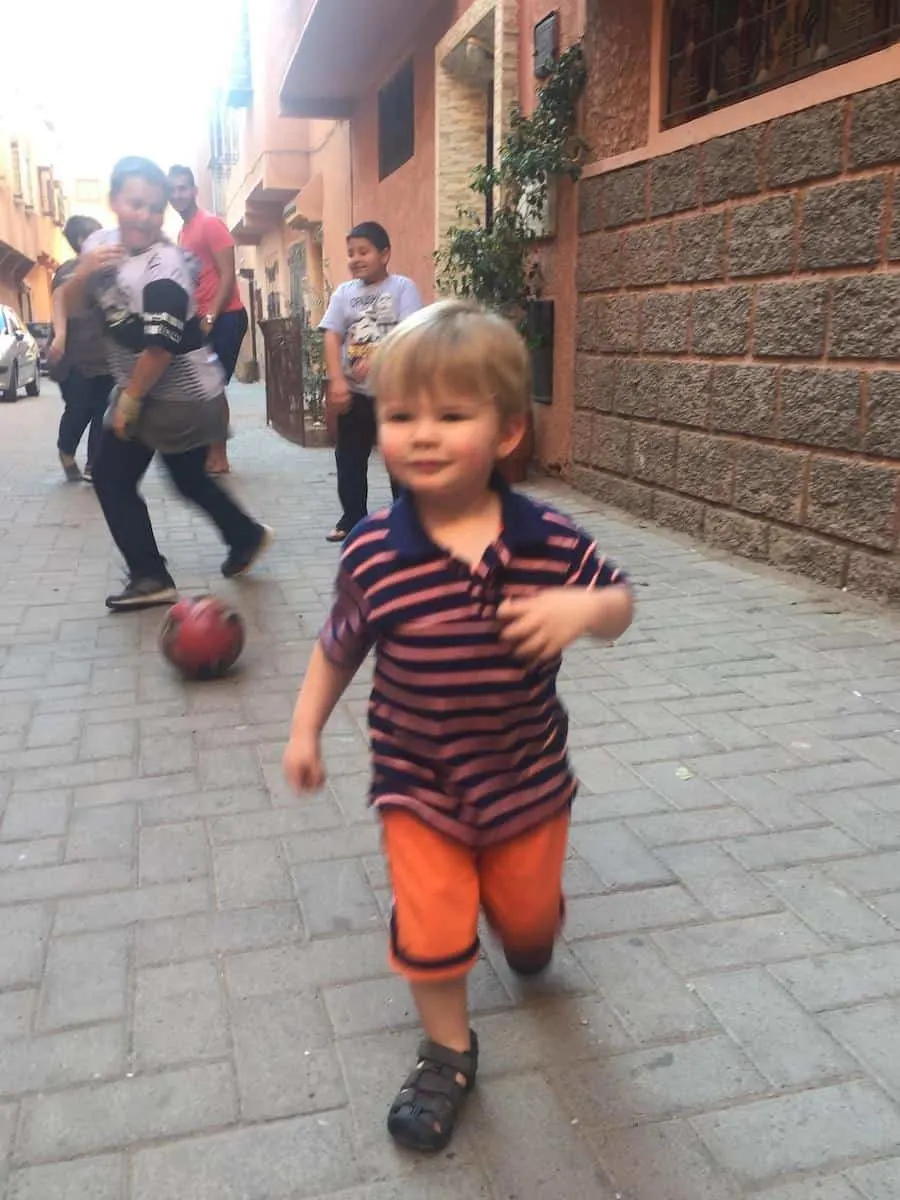 A World of Toddler Fun Awaits
While Marrakech isn't loaded with playgrounds, there are still unique things you can do with your toddler. I happen to love the adventure of finding things we can't do in our hometown anyways, so this was right up our alley.
Some of our favorite, creative toddler activities included:
Ropes Course/Playground in the High Atlas Mountains: The ropes course at Terres D'Amanar has activities for 3 year olds up to adults, which my guy didn't qualify for. While our friends enjoyed the ropes course, we played on this sweet mountain playground. And for the adults, the view won't disappoint!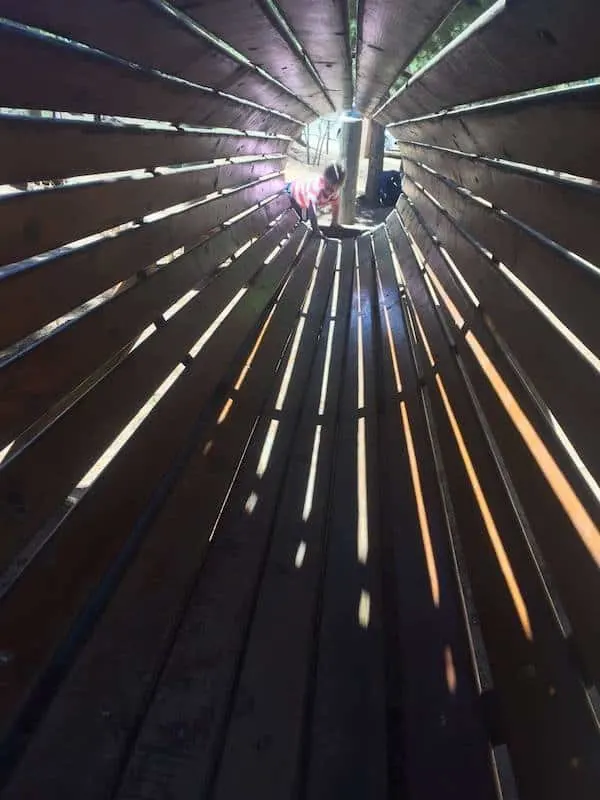 Swimming in the High Atlas Mountains: A large pool with an incredible view of the Atlas Mountains is found just down the mountainside from the ropes course. Buy an incredible lunch and a pool pass from the restaurant next-door.
Garden Marjorelle: My kiddo loved all the colors, bridges, fountains, pools and fish in this garden, and his Dino (see packing tips below) enjoyed hiding in many little flower beds along the way.
Shopping in the Medina: If you want to experience the local's love of kids, just step into a stall or two in the Medina. My little one was encouraged to lay on rugs to try them out, to "help" weigh out spices and to sample fruits – a playground of exploration! Be warned, when you get home, your kiddo might still sample things from the bulk section of the local grocery store – a little bit of Morocco we should all embrace!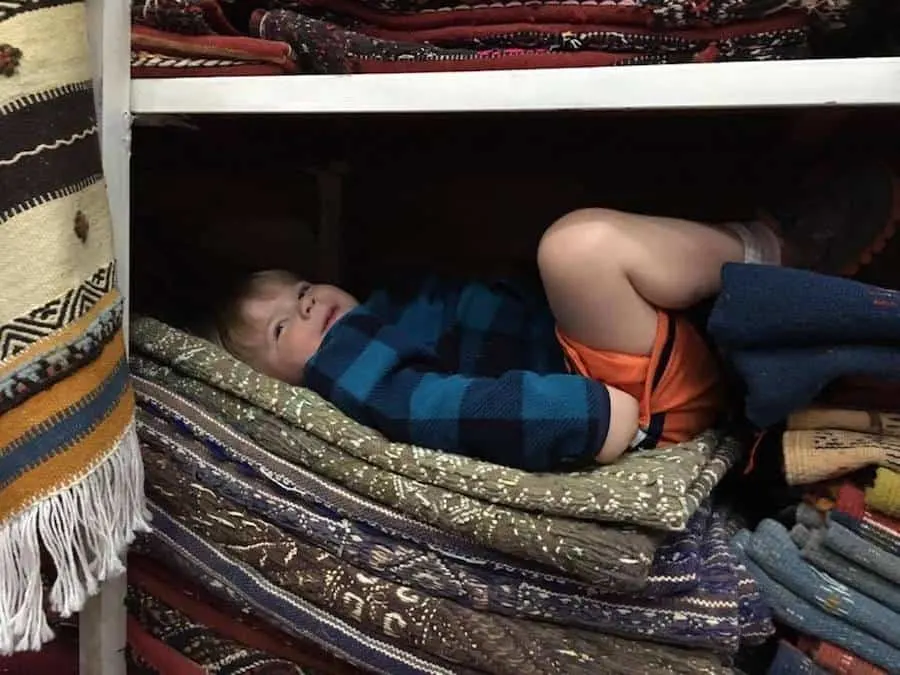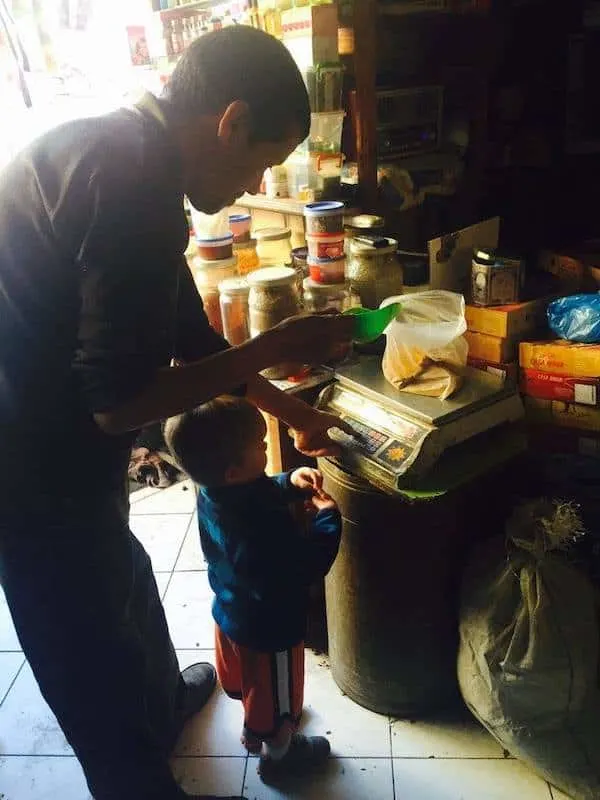 Horse Carriage Ride: We got on in the Medina and traveled around the hot spots of the city. It was a relaxing way to see city sights, and a great way to escape the sun for a bit.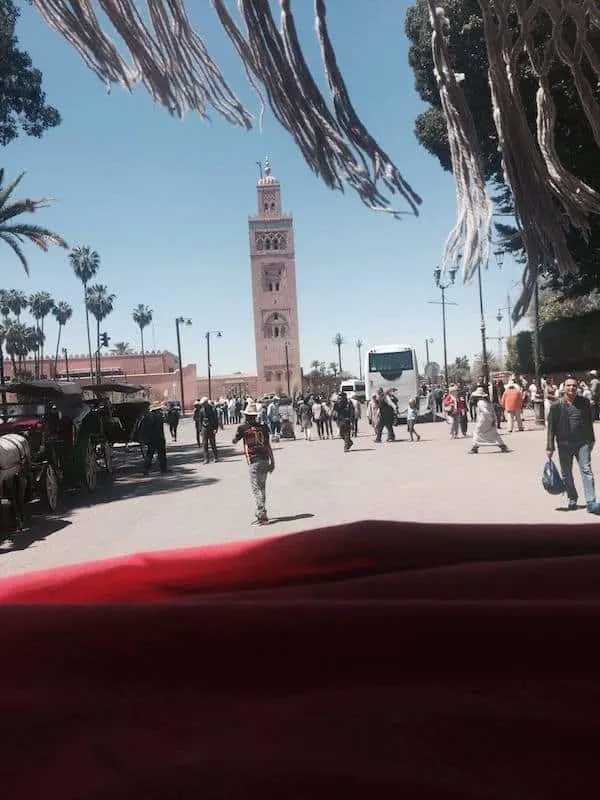 Play Soccer in the Alleys: Local kids love to kick soccer balls around in the alleys near their homes, and they are always quick to let little kiddos have a try, so don't be afraid to help your little one join in.
Take a Food Tour: I will admit, I had the luxury of taking the Marrakech Food Tour on my own, but it's totally something a toddler could join in on, with plenty of foods to sample and enjoy. A small umbrella stroller would be recommended because it's a lengthy walk.
Packing Is Fairly "Standard"
If the task of packing a toddler seems daunting, I hope these ideas ease your mind. Packing a toddler for a Morocco trip is similar to other warm climates. Pack clothing that keeps your little one cool during the heat of the day and a jacket or sweatshirt for chillier evenings. Other great toddler specific items include:
Small umbrella stroller: Your little one will get tired walking at a certain point, so a stroller is handy. Small umbrella strollers allow for easier navigation through the markets and streets. Additionally, elevators are not common, so you want something you can easily fold down and carry up a flight (or three!) of stairs if a rooftop restaurant or shop calls your name. This umbrella stroller has worked great for us when traveling.
Comfortable walking shoes
Swim suit
Loads of sunscreen!
Favorite water bottle
Hat for sun protection
Medications and Emergency Kit: Tylenol, Ibuprofen, thermometer, bandaids, etc. It's not that you can't find pain relievers or medical tools in Morocco, it's just that it takes time to navigate the pharmacy system and dosages are different than at home. I felt more comfortable having my products on hand at all times.
Entertainment/Activity Kit: My kiddo had stickers, a Crayola Color Wonder Tote (check other ideas out here) and a dinosaur toy that traveled around with us throughout the city. Restaurants typically don't have kid's meals with toys or play areas, so you will need a few tricks up your sleeve to enjoy a long meal or an extended time out from your riad/hotel. Luckily, the sights and smells are intriguing on their own, and no one minds a curious kiddo. Truly – they don't mind in Morocco!
Car Seat: Car seats are not so easy to find in Morocco and the quality not that good. The majority of people do not use car seats for children or babies. You might decide to rent a car so you can avoid the hassle of installing a car seat in taxis.
Tablet: So I don't always give my kids tablets, but sometimes my toddler just needed a moment to lounge on our travels, and some pre-downloaded Daniel Tiger did the trick. I highly recommend pre-downloading any cartoons or movies you might want, as Wi-Fi isn't always reliable and sometimes downloading isn't available once there.
Many items can be easily purchased at the grocery stores in Morocco including diapers, wipes and shower toiletries, so don't stress, you can stock up when you arrive if you want to save space in your bags.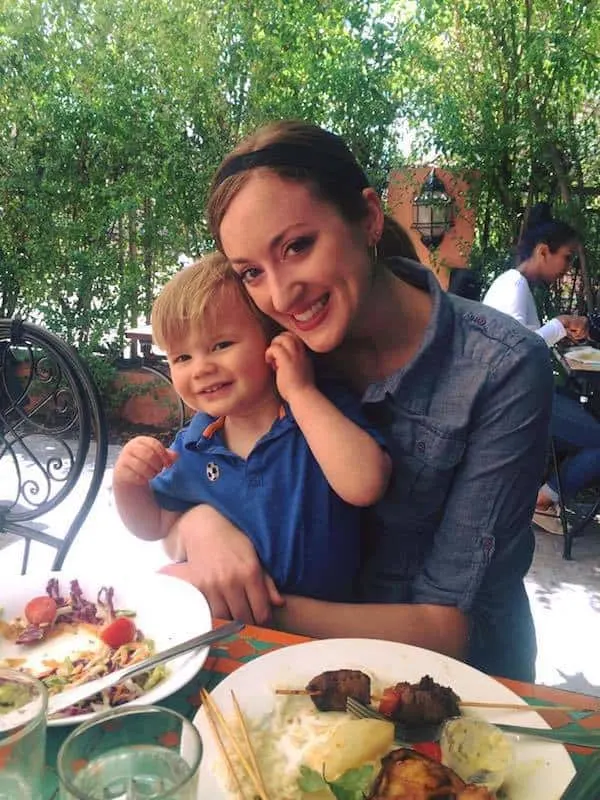 Morocco might not be your first thought for a family destination when your children are young, but it can be done, and it's incredibly rewarding. If Morocco is on your bucket list, take your toddler and have an adventure together!
If you're not ready to go yet but want to start preparing your little one then you'll want to check out my Morocco bundle for preschoolers! It has a bunch of resources you can use at home to get them excited for an adventure at home or abroad.