A friend of mine recently asked some of her friends, "What are a few things that Morocco is famous for? What comes to your mind when you think of Morocco?"
And the answers were rather interesting.
Things That Morocco is Famous For
Some of the answers were from people who have clearly visited this country – or have researched it a bit. A few peoples' answers were straight out of pop culture – like the ones mentioning the movie "Casablanca" or Crosby, Stills & Nash's song, "Marrakesh Express". And one person spoke fondly of "that romantic country where the movie star became a princess!" (Sorry – that's Monaco.)
It was fun reading the wide range of responses. It has been a long time since Morocco has felt like an unfamiliar place to me, and it is easy to forget that not everyone knows everything there is to know about this wonderful place.
I decided to share some of the responses and talk about them – whether they are accurate – or not quite. Here are a few of the things that Morocco is famous for.
Lots of Beaches and Deserts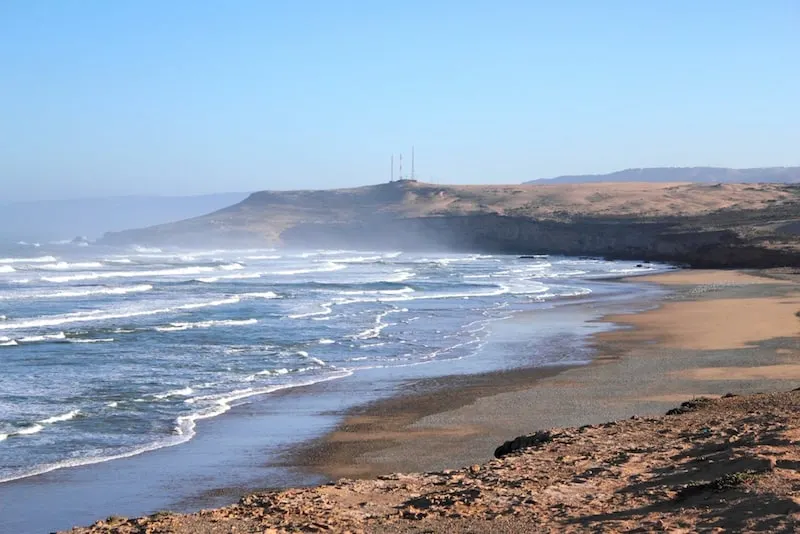 It is true that Morocco has many beaches. In fact, Morocco has more than 1,800 miles (2896 km) of coastline along the Mediterranean Sea and the Atlantic ocean. And there are hundreds of square miles of desert in the southern area of the country, too.
But the geography of Morocco is very diverse. There are several mountain ranges, forests, vineyards, rivers, and lakes. Nature lovers can enjoy a wide range of activities in Morocco, including hiking, camping, fishing, and rock climbing. In fact, if you're here in the winter, you can even go skiing!
It Is Really Hot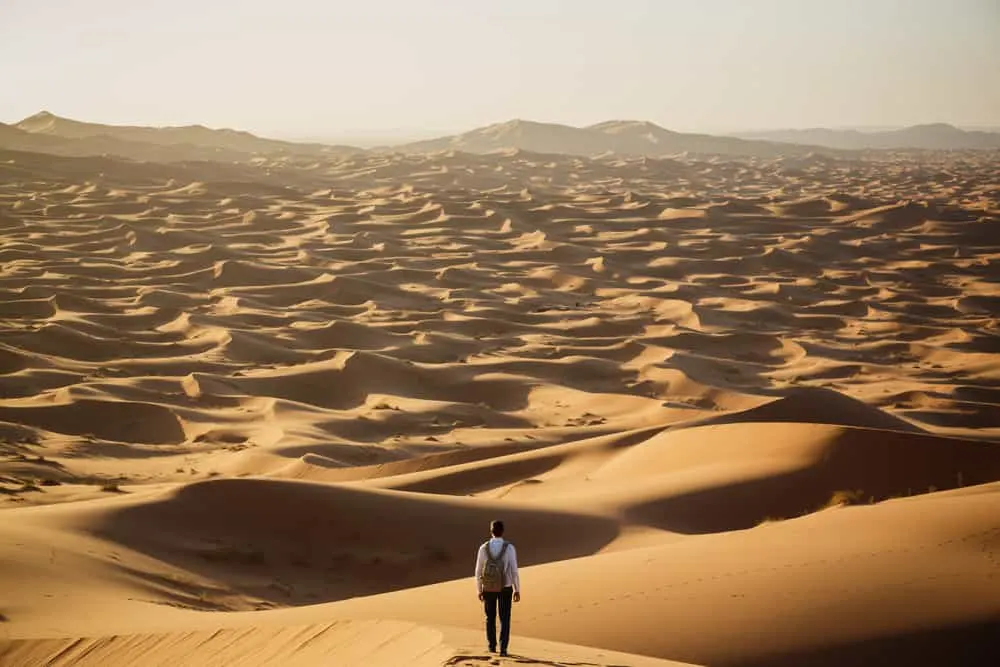 Yes, I'll be the first to admit that Morocco can get very hot at times. The summertime temperatures in the desert areas of the country are not fun if you are heat sensitive. Daytime temperatures in the summer are often over 40 degrees Celsius (over 100 F) in Marrakech and the Sahara.
In most cases we are talking about desert heat, which is very dry. With no moisture to contain the heat, things cool off a lot once the sun goes down. Even in the summer, if you are out in the desert after the sun goes down, you may find it cool enough that you'll want to slip on a sweater.
Morocco is sometimes described as a "cold country with a hot sun". The temperatures vary greatly from region to region throughout the year. So even if you prefer to avoid the heat, there are many places in Morocco you can enjoy in the summer. And if you're looking for a winter escape, Morocco is great for that, too!
Camel rides and Sand Dunes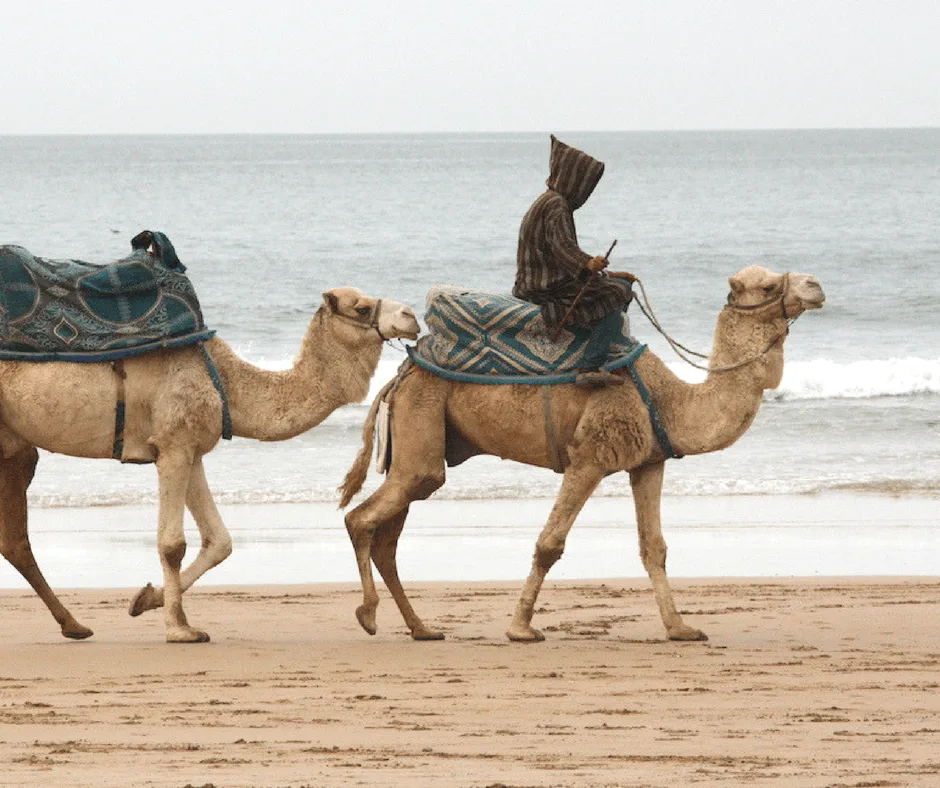 If riding a camel is something you've been dreaming of, you can definitely do that in Morocco. Taking a camel tour out to the sand dunes is a very popular activity and one that you will remember for a lifetime.
If you can't make it to the Sahara desert there are many guided camel tours available, especially from Marrakech. So if this is on your "to-do" list, there's no reason to wait!
Delicious Cuisine – Mediterranean Food, Tajines, Warm Spices, Coffee, Tea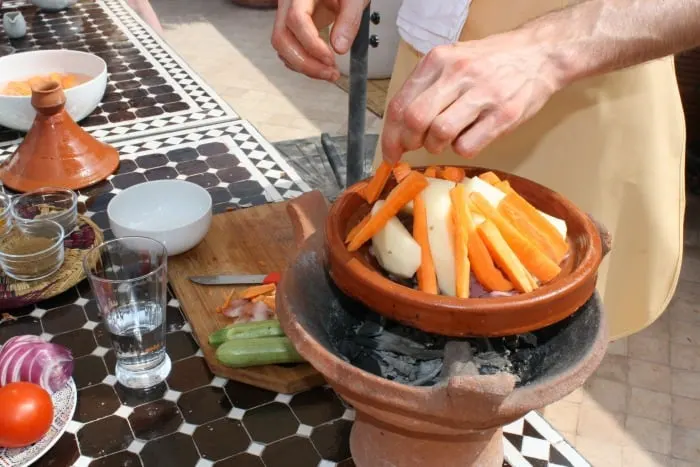 One of the most popular things that Morocco is famous for is the cuisine. There are delicious cooked vegetable salads and side dishes, scrumptious soups, tantalizing tajines (stews of meat, vegetables, and fruit), the best couscous you have ever had, and tasty bread used to scoop up each mouth-watering bite.
Moroccan food is flavored with many spices. Some of the most common are nutmeg and ginger, cumin, pepper, saffron, turmeric, and cinnamon, too. The spices used tend to be flavorful, rather than hot – although the peppers can add a zing from time to time.
If you would like to explore the tasty world of Moroccan cuisine, I have some great recipes that you can make at home! And if you are planning a trip to Marrakech, be sure to consider one of our delicious food tours!
THAT Movie – Casablanca
The movie Casablanca truly is a classic – and a fan favorite for many people. And if you visit the city of Casablanca, you can actually eat at a place called Rick's Cafe – which was inspired by the movie.
No scenes from the movie were filmed in Casablanca – nor anywhere else in Morocco. (The movie was filmed at the Warner Bros. Studios in Burbank, CA.) But the cafe does look a bit like the one from the movie. They even have a roulette wheel. They also show "Casablanca" on the big screen.
If you really love the movie and are looking for a way to kill some time, you might enjoy stopping by. It is very touristy and the prices reflect that. There are also many places where you can get a great meal in Casablanca- and enjoy other activities, as well.
Although the movie Casablanca was not actually filmed in Morocco, many other movies and television shows have been filmed here.
THAT Song – Marrakesh Express by Crosby, Stills, and Nash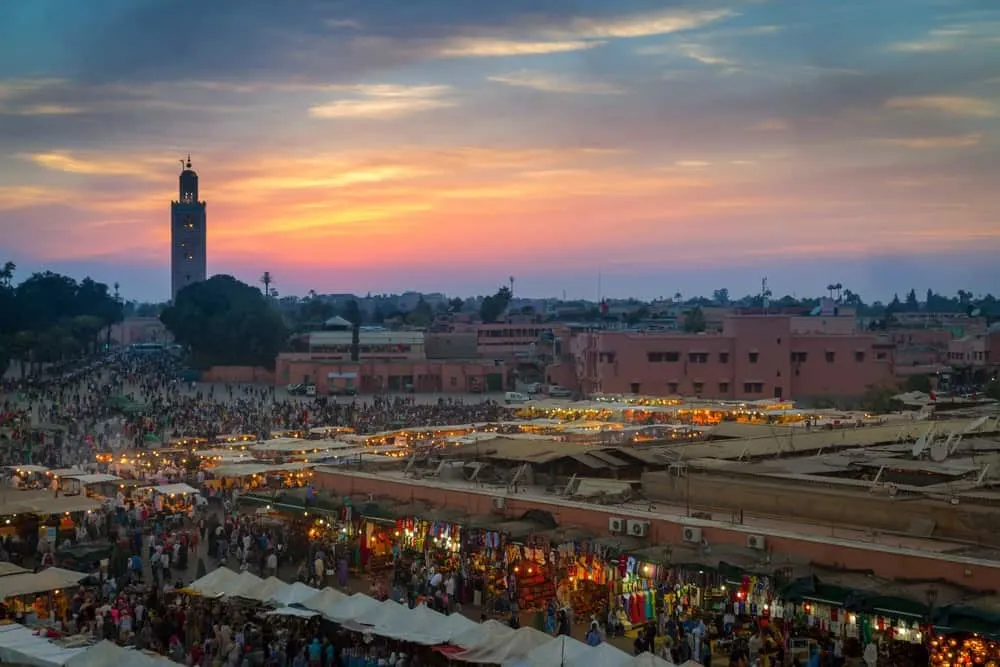 The song "Marrakesh Express" by Crosby, Stills, & Nash certainly seems to be the theme song for the hippy movement – at least where Morocco is concerned. Written by Graham Nash about his experience riding the train from Casablanca to Marrakech in the late 1960s, it was one of the first hits by Crosby, Stills, & Nash. It's a great song.
If you are a music lover, you should know that Morocco is all about music. There are several awesome music festivals throughout the year. During the summer, there are four big festivals – including the Festival of World Sacred Music in Fez and Timitar Music Festival, which features artists from around the world.
There are other music festivals throughout the year, so if you love music, be sure to check for festival dates while making your Moroccan travel plans.
So Much Beauty
Of all the things that Morocco is famous for, the thing that was mentioned the most was the beauty of Morocco. Some referred to the architecture seen in places like the Kasbah Ait Ben Haddou. Some referred to the handcrafted items (rugs, pottery, purses) that are sold in the souks.
But most responses were talking about the land.
From beaches to mountains to rolling sand dunes against star-filled skies – Morocco is a land of great beauty. And that's a pretty great thing to be famous for.