Learning Moroccan Arabic is honestly one of the hardest things I've set out to do. I am NOT an verbal learner, I much prefer to read and write to learn anything. The problem with this is that darija is very much a verbal language. People don't use it to read and write, they use it to speak in their daily lives.
This meant the only way to really learn it was to be immersed or in a situation where someone could teach me. When we first moved there weren't a lot of places that were teaching Moroccan Arabic.
Classical Arabic yes.
Quran, yes.
But to be able to have regular conversations? Not so much.
Even the resources online weren't great and were few and far between.
I recently tested out a website called Preply to see if it might be a good solution for those of you who aren't living in Morocco but want to learn Moroccan Arabic.
The good news? I think it's certainly an option!
The bad news? You aren't in Morocco!
How does Preply work?
Preply isn't a website that teaches lessons, rather it's a platform that brings tutors and students together. When you visit the site you can sort by the language you want to learn, the teachers' price per hour, and the time of day the teacher is available. You can further filter by specialty such as for beginners, for children, intensive lessons, literature and several others.
Each teacher displays their language(s) and home country as well as other information.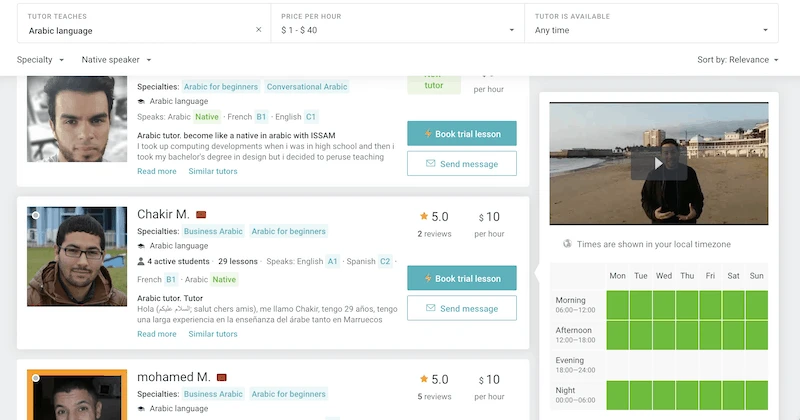 I really like that there are also short videos from the teachers so you get a sense of who they are and how they are conversationally.
How much does Preply cost?
That depends on the teacher you choose. Each person has a different rate that is set per hour. When you need to buy more hours you can choose from 5, 10 or 20 hours with a slight cost savings the more hours your purchase.
You should keep in mind if you cancel or reschedule within 4 hours of your lesson you will be charged.
How Does a Lesson Work?
When you schedule your lesson you access the classroom space on the Preply website. The space is similar to a Skype or Facetime call. There's also a chat box on the right side of the screen.
How your teacher works will vary depending on the person. I can say for my lesson I was really happy. The teacher I chose knew that I wasn't a total beginner so she needed to figure out where I was at and what we needed to work on.
For the first lesson we basically just talked. I did my best in Arabic and she helped when I got stuck. She would ask me questions but I felt like she had already listened to me because one of the things I had said I really wanted was to be able to have longer and more in depth conversations – and that's where we started!
After the lesson was done we talked about what I really wanted to be able to communicate and also what she could see I struggled with. This is what she will use for our continued lessons.
After the lesson, there's also a workspace to add homework and anything that was covered to review.

Why Preply?
I've tested out a few different platforms similar to this one and have been somewhat disappointed. The other ones that I have tried all focused on specific things. Sometimes it was just beginner level.
Other times it was just basic vocabulary or already set lessons. What I like about this is that you're getting an actual person who will teach you actual things!
You can always change tutors if you didn't click or just didn't like your tutor.
I think that for a lot of people who are trying to learn Moroccan Arabic there are limited options – especially if you're not a beginner. This is one way you can interact with a teacher and learn either from the beginning or to further develop your language skills if you already know the basics.

Also – if you're looking to teach, you can become a tutor on Preply. They're actively seeking those interested in teaching!