When I started researching Moroccan Jewish recipes one of the most common dishes mentioned was dafina. Consider this the Jewish version of Moroccan tajine. There's one process to make it but with a wide variety of variations. It's safe to say that while being a shabbat recipe, dafina is also popular for holidays such as Hanukkah.
This dish goes by a lot of names so whether you're seeking Moroccan dafina recipe, skhina recipe, Moroccan cholent or hamin recipe this is what you're looking for!
When I asked my (Muslim) mother in law if she had any idea what was in the recipe she really didn't. Growing up my in-laws lived very close to the Jewish quarter of Marrakech and often had a lot of crossover with their neighbors. She was familiar with Moroccan Jewish food but didn't have experience making it.
I was hopeful she might know how to make this and while she had eaten it before, she wasn't sure how it was made. So back to the research. I did a lot of asking around, reading and searching through cookbooks to find some sort of recipe.
Then, I invited my mom and stepdad over to eat this with us one night and I began to tell them a little about the dish. This storytelling reminded my husband of hearing the synagogue announcement that shabbat was starting. The mellah (Jewish quarter) of Marrakech, or Jewish quarter, was very close to where he grew up in the kasbah.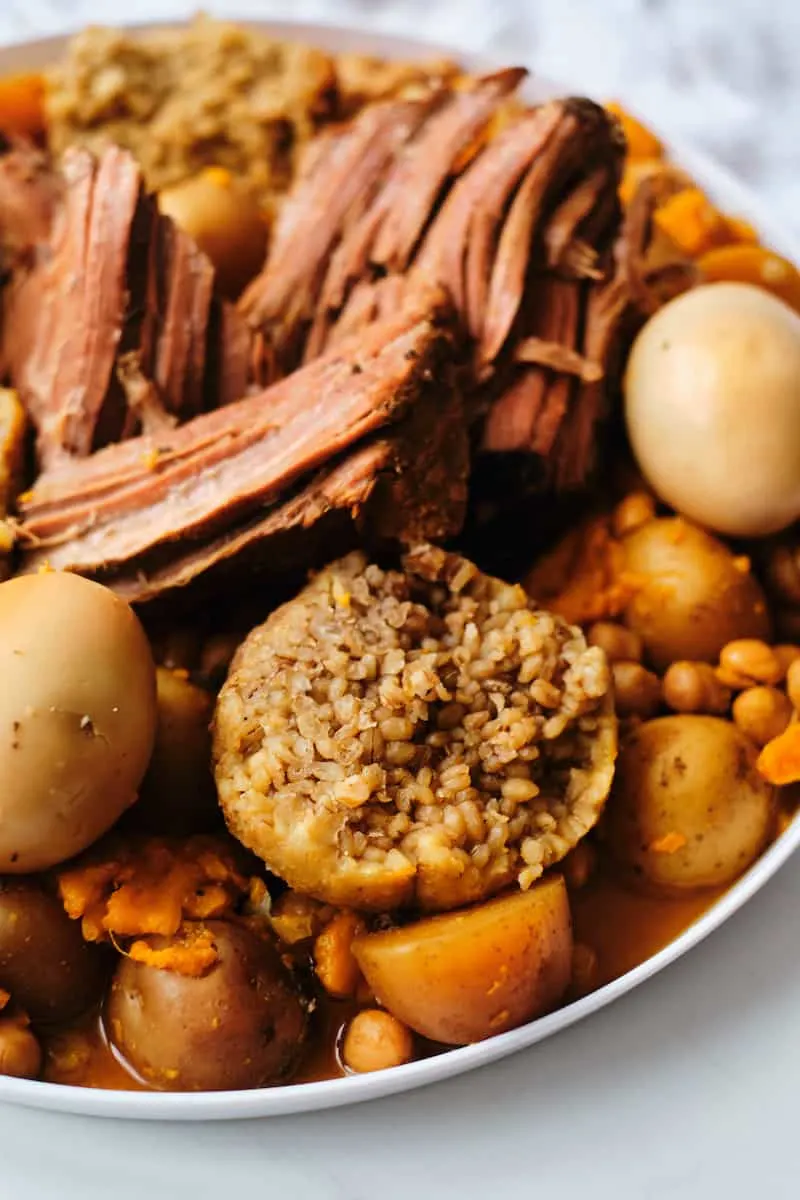 I shared that this dish was made in a pot similar to a tangia and then would be dropped at the ferhan to cook overnight on Friday's. (The ferhan is the community oven, while these are still widely in use today many people choose to bake their bread, and cook food at home) Observant Jews do not do any physical activity including cooking (or even turning on a light) on the sabbath.
This dish could be taken home, or often delivered to homes by Muslim neighbors, poured out and eaten. So while the specific foods eaten may vary many of the same cooking techniques are the same. This isn't so surprising.
Moroccan Jews are Sephardic Jews, and there is a lot of crossover between what and how they eat. Sephardic Jews traditionally originated in the Iberian Peninsula. Many of these people moved to areas that were Islamic lands and lived in these countries. Muslims and Jews share many of the same dietary rules (especially when compared to Christians and Jews or Christians and Muslims) so there is a crossover between the foods that are eaten.
The recipes I found instructed that the dish should be cooked in the oven on low overnight. I have reservations about leaving my oven on overnight so I chose not to. Instead I opted to make this cholent recipe in a slow cooker. This wasn't a Moroccan shabbat recipe – at least not for us as we aren't Jewish – but you could easily make it if you are observant and looking for something new.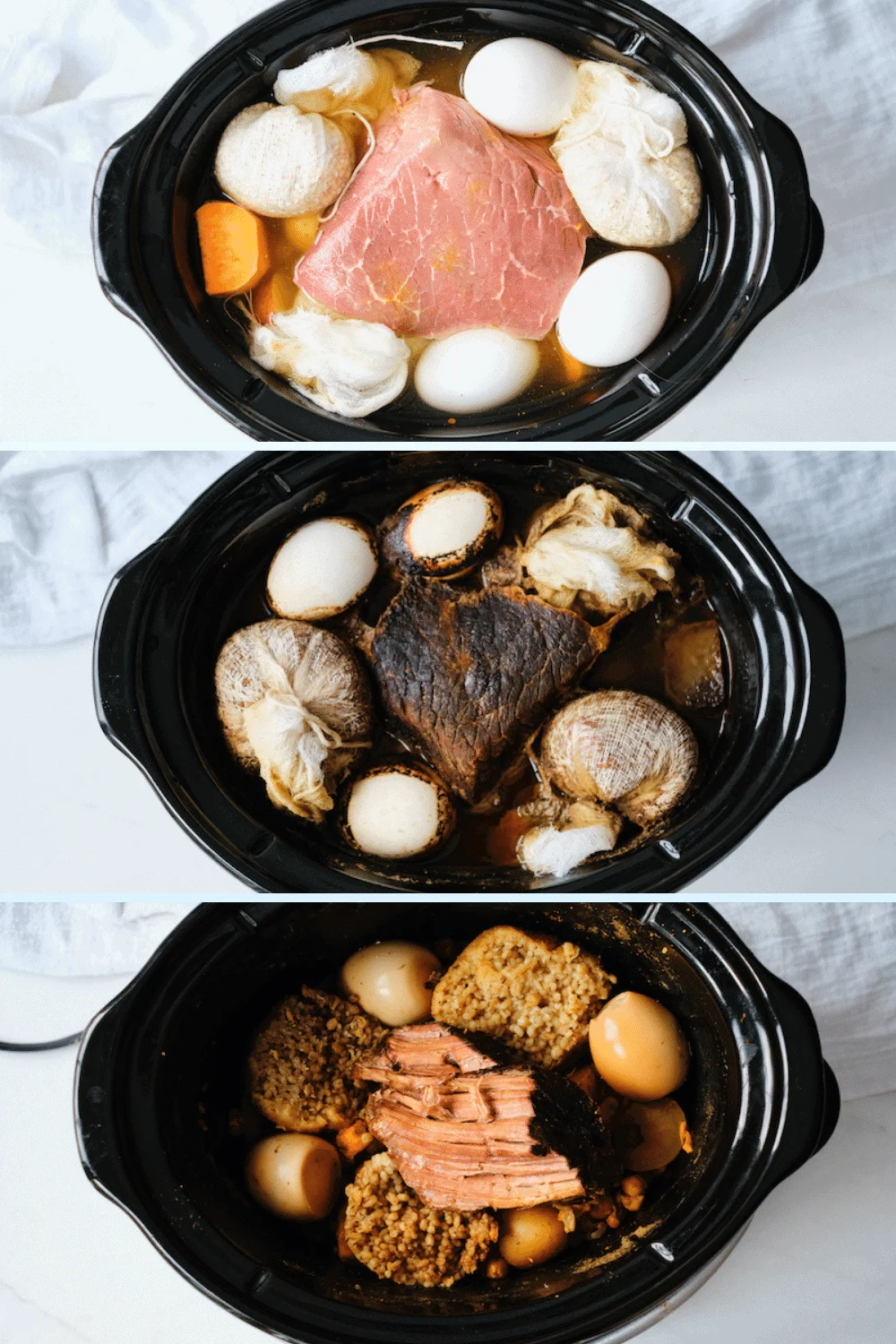 My understanding is that some Jews use slow cookers to prepare their shabbat meals so I felt like it was still in line with tradition. Overall it was a very easy recipe with good results. The taste is very similar to other Moroccan dishes but the addition of hard boiled eggs made it slightly different.
In addition to the main meat, vegetable and chickpea portion there are "puddings" that can accompany the dish. While the main skinha recipe here is different than mine the additional wheat berries and rice dumplings are very similar to other recipes I've seen for accompaniments.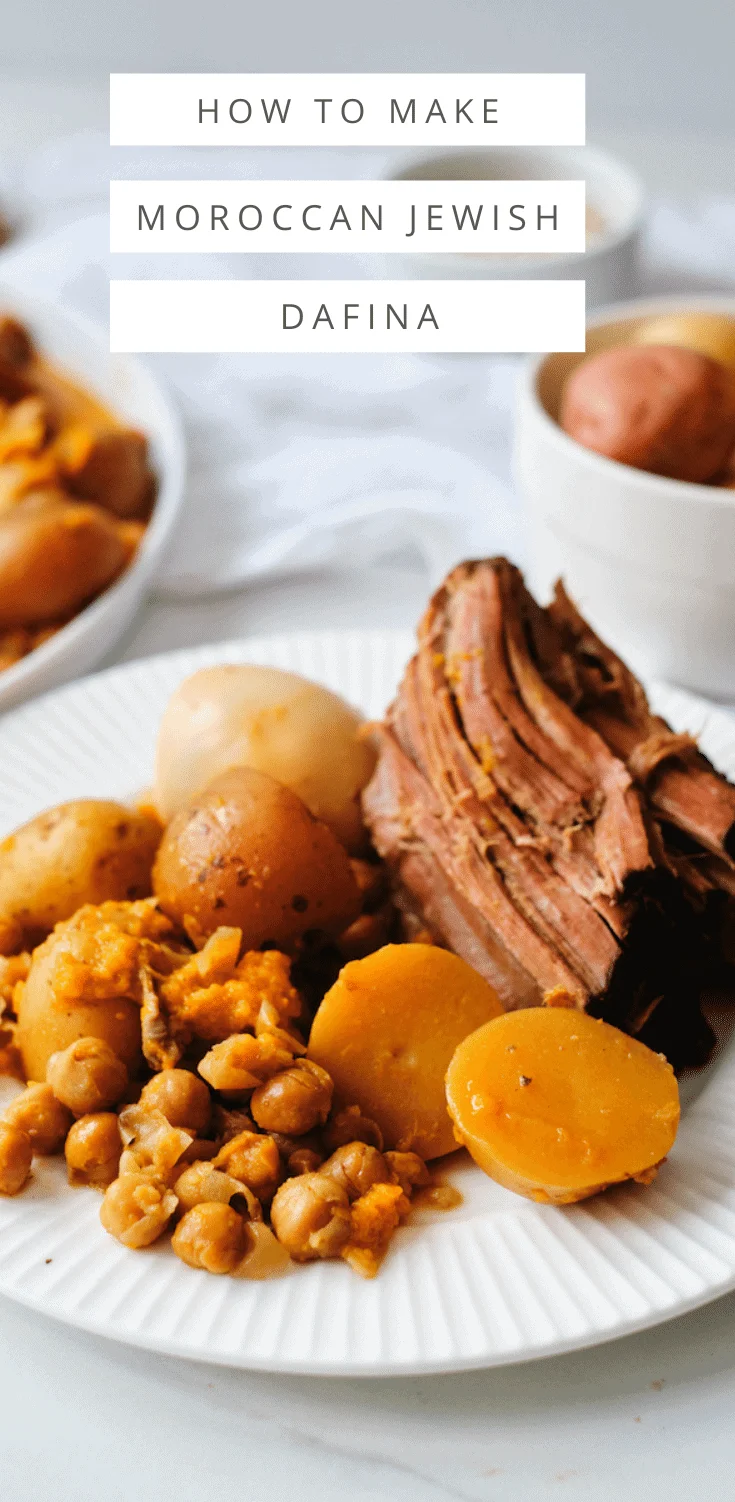 One more quick note, this recipe traditionally includes beef feet. While we do have these (don't ask MarocBaba likes them) I omitted them as I don't care for it and was pretty sure neither my mom or the kids would touch dinner if they saw them included. I'll include them in the recipe but just know omitting them is ok.
If you're looking for a vegetarian Moroccan cholent recipe this can be made without meat. I'd add additional vegetables (either more of what's listed or other things, cabbage would be great) and also consider something like white beans to add a bit more protein. I would also increase the spices a little as I find vegetables can sometimes water down the flavor when the liquid releases in cooking.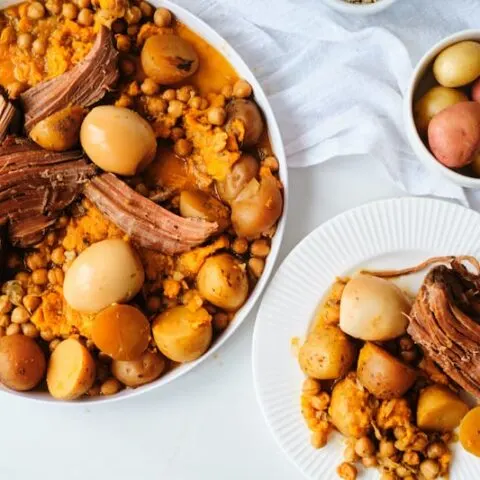 Yield:

6-8 servings
Skinha or Dafina – Moroccan Jewish Sabbath Meal
Total Time:
6 hours
20 minutes
This is a very traditional Moroccan Jewish recipe often made for the sabbath on Saturday's.
Ingredients
2 lbs beef - an arm roast works well
1 potato per person
1 sweet potato per person
1 egg per person
1/2 clove of garlic, separated and skin removed
4 beef feet (optional)
1 can of chickpeas, rinsed
1 1/2 tsp salt
2 tsp pepper
2 tsp cumin
1 tsp turmeric
1/2 tsp cinnamon
1/2 cup wheat berries or barley (optional)
Instructions
Trim beef roast of any excess fat.
Peel and quarter all vegetables.
Add the beef, vegetables, chickpeas, garlic cloves (do not chop - add whole), beef feet, and all spices to a slow cooker. Mix well to combine everything.
Wrap barley or wheatberries in a piece of cheesecloth and tie with a sting. Add to the slow cooker.
Add enough water to cover the meat.
Nestle the eggs into the slow cooker. Note the eggs should be in the shell and uncooked.
Turn the slow cooker to low and cook for at least 6 hours but this can easily be left for 12-15 hours.
When you're ready to serve remove the meat, vegetables and chickpeas.
You may need to transfer the remaining liquid to a pan, turning heat on high to reduce to a thicker sauce.
This can be eaten with a fork or bread as with other traditional Moroccan dishes.