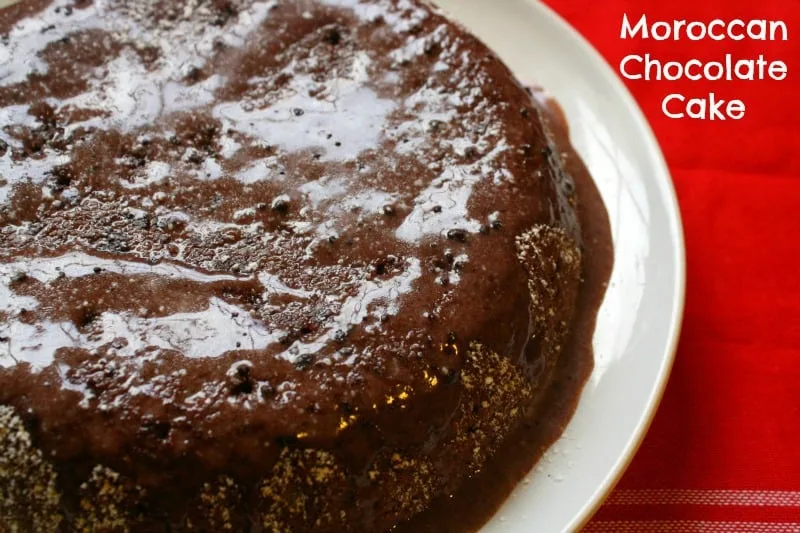 I recently found a new monthly cooking themed blog hop called Tea Time Treats and I am so excited! Even though I don't have little girls, my boys have grown up drinking tea. It's a HUGE tradition in Morocco so it probably would be more strange if they hadn't. I think this is really funny because before I had met MarocBaba I'd never had a cup of tea – never. Now I know there's nothing better in the afternoon than a big mug of tea and a few little snacks to nibble on.
I'm longing for the day I can be in London and have a real English tea time. For now, my little at home experience will have to do. So here's my offering to this month's theme of CAKES! This is a Moroccan Chocolate Cake that my sister in law shared with me. I changed the flour to make it gluten free and had to reconfigure the measurements as in Morocco things are measured with tea cups and harira bowls. It turned out excellent.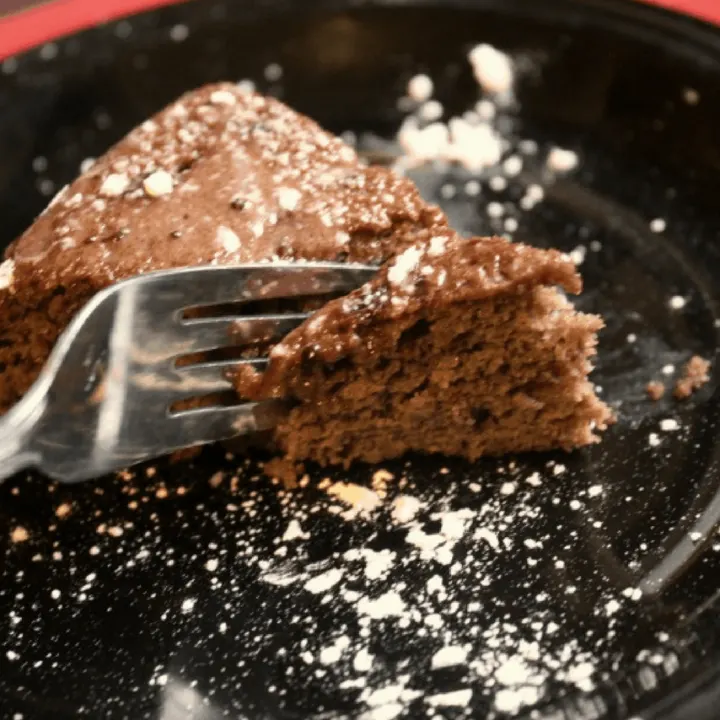 Yield:

8 servings
Moroccan Chocolate Cake
A very simple Moroccan cake made gluten-free (with options for those who can eat gluten).
Ingredients
1/2 c sugar
3 eggs
scant 1/4 c coconut flour
scant 1/4 c almond flour
4 tsp cocoa powder
2 tsp dry buttermilk (or regular dry milk)
1/2 cup vegetable or coconut oil
1/2 cup water
1/2 cup plain Greek yogurt
**not gluten free? Use 1/2 c all purpose flour, and slowly mix in. You may need a little more or a little less. The end result should be a consistency the same as any other cake batter.
Instructions
Preheat oven to 350F.
In a bowl whisk together 1/2 cup sugar, 1/2 cup oil and 1/2 cup water. After mixing add 4 tsp cocoa powder and 2 tsp dry buttermilk. You can also use dry milk. If using buttermilk the overall flavor will be a little more tart.
Reserve half of the mixture and set aside.
To the remaining liquid add 3 eggs and 2 tsp baking powder. Whisk well.
Finally slowly add the coconut flour and almond flour, mixing as you go.
Grease an 8" round baking pan and pour in mixture.
Bake for 30 minutes.
Remove from oven, and place on a baking rack to cool.
To Make the Glaze
To the reserved chocolate liquid add 1/2 cup of plain Greek yogurt.
Whisk until all of the yogurt has been combined.
Poke several small holes into the cake using a skewer, toothpick or other small thin object.
Pour the glaze over the top of the cake, adding as much or little as to your liking.
Finally, the cake can also be dusted with powdered sugar before serving or topped with fresh fruit.
Storing the cake: If you have any cake leftover, store in the refrigerator.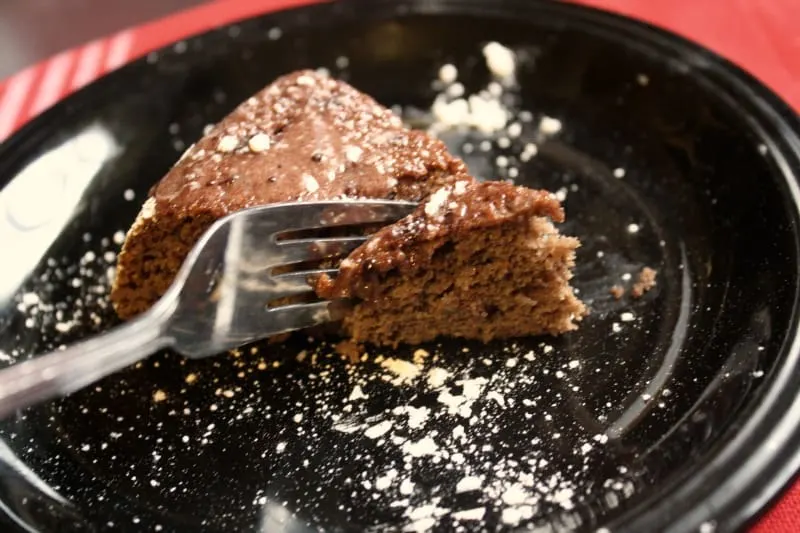 Happy First Birthday Tea Time Treats! I'm looking forward to participating throughout the next year. Make sure to visit Lavender and Lovage and What Kate Baked co-founders of the event. You also can visit this page to see all of the recipes submitted this month.