Just when you thought that you couldn't love zucchini anymore, get ready to give your tastebuds a truly new treat. This Cinnamon Zucchini Bread is moist, delicious, and addictive – so beware!
This is a simple sweet bread recipe that toes the line between being a healthy treat and a dessert. If you're looking for a way to get the kids to eat more veggies, a slice of zucchini bread with cinnamon just might do the trick!
The addition of the shredded zucchini helps to keep the bread moist and really allows the cinnamon flavor to stand out and be a star.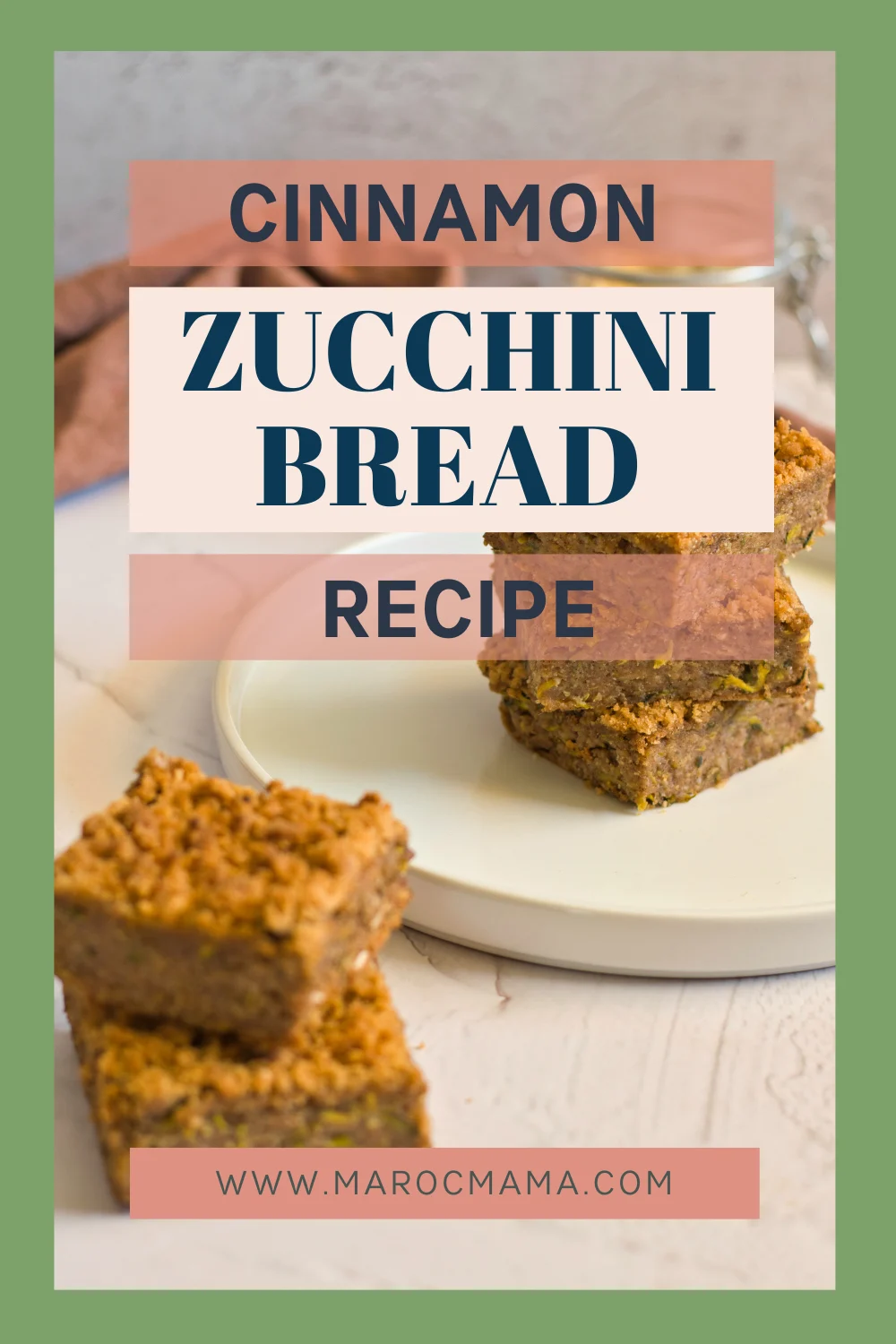 Cinnamon Zucchini Bread
The really great part about this bread recipe is that you can actually use fresh or frozen zucchini. It's amazing how versatile the ingredients truly are!
The biggest thing to keep in mind is that zucchini tends to hold a lot of liquid in it, so you have to be sure that you get as much liquid out of it as possible, or it can make the bread soggy.
A little moisture from the shredded zucchini is totally fine, but if it's a lot, you may need to squeeze some of it out so that it's not an issue.
Why you'll love this Zucchini Bread Loaf
It's a simple way to make a loaf of homemade bread
You can easily use fresh garden summer squash and make this any time of the year
It's a fun way to add a quick snack to the day and top it with butter
Cinnamon Zucchini Bread Ingredients
When it comes to making the best homemade bread, all you need are the easy ingredients below!
Be sure to scroll down to the recipe card for the total measurements needed.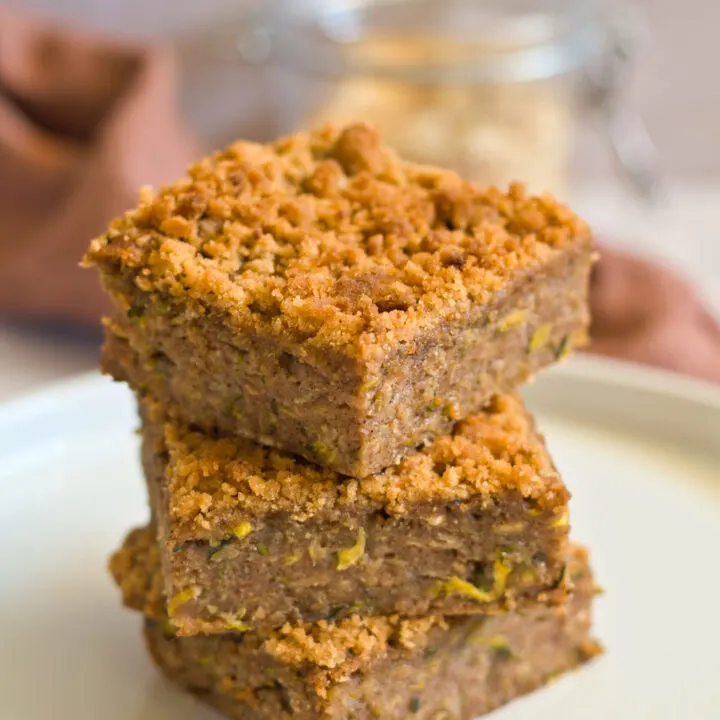 Yield:

9 Slice bars
Cinnamon Zucchini Bread
When it comes to making the best homemade bread, all you need are the easy ingredients below!
Be sure to scroll down to the recipe card for the total measurements needed.
Ingredients
BATTER
Zucchini :1 1/2 cups -375g
Dates: 1 Cup -250 g
Rolled Oats :1 1/2 cups- 120g
Gluten-free flour: 1 cup- 120 g
Baking Powder: 1 teaspoon
Cinnamon: 1 1/2 teaspoons
Ground Coffee: 2 teaspoons
Soy milk ( or any vegetable milk you prefer):1 1/2 cups - 360ml
CRUMBLE
Gluten-free flour: 1/2 cup-65 gr
Brown Dark Sugar: 1/2 cup -100 g
Cinnamon: 1 teaspoon
Vegan Butter: 1/4 cup -60 g
TOOLS NEEDED
9"x9" square baking pan
Bowl
Spatula(optional )
Parchment paper
Blender or Food Processor
Pot
Whisk
Instructions
To prepare this delicious and healthy zucchini coffee cake, we will start by gathering and measuring all of the ingredients.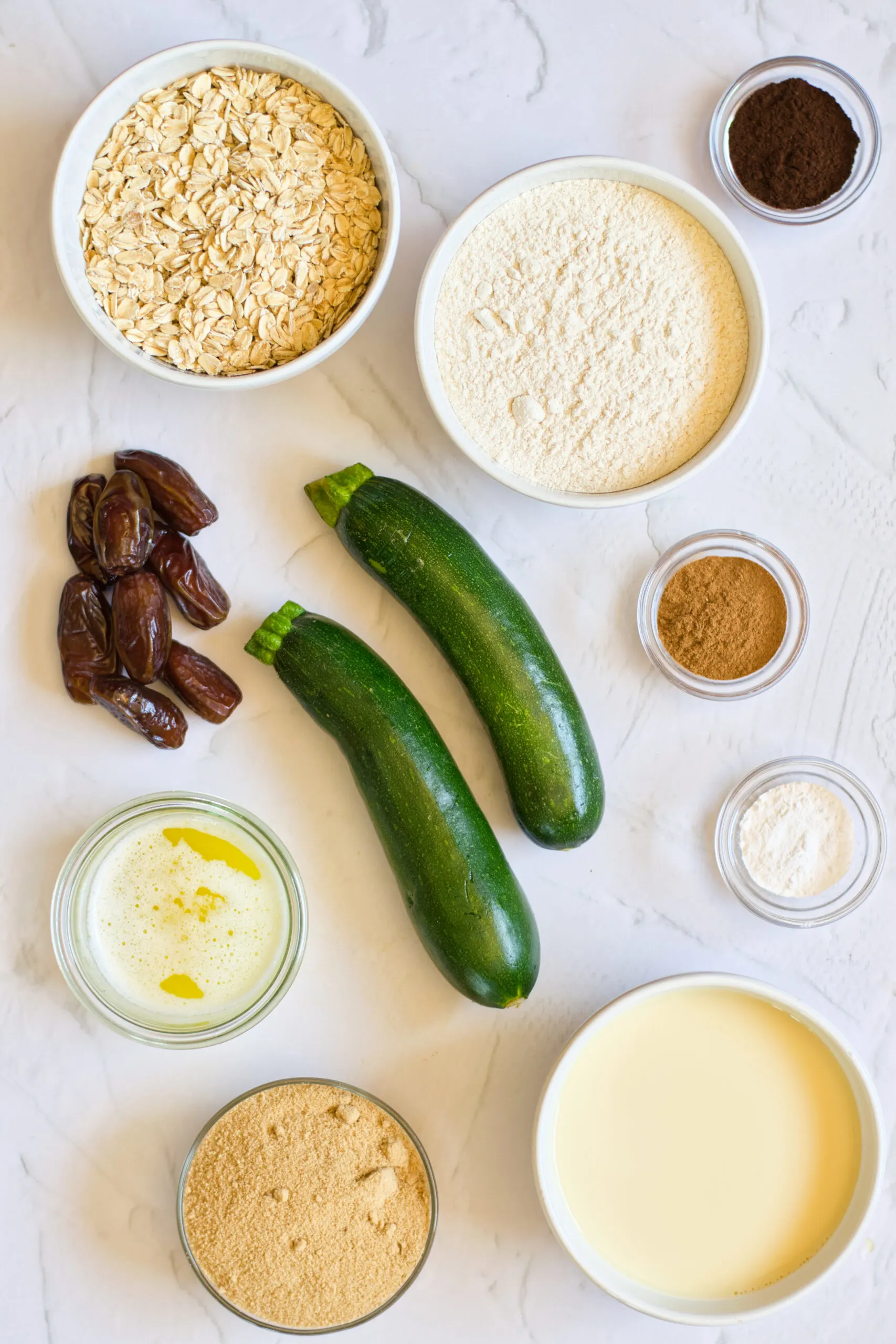 Grease a 9" x 9" square baking pan and line it with parchment paper. Set aside.
Preheat a ventilated oven to 180C or 350F for 10-15 minutes.
In the meantime, take a pot filled with water and bring it to a boil. Once boiling, remove it from the heat and place the dates inside for at least 5 minutes or until they soften.
Next, take a high-speed blender and blend the rolled oats lightly to obtain grainy flour.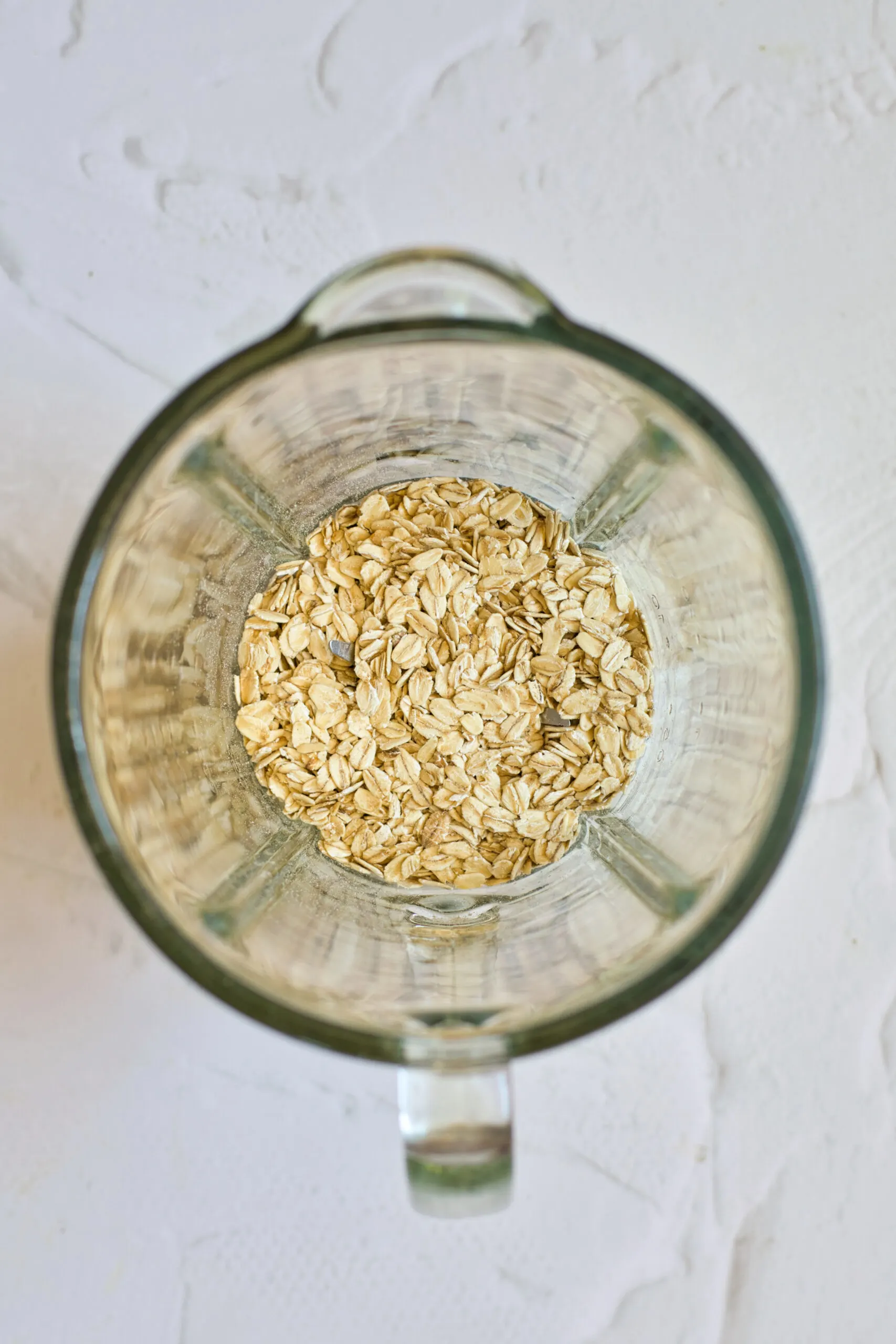 Place the oat flour, Gluten-free flour, baking powder, cinnamon, and coffee grounds into a bowl and mix well. Then add the shredded zucchini. (make sure to squeeze the shredded zucchini with a cloth or paper towel to remove the water; otherwise, the cake will remain uncooked in the middle).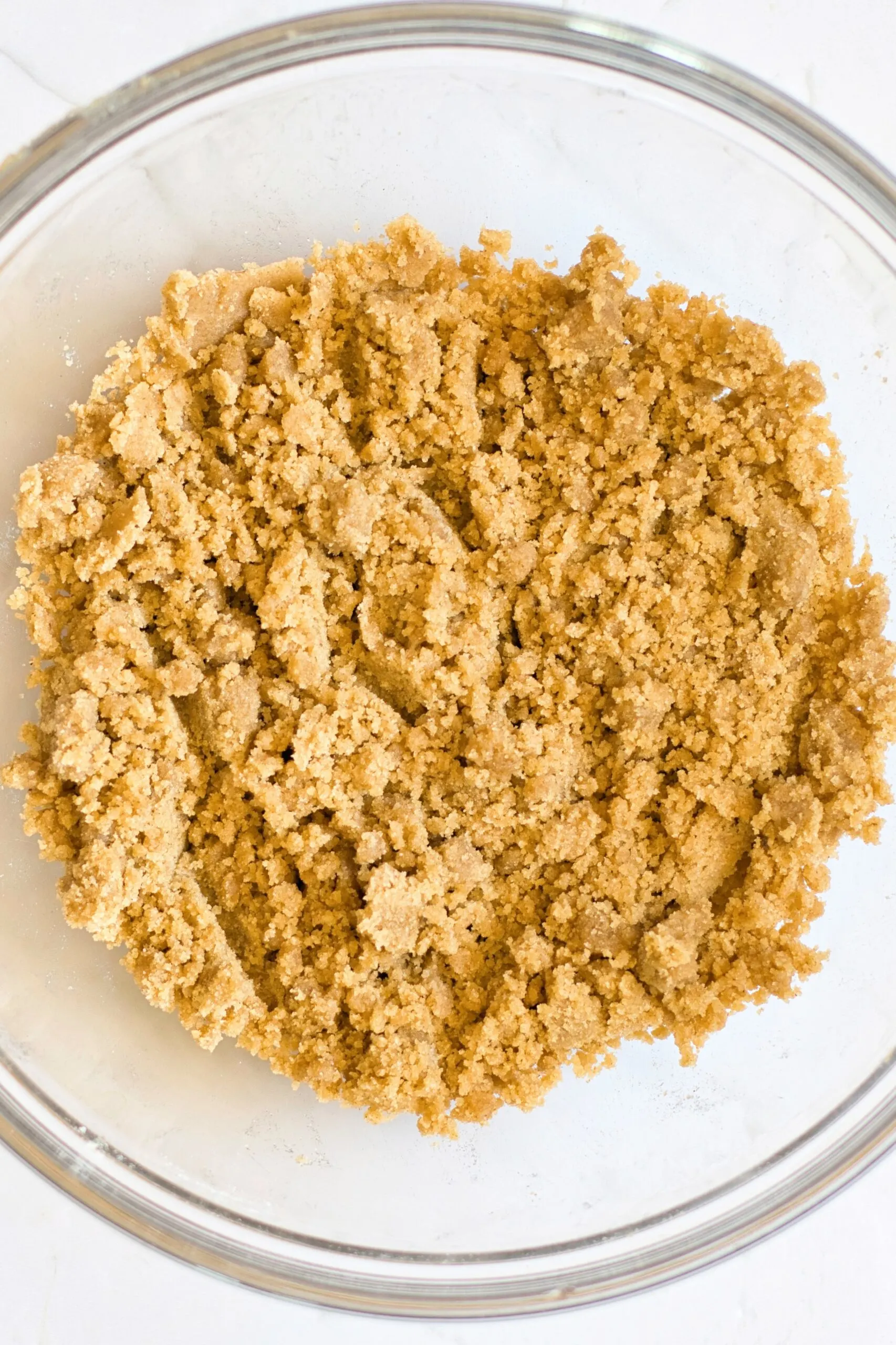 Once the dates softened, remove the seed and blend it with the soy milk.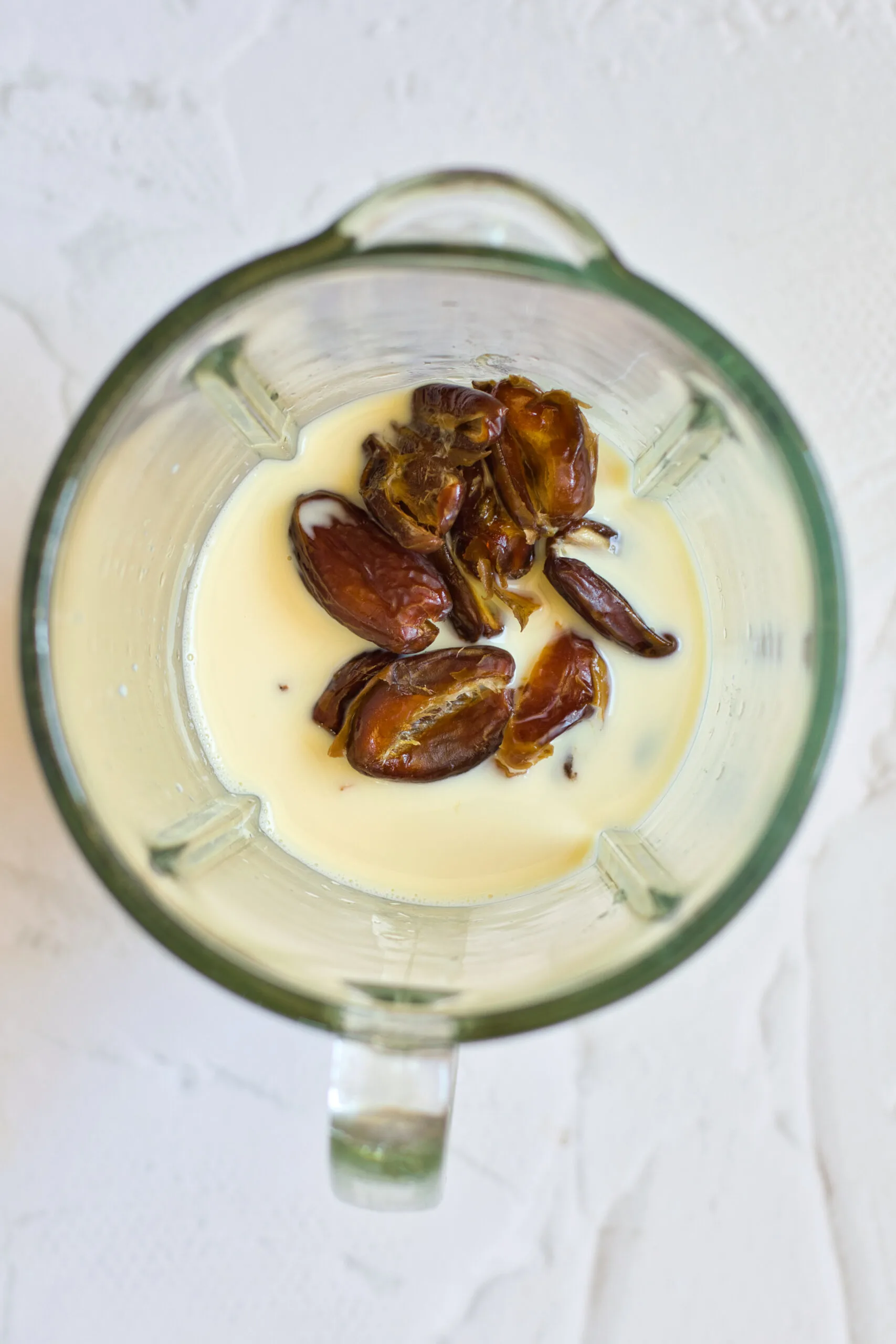 Transfer the mixture to the previous mixing bowl and mix until you obtain a creamy texture.
Now, melt the vegan butter and mix it with the brown sugar and the cinnamon until it forms crumbles. Set aside.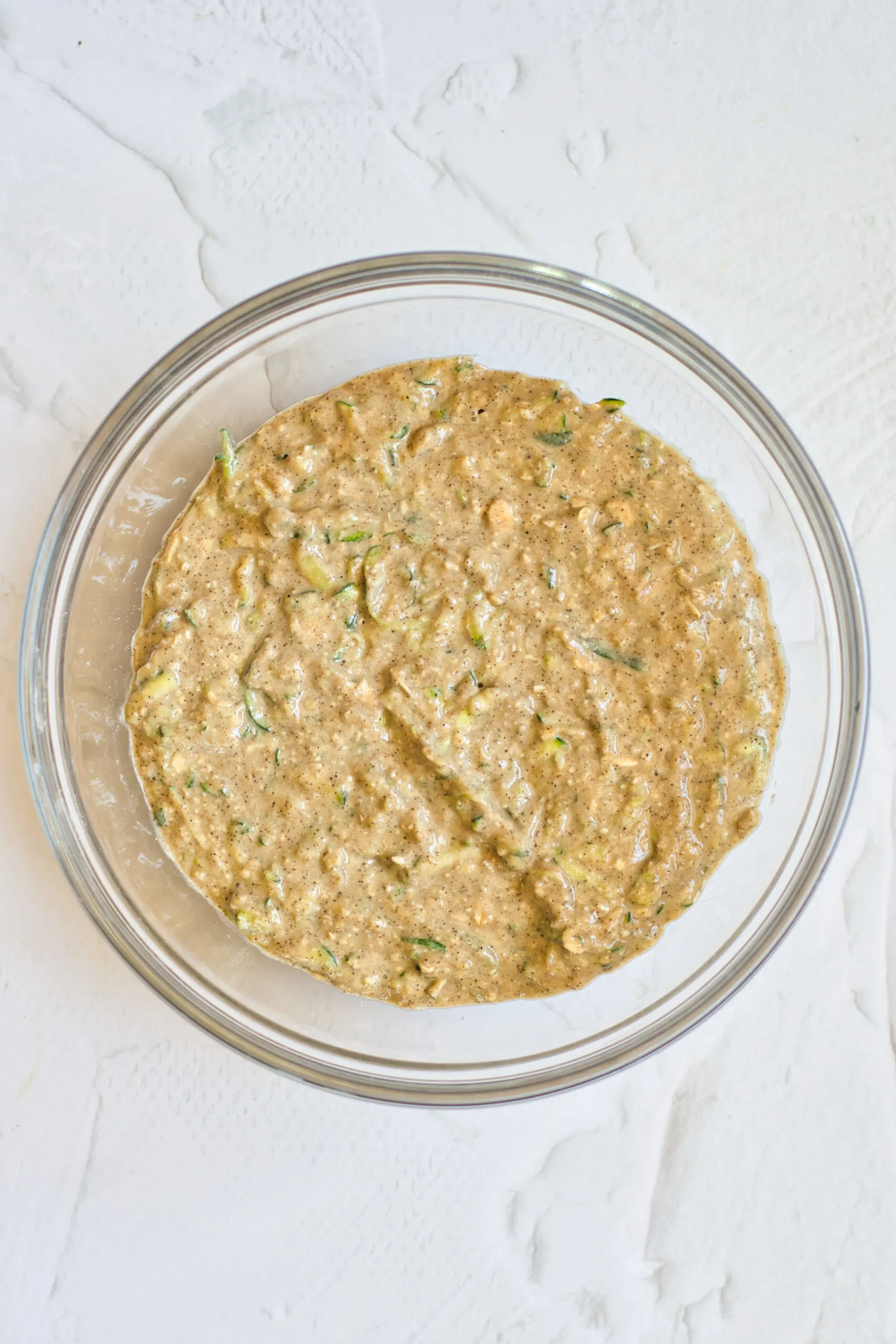 Pour your zucchini mix into the prepared baking pan. Next, sprinkle the crumbled on top and place it into the oven for at least 40-45 minutes or until it's cooked in the middle. ( you can insert a wooden skewer stick to check if it's cooked; It needs to come out without uncooked batter).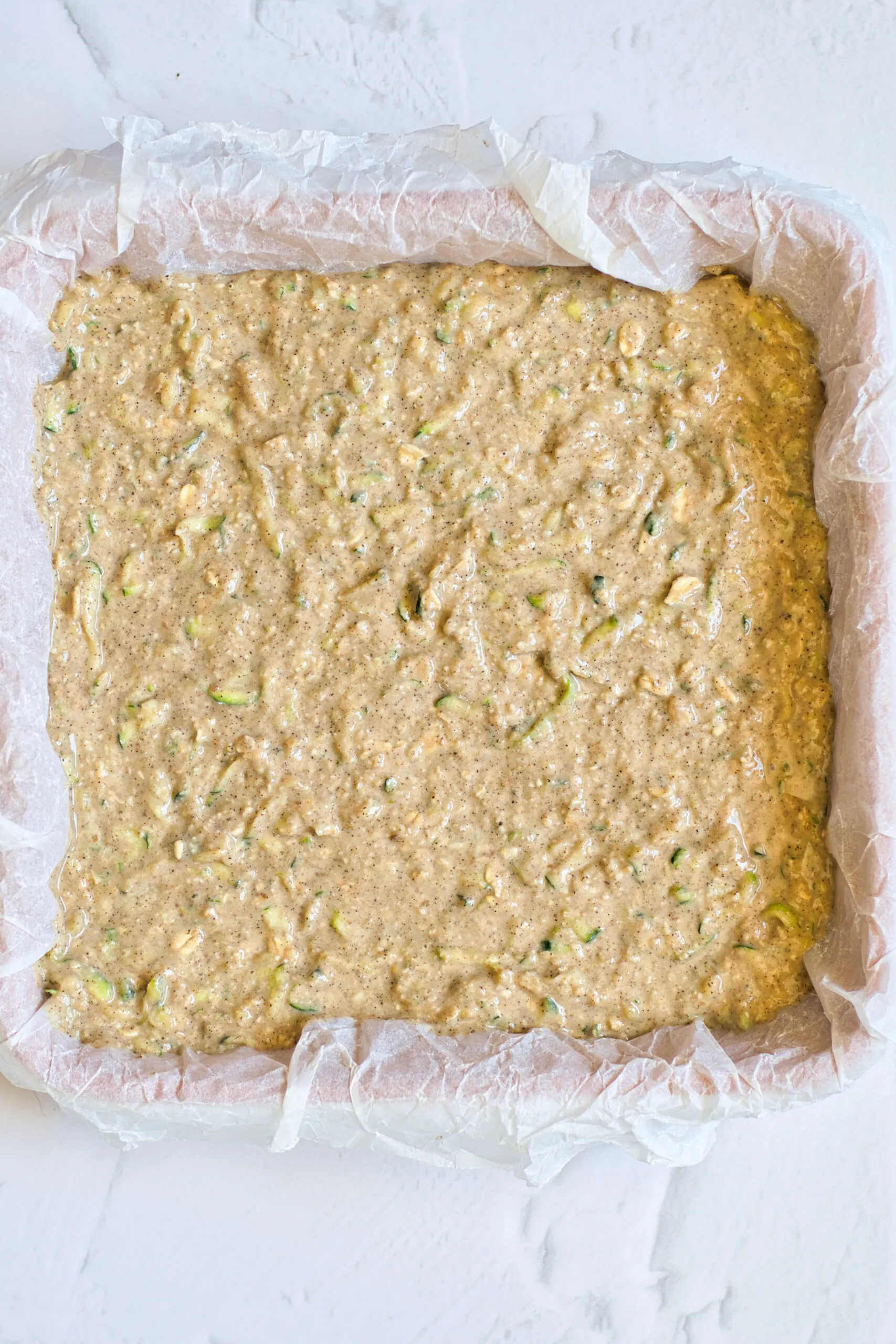 Once cooked, cool it down to room temperature.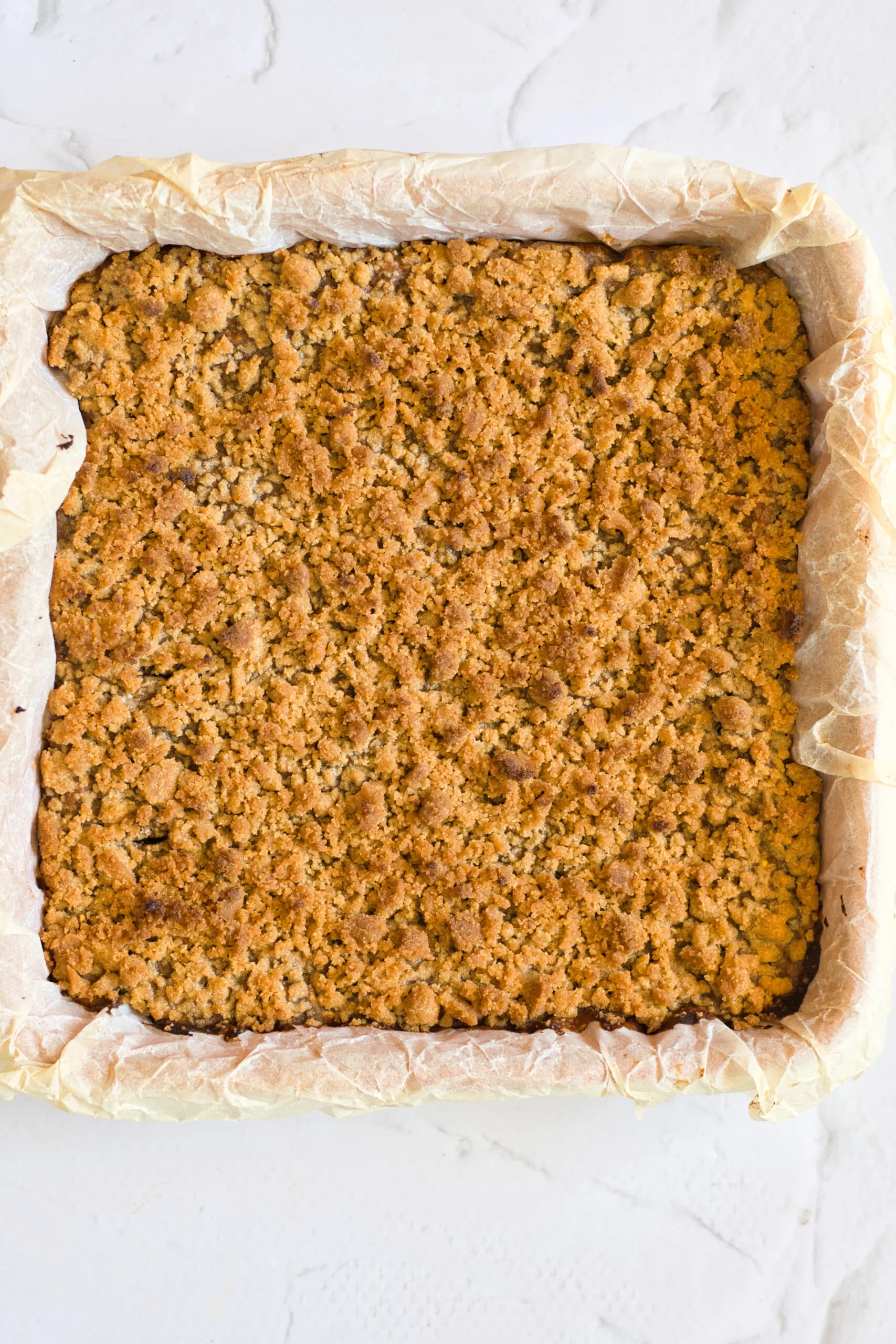 Enjoy!!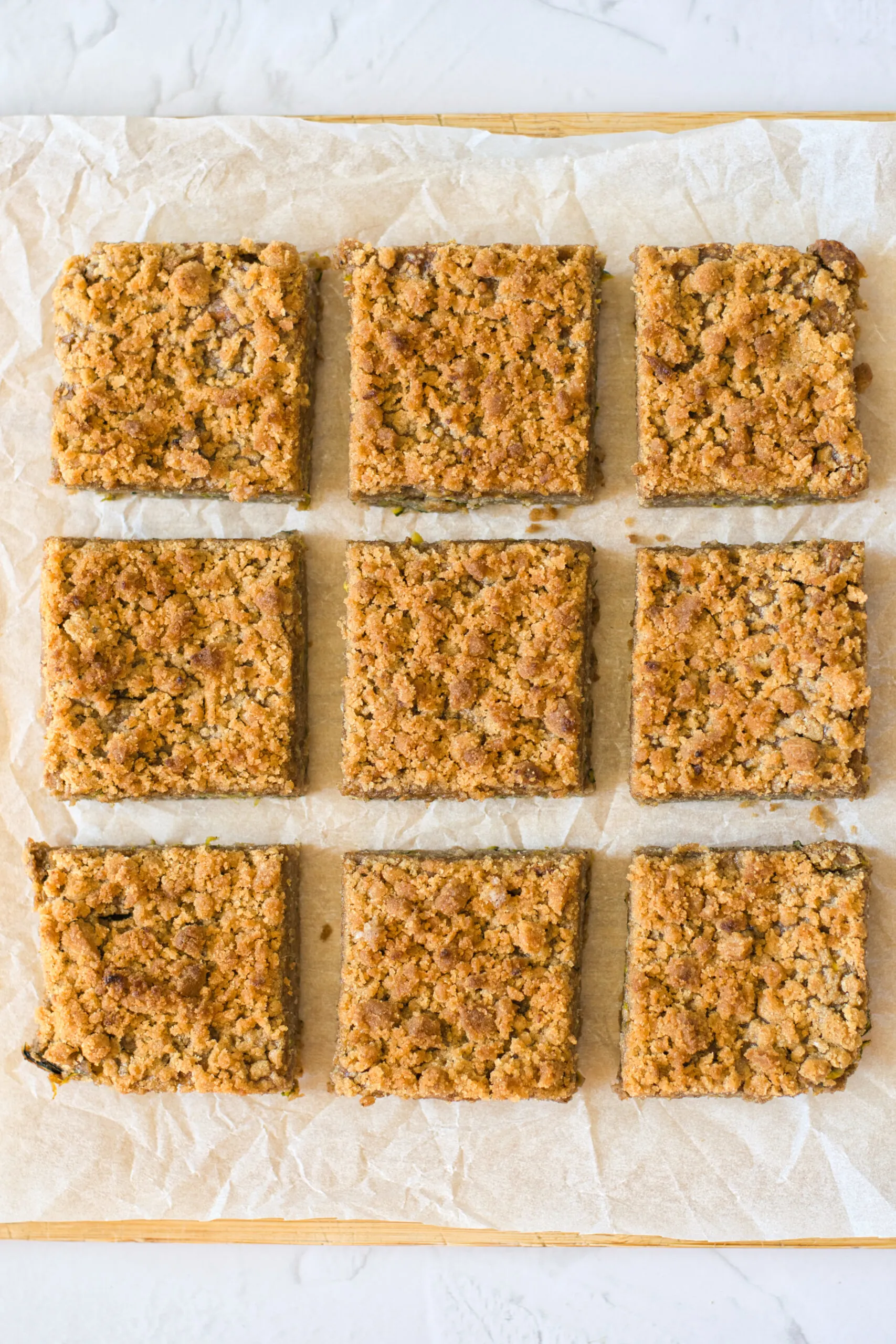 Notes
Fridge: in an airtight container for up to 9 days
Helpful Tips
The easiest way to shred zucchini is to use a cheese grater. Just make sure to clean the zucchini well before you start shredding it so that you can shred and use it without issues.
If you don't have cinnamon, you can also use pumpkin pie spice to add a fun fall taste!
How to Store
The key to keeping the bread moist and delicious is to make sure that it's stored properly. Air is your enemy when you are dealing with baked goods!
Make sure to store the leftover cinnamon swirl bread in an airtight container or bag. You can also wrap it in saran wrap as well before placing it into a bag to add an extra layer of protection.
Zucchini bread can be stored at room temperature for up to 3 days and will last for up to 5 days when you store it in the fridge.
Baked cinnamon bread can also be frozen as long as you store it in an airtight container that is freezer-safe. As long as it's stored correctly in the freezer, it can stay frozen for 2-3 months.
Common Questions
Can I add other ingredients?
Absolutely! I change up the bread recipe from time to time and add chocolate chips! If you're a fan of nuts, you can also add crushed pecans or walnuts, too.
Why does my bread crumble when I cut into it?
A huge tip to remember is that you need to let the bread cool down before you attempt to cut into it. If the zucchini bread is hot, it's going to crumble and break apart when it's cut. Just let it cool for about 10 minutes or so, and then work on cutting directly into the loaf of bread.
Also, make sure that it's not dry. If the batter doesn't have enough moisture, you'll have dry bread instead of soft and moist.
More Delicious Bread Recipes
How to Make Moroccan Parsley Bread
Gluten Free Fig and Zucchini Bread