I used to make gluten-free desserts all the time for my husband but since moving to Morocco it's been a lot harder to get my hands on ingredients and when I can they're very expensive. It's a lot harder to experiment when a failed attempt has a hefty price tag.
This year for Eid I knew there wouldn't be much, if anything on the table he could eat and since I was creating my own lemon zucchini bread I decided I should at least try to make him something special too. So I sat down and carefully read through dozens of gluten free zucchini bread recipes because I knew I'd have one shot at this.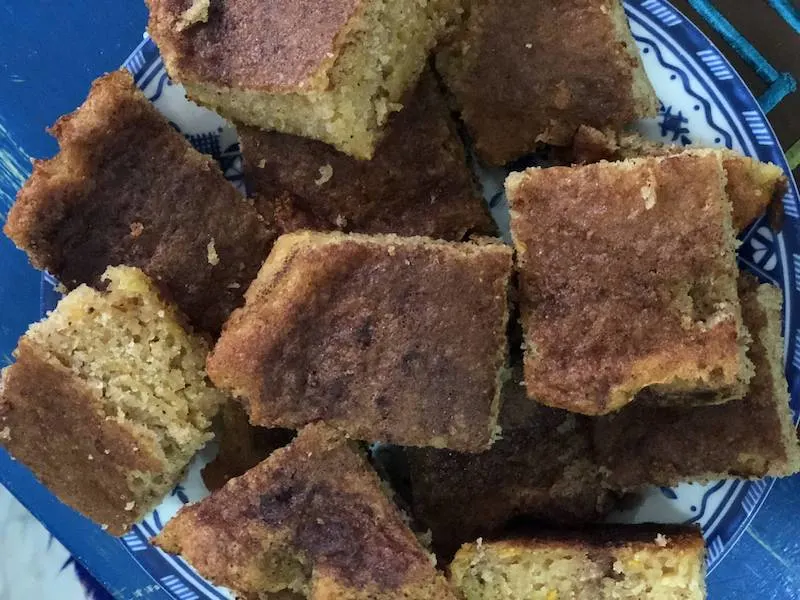 The good news is my research and the experiment paid off. Everyone that tasted it liked it and not one of them guessed it was gluten free. One other bonus is that you get a good amount of vegetables that are hidden. Usually I have to add chocolate to make that happen!
You can swap out the gluten free flour in this and use regular flour if you're not gluten free, I'd just reduce the amount by about 1/4 cup. The batter should be close to a cake batter consistency.
Yield:

15 pieces
Gluten Free Cinnamon Fig Zucchini Bread
You might be surprised when you serve this that no one will guess it's gluten free OR that it has zucchini in it!
Ingredients
2 eggs
1/2 cup brown sugar
1/4 cup white sugar
1/2 cup vegetable oil
1/4 cup melted butter
1 teaspoon vanilla
2 cups gluten free flour mix
1/2 teaspoon salt
1 teaspoon baking soda
1/2 teaspoon baking powder
1/2 teaspoon cinnamon
2 cups grated zucchini - I used yellow zucchini
6-8 chopped up dried mission figs
extra cinnamon and 3 tsp sugar for preparation
Instructions
Preheat oven to 350F (180C)
In a large bowl combine the eggs, brown sugar, white sugar, oil, vanilla and butter.
Mix in the baking soda and baking powder as well as the salt and cinnamon.
Whisk in the flour slowly to avoid clumps.
Grate the zucchini and add to the batter last. DO NOT remove any of the liquid from the zucchini - just add it as is. I leave the peel on the zucchini as well.
You can bake this in a loaf pan or in an 8" (20cm) cake pan.
Pour half the batter into the pan (I like mine with parchment paper).
Sprinkle the chopped up figs in the middle of the cake along with sprinkling the cinnamon and sugar. Add the remaining batter on top.
Bake for about 45 minutes until a toothpick comes out clean. You will need to adjust baking time if using a cake pan or a loaf pan. The loaf will take longer to cook through.
Recommended Products
As an Amazon Associate and member of other affiliate programs, I earn from qualifying purchases.