This Moroccan parsley bread, also known as batbout bread is a type of stovetop bread. The bread is made from a dough of flour, water, yeast and salt, and is then topped with fresh parsley. This isn't a traditional Moroccan bread that is generally made in Morocco – the parsley is a new addition.
Batbout is a barely leavened flatbread that is popular in Morocco. This is cooked on a griddle or in a skillet. The bread is often eaten with Moroccan tajine, and can also be used as a wrap for Moroccan-style sandwiches.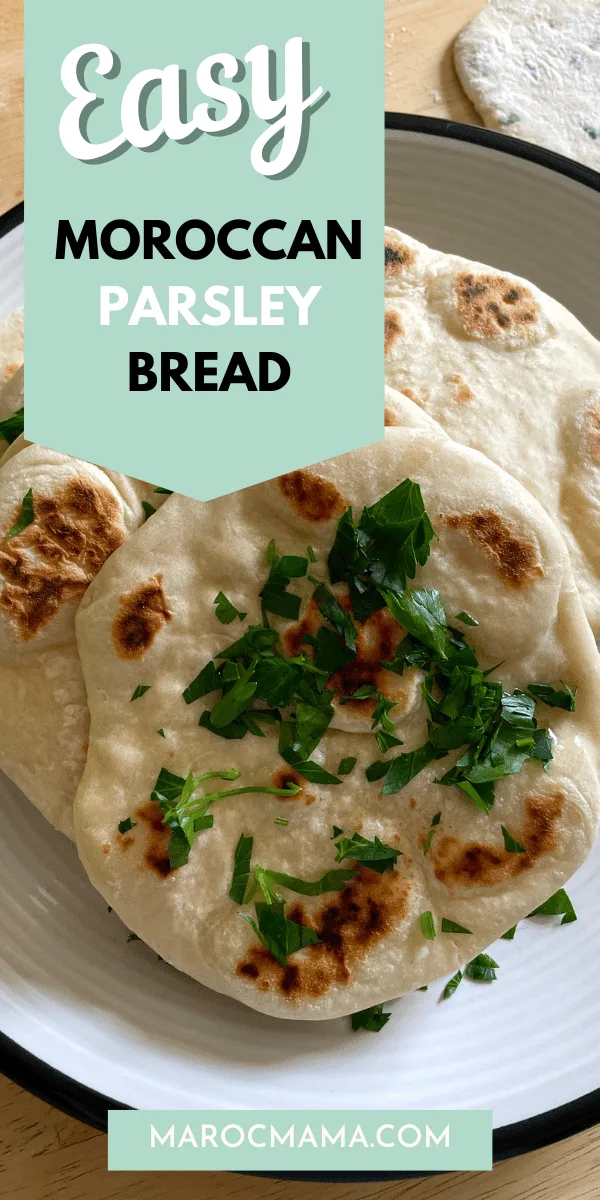 While this recipe uses parsley, you could use any herb. Traditionally this is made plain, with no toppings. But, there's no reason why you can't play around and experiment with different toppings. The herbs do add a fresh element and make the bread have a different flavor and dimension.
How to Make Moroccan Bread
Moroccan bread is either baked in an oven or on a skillet or on a griddle. The dough is formed into a ball, then flattened into a disc. It is then cooked on both sides until it is golden brown. One of the keys to making this bread is that you need to let it rest long enough.
Letting the bread dough rest does a few things. It allows the flour to fully hydrate, which gives the bread a softer texture. It also allows the gluten to relax, making the dough easier to work with.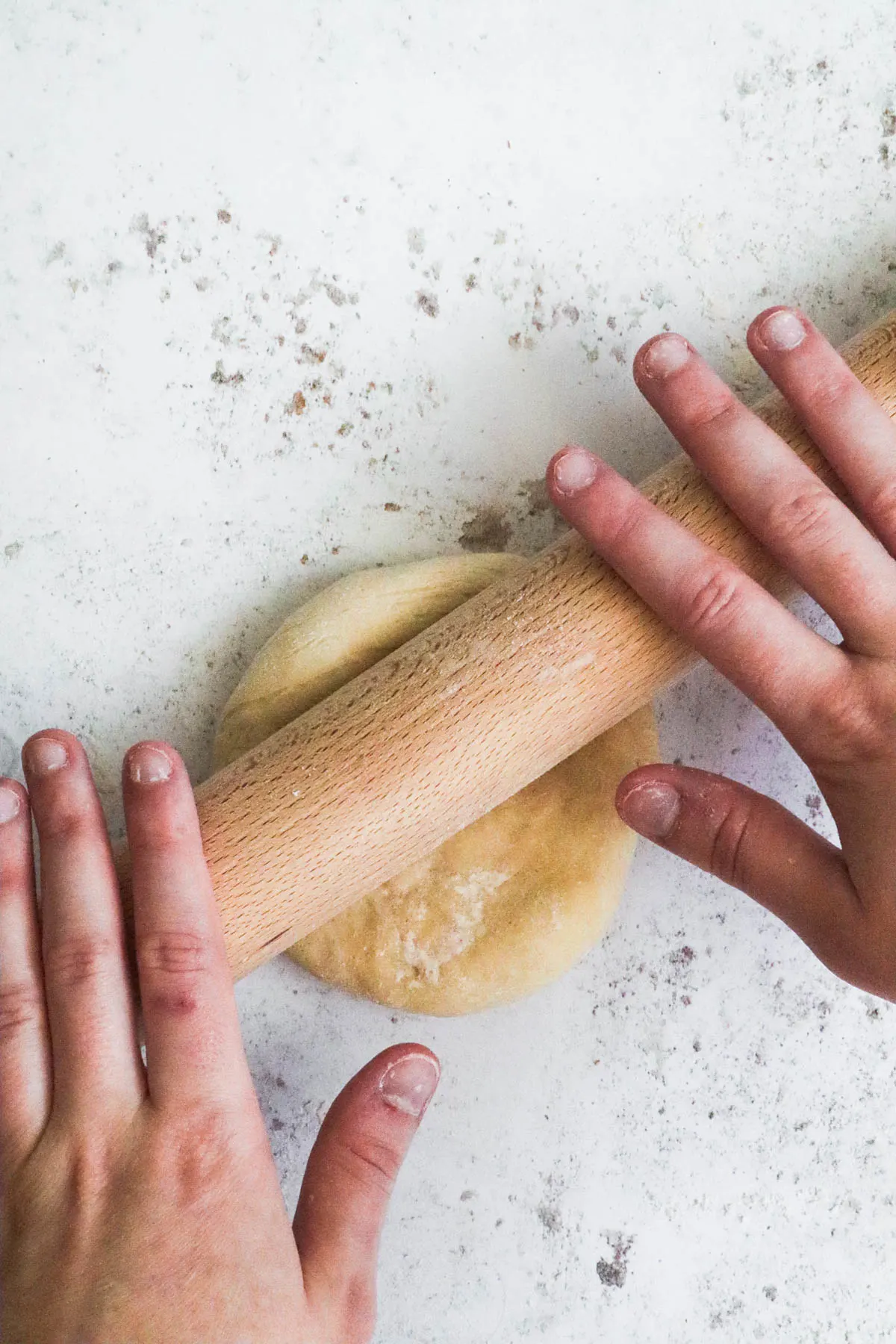 Tips for Making Moroccan Parsley Bread
Use a well-floured surface when working with the dough to prevent it from sticking.
Be sure to let the dough rest for at least 30 minutes before cooking. You want it to be approximately double in size.
After dividing the dough and rolling it out, let the dough sit 10-15 minutes to rise slightly.
Let the skillet get hot before putting the bread on for the first time. This will help the bread to puff.
Then turn down the heat and cook the bread on a medium-high heat so that it doesn't burn.
Moroccan bread is best eaten fresh, but leftovers can be stored in a plastic bag for up to 2 days.
This bread can also be frozen. However, leave the parsley off until you want to reheat it.
How to Make Parsley Bread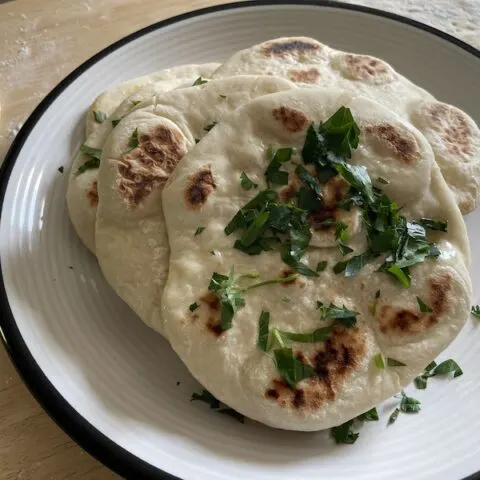 Yield:

10-12 pieces
Moroccan Parsley Bread
Total Time:
2 hours
20 minutes
The base bread of this recipe is traditional Moroccan but with the addition of parsley it becomes something new!
Ingredients
4 cups white flour
1 teaspoon sugar
2 tsp salt
3/4 - 1 Tbsp active yeast
2 cups water (approximate), divided
Chopped parsley or another herb
Vegetable or olive oil for cooking (optional)
Instructions
Activate the yeast by mixing it with ¼ cup of warm (not hot) water and the sugar. Set aside the mixture until it's frothy, about five minutes.
Add the flour to a large mixing bowl along with the salt and give a quick mix.
Add the yeast and begin to mix, adding more water as needed to incorporate all of the dough. The dough should be soft but not sticky. If it's too sticky to work with, add a little flour one tablespoon at a time. (Remember the dough will absorb a bit more flour if you knead it by hand.)
If the dough feels a bit stiff, work in additional water, a tablespoon at a time. Knead the dough in a mixer with a dough hook, or by hand on a lightly floured surface, for about 10 minutes or until smooth and elastic.
Divide the dough into smooth balls and leave them to rest, covered, on a lightly floured surface for about 10 minutes.
Roll out each ball into a thin circle about ⅛ inch thick. Set the rolled out dough on a clean, dry towel and cover. Leave to rise for about 1 hour.
Preheat a very lightly oiled cast iron skillet, griddle or other non-stick pan over medium heat. You can also leave the oil off but I find it adds a nice bit of color.
Cook the batbout, turning several times, until golden brown on both sides. The browning will be a bit uneven since the bread puffs up as it cooks, but that's okay.
Transfer the cooked batbout to a rack to cool. It's okay to stack them while they're warm.
Brush the bread with olive oil or melted butter and sprinkle with fresh parsley.
Notes
For the yeast in this recipe, I listed a range. In the US yeast comes in a pre-measured packet that is 3/4 Tbsp, this is fine! If you're using loose, dry yeast a bit more will not affect the bread negatively.
The cooking time also will vary as it will depend how many breads you are cooking at once, the temperature you're cooking at etc.
Different Moroccan Stovetop Bread Recipes to Try
If you enjoyed this recipe, there are several other types of stovetop breads you can make. These are great if you don't have an oven or simply don't want to turn it on!