Are you having a hard time choosing a new rug or a vintage rug? This is one of the top questions people have when they are shopping for a Moroccan rug.
Rugs are an essential component of any home. They can help define the space's style and feel and add warmth and comfort.
There are numerous reasons to purchase a new rug, but there are also numerous reasons to purchase a vintage rug since each has its own advantages and disadvantages.
That is why, in this article, we will discuss the advantages of purchasing a new rug versus a vintage rug. So make sure to keep reading!
Examples of New Moroccan Rugs
Moroccan Colorful Rug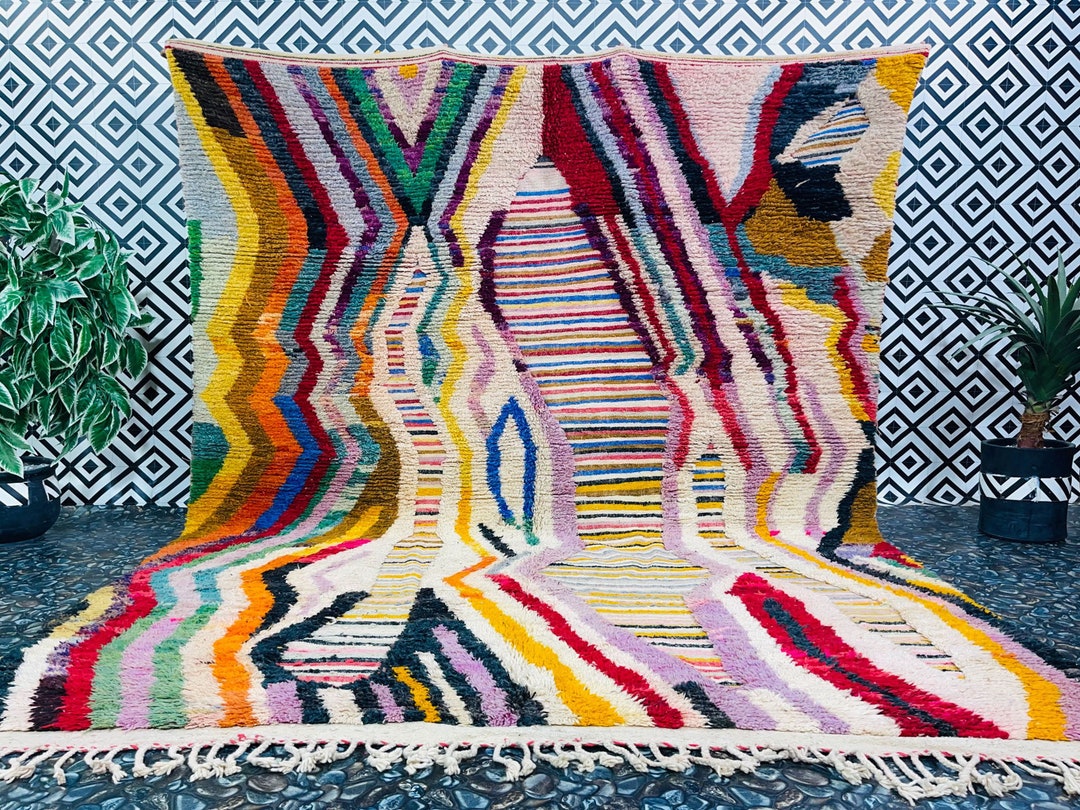 This colorful rug is a brand-new handcrafted Moroccan rug made with genuine wool and the attention to detail that only a skilled Moroccan weaver can provide.
This piece is ideal for those looking for a new rug with the look of an authentic Moroccan rug but at a lower price. It is also ideal for anyone looking to add a splash of color to their home or office.
Unique Berber Moroccan Custom Rug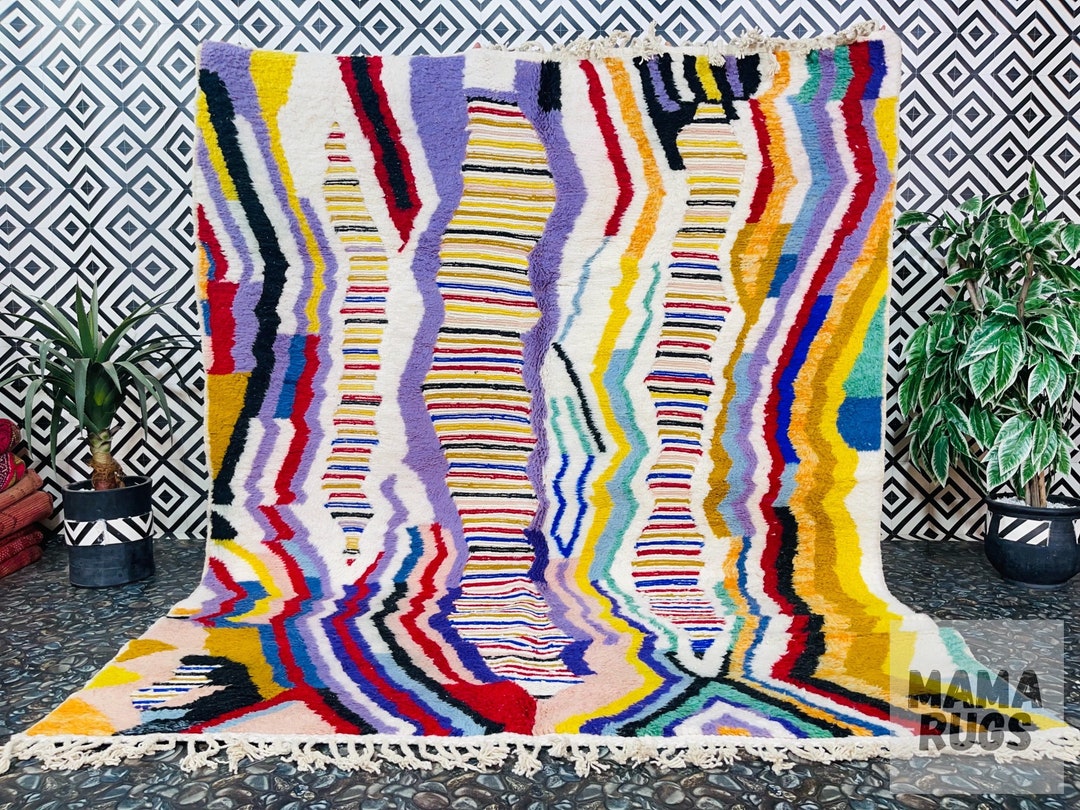 The Moroccan Berber Custom Rug is a beautiful Berber rug that would look great in any room of your home! It has a beautiful and intricate Azilal pattern in red, blue, black, white, and beige.
This rug would look fantastic in any room of your home, including but not limited to living rooms, bedrooms, and hallways!
Benefits of Choosing a New Rug
New rugs can be custom designed
When looking for a new rug, you want to ensure it's a good fit for your space.
One of the benefits of purchasing a new rug is the ability to customize and select from a wide range of styles and sizes. This way, you can ensure that it complements the rest of your decorating scheme!
You will also have no trouble placing it in different rooms of the house because the sizes will be customized to your specifications! This will make the rug look flawless in the room with your designs.
You'll be able to ensure that it's 100% clean when you buy it
A new rug is a great way to protect your home from allergens and dust mites, it can also be a great way to protect your health. Rugs are a common source of allergies, especially for people with asthma or other respiratory conditions.
The dust mites and dust collected on rugs provide an ideal environment for these allergens to thrive, so purchasing a new rug will give you peace of mind that your loved ones are safe!
When you buy a new rug, you can keep up with the latest designs
If you want to spice up your living room or simply give your home a new look, a new rug might be just what you need. The benefit of buying a new rug is that you can keep up with the latest designs and trends while enhancing your space.
Rugs are great because they are simple but have a big impact on any room. They're also relatively inexpensive compared to other decor items, so if you're just starting out or don't have a lot of money to spend on redecorating right now, a new rug will do the trick!
A new rug is typically less expensive, though not always
The advantage of buying a new rug is that it is always cheaper than buying a used one. Because the process of making a new rug is cheaper than the process of remaking and fixing an old one, the price of a new rug will be lower than the price of an old one.
Downsides of a New Moroccan Rug
It takes time to make
If you're unsure how much time you have to transform your space and want it done quickly, you should reconsider this option.
Making a new rug is not as simple as going to a store and buying one. Making a new rug takes time and effort, which means it will take even longer to transform your room or house into the vision you have for it. Larger rugs can take a month or more to complete, not including the time required for shipping.
New rugs can be made with synthetic materials
Some people are concerned about the health risks posed by synthetic materials, particularly because they are frequently treated with non-biodegradable chemicals and dyes.
Furthermore, new rugs may not be as long-lasting as older rugs. Their construction materials may be less durable than the fibers used in older rugs woven together for many years.
Examples of Vintage Moroccan Rugs
Moroccan Vintage Rug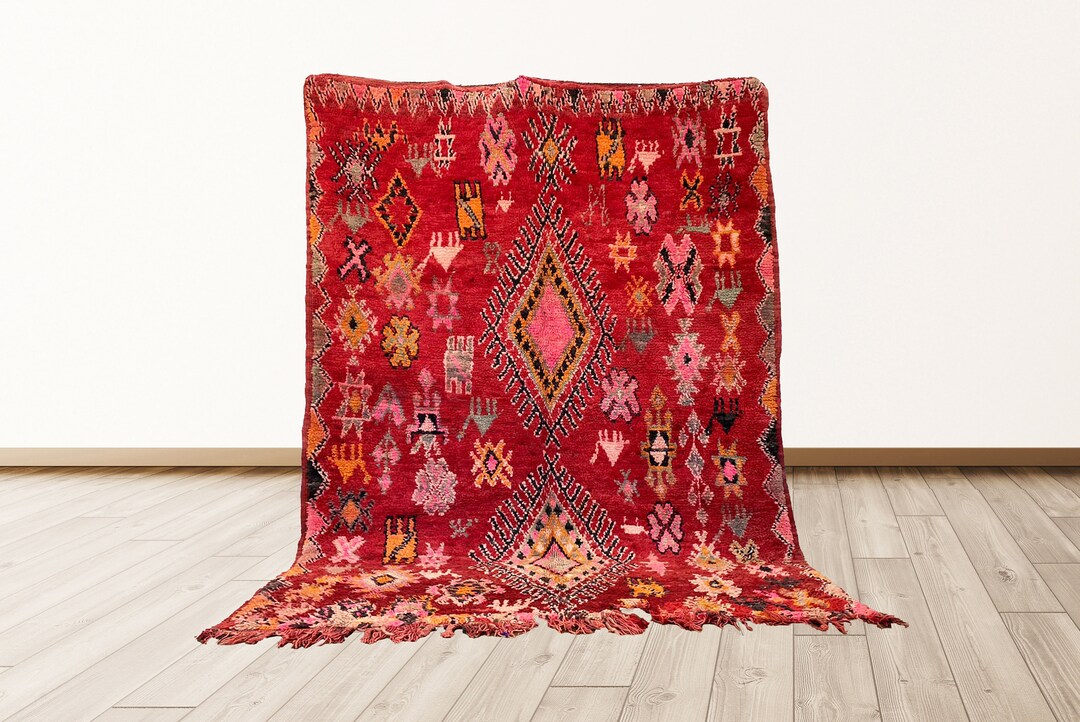 This vintage rug is a magnificent work of Moroccan art.
It's a one-of-a-kind, handmade vintage rug from Morocco's Beni Mguild region. The rug measures 6×8.6 feet and is made of 100% wool.
The design is inspired by traditional Moroccan patterns, with beautiful colors and authentic artwork designs that would look great in any room of your home.
Vintage Checkered Wool Rug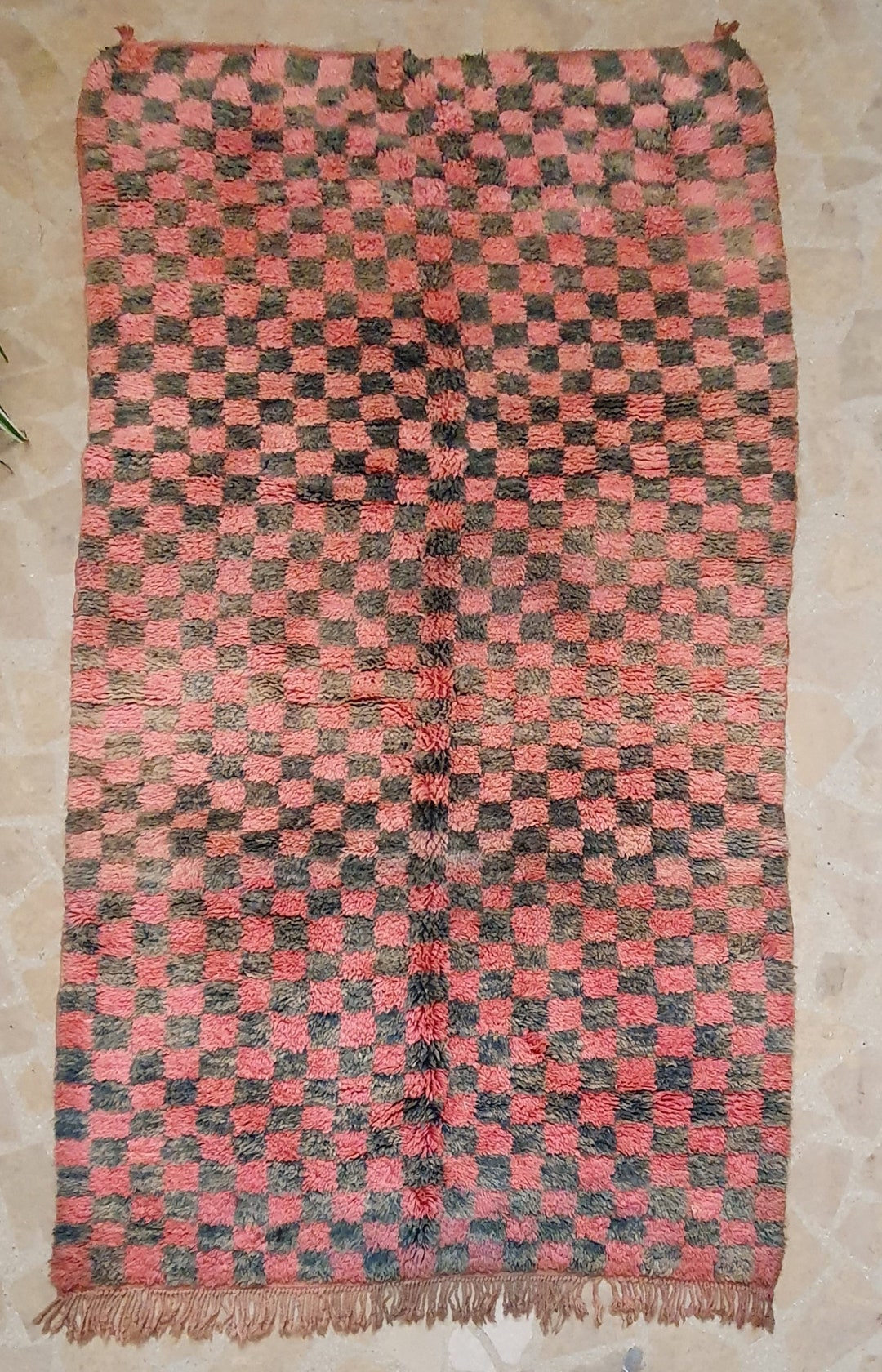 This rug's antique-style pattern and warm, earthy tones will transport you to Morocco's natural beauty. The hand-knotted construction makes this rug long-lasting and durable, while the wool fibers are soft to the touch and create a cozy ambiance.
This vintage rug is also a great gift idea for people who loves Morocco or wishes to incorporate some of its cultures into their home.
Benefits of Choosing a Vintage Rug
It can be a collection piece
The story behind a vintage rug is everything. It is necessary to speak with the previous owner, observe how they used it, and learn from their experience.
A vintage rug is a true investment because it will always hold its value and grow in value over time. You can also expect to get more than what you paid for your rug when you decide to sell it!
A vintage look is something that you are after
A vintage rug is a perfect way to do it if you want to add a vintage look to your home.
Vintage rugs are made of natural materials and are handcrafted. As a result, they are an excellent choice for bringing an authentic touch of history into your home. It's also worth noting that vintage rugs frequently have a distinct quality that distinguishes them from other types of rugs.
Often vintage rugs have a timeless design
The fact that these rugs have been around for decades means they've had a chance to stand the test of time, and their designs are often classic and versatile enough to fit into any home.
Downsides
The bad news? There are many people out there who are attempting to pass off rugs as vintage when they are not.
They'll describe their product with words like "vintage" or "antique," but what they're really doing is selling old rugs that have been sitting in their basement for years.
How to decide which rug is right for you?
When deciding between a new rug and a vintage rug, the first thing you should do is consider your budget. If you want something that is not damaged or worn out, buy a new rug! If you want to buy a vintage rug for sentimental reasons or because it's more interesting than a regular piece of furniture, go for it!
You must also consider the designs you want for your room. Choosing a colorful rug may clash with the rest of the room, so choose colors carefully!
If you decide to buy a new rug rather than a vintage one, keep in mind that it may require additional maintenance as they age. You should also ensure that any vintage rugs you use in your home have been professionally cleaned to avoid health problems in the future.
We hope you have a better idea of what to look for when buying a rug now that you've seen the pros and cons of both new and vintage rugs.
Go vintage if you want something that will last a long time or if you want to add some personality to your space. On the other hand, a new rug may be the way to go if you're looking for something more temporary or inexpensive.
Whatever you choose, make sure it complements your style and the rest of your decor. Remember, the right rug can really bring out the best in your space!
More Information on Moroccan Rug Shopping
5 Things to Know Before Shopping for a Moroccan Rug
How to Buy a Moroccan Rug: 10 Mistakes to Avoid