Sometimes when I travel I want to cram in as much as I possibly can. Other times, I really just enjoy looking out a window from another place – seriously! One thing I think people forget is that there's no right way to travel. Recently I went to Porto with my best friend Sofie and we had almost nothing planned.
Where to Stay in Porto
There are quite a few different options however our stay was booked with GuestReady, a company that does hotel and airbnb management in Porto. I also used their "extras" booking in collaboration with Porto Concierge to set up my transfer from the airport to the apartment. I HATE trying to navigate my way to a place after a flight so this is a no-brainer for me. The service was seamless and straightforward. My driver Luis was one of the kindest people I've ever met and provided a great experience.
The apartment we stayed in was a studio but it had a small kitchen area with a refrigerator, a nice large bathroom and there were two beds. One on the main level and another that was a loft. We ended up sharing the lower bed because the loft bed was just too high. We really felt like one of us would end up tumbling down if we needed to use the bathroom at night. This was my only issue.
The entry had a keycode punch so on arrival, we didn't have to worry about meeting anyone to get let in and our keys for the apartment were waiting. Everything was very clean and we also had a great view of the river from the windows.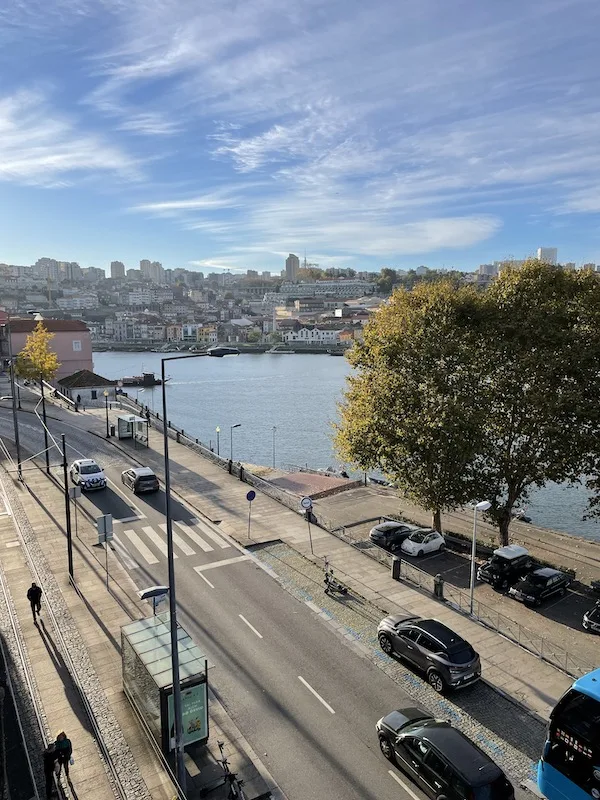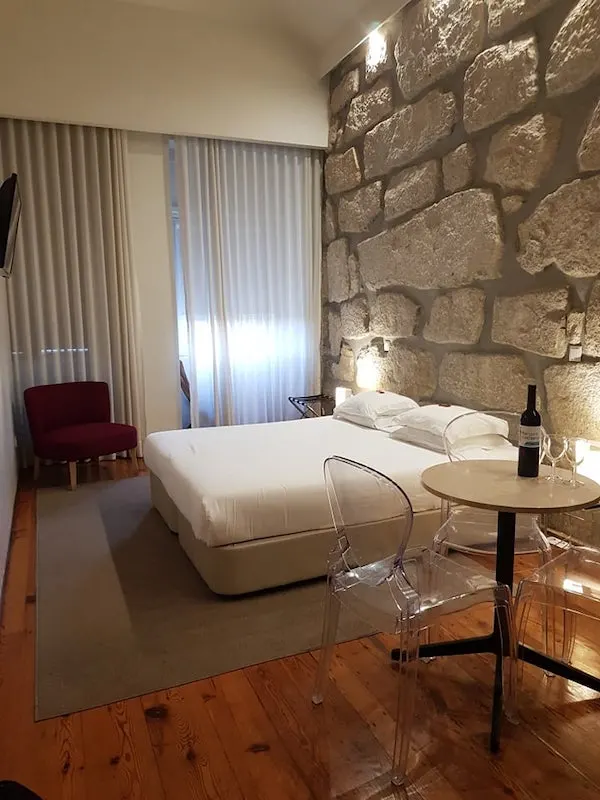 They have several apartments available so it's worth checking out what the options are. You can book directly on their website.
Day One
Hit the pavement running! Porto isn't a gigantic city so you can cover most of the highlights in a short period of time. One thing you will want to keep in mind is that it is full of hills and there can be a lot of steps. (This is just a little preview).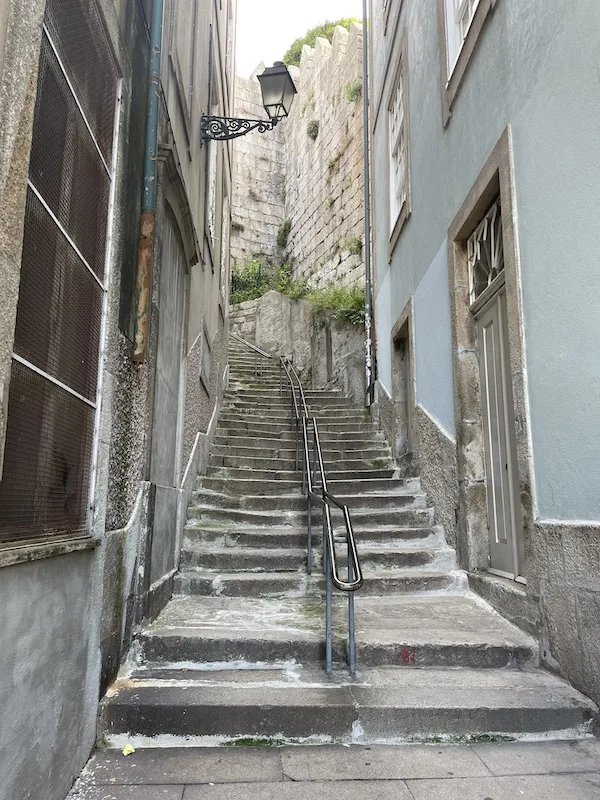 My best advice is start from the top and work your way down, especially if you're not used to such strenuous walking. You can take a taxi or an Uber to a top point and go down. Or take the steps totally your call (we did both). If you pick up a Porto City Card you'll also have access to public transportation and can be a big help. It has free access to 6 museums and a 50% discount at other museums as well as a few other discounts.
If you do decide to start high consider the Crystal Palace Gardens for a starting place. This large park area has some great view points below and is a good, high position to start from. There's also a ton of peacocks which I'm a sucker for.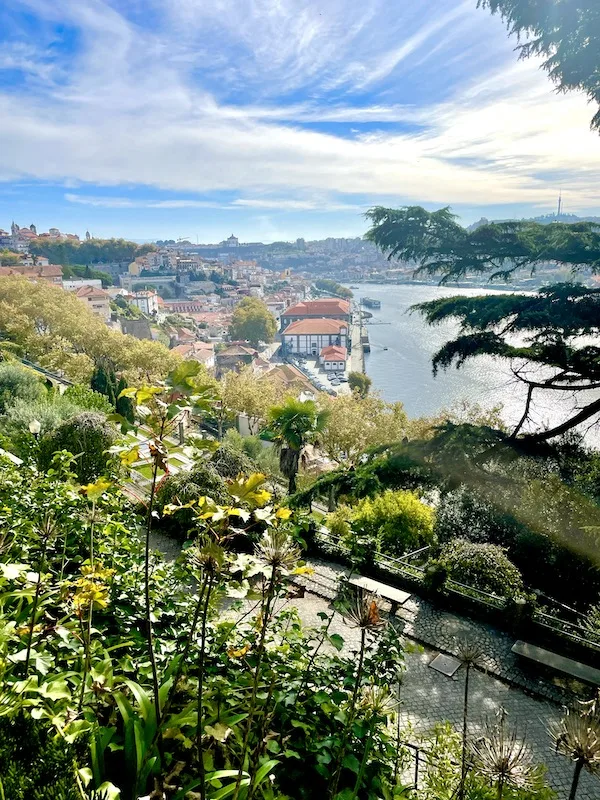 While we aren't big on museums or tours when we travel together, there are quite a few interesting places you might want to check out on your day in Porto. A few of the highlights you may want to check out are the famous Sao Bento train station known for it's azulejo tiles. You'll also find these on the outside of some buildings like the Carmo Church.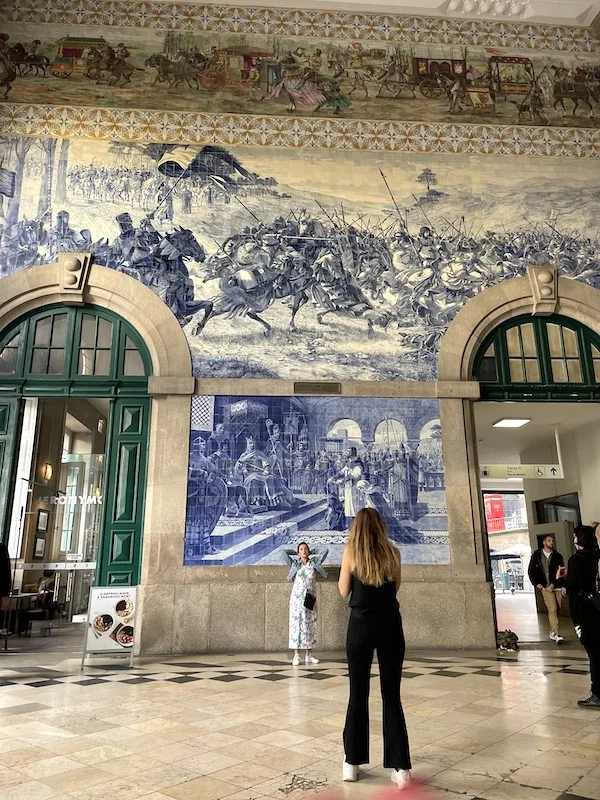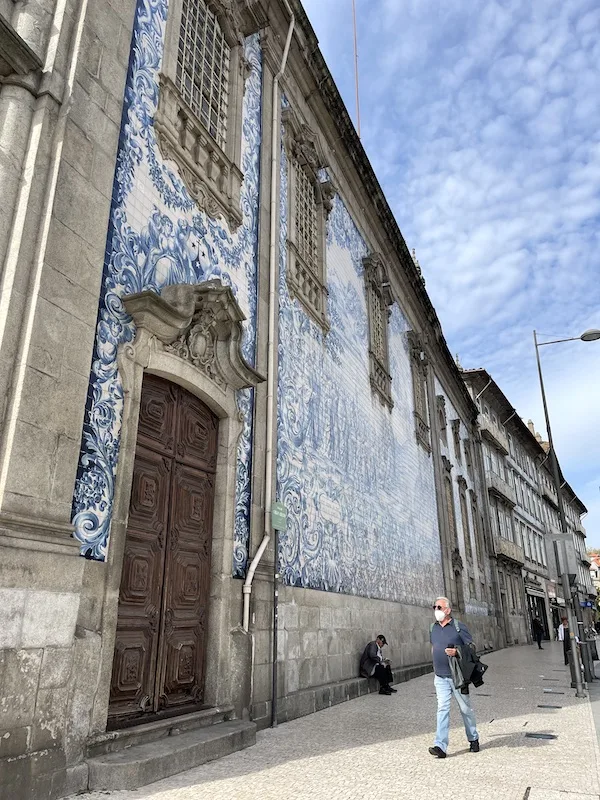 Our days are always mixed in with lots of stops at cafes, tea shops and restaurants where we can enjoy local food and visit. I'm sharing some of those spots at the end of this post.
Some Tours In Porto You May Like
Porto River Tours are very popular. There is the option to take a tour that is just the Duoro river cruise or you can choose a tour that includes wine tasting as well.
Palacio da Bolsa is considered one of Porto's most important historical sites. It's worth taking a guided tour if you plan to explore here.
Guided Electric Bike Tour – This three hour tour of Porto happens with the help of an electric bike to navigate the steep parts of the climb.
Day Two – Gaia
Porto is divided by the Duoro River and Gaia is on the opposite side of the river from the city of Porto proper. This is where you'll want to be if you're into port because it's where the distilleries are. We didn't originally plan to be here but it was close to where I needed to go to have my COVID test done (see below for more info on this). This park has a nice viewpoint from the opposite side (Jardim do Morro). It also has some play areas for kids if you've got them along too.
From here you can also visit the Monestry. It's a bit basic inside but has some really nice views. From here you can walk down hill to the area along the river where many of the port distilleries are found. You can visit on your own or take one of the many guided tours offered.
When you're done here, you can walk towards the Luis I bridge and walk across the path. On the other side of the river is Cais de Ribiera, which has lots of restaurants and shops. This is a super touristy area but it is a lovely walk. This is also where many of the boat tours leave from. The somewhat hidden funicular that takes you up to the Muralha Fernandina. The ruins are interesting but there's also some great views on offer.
Day Three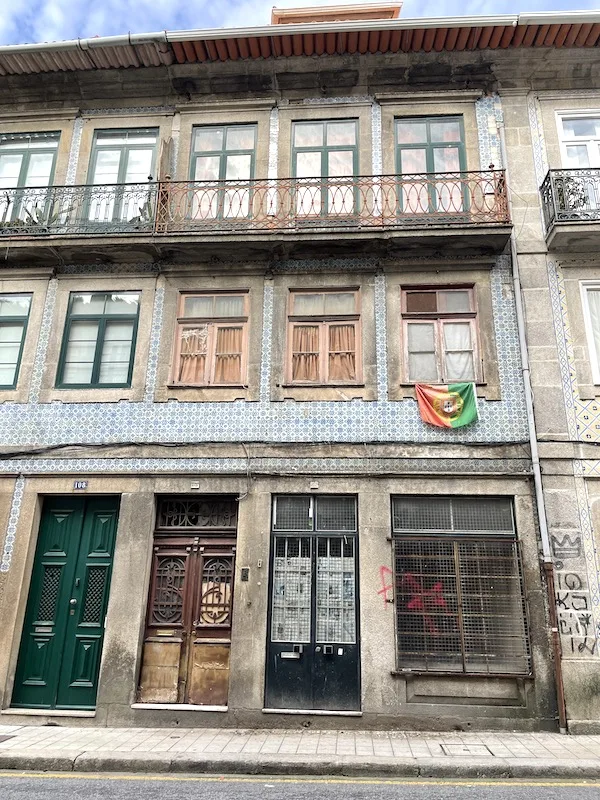 Unfortuantely for me, our day three didn't go as planned. I fell sick with food poisoning and spent the day in the apartment ill. But, there were a few things that we had still hoped to see. I've added those below as well as a few other suggestions you might consider for your visit.
Livaria Lello – This library is considered one of the most beautiful in the world and when you take this guided tour it includes a stop. You can also book a ticket to enter seperately. Entries are timed and if you don't reserve ahead you can expect a long wait.
Church of St. Francis – This is a gothic church near the river that was completed in 1410. While the outside is quite plain it's estimated there is 650 pounds of gold used inside for decorations. But the real interesting part of this church is that you can access the catacombs of Porto from here!
FC Porto Museum – For football (soccer) lovers a visit to the stadium and museum could be a real highlight. You might even be able to get tickets to a game if it's in season.
Porto Bridge Climb – There is probably zero chance I would ever do this but if you're a thrill seeker, you'll love it. The Arrabida bridge is one of the largest arched bridges in Europe and hte only one that can be accessed by the public.
Where to Eat in Porto
This is always the most important thing for me but having gotten sick during my stay as well as being pretty out of practice when it comes to travel (this was my first leisure trip in almost 2 years!) we were a bit unprepared. Thankfully I had an excellent contact with Porto Concierge who gave us SO many suggestions! We couldn't visit all of them but here are a few of the places we went.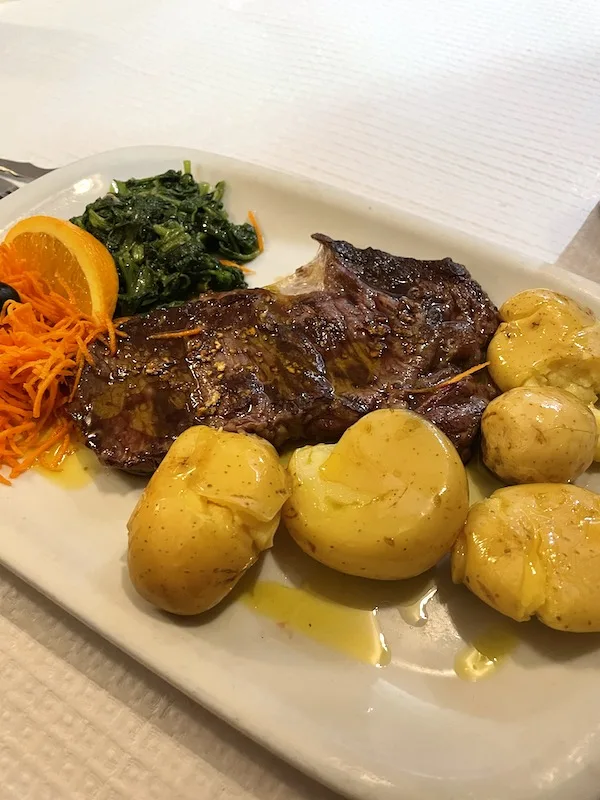 Peneira – Padaria Artesanal – This little bakery and cafe was just up the hill from our apartment. It wasn't on our original list but was one of my favorite stops of the whole weekend. The decor was cute, the food was great and it made for a great breakfast/morning stop.
Taberna Sto Antonio – I highly recommend making a reservation for this place as it's popular with visitors and locals. The food is very much traditional Portuguese and there's a short menu making it easy to decide what sounds good. I had a steak with potatoes and Sofie had the oxtail. There's also fish, a few starters and desserts available. The service was good, the people were nice and the price was really decent.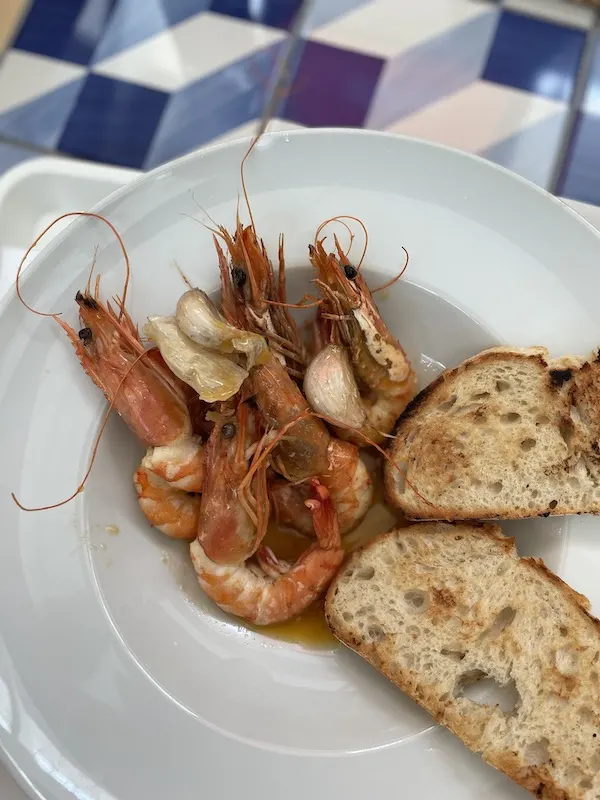 Mercado Bom Sucesso – I love food markets and food halls, especially in Europe so this was a good find. The weekend I was in Porto was right when they lifted many of their COVID restrictions so I'm going to guess in normal times things would be even more bustling. This is a good option if you've got people eating that have different likes. Imagine a more upscale food court. I had a Portuguese shrimp in garlic sauce with toast that was pretty good. There were lots of different options. I'd recommend this if the weather is cold as well as a good indoor option.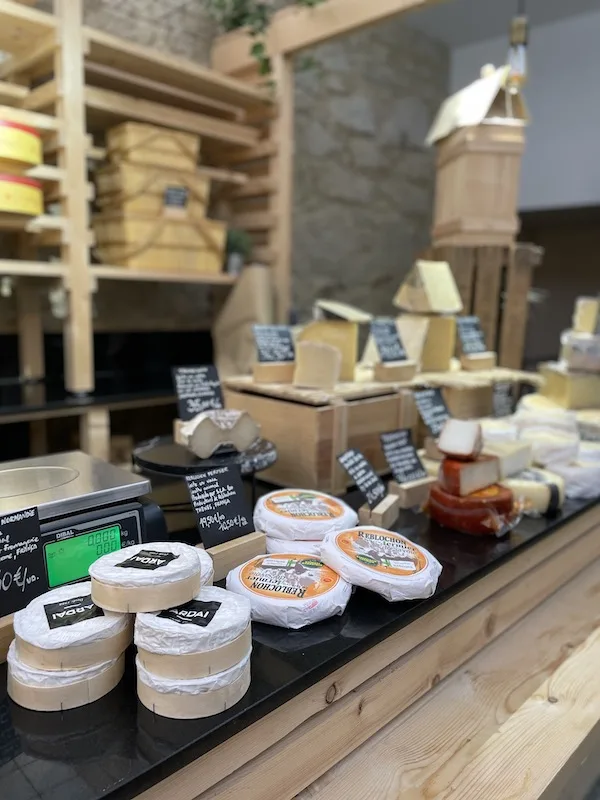 Queijaria do Almada – Another thing that I love to do when I'm somewhere new is find a local cheese shop. This is a great one! They had loads of Portuguese (and international) cheeses on offer and at a great price. The staff speaks English and she recommended a few options to me. If you're a cheese lover, make a visit!
Bacalhau Bao Buns – I can not remember the name of this restaurant but it was a busy restaurant on the Cais de Ribiera. Normally I would avoid a touristy area but we were super hungry and overall I was really happy with this. Tasty albeit definitely more expensive than other areas of the city.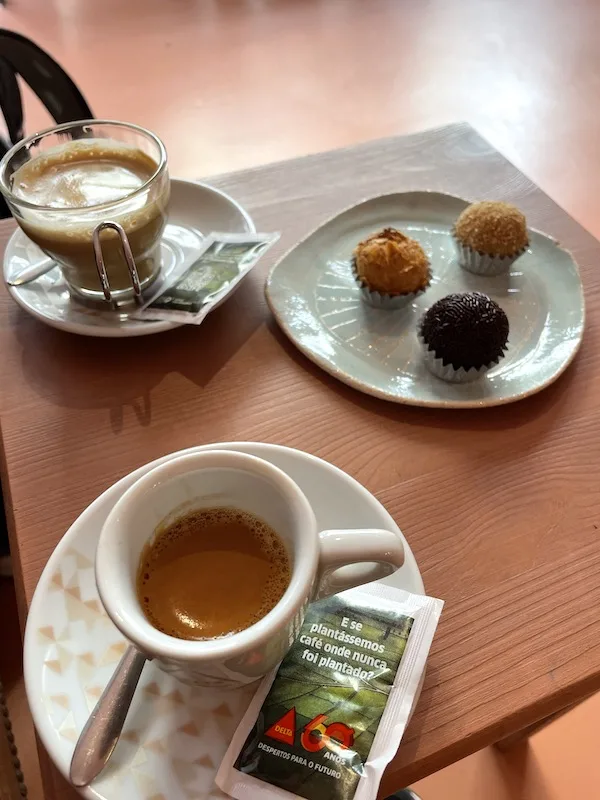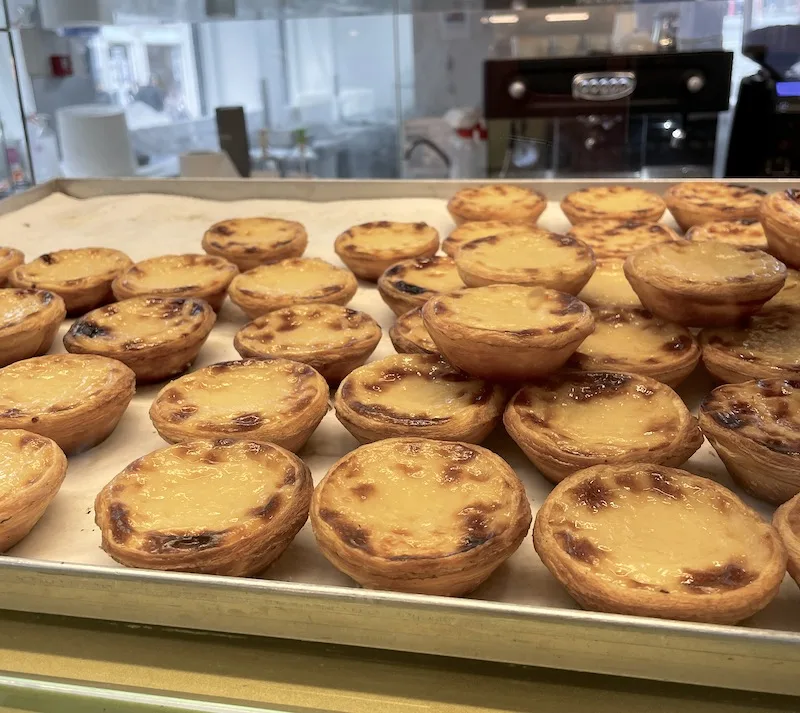 Brigaderos – This coffee shop has a few things but specializes in brigaderos a type of Portuguese sweet. They had several different flavors and we tried a few. They're pretty sweet so I'd recommend sticking to no more than two. There is a full coffee/tea menu as well as a few other cakes and pastries too.
Manteigaria – Pasteis de Nata – This is the dessert that Portugal is best known for and somehow I only managed to eat one! We visited this cafe and bakery and took one to go. It was very busy and looked like a great spot for a break. Overall it wasn't the best I've had but it probably would have been better warm and a bit more fresh (my fault, I ate it the next morning).
COVID Restrictions and Portugal Travel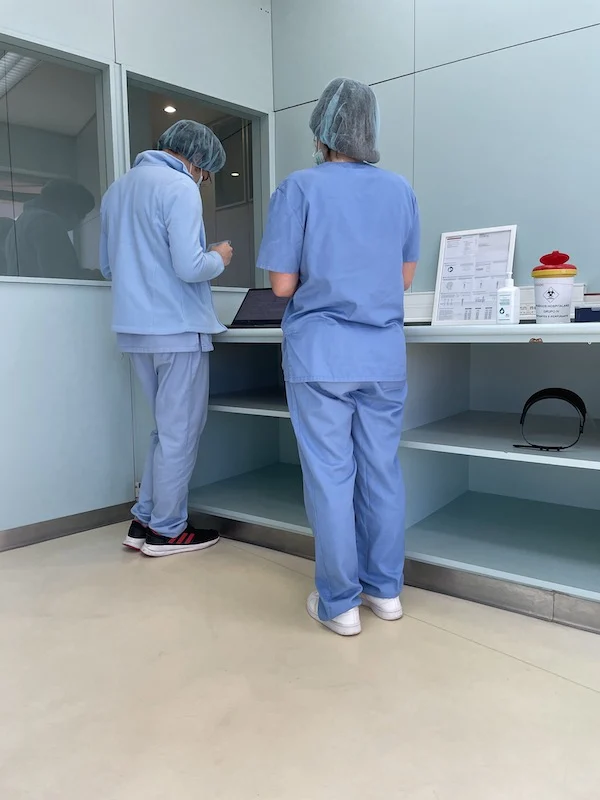 I wanted to add a quick section on this so that I could share my experience with visiting in October of 2021. My situation is a little bit more complex than others as I was vaccinated in the US but was traveling to and from Morocco. From the United States (and citizens of) travel was permitted at the time of my travel (you can find updated entry information and requirements here). Because I was traveling from Morocco it wasn't clear if I would need a PCR test, so I did one. I did need one to return because Portugal is a B-list country for Morocco entry rules.
If you're confused already, I'm sorry! It is a bit complex and my residency/citizenship/vaccination location makes it a little more complex.
In Portugal, I used Test-It labs to schedule my PCR, also because I needed the test done on a Sunday and there are limited options. Overall there are many testing locations in Porto so that wasn't an issue. The lab was a taxi drive away, but it was quick, easy, and efficient. Everyone spoke English, they confirmed everything with me via WhatsApp and emailed the test results within the day. The downside is it was 110 Euros – quite pricy.
I had no issues with immigration or presenting my paperwork. Overall while it does add a layer of complexity, it wasn't so much that I wouldn't do it again.
Should You Visit Porto?
I had a really nice stay in Porto. It's a very different vibe to Lisbon or even other European cities. It certainly has a tourist feel in some areas, however it's small enough that you can easily get outside of that and just experience the city. I also worried as someone who doesn't drink would it be an interesting place and I can safely say it was 100% fine and there was plenty to do that had nothing to do with drinking.