Did you know a Moroccan table lamp can instantly add a pop of style and character to your home? Whether you want to design your entire home in a Moroccan motif or you're just looking to add a little something different, this is one of the best places to start. Moroccan metal lamps are known for their distinctive and intricate designs that create beautiful shadows. Choosing one for your Moroccan home design may be the hardest part.
What to ask before buying your lamp
Before purchasing any lamp it is important to ask about the wiring. In some cases where you may be purchasing from a store located in your home country, it is likely already wired correctly. However, if you are ordering directly from Morocco or another country always, always ask if the lamp is wired to be used or plugged into your electric system.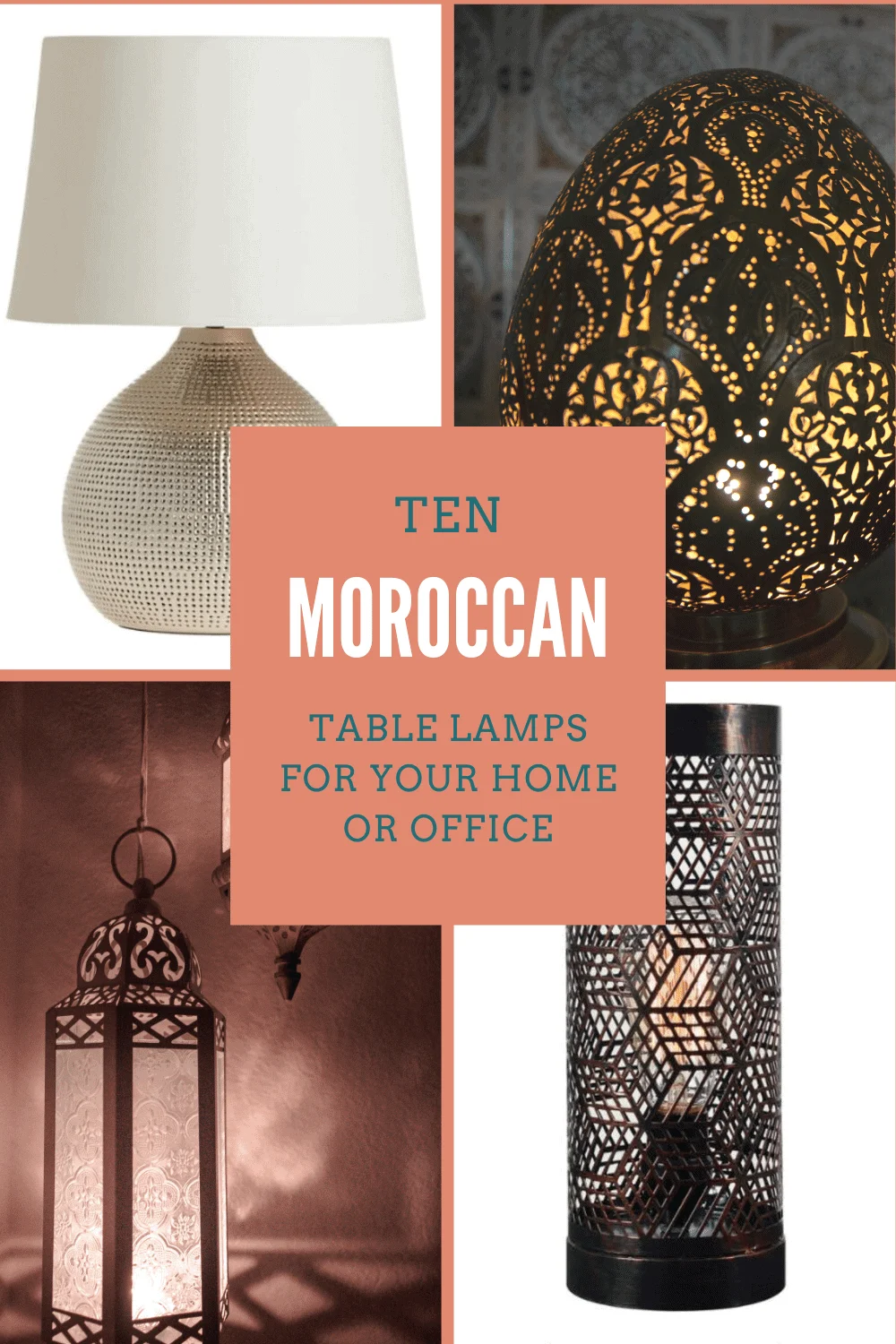 This is so often not thought about by people who are purchasing lamps, with the assumption it will be ready to use however, far too many people are surprised when their item shows up. I would hate for this to be you! It's much easier to have the shop wire the lamp correctly than to try and do it yourself.
Make sure that it fits in with the decor of your room. You don't want to choose something that clashes with the rest of your design, so take some time to really consider what will work best for you and your home. Bring in different colors, textures, and materials to create a unique look that reflects your own style.
A large lamp can overpower a small space while an oversized one can be too distracting. Also pay attention to details like embellishments on the base, fabric shades or metal accents as these can also add character to your chosen piece.
Additionally, think about how much light you want from your lamp and what type of bulb is best suited for this purpose. Choosing the right wattage will help ensure you get enough light but not feel overwhelmed by it.
With so many options available, take time to explore all that Moroccan lamps have to offer and find something perfect for your home!
Punched Metal Moroccan Lamp Base
This lamp is already wired however it does not include a lampshade. Choose a simple design to pair with it. An ideal choice for someone that prefers a clean and simple design aesthetic.
This bronze cylinder lamp is darker metal for those that prefer this style over a more shiny finish. It's slim 4.5″ diameter also makes it a good choice if you have a small space that is in need of some additional lighting.
These lamps come in a set of two – great for a Moroccan bedside table or in a living room where a pair of lights is needed. They are identical and like the first lamp, are a good choice for someone who wants a simple design that can be paired with a light shade or in a more colorful room.
While this lamp isn't Moroccan specifically it does feature Moroccan elements in the brightly colored glass domes. There are twelve different color patterns and combinations that can be chosen from.
Small Dome Moroccan Bedside Lamp
A cute, small round dome lamp that is ideal for a desk or a bookshelf. The lamp itself is bronze but can be colored in silver, bronze or copper colors depending on what you prefer. This lamp is handmade in Morocco and is 19cm high.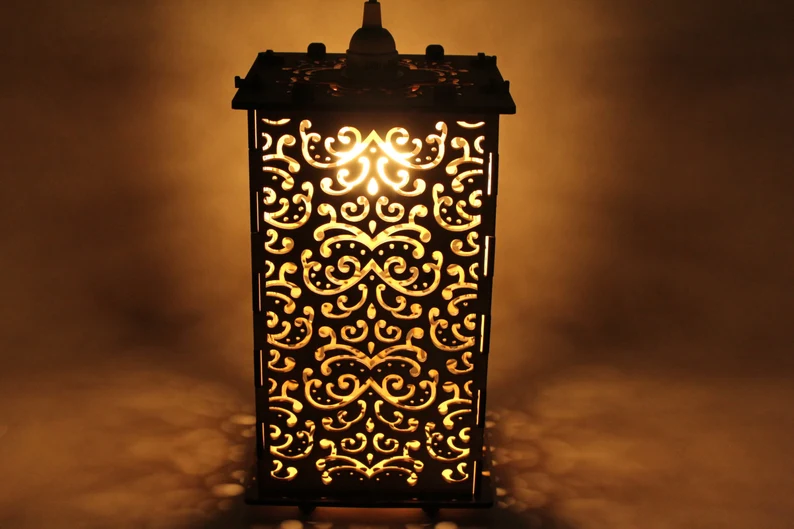 All the looks of a Moroccan candle lamp without the mess or fire hazard. This square lamp looks just like a hanging lantern but sits on your desk or table instead. This is a handmade wooden design. It is not Moroccan but has a Moroccan feel.
This teardrop-shaped lamp features a grey metal openwork flower pattern with built-in fairy string light bulbs. The warm light casts beautiful patterns on the wall or table.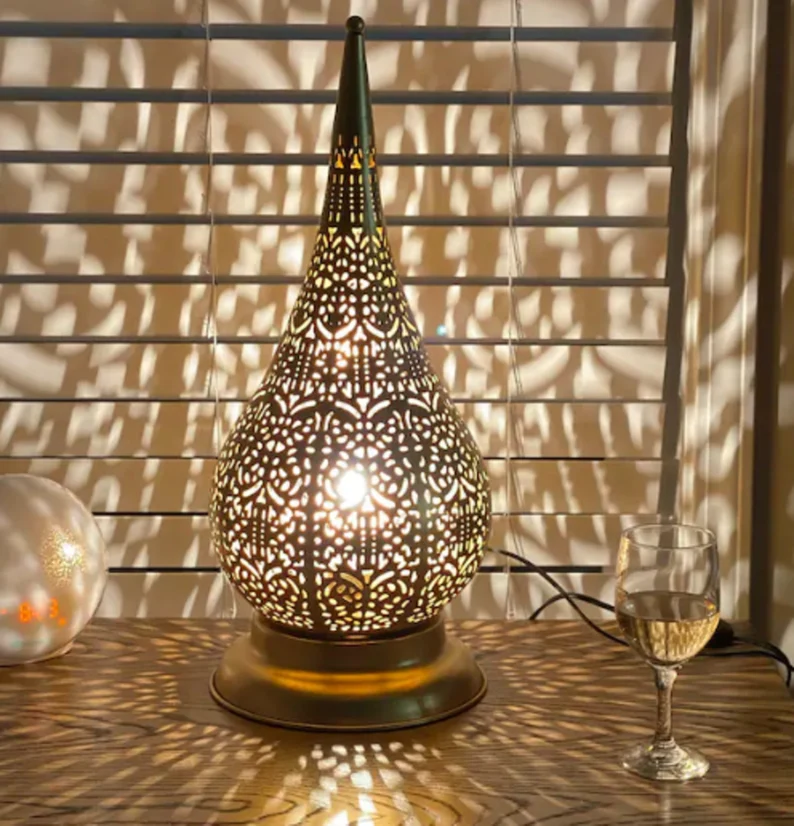 This lamp is a lovely side table addition. It is not made in Morocco and ships from the US. It is described as a boho style but does look decidedly Moroccan.
This lamp is Moroccan style but made in Cairo. It comes in 4 colors and is 24″ high. The patterns are really lovely and will create great patterns when the lamp is turned on.
What's better than one Moroccan lamp? Two Moroccan lamps! These skinny cylinder lamps are a perfect set. This item is made in and ships from Fez, Morocco. They stand 35cm high and would work great on tables or a desk and bookshelf.
Looking for More Posts on Moroccan Design?
If you're curious about Moroccan design, there are a plethora of resources available online to learn more. The unique blend of Arabic, African, and European influences in Moroccan design makes it truly one of a kind. Did you know that Moroccan design often features intricate tilework, gorgeous textiles, and ornate metalwork?
By exploring these links and articles, you'll gain a deeper understanding of Moroccan design and the stories it tells. Start exploring and let yourself be transported to the vibrant world of Moroccan design!
The Perfect Moroccan Tables for Your Lamp
Moroccan Market Bags You'll Love