One of the best things about Morocco has to be the street markets. There are markets on seemingly every corner, filled to the brim with the sights and sounds of the country. Residents and travelers alike spend hours upon hours strolling through the aisles picking fragrant spices, hand-knitted rugs and thousands of other treasures.
Insider tip – make sure you bring something to store all your new finds in—trust me, you will need your hands free!
Moroccan market bags are just the thing to have on hand for your time at the market in Morocco. You'll find yourself reaching for these practical and stylish bags again and again. Here is everything you need to know about these bags, plus 20 of my favorite Moroccan market bags.
What Are Moroccan Market Bags?
Traditionally, Moroccan market bags are made of wicker and have a long strap. You can find them in a lot of shapes and silhouettes. Some are worn cross-body style, with others having handles to hold on to. Some resemble purses, while others look more like baskets. There truly is a style and type for everyone!
Where Can I Buy a Moroccan Market Bag?
You can buy these market bags in the markets of Morocco, of course! However, if you are dreaming of Marrakech and want to bring a little Moroccan style to your daily life, you can easily find these bags online as well.
The Best Moroccan Market Bags to Buy Online
Market bags are incredibly versatile, and useful for so many things. Whether you need to pick up some Moroccan goods in the market, or need a way to tote your laptop while traveling, these bags are both stylish and helpful to have on hand. Here are some of my favorite Moroccan market bags.
Casablanca Market Moroccan Bag
This Moroccan market bag is perfect for hauling items to the beach or taking a basket full of food to a picnic. It is an oversized bag, so all your goodies will fit, whatever they are. Plus, this bag has four straps so you can wear it multiple different ways which is always nice.
Hand-woven Straw Market Bag
Take a peek at Instagram and you are likely to see fashion influencers toting market bags just like this one. The hobo shape lets the bag be roomy enough to hold items while also giving the bag a trendy retro silhouette.
Adjustable Crossbody Bag with Leather Straps
This bag is the perfect combination of practical and pretty. It's definitely on the smaller side—closer to a purse than a true market bag. However, if you need somewhere to keep your cash or stash small items like jewelry or spices, this bag can be useful.
Straw Beach Tote
Despite best efforts, sometimes a bag full of spices and herbs can leak, causing your Moroccan market bag to become stained. That's why I love this straw tote with a washable lining—it makes keeping your bag clean so simple! Just unbutton the lining, toss it in the washer and then button it back in. Bonus—this bag comes with tassels to make it on-trend.
Mother and Daughter Matching Market Bags
This set is adorable! If you are traveling through Morocco with a daughter, this is definitely an option to consider. For the price of one bag, you get a second smaller one that your child can wear.
Moroccan Market Bag with Leather Handles
The leather handles are riveted onto this roomy bag, making the straps extra secure. This bag is hand-woven from Morocco, so it's an authentic style. Because it's hand-woven, you may see some slight imperfections and some color variations, but that's part of why these bags are so gorgeous.
French Moroccan Market Basket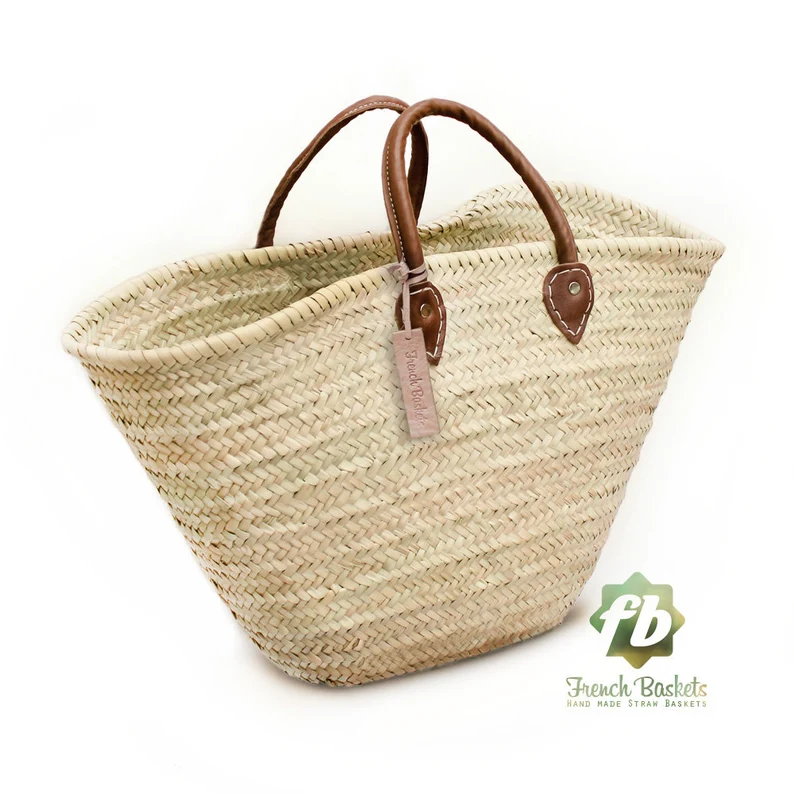 This one is another great option. It's a lightweight, durable bag that's made in Morocco. The tote was hand-woven in Morocco by artisans and is designed to carry heavy loads easily. If you plan on stocking up at the market or while shopping, this bag can handle the load!
Straw Market Bag
If you need a bag that fits well on the shoulder and can comfortably carry things, try this Moroccan market bag. It's roomy and hand-woven in Morocco with firmly attached straps. Plus, you can choose the strap colors—select between red, blue, green or brown.
Eco-Friendly Straw Tote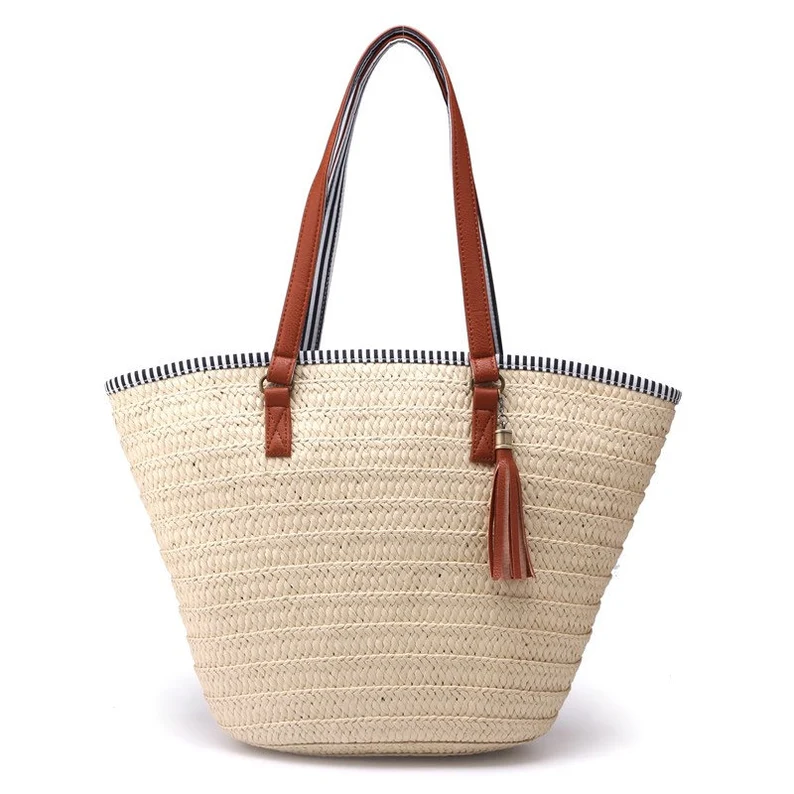 This bag marries rustic bags and modern flair. The straw bag comes in two different colors. The lining is a pretty striped blue fabric that has a zipped pocket built in. Its large size fits all kinds of market finds. It can also double as a laptop bag or an oversized purse, too.
Open Weave Market Bag
Want to show off all your new purchases? Try this open-weaved market bag on your next trip to the market. It's got a pretty accent color and blush tassels to complete the look.
Market Basket with Straps
I love items that can have multiple purposes, and this basket certainly fits the bill. Use this as a Moroccan market bag, and once you bring it home, you can use it to hold toys, rolled towels, or even laundry.
Modern Moroccan Market Bag
If you prefer modern more than rustic, this bag is a great option. This bag has a rectangle silhouette rather than the normal curved shape. Plus, it features a striped pattern that adds focal interest.
So there you have it! Stock up on a Moroccan market bag or two and you'll be ready for your time in Morocco or for enjoying when you're at home!