One of the easiest ways to change the look of a home is by adjusting the lighting. Adding a Moroccan lamp shade to a piece that you already have is simple and far more inexpensive than redecorating the entire room. Whether you have a Moroccan metal lamp or you're adding the shade to different style lamp you can't go wrong.
There are two different types of lamp shades you may be looking for; authentic Moroccan lamp shades and Moroccan style lamp shades. Authentic shades will normally be made completely from metal. This could be copper, tin, aluminum or another combination of metals. They are typically handmade. Rattan shades are also typical.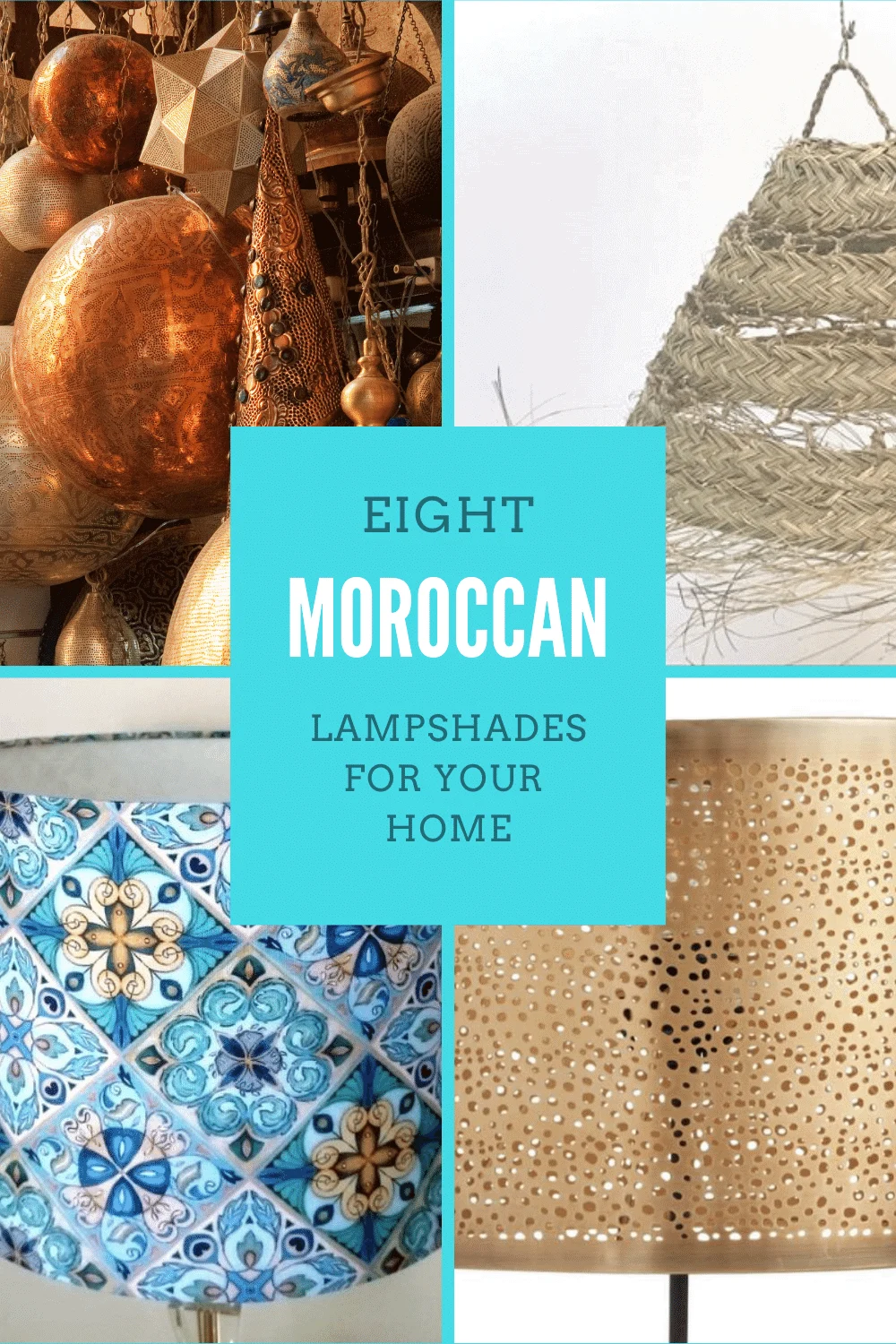 Moroccan styled shades will have a Moroccan look or feel but could be made anywhere and of any material. There is nothing wrong with going for an inspired style, especially if it fits your lifestyle a little better. Metal shades do require some upkeep and may not be the best if you have small children, for example.
Moroccan Style Lamp Shades
Decorative Moroccan Style Lamp Shade
This shade has a geometric shape often found in Morocco. The shade itself is made from paper and is 10x10x8″ in size. Each of these shades is made to order so it can take a little longer to receive.
Minimalistic and simple this off white shade has tan embroidery and a simple look that will fit into any room of your house. The style is a simple geometric pattern that can be used to add a small accent without being overwhelming.
This style of lamp shade is incredibly popular in Morocco and around the world right now. You can find them made in every souk and in dozens of different styles. This lamp shade is made for an overhead light but could also potentially be used on a smaller lamp too. These are made and ship from Morocco.
A lamp shade with colors and designs that are reminiscent of Moroccan tiles, this is a shade that lends a lot of personality to a room. Two different sizes of the shade are available.
Moroccan Metal Lamp Shades
Hand crafted iron with a brass finish, this table top lamp shade has all the aspects that give it a Moroccan look. The piercings through the metal allow the light to escape and the style will transport you to a Moroccan home. It can also be used as a pendant lamp.
For this lamp you just need to supply the bulb and you'll be on your way. While I'm calling this a shade it's really an all in one lamp as you don't need a base to put it on.
Similar to the previous lamp, this is a lamp shade but also a lamp in and of itself. This one is brass with silver plating and is a stand alone lamp, no base needed.