Nothing is more dramatic than a beautiful Moroccan floor lamps in the corner of a room. Beautiful Moroccan metal lamps not only serve the purpose of lighting up the room but a decorative piece of art that can be enjoyed for years to come.
One of the best things about these lamps is that they are neutral in color so they can easily be incorporated into any color scheme you may have. Even if nothing else in your house is Moroccan, the inclusion of one of these lamps won't look out of place but will add a lot of character.
I want to also point out that not all of the lamps I've chosen here are authentic lamps from Morocco. It's common to see Moroccan and Turkish lamps lumped together in a single style. They are similar in style even if they're not exactly authentic.
Tall Narrow Standing Floor Lamp
This lamp has a decidedly North African feel, it reminds me a bit more of Egypt than Morocco however it is Moroccan. Handmade in Fez several different pieces of metalwork come together to create this piece.
Multi-domed Standing Moroccan Floor Lamp
This piece is a gorgeous example of Moroccan metal craftsmanship. A combination of domes that are handmade and joined together to create a large design. The metal is done in brass and comes wired for UK outlets, however contact the seller in advance if you'd like it wired differently.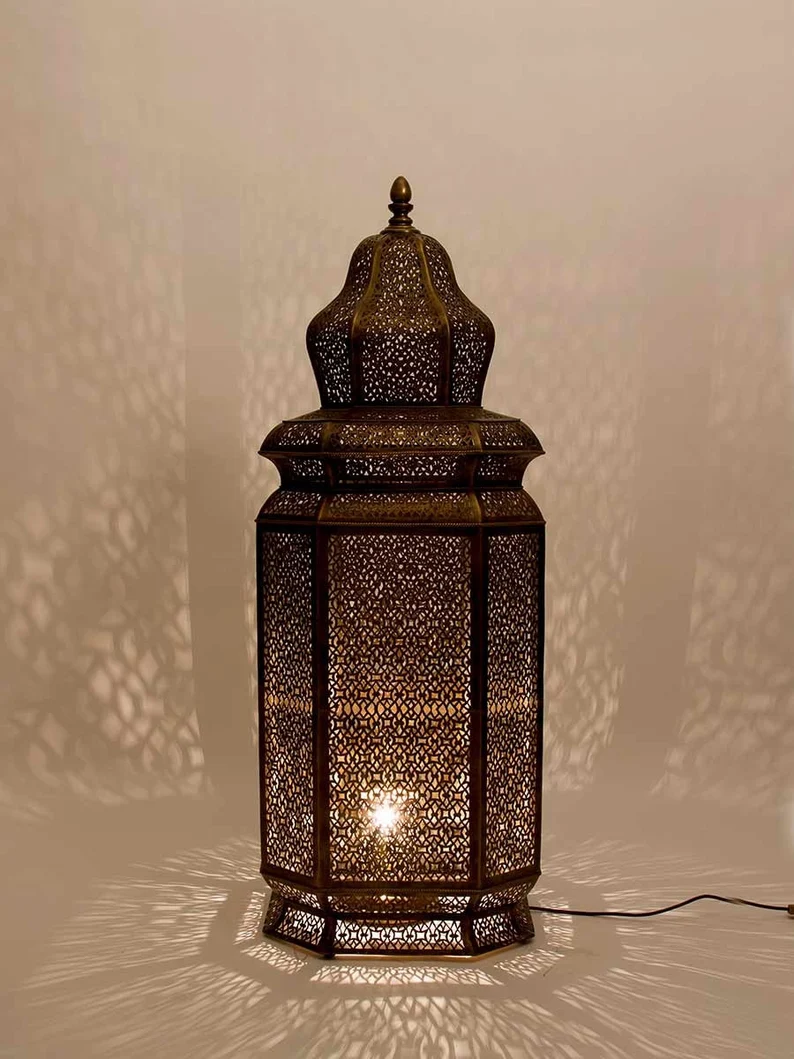 Have a big space to fill? This lamp stands 1 meter tall and 40cm wide and features beautiful Moroccan craftsmanship. Made of solid brass it will last a lifetime – and longer!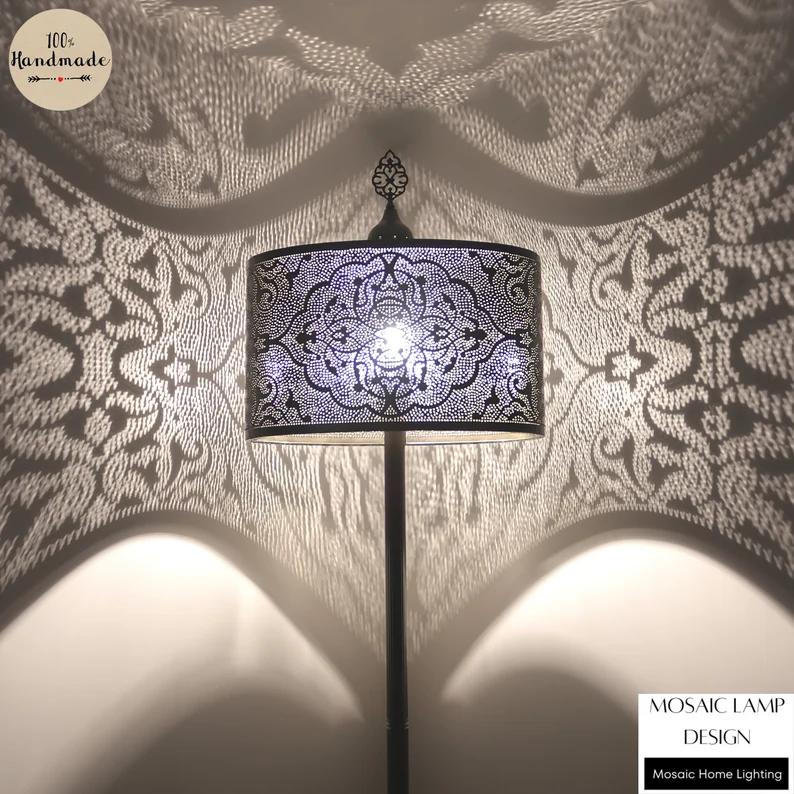 This lamp is a combination of styles with the base reminiscent of European style standing lamps while the shade is more Moroccan/Middle Eastern. This piece is made in Turkey and stands at 170cm tall. The lamp is wired for EU/UK plugs however you may be able to discuss with the seller to have it wired differently.
Wow! What a statement piece this makes! Seven glass globes spin around this lamp. They are available in a 5″ or 7″ globe sizes and the lamp itself stands 175cm high. The seller will adjust the wiring depending on your location. You can also choose different colors for the globes if you prefer something more colorful.