I grew up in the middle of the United States where ocean fish and especially seafood were not often on the menu. These things were special foods. My mom has never liked either so we rarely had fish or seafood for meals. But, there are a lot of Moroccan seafood recipes thanks to the miles and miles of coastline.
I wouldn't say moving here as turned me into a seafood lover but I have gotten much more used to eating it.
I am a big fan of Moroccan chicken bastilla and normally would never choose fish or seafood over another option. But, when we started arranging some of our early food tours, one of the riads had a seafood bastilla that they claimed was the best.
I was skeptical but it's my job to check these things out. So I did. Zamzam Riad wasn't lying and it quickly became one of my favorite stops on our tour because of just how good it is.
I am the first to admit I have never made a seafood bastilla myself. It's a LOT of work so, to put together the steps of how to make this I enlisted my sister-in-law Samira who is an amazing cook and never bats an eye when I ask her if we can test recipes for my website.
If you're wondering which is easier to make – it's the chicken bastilla. But, this really is a special dish and it will wow your guests. The flavors are completely different from its chicken cousin. There's no sweet and savory here, it's all savory with a little bit of spice.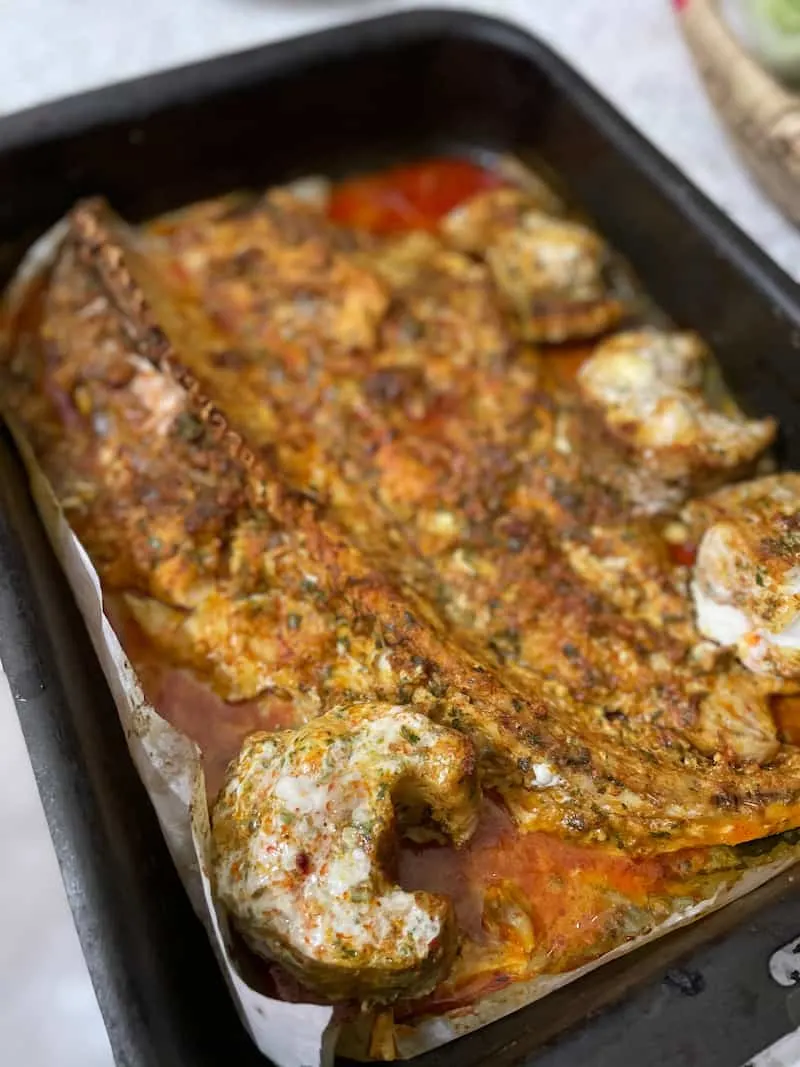 Secrets to Making a Fish Bastilla
The key to making this successfully is making the different components separately and then bringing them all together when it's time to assemble. You will have a lot of moving pieces so try and keep your work areas as clean as possible. Precut and pre-measure as much as you can so you only need to dump/mix items.
Please note the preparation times here are an estimate. I have found that it really varies depending on how fast you are. For example, if your shrimp is already clean it will take less time than if you need to clean and peel the shrimp.
Yield:

12-15 servings
Moroccan Seafood Bastilla Recipe
Prep Time:
1 hour
30 minutes
Total Time:
1 hour
50 minutes
Moroccan seafood bastilla is a delicious way to wow your guests. It does require a bit of work but the results are worth it.
Ingredients
Charmoula Mix
125mL (1/2 c) olive oil
60mL (1/4c) vegetable oil
40g (appx 3/4c) Parsley and cilantro chopped and mixed
60mL (1/4c) lemon juice
2 Tbsp minced garlic
Interior of 1/2 preserved lemon
1 Tbsp (heaping) harissa
1 Tbsp turmeric
1 Tbsp ground ginger
1 tsp black pepper
Seafood Mixture
3 Tbsp unsalted butter
500g (1 pound) cleaned and peeled fresh or thawed shrimp
250g (1/4 pound) cleaned and diced calamari
2-3kg white fish (4-6lb) such as merlan, sea bass or even cod)
125 g (1.5cups) shredded cheese such as gouda or mozzerella
1 kg (2lb) dried vermicelli
125g (8oz) canned mushrooms
60g (1/2 cup) Chinese Wood Ear mushrooms, rehydrated
10-15 sheets warka or phyllo dough
Bastilla Decoration
10-12 large fresh or thawed shrimp with shells on
Lettuce leaves
Slices of lemon rounds and remove seeds
Instructions
Start by cooking the large piece of shrimp. If possible buy it already cleaned and filleted as it will speed up the process. Use ¼ of the charmoula marinade to spread all over the fish. Cook in an oven set at 180C | 350F.
Bake for about 20-30 minutes depending on thickness. It's ready when the fish starts to flake. Remove from the oven and allow the fish to cool completely. Remove the flesh from any bones that are remaining. It should be about 1kg of cooked fish when it's cleaned.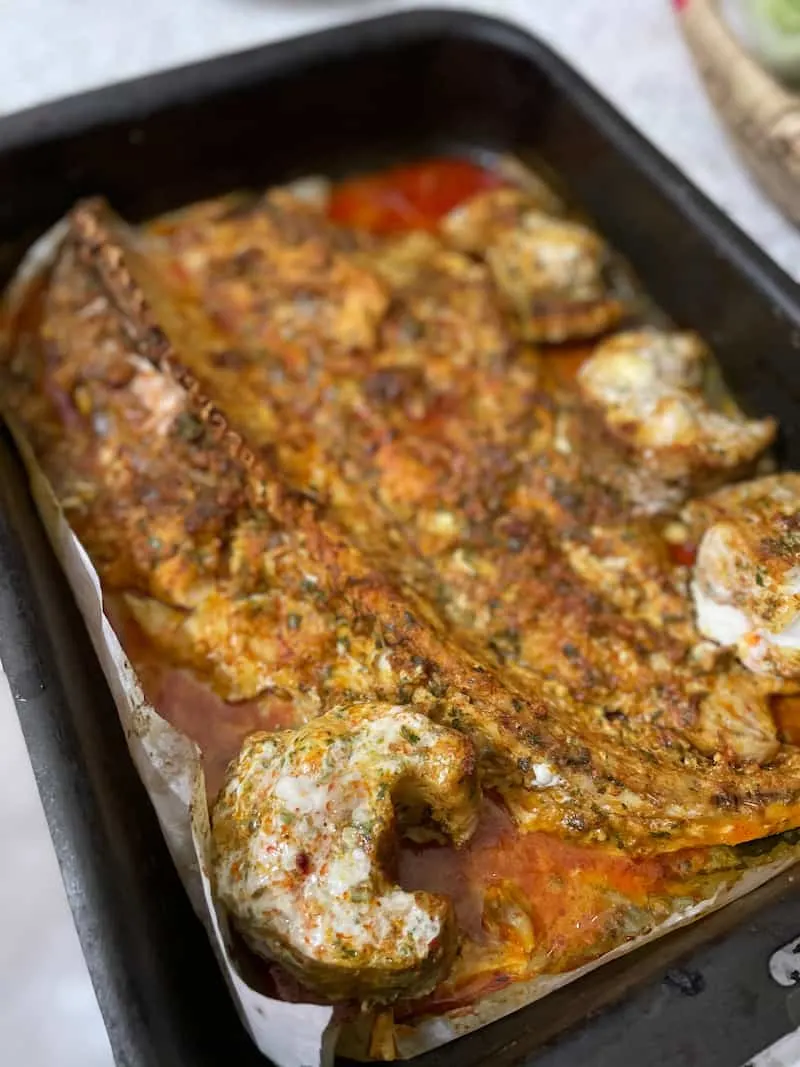 In a large skillet on the stovetop melt 2 Tbsp butter along with ¼ of the charmoula mixture. Cook for 4-5 minutes until the shrimp are pink. Remove the shrimp but reserve the liquid.
DO NOT THROW IT AWAY!
In the same pan once empty, add 1 Tbsp of butter and ¼ of the charmoula. Cook the same way as with the shrimp for about 5 minutes until cooked through. Again, remove the calamari but reserve the liquid - it can be mixed with the liquid from the shrimp.
In a large pot, cook all of the vermicelli according to the package instructions and strain. Set aside.
Go back to the bowl of the reserved cooking liquid from the shrimp and squid. Skim the layer of butter/oil that has formed at the top once the liquid has cooled down. Add this to a skillet. Add the remaining charmoula and mix in the mushrooms you are using. Cook for a few minutes to warm up the mushrooms and combine the flavors.
Remove the oil/butter layer from the top of the reserved liquid and put in a skillet. With a spoon of remaining charmoula. Add 1 cup chopped canned mushrooms (could also be fresh) just to warm up and blend flavors. And 1 1/2cups Chinese mushrooms rehydrated.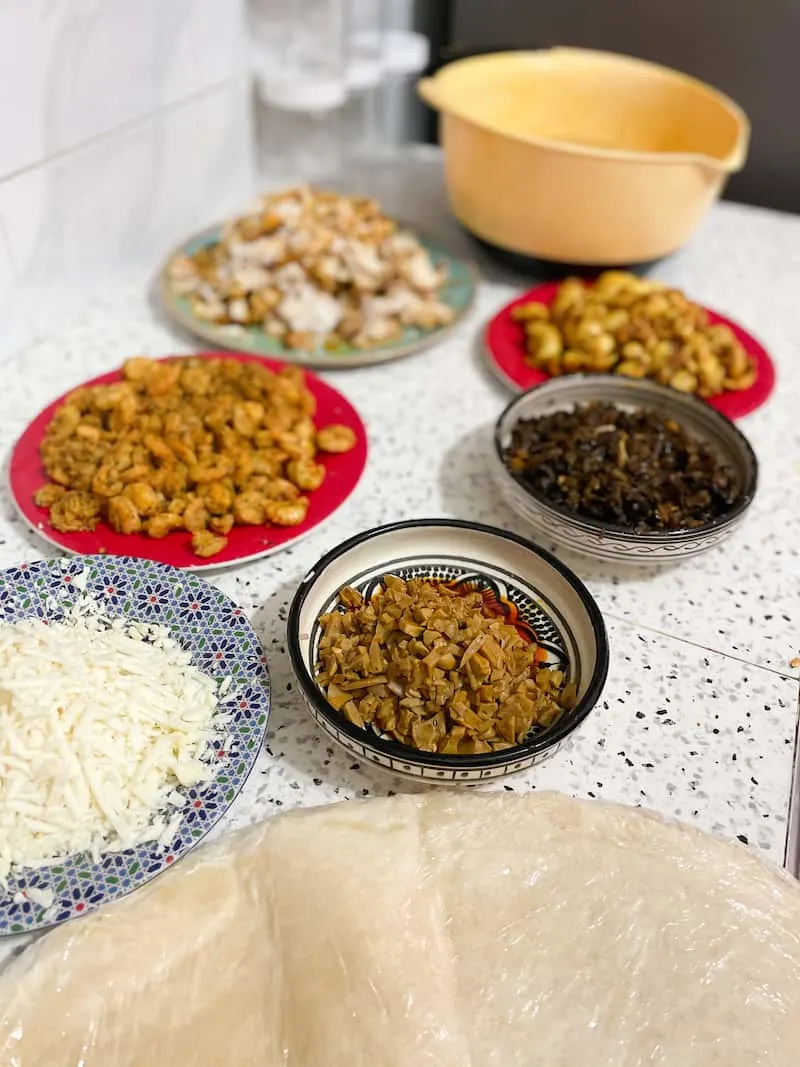 Let everything cool completely This is important. If the ingredients are warm, it will make the warka melt and stretch out instead of staying tight.
When everything has cooled, get a very large mixing bowl and add in the shrimp, calamari, fish, noodles, and mushrooms. Combine until everything is mixed well.
Add in any additional harissa you may want at this time - I suggest adding some even if you don't think you like "hot" things. It's not very spicy but does add a good flavor. If you want some hotter, you can add much more or go with a sauce like sriracha.
To make the bastilla you will want to use the largest round pan you have. A 10" (25cm) or 12" (30cm) or larger)pan is ideal however not all people have pans this size. In that case, you may need to make a few smaller sized bastila. The process for filling the bastilla is the same no matter how big the pan is.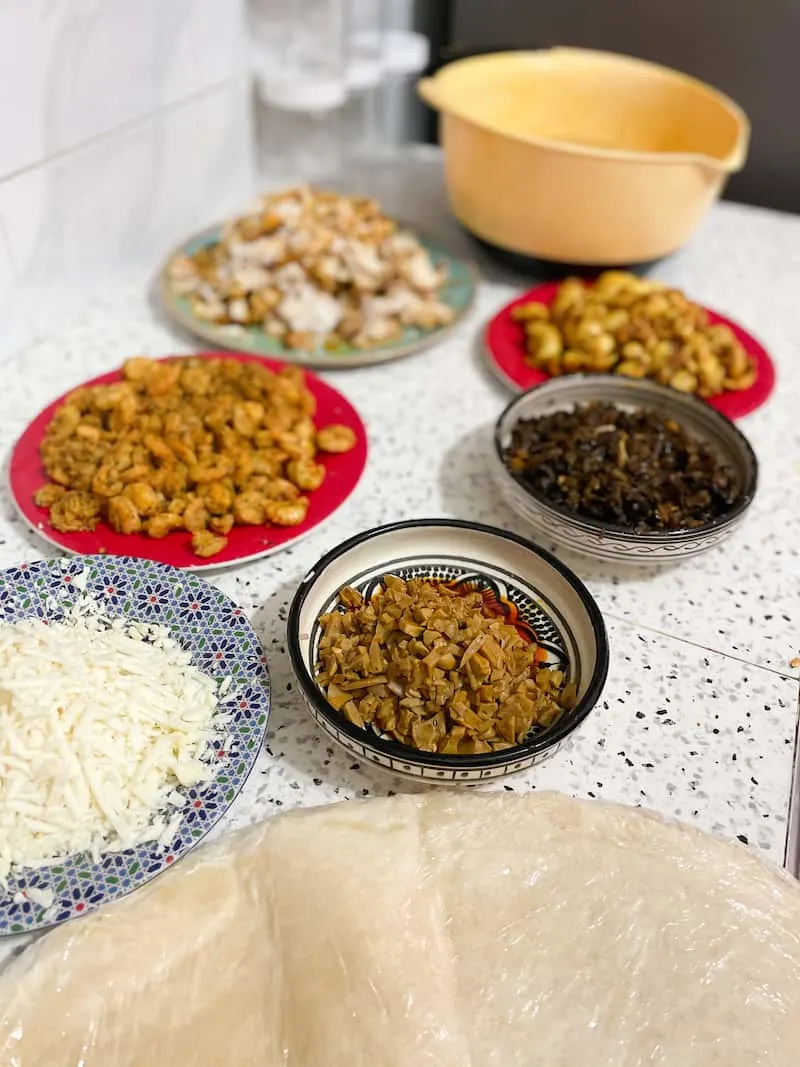 Oil a large round pan and add 3-4 sheets of warka, to cover the full surface with overhang. After adding each layer brush a layer of olive oil on the warka. Add the seafood filling until it is half full. Sprinkle a small layer of cheese and then another layer of seafood mixture. It should come almost to the top of the pan.
Fold the warka over on itself to close the open area. Use 1-2 extra pieces on top to seal it. While arranging the top layers gently push down on the top to remove any excess air from the filling and layers of warka.
Poke with a toothpick many times to remove air while cooking. Rub the top of the bastilla with extra oil on any exposed parts so the entire top will have a crisp, browned appearance.
Bake at 400F just until golden brown. Everything inside is already cooked so this is to warm it up and create the outer crust.
Decorating the Bastilla
Clean shrimp by rinsing well. Typically they are served in the shell but you can remove them if you would like, it just may have a different look.
Cook the shrimp fby adding 1 tsp of olive oil to a skillet and turn to medium heat. I like to rub my shrimp in salt before adding to the oil but this is up to you. Once the oil is hot, add the shrimp and cook 2-3 minutes until they turn a deep pink. Remove from the oil and onto a paper towel to remove excess oil.
Put the bastilla on a serving plate slightly larger than the pie and surround with individual pieces of lettuce (bibb lettuce works great for this). Slice a lemon and add halved slices around the edges of the bastilla. Top with the shrimp and add lemon slices randomly as well.
Notes
A few tips to make this successfully;
1) Make sure all the ingredients are cool before assembling
2) Work quickly to assemble so the warka doesn't dry out.
3) You can add more heat depending on your preference
Recommended Products
As an Amazon Associate and member of other affiliate programs, I earn from qualifying purchases.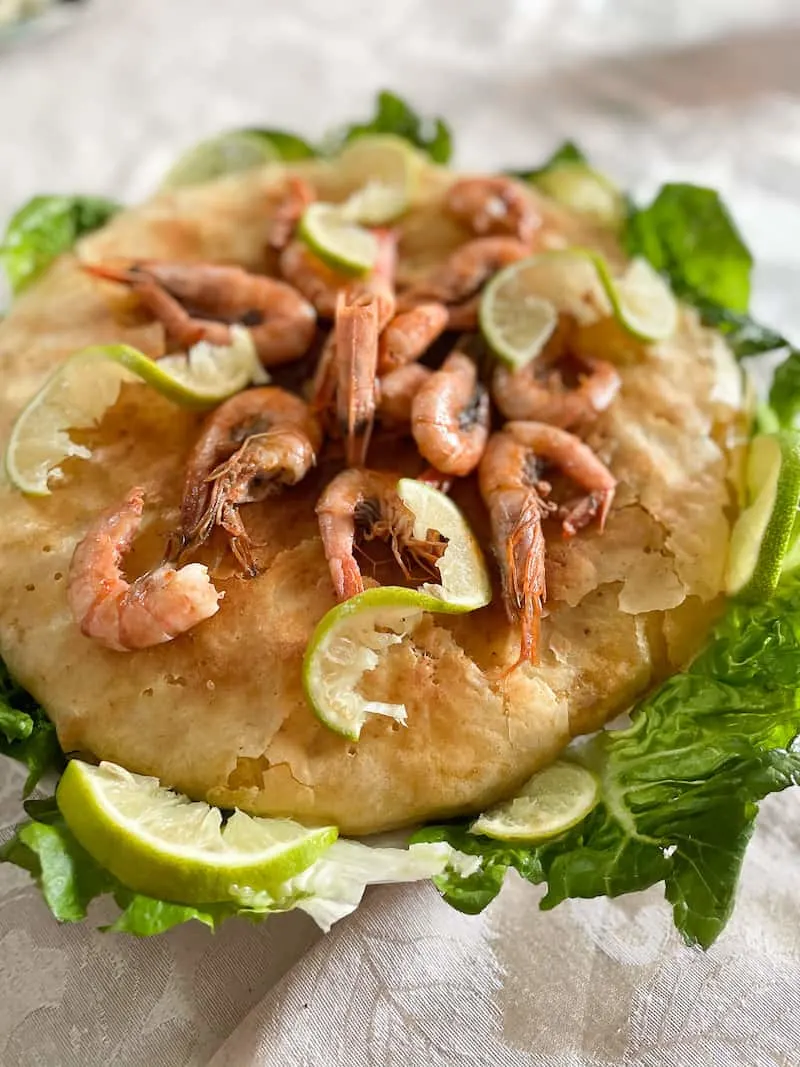 More Moroccan Seafood Recipes to Try
Moroccan Shrimp Briouat Recipe
Moroccan Fish Recipe: Hout Quari