Mint tea and Morocco go hand in hand but without the characteristic little tea glasses is it really a proper tea service? When tea is served in Morocco it is always in small glass cups.
Why?
The glasses are large enough that you can have several drinks without refilling but small enough that your tea doesn't get cold before you can finish. Genius, right? To hold the cup without burning your hand the bottom and top of the glass are held between the thumb and forefinger until the tea itself cools enough that you can hold the glass.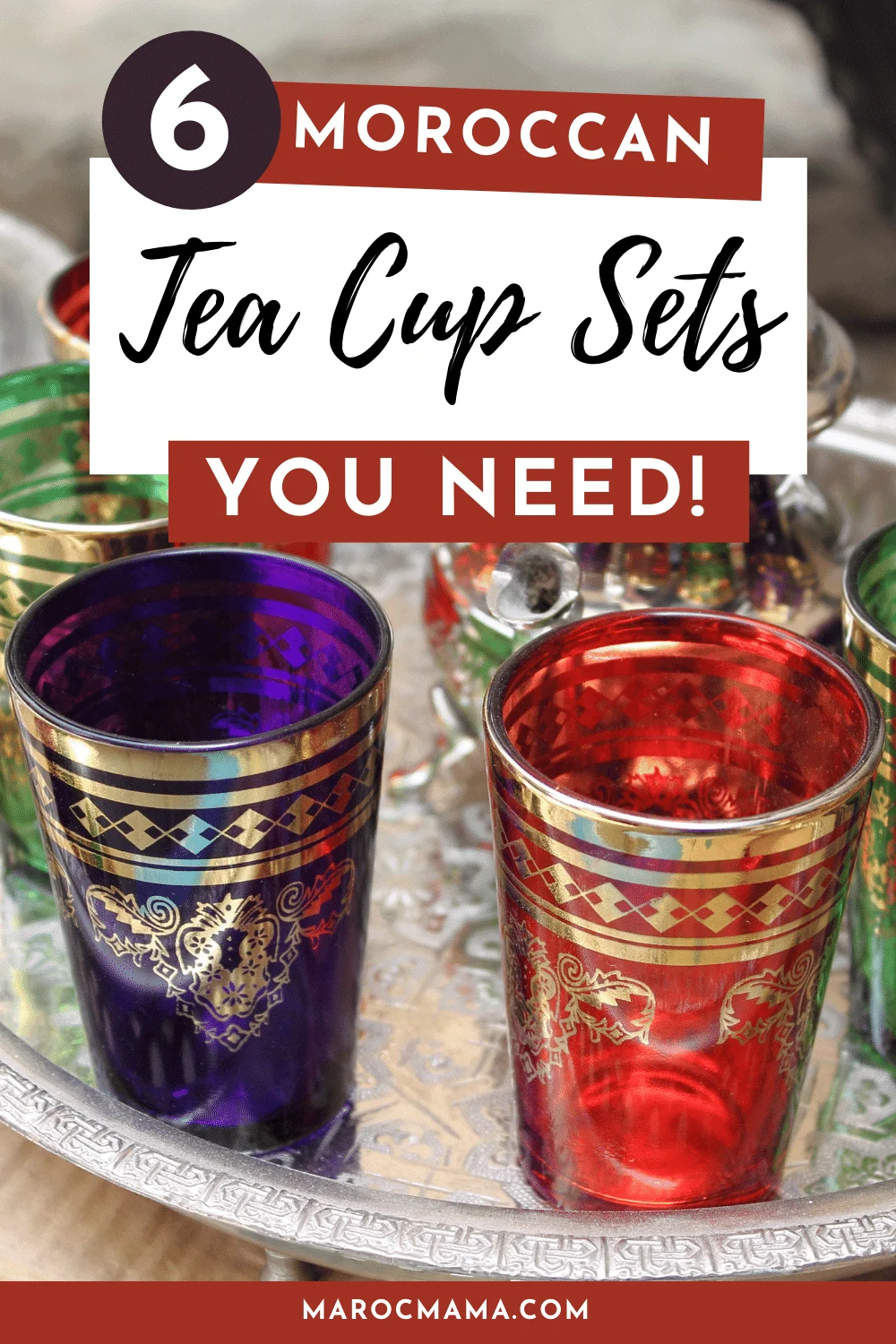 Moroccan tea glasses always come in sets of 6 and even if 6 people aren't drinking tea at the time, usually all the tea glasses are brought out – it's as much aesthetic as practical. When purchasing they are bought in sets of 6 so you can buy 6 or 12 or in multiples of 6.
A very simple, elegant set of tea glasses that have a white etched pattern. This style is found in so many Moroccan homes and may be one of the most classic options available. It's great if you have a tea pot of any style because they're can easily match.
A more minimalist and modern design for tea cups can be found with these green glasses. This style of blown glass has gotten extremely popular especially in the last 5 years. You can find this style in dark green, light green blue and clear glass colors.
Similar to the first set of white tea glasses this set is slightly different. The pattern is completely different and there's a gold design laced into the top portion of the cup. A good option if you're looking for a tea cup that's just a little more ornate.
A variety of colors can be found with this tea set. Multicolored glass with a gold, floral design included these are perfect for the host that wants something that really stands out.
A more muted multi-colored cup set this time with a silver band and hand of fatima (khamsa) printed on the cup. This symbol is one of protection and the silver design will pair great with a traditional Moroccan tea pot.
While it's difficult to find Moroccan tea cups outside of Morocco, Amazon often carries traditional tea cups. They don't typically have a wide range of styles but if you're not particular you can find something that works.
Planning a Moroccan Tea Party?
Whether you're serving 2 or 10 theses posts will help you prepare!