Summer is one of my favorite times of year. Especially because I LOVE picnics. They are seriously one of my favorite things. But, I know one of the hard things that people struggle with is what food to pack for a picnic. Sure you can go with the simple things like sandwiches but when you pull out a bucket of this Moroccan fried chicken everyone's eyes will light up.
It's great when served fresh and hot but it's equally good when it's just room temperature eaten with your fingers while spread out on a giant blanket. For my recipe, I put a twist on traditional American fried chicken. I also make mine gluten-free by using a gluten-free breading mix but if gluten isn't an issue for you, traditional breading such as bread or panko crumbs is just fine.
Marinating the Chicken
Unlike a lot of fried chicken recipes I found that whether you marinate this a short time (like an hour) or longer the flavors are still there. You can also check out my charmoula marinade recipe which is a slightly different combination of spices that would work equally as well with this recipe.
How to Bread Fried Chicken
There are a few different "schools of thought" when it comes to how to bread fried chicken. For this recipe I wanted to keep as much of the flavor on the chicken as possible so I only breaded it once. I took the pieces of chicken directly from the liquid and coated it in the gluten free flour.
A second option is the double coat. Dip the marinated chicken in flour, then in an eggwash and then in bread crumbs before frying (or baking).
Cooking Moroccan Fried Chicken
I choose to make this as a pan fried Moroccan chicken this for time's sake but you can also bake it. To fry it you want to have at least 1/2″ of oil in the pan. Some people prefer to submerge the chicken fully in oil but for me it always feels like a waste of oil.
The oil should be heated to 300-325F and then carefully add the chicken. I flip it every 2-3 minutes. It should take about 12 minutes for breasts, legs or thighs. If you have a thermometer insert it to the thickest part of the meat until it registers 165F.
Then remove the chicken from the oil to a paper towel to remove any excess oil. Leave the chicken for a few minutes as it will still cook and doing this will also help retain some of the juices. I like to sprinkle mine with a little extra salt when I remove it but this is totally optional.
Can I make this in an air fryer?
I'm sure you can! Unfortunately, air fryers haven't hit Morocco yet so I haven't been able to play with one to see how it works. My best suggestion is to follow the instructions for normal fried whole pieces of chicken. The only difference, in this case, is the seasonings.
Try my 15 minute air fryer Moroccan chicken for a tested recipe!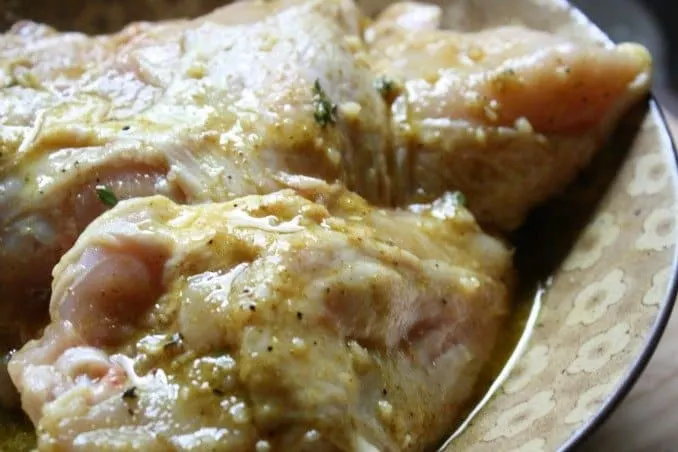 This isn't a dish you're likely to find served in a Moroccan home but the flavors remind me of djej m'hammar, a tajine that's cooked and then the meat is quickly fried to crisp up the outside before serving. I will have to share that recipe soon, it's a favorite in our house and judging by my family's response to this fried chicken it will also be joining our regular line up!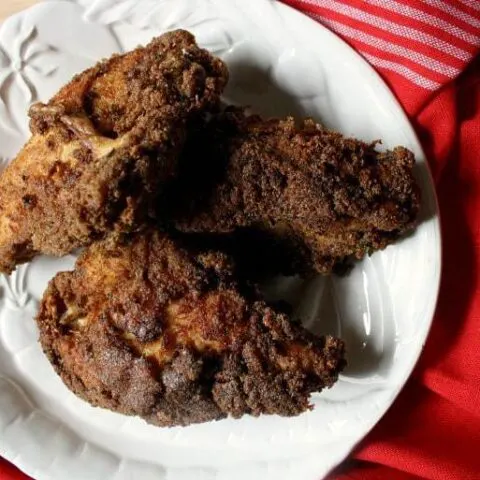 Yield:

4 servings
Moroccan Fried Chicken
Make your fried chicken with a little extra Moroccan inspiration!
Ingredients
4 bone-in chicken breasts (any cuts are fine)
1 Tbsp crushed garlic
1 tsp onion powder
1 tsp turmeric
1 Tbsp cumin
1 Tbsp fresh grated ginger
zest of 1 lemon
olive oil
breading mix (purchased or bread/panko crumbs)
vegetable oil for frying
Instructions
Wash and trim chicken of excess fat. Leave some skin on the meat and place in a large bowl.
In a smaller bowl combine garlic, onion powder, turmeric, cumin, ginger, and lemon zest.
Slowly add olive oil and mix the spices until a thin paste has been created.
Pour the marinade on top of the chicken and rub each piece of meat with the marinade. Make sure to place marinade under the skin.
Refrigerate for up to 24 hours, but at least 1 hour.
When you are ready to cook the chicken, add enough vegetable oil to a pot so that the chicken pieces will be covered completely.
Heat the oil to medium-high.
While the oil is heating, bread the pieces of chicken by removing from the bowl and coating with breading.
Once the oil is heated, cook the chicken 1-2 pieces at a time. Do not crowd the pan.
It will take between 15-20 minutes for the chicken to cook through.
When it is cooked, remove from the oil and place onto a towel to remove any excess oil.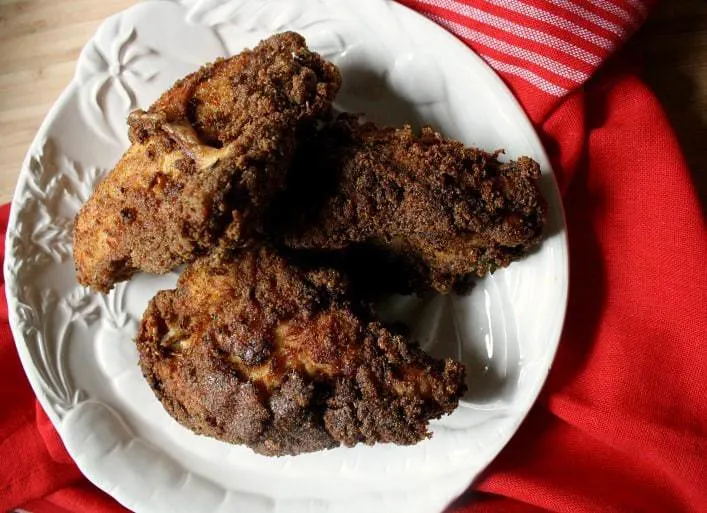 Looking for more Moroccan chicken recipes?
Try one of these delicious options!