This post may contain affiliate links for suggested items you can purchase. You are not charged any additional cost for purchasing via these links, however by utilizing them you help keep this site running!
This weekend is considered the start of summer in the United States.  So, it makes sense that the theme for this weeks' Sunday Supper is Picnics. It seems like we missed spring and are jumping right into summer considering we've only been without snow on the ground the last three weeks.
I however, am not sad about this.
I love summer and am welcoming it with open arms.
One of my favorite picnic foods is fried chicken.  It's great when served fresh and hot but it's equally good when it's just room temperature eaten with your fingers while spread out on a giant blanket.  For my recipe this week, I decided to put a twist on traditional American fried chicken.  I made mine gluten-free by using a gluten-free breading mix but if gluten isn't an issue for you, traditional breading such as bread or panko crumbs is just fine.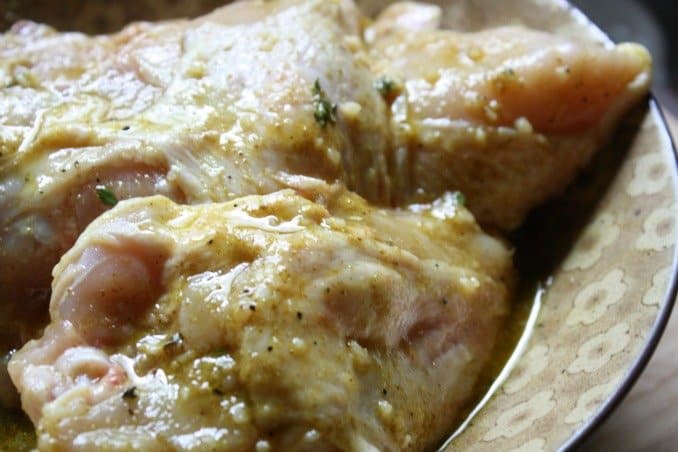 This isn't a dish you're likely to find served in a Moroccan home but the flavors remind me of djej m'hammar, a tajine that's cooked and then the meat is quickly fried to crisp up the outside before serving.  I will have to share that recipe soon, it's a favorite in our house and judging by my family's response to this fried chicken it will also be joining our regular line up!
Moroccan Fried Chicken
Make your fried chicken with a little extra Moroccan inspiration!
Ingredients
4 bone-in chicken breasts (any cuts are fine)
1 Tbsp crushed garlic
1 tsp onion powder
1 tsp turmeric
1 Tbsp cumin
1 Tbsp fresh grated ginger
zest of 1 lemon
olive oil
breading mix (purchased or bread/panko crumbs)
vegetable oil for frying
Instructions
Wash and trim chicken of excess fat. Leave some skin on the meat and place in a large bowl.
In a smaller bowl combine garlic, onion powder, turmeric, cumin, ginger, and lemon zest.
Slowly add olive oil and mix the spices until a thin paste has been created.
Pour the marinade on top of the chicken and rub each piece of meat with the marinade. Make sure to place marinade under the skin.
Refrigerate for up to 24 hours, but at least 1 hour.
When you are ready to cook the chicken, add enough vegetable oil to a pot so that the chicken pieces will be covered completely.
Heat the oil to medium-high.
While the oil is heating, bread the pieces of chicken by removing from the bowl and coating with breading.
Once the oil is heated, cook the chicken 1-2 pieces at a time. Do not crowd the pan.
It will take between 15-20 minutes for the chicken to cook through.
When it is cooked, remove from the oil and place onto a towel to remove any excess oil.