Moroccan pastries, like ghriba, are small, bite size gems of deliciousness. Most have nuts, usually almonds, honey, and powdered sugar. Sadly, the majority also have wheat making them off-limits for us. Ramadan is right around the corner and I have been re-making all of our favorite treats into gluten-free replicas. Are you ready for a ghriba-a-palooza? I've created four new ghriba recipes that I'll be sharing over the next few days. I think you'll have a hard time choosing your favorite!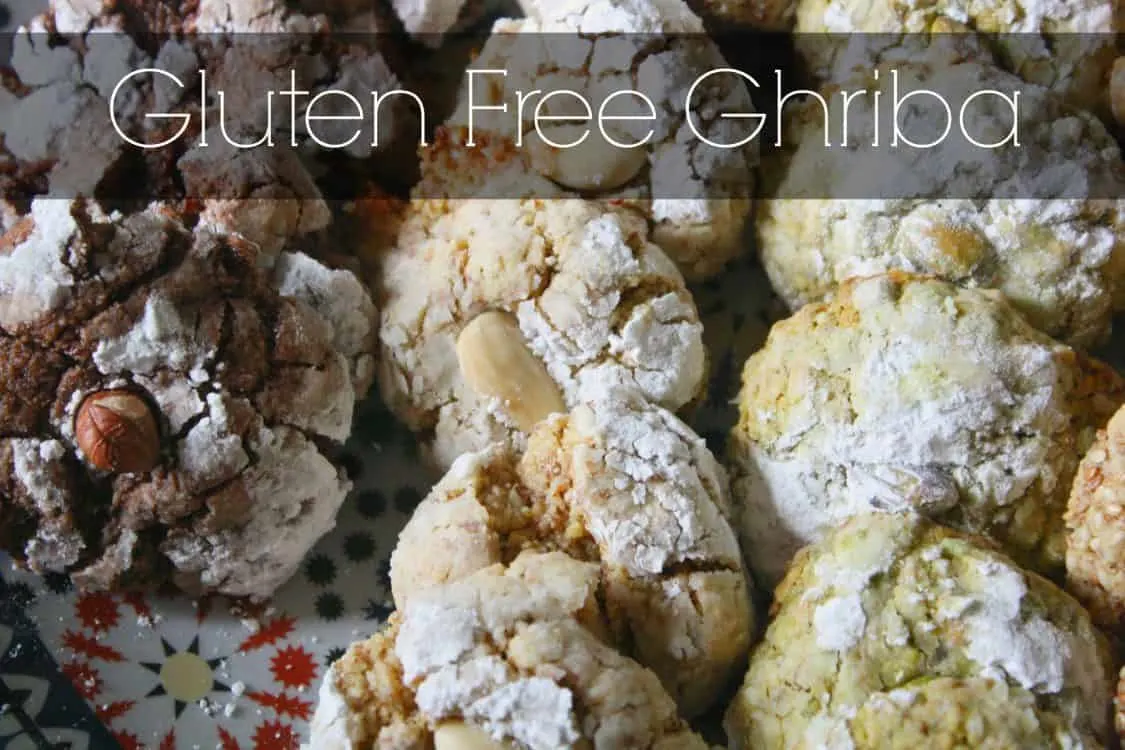 What is a ghriba?
Ghriba is one of the most well-known Moroccan cookies. They are easily identified because of their cracked surface – a must in ghriba making. They tend to be a bit crunchy on the outside but chewy inside. Most of the time they're made with almonds, but can be made with walnuts, peanuts, really any kind of nut. When I started developing a recipe for gluten-free ghriba
I first looked to traditional recipes. There are some gluten-free recipes that exist but I find it easier to try and convert from a recipe with gluten to gluten-free. The problem here was there are a lot of different ways people make ghriba!
Some used butter, some oil. Some caster sugar, and some powdered sugar. Some used semolina, or white flour, or coconut. Some people make ghriba and put jam in them, like thumbprint cookies. Basically, there was no real base recipe to start from. Maybe that's a good thing?
What I Made
I came up with three new kinds of ghriba – all of them are gluten-free.
Lemon Vanilla Almond

(this one!)
Today I'm sharing the recipe I created for Lemon Vanilla Almond Ghriba. There's also the classic ghriba recipe. They're honestly not my favorite. I prefer these gluten-free cookies to the original flour recipe.
Yield:

20-24 cookies
Lemon Vanilla Almond Ghriba
Ingredients
2 cups almond flour
1/2 c granulated sugar
1 tsp baking powder
3 Tbsp liquid from preserved lemon (if you don't have this, the zest of 1 lemon will work)
4 Tbsp room temperature butter
1 tsp vanilla extract
4 egg yolks
Whole blanced almonds to top cookies
powdered sugar to coat cookies
Instructions
Preheat your oven to 350F.
In a large bowl combine almond flour, granulated sugar, and baking powder.
Add to the dry ingredients the preserved lemon juice (or lemon zest), vanilla extract, and egg yolks.
Break up the butter with your hands or a pastry cutter and begin working into the dough.
Using your hands or pastry cutter mix all of the ingredients until everything has been combined, the dough will feel slightly sticky.
From small balls with your hands, about 1" in diameter.
Coat the balls with powdered sugar and place onto a cookie sheet or plate.
Refrigerate the cookies for 30 minutes, or place in freezer for 10 minutes.
Arrange cookies on baking sheet and gently press an almond into the top of each. Do not flatten the cookies, they will naturally shape.
Bake for 10 - 12 minutes. The cookies should still be a pale color.
Leave on the baking sheet for 5-10 minutes to allow the cookies to finish setting, then transfer to a cooling rack.
When the cookies are completely cool, transfer to an air tight container.
Cookies can be stored on the counter for 1-2 weeks, or in the freezer for up to 3 months. To serve, remove from the freezer and allow to warm up before serving.
Notes
The dough for these cookies MUST be refrigerated or frozen before baking to prevent them from melting.
Make these cookies and pick up my Moroccan dinner party guide or Moroccan cookbook for more delicious recipes to make your kitchen full of Moroccan flavors.