Do you have a new baby in the family or a family with a little one on your iftar invitation list for this year? If you're looking for a great Ramadan gift for babies then you're in the right place! I have put together some really cute Islamically-themed gifts for babies that you can choose from.
Good Ramadan gifts can be hard to come up with but one way to think of new ideas is to think beyond Ramadan-specific items. What other gifts that might have a similar theme could you gift? Also when buying a Ramadan gift for a baby, consider what might be useful or helpful to their parents. While older babies might be interested in gifts, younger babies won't really care but their parents will appreciate the gesture!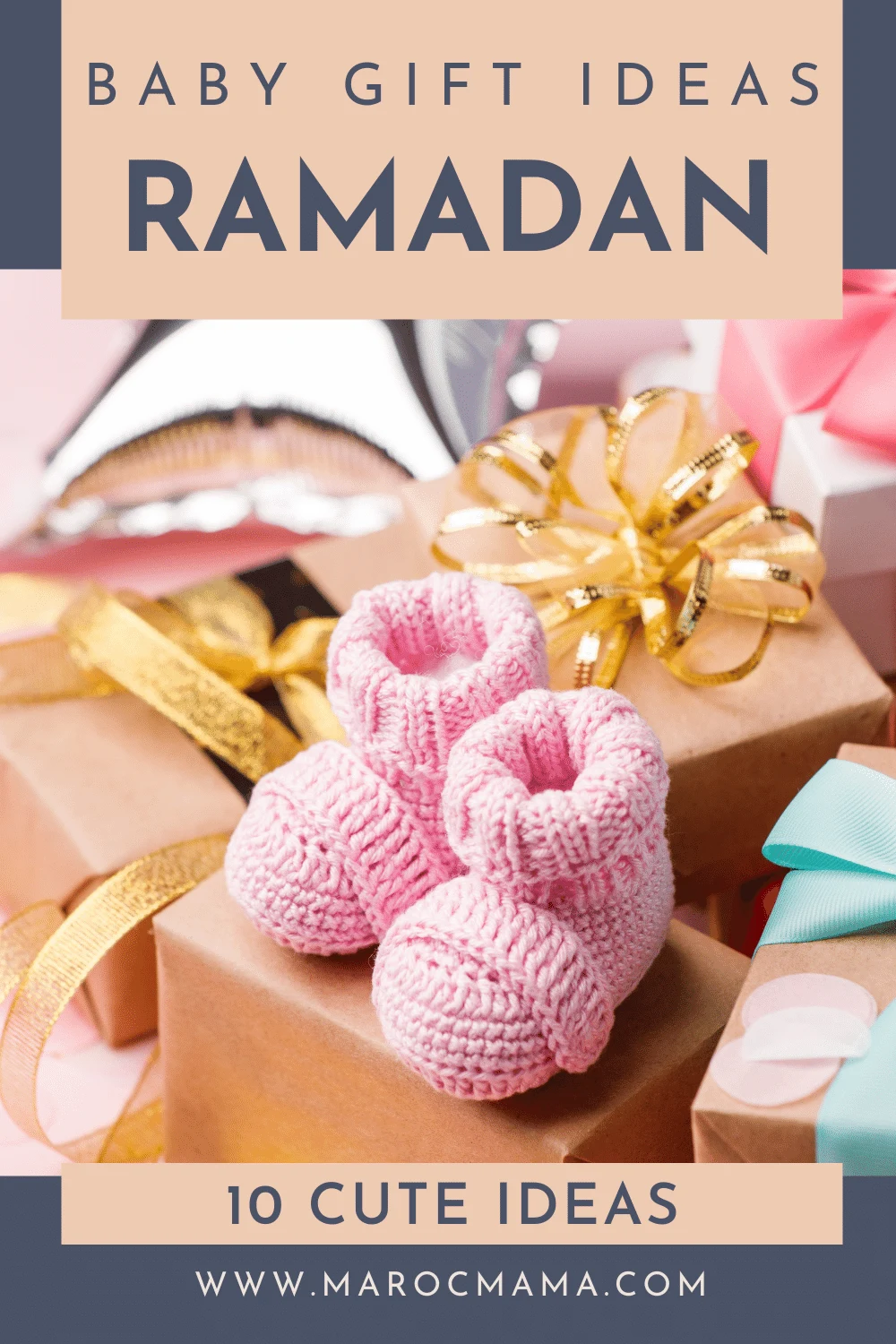 This cute, and funny onesie has a message all new parents – or parents with grown kids – can totally relate to! It's a cute unisex gift that can be gifted alone or paired with some other items for a gift basket.
Pick up a personalized onesie for a special baby this Ramadan. You can choose from short or long sleeve options. The company also prints full body rompers.
This is a beautiful pin that is handmade of gold. It would be the perfect Ramadan gift for a baby. The size is small but can be attached to a blanket, bag, or clothing.
This bib is funny and perfect for fasting parents during Ramadan. The little one will surely get some looks and smiles when wearing this bib. It would also be great paired with one of the onesies mentioned earlier.
A nice blanket that can be personalized by color and by name. The child's name (or anything you'd like) can be written in English and in Arabic. The blanket comes in 20+ colors.
A custom made pacifier clip with baby safe silicone beads, an Allah amulet and the option to personalize with the child's name or any other wording you would like. This is a one of a kind gift to give for Ramadan.
If you're on the hunt for a baby gift that goes beyond the Ramadan season, this baby mobile is just the ticket. Featuring Islamic designs and made from crocheted items, it's a lovely gift for new parents. This mobile is not electric and is easy to assemble. It can be purchased with or without the hanger.
Pick up one of these framed, name hangings that are a great gift for a new baby. The child's name is written in print and script and includes the meaning of the name in English underneath.
How fun are these giant building blocks? This is a great gift ideas as it's something that will also grow with the child. They may only be able to play with them a little at a young age but they'll last until the child is 5+ years old.
Another fun block option are these Arabic alphabet blocks. They're slightly smaller and a fun way to get little ones interested in the Arabic alphabet. They can be used for play now and as the child gets a bit older letter learning, word building and more games.
There you have it, 10 fun ideas for Ramadan gifts for babies! Which one was your favorite?