I really hate when the weather starts to get hot in Marrakech and I dig out my summer clothes. Because I'm covered up whenever we go outside I really need clothes that don't make me want to faint from heat exhaustion but still cover me up. I love a cute maxi dress but most are too strappy to wear alone or look like something pulled out of Little House on the Prairie. Why is it so hard to find modest dresses that are still cute? I set out on a quest to find trendy modest clothing, including long sleeve maxi dresses which are all the rage but also seem to be the proverbial needle in the haystack.
Several people recommended that I search on Etsy for custom made dresses. It's true you can find just about anything handmade here. One of the stores I really liked was hijabican. Even if you're not Muslim there are some really cute dresses!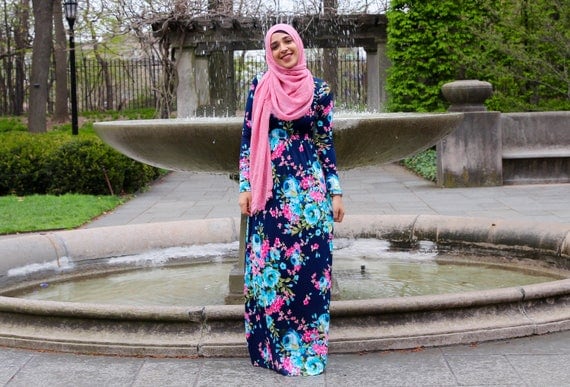 My readers in the US might not know about Asos, a chain of affordable clothing stores really popular in the UK. But, there are stores in the US now (as well as Australia) and you can order online. You can find cute modest clothing (alongside some less than modest offers). The label Alice and You is one to specifically check out for dresses though they are mostly plus sized.
Best known for their vintage made modern styles ModCloth has lots of different dresses and skirts. Find floor length maxi dresses or midi dresses both of which would be great for your Moroccan vacation. If you've never ordered before, click the box to the right of this and pick out something you love and get 20% off your purchase!
There's a little bit of everything here from dresses to tops and jumpsuits. The cute modest dresses are my favorite and with different weights they can easily be worn in different seasons. It may be harder to narrow down which one you really want!
The hunt for trendy modest clothing ends here! All of Mode-ste's clothing are designed and made in Canada. You can easily create a new outfit with their stock or pick up a single piece for your wardrobe. Their dresses don't have that "plain" feeling – so you can look trendy while still being modest.
I am in love with this site for their "dressier" dresses! I really hate looking online only to find over the top glitter, blingy dresses or skirts with a split way up the thigh. I just want something simple and beautiful. They deliver!
I am hands down obsessed with this shop. The dresses are on the more expensive side but are simply adorable. It checks all my boxes when it comes to modest maxi dress; a high enough neck line, no side slits, pockets on a lot of dresses, and they look fashionable not frumpy! I may or may not have ordered several. LOVE LOVE LOVE this shop!
BONUS: You'll get $20 off your first order when you use this link – GIMME AN ANNAH HARIRI DRESS!
If you prefer to shop at department stores and more mainstream shops you can find a lot of really cute maxi dresses and skirts in those stores as well. I put together nine that I found that would be perfect for Morocco in warm months and you could wear comfortably at home. If you see a dress you like, click on it and it will take you to another page to find out more about it and where to get it!
You'll need something to wear with your dresses of course!
I tend to wear flats with my maxi dresses mostly because I'm not comfortable in heels and they're so versatile. Be sure to read this post if you want a pair of flats for traveling that will also pair with your maxis.
Get the Girlfriend's Guide to Marrakech!
Sign up to get more information to plan your trip to Marrakech and pick up your FREE copy of the Girlfriend's Guide to Marrakech jam-packed with female-friendly advice and information about Marrakech.