I love living in Marrakech but if I were to name one thing as the bane of my existence here it would be dealing with taxi drivers. If you're not familiar with how taxis in Morocco work, there are two types of taxis: petite taxis and grand taxis. Petite taxis can only seat 3 people and they are obligated to charge you based on a metered price. A petite taxi can take you to specific locations within city limits.
Grand taxis can hold 6 or 8 people depending on the car model and you pay a specific rate for your seat and your taxi leaves only when it's filled or people pay for the remaining seats. Grand taxis usually go out of the main cities to neighboring villages or specific routes within the city but they won't take you from the Medina to Gueliz for example.
That's how it's supposed to work. That's not how every taxi driver works, especially when they see foreigners in Marrakech.
This isn't unique to Marrakech but this city has a certain "fame"around the country as a huge headache for taxi riders. Now I want to make a disclaimer. Not all taxi drivers in Marrakech try to cheat or scam foreigners. But there are many. Knowing as much as possible beforehand will let you know what to look out for.
The Meter is Broken Scam
Whenever you get into petite taxi you need to ask for the meter (or use the French as its more common "compteur"). With the grand taxis, you should ask for the Mul-Taxi or the man in charge of all the grand taxis in the area. Ask him for the price for your location and the number of seats you need. Usually, the biggest lie I hear from taxi drivers here is "The meter doesn't work" or the seats for a grand taxi being more than 100 dirham per seat (which is almost never the case).
If you hear that the meter isn't working and they offer you a fixed rate, don't take it. It's illegal for them to charge you without the meter and they're usually asking for a price way higher than you should be paying. For example, when I worked in an office across town taking the same taxi route every day, I would still get a few drivers who would say, "How much do you pay?" and I would respond, "What the compteur says." Eventually, when I realized what the average price was for that distance so I wouldn't even argue if they didn't put on the meter, I would give them the exact change and leave.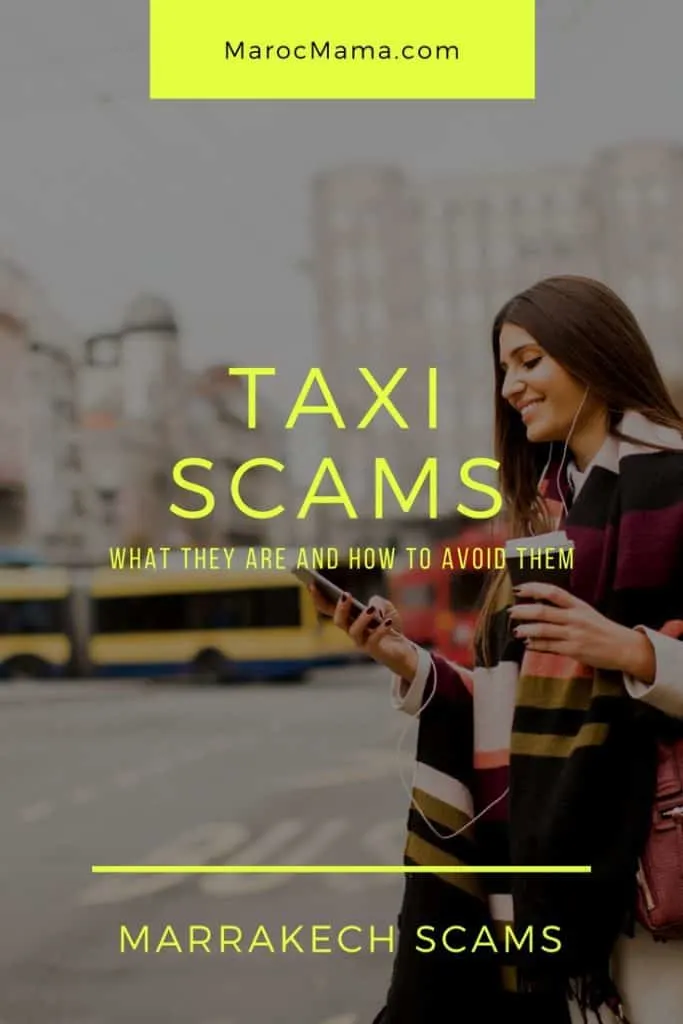 The "No Change" Scam
The next scam goes hand in hand with not using the meter. So let's say you came to an agreement on a price (or spent 10 minutes arguing for it) and they put on the meter. Yay! But then when you go to pay and you don't have exact change and use a bigger note…they don't want to give you proper change! They try to give you less change than what you're due so they can get closer to the amount they originally wanted.
For example, I take a grand taxi that agreed to go to a village/town outside the city for 50 dirham but when I pay with a 100 dirham note the driver tried to only give me 20 or 30 dirhams back because they "don't have change." How to avoid this? Always have small coins and smaller bills when you plan to take a petite or grand taxi.
The Airport Scam
One of the most common places people are scammed is at the airport. There are both petite and grand taxis operating at the airport based on where you're going and how many people are in your group. If your hotel or riad offers transportation from the airport – take it. This will save you a big headache. If you need to arrange your own transportation pay attention to the posted price for a taxi. If you are staying in the medina there is a posted fixed rate near the taxi stand.
Other destinations have different rates, you should verify with your accommodation ahead of time as they will have the best information about this. DO NOT accept that the price is more than the listed price – it is located right near the taxi stand as well as inside the airport terminal. Take a picture and show them if they continue to badger you. Better yet, ask a police officer for assistance if they continue to price gouge.
The Duck and Run Scam
This last scam isn't one I hear often, but I have heard of happening. I couldn't believe this really happened but now I know it's a real scam that does happen. The guest was a foreign woman with her pre-teen daughter. They were finishing up dinner not too far away from their accommodation but far enough to warrant a taxi ride at night, especially for them since it was their first night in the city.
They stopped a petite taxi, showed him the location in the Medina, and he agreed to take them. The taxi driver begins to drive and he is very short and rude to them. When they get to their location he rushed them out of the taxi and picked up a female. It turned out the driver took them in the completely wrong direction, and brought them to a restaurant in Gueliz because he was going to pick up a prostitute that was at the location, and wanted to get some extra cash from these unfamiliar tourists.
Thankfully, they managed to call from a kind local's phone and they were put in a taxi straight to their hotel. I couldn't believe this driver would scam a mother and daughter like that! As well as leaving them in the completely wrong location late at night!
So while this is one of the less common scams my advice is if you plan on taking a taxi and you haven't been in the direction you plan to go, do a quick map search beforehand and look for some landmarks so you know what to expect on the path there. If you don't have a phone with access to Google Maps then carry a small map with you to confirm you're going in the right direction.
While this isn't the behavior of every taxi driver in Marrakech, I hope these examples are helpful enough for you on your next trip or first trip to Marrakech. Remember if you feel you have been cheated or something is not right, involve the police. Ask them to stop or signal for a traffic cop – the driver will usually change his tune or the officer will take care of things. Stay sharp, be on the defensive, and you'll have an easier time navigating in or out of the city.