Favignana holds a special place in my heart. This is the island my great-grandfather left to come to the United States. It has long been one of my dreams to come back and visit and after much planning, we were able to make that dream a reality. Favignana isn't a place you go to do things. It's a place you go to slow down.
Have you wondered what it would be like to call a small Sicilian village home?
Then this is the kind of place you would go.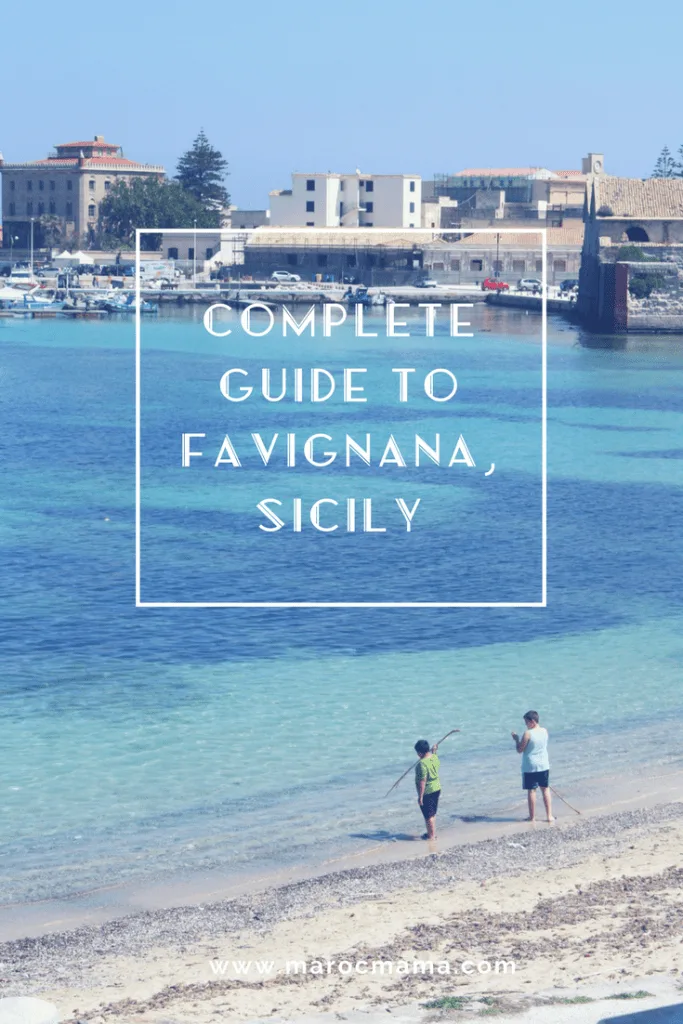 Most tourists visit in the summer but if you plan to visit then you should also expect a LOT of people on the island. I don't think I would have appreciated the experience as much. We were in Favignana the week before Easter, in mid-April, and caught just a few of the holiday celebrations. The weather was really nice, though a few more layers wouldn't have hurt. I wouldn't advise visiting in winter but stick to the shoulder seasons for more reasonable prices and no crowds.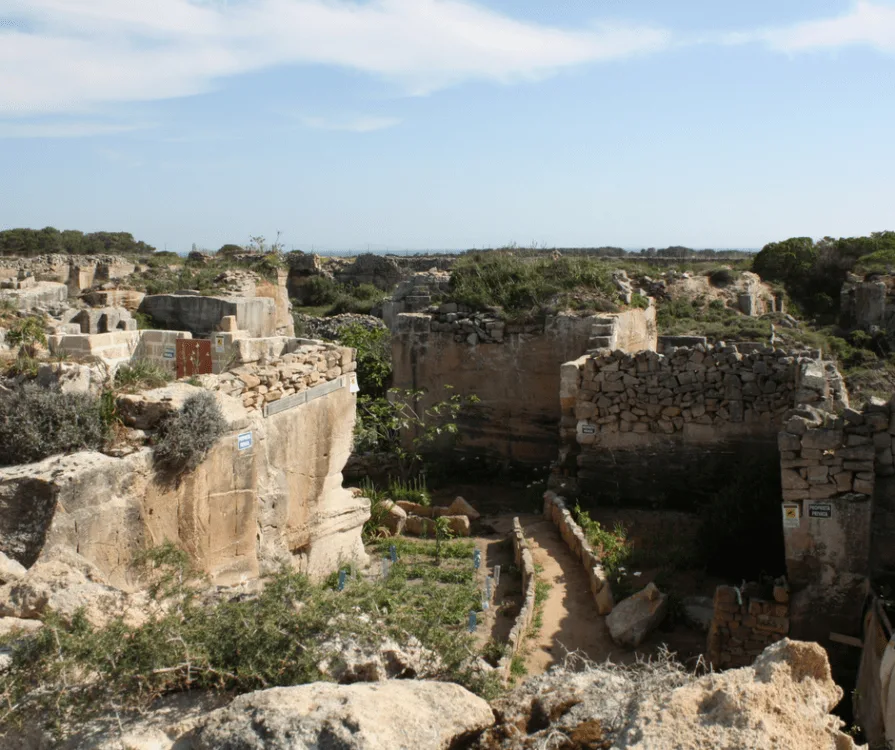 What to Pack for Favignana
Favignana is an island and you should be prepared for crosswinds blowing regularly. You'll notice when you visit there are gardens dug below ground. Islanders have done this to protect plants from the winds and allow them to grow easier. You will want to bring warm things to stay warm when the winds blow – especially at night. You also may want to pack;
sunglasses – there's a lot of sun!
a big hat to protect your face and eyes
sandals but also a good pair of walking shoes for exploring
a lightweight jacket/windbreaker
a bathing suit
water shoes – there are a lot of rocky beaches here
a mix of clothing for hot and cool weather, the temperature shifts can be big, especially in the spring and fall
an Italian phrasebook (or Sicilian if you can find one)
How to Get to Favignana
Favignana is off of the west coast of Sicily, making an arrival to this side of the island the easiest way to reach the island. There is a ferry that connects Favignana to Trapani.
To arrive in Sicily, Palermo and Trapani are the two closest airports with Palermo being larger (though still quite small). Low cost European carrier Ryanair flies to both airports. There is an inexpensive bus that departs from Palermo's main bus/train station to Trapani port as well as busses from the airport itself to Trapani however the schedules are hard to find and don't run frequently.
Instead of the hassle and time it would take to use the bus we opted to hire a car to pick us up. I booked using Trapani Tourism Service and was very happy with the outcome. They were very quick to answer emails, incredibly friendly and while not the cheapest option, it certainly was the easiest. Our driver was waiting at the airport, got us to Trapani and even had his father pick up our ferry tickets to make sure we got on the last ferry!
Once you arrive in Trapani, there are a few options to get across. A ferry service that runs from the cities of Trapani and Marsala, as well as private ferry transfers available for a premium. During high season you should book your ferry tickets ahead of time; Siremar and Liberty Lines are the two companies that offer service to Favignana. During low season this is much less of an issue.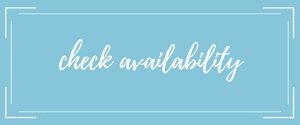 The ferry ride is quick, under 45 minutes and the disembarkation point in Favignana is a tiny little port. From here you'll have no trouble getting anywhere on the island. There are also a few taxis' waiting should you be staying away from the city center.
Where to Stay in Favignana
Favignana isn't that big and there aren't any large hotel chains to be found. We stayed in an Airbnb apartment rental, which was economical and practical for our situation. It was great to have a kitchen and living space for the week. There are numerous apartment rentals available on the island.
If you'd prefer a hotel there are also a few to consider.
Tempo di Mare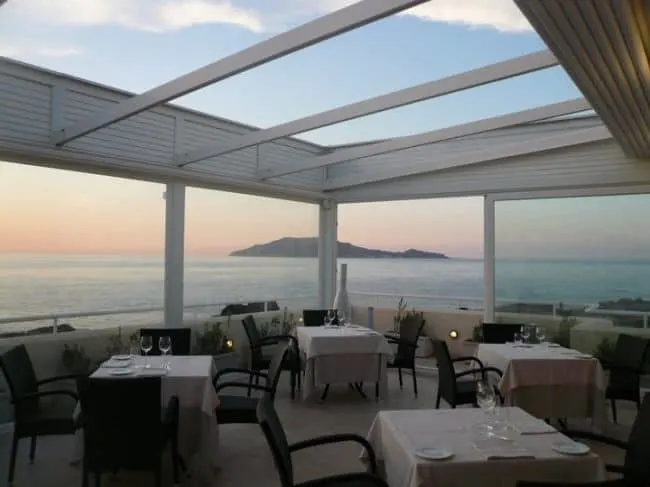 This hotel faces the water and is a very short walk from the arrivals port. From here you can reach the city center or go to the interior of the island. There are bike rental shops nearby to pick up a bicycle for the duration of your stay.
Residence Scirocco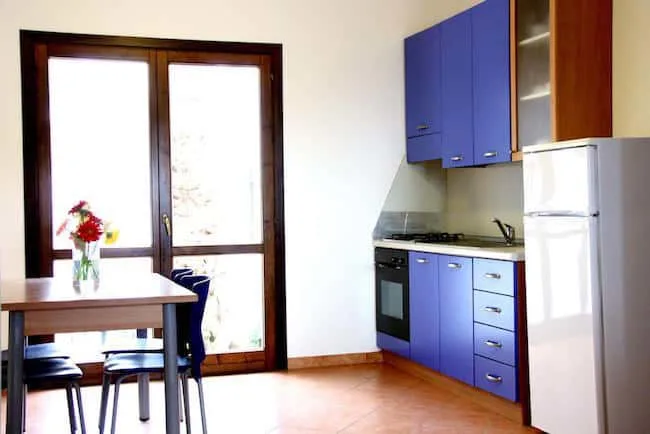 For families or friends seeking a seaside holiday, this option could meet your needs. Many rooms feature a kitchen area where you can prepare breakfast or other simple meals. The price is also quite affordable for those seeking something a little simpler and easier on the pocketbook.
Cave Bianche Hotel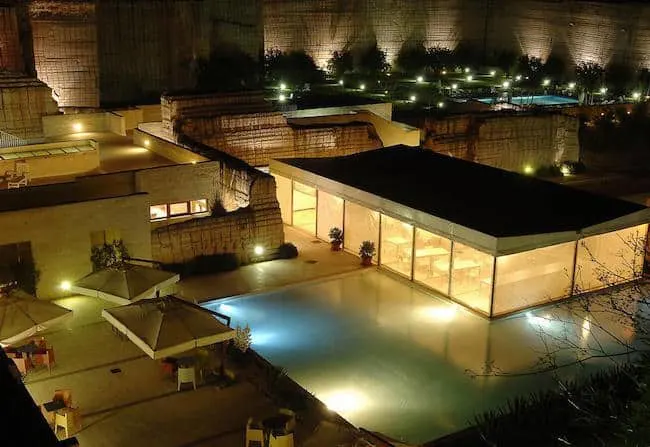 One thing you'll notice as soon as you leave the city center of Favignana are the rock quarries across the island. Cave Bianche is a hotel built out of these quarries providing for a truly one of a kind experience. The hotel prides itself on its eco-friendly design and attitude. Stay here for a very unique experience!
I Pretti Resort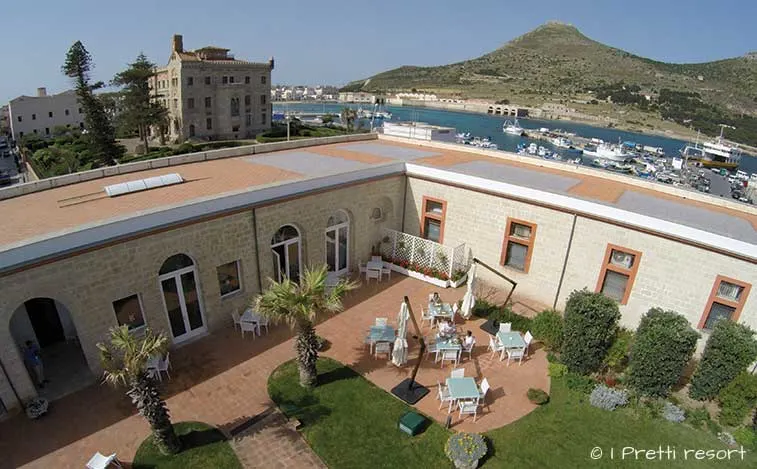 This hotel is dripping with Favignese history. Its central location is perfect for visitors while it still exudes privacy and relaxation. Enjoy a meal in the central courtyard or go for a short walk to the nearby town squares. Massages and wellness treatments are also available on site.
What to Eat in Favignana
As is the case in many Mediterranean countries, the middle of the day is siesta time. From 2pm-5pm we had a very hard time finding many places (restaurants or markets) that were open. You really should plan accordingly because on an occasion or two we were left wondering what we'd have for lunch because nothing was open.
One other thing worth noting is that many restaurants on the island are pretty pricy. For a family of four eating out every meal, or even every day was not financially feasible. There are three main grocery stores on the island and I highly recommend using them to make a few meals!
Pane Cunzato
This is a really typical Sicilian sandwich shop that we fell in love with. Inside we found loads of local guys getting sandwiches for lunch and knew we'd hit a home run. Order whatever you want from inside the front case, they've also got sandwiches listed on the sideboard. Excellent and affordable.
Panifico Madonnina
Our go-to bakery. Not a huge selection but really good quality and the lady behind the counter was so friendly.
Bar du Marinaru
This place doesn't look like much but you should come for one thing – the pistachio espresso. It's got a sweet cream in the bottom (no sugar needed!) You'll find it right in the port so have a drink at least when you come and when you leave!
Gelato
There's no shortage of gelaterias on the island and we tried some every single day! I don't think you can go wrong with any of the island's offerings. But, you should make sure to try at least one pistachio gelato in brioche – it's a must.

Sicilian Foods to Try
Our driver to Trapani told us the best souvenir to come back with was to have gained a few kilos while eating – so we took him up on the challenge! Here are six things you should make sure to try when you visit Favignana.
Gelato in Brioche
In Sicily there's nothing wrong with eating gelato in bread. To be honest I had mixed thoughts on how this would taste but I can honestly say it is worth every single calorie. The kids liked chocolate or nutella gelato in brioche while pistachio was more my style.
Granita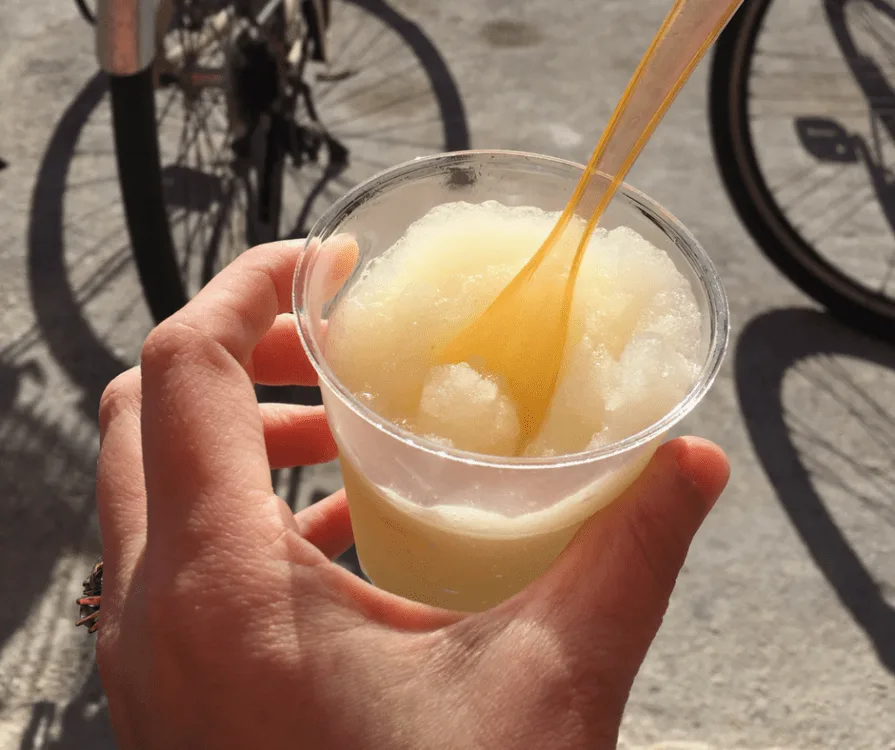 We always referred to this as Italian Ice when I was growing up in the US but the Sicilian version is much better. M and I loved this and chose the lemon version but there are many other varieties you can have. It's just frozen grated juice but perfect for a hot day.
Busiate Pasta + Red Shrimp
Busiate refers to the shape of the pasta noodle in this dish. Imagine a really long curly Q! It's often served in dishes along with red shrimp that are native to the area. The sauce is usually a pesto made with pistachios and it is really outstanding.
Panelle
You'll find this in several places across Sicily – it's a type of chickpea bread/snack; fried and sprinkled with salt and pepper. It's naturally gluten-free making it an easy snack for us. But it is fried and can be greasy so too much might not be advisable.
Tuna and Seafood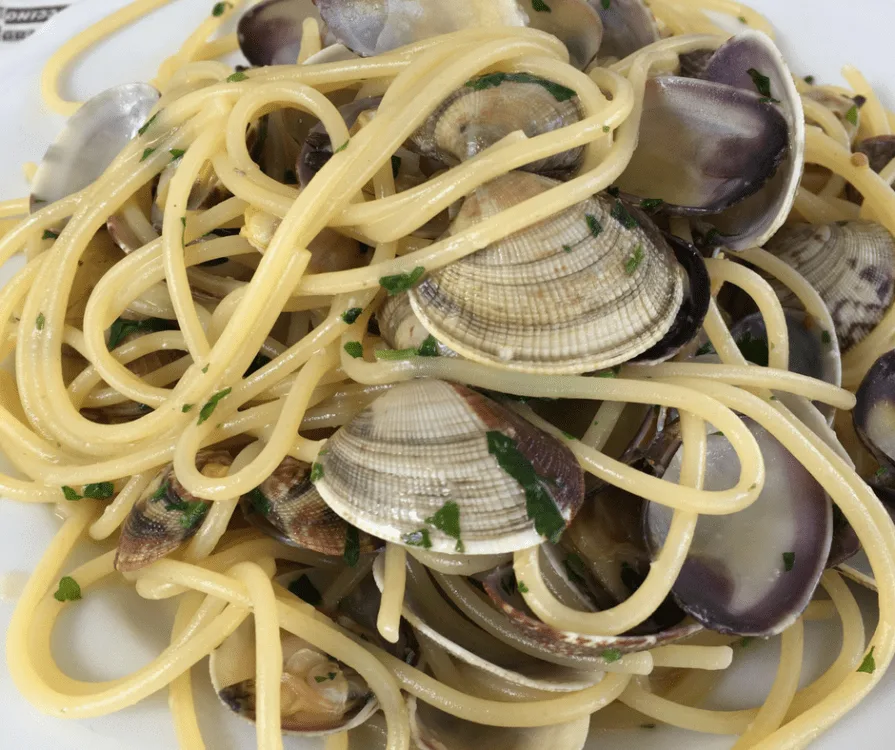 Favignana is really known for their tuna and you will find it being sold everywhere. It's no surprise then that it is on every menu and served in dozens of ways. I'm not a huge tuna fan but instead chose other seafood like this clam pasta (spaghetti vongole).
What to Do – The 3 B's
Biking
I mentioned this before but Favignana doesn't have a lot of things to do. It's a place to just be. We rented bikes on our first day and used them to get around the island and explore. There is an extensive network of bike trails but you can also easily ride on the roads. Normal bike rental rates are €5 a day – we asked at several places and it was always the same price.
Because we were renting for the week they reduced ours to €4 a day – it's always worth asking! Most of the island is pretty flat so riding around is not a problem. Some beaches are further away than others but still very accessible.
You will be able to see the highest point on the island with what looks like a ruined fortress on top from anywhere. There is a road that goes up here, but the top is a military installation. It's worth taking a walk/ride up the hill (or at least part of it) to see the island below. It's really quite beautiful.
Beaches
There are many beaches on Favignana but chances are they aren't the sandy variety you're expecting. Much of the island is surrounded by rocks – that's why water shoes come in handy. We didn't come across anyone swimming but this also could have been because of the time of year. If you have small children there are only a few places that it might be possible to safely swim. You also will want to be on the lookout for jellyfish that can be found in the water at different times of the year. Cala Azura and Cala Rosa are two of the most impressive views and a short ride from the city center.
Boats
If you love to be on the water you can charter a boat and either self-drive or go on a day trip. It's also possible to take the ferry to the nearby island of Levano for the day. There are fishing trips and also trips just to see the different caves and grottos of the islands. Boats are available by the hour or day.
These are just a few of the things that we did while we were on the island. But, by far our favorite thing to do was take our bikes out each day and try a new trail just to see where we'd go. Pack a picnic, go explore. Take naps. Sit by the water. This truly is a great place to go when you really just want to getaway.
You can also visit the old Florio Tuna Factory (Ex Stabillmento Florio) – at one point most of the island was employed here in some capacity. Today they're trying to keep the stories and the history of the place alive. Tours are available in June and October from 10-17:00. July, August and September from 10-13:30 and 17:00-23:00. The entrance is 6€ and free for anyone under 18 years old.