It might be the most common and loathed scam visitors complain about when they visit Morocco – the tannery scam. You're walking along minding your own business when someone "helpful" advises you that the street you're walking down is closed and that he can help you. You accept, grateful that this stranger has saved you time and the embarrassment of getting lost.
Quickly you're passing through streets and alleys until ever so carefully he brings you to the…tannery. Not your destination. He says that he wants to show you something very interesting and you're lured deeper in.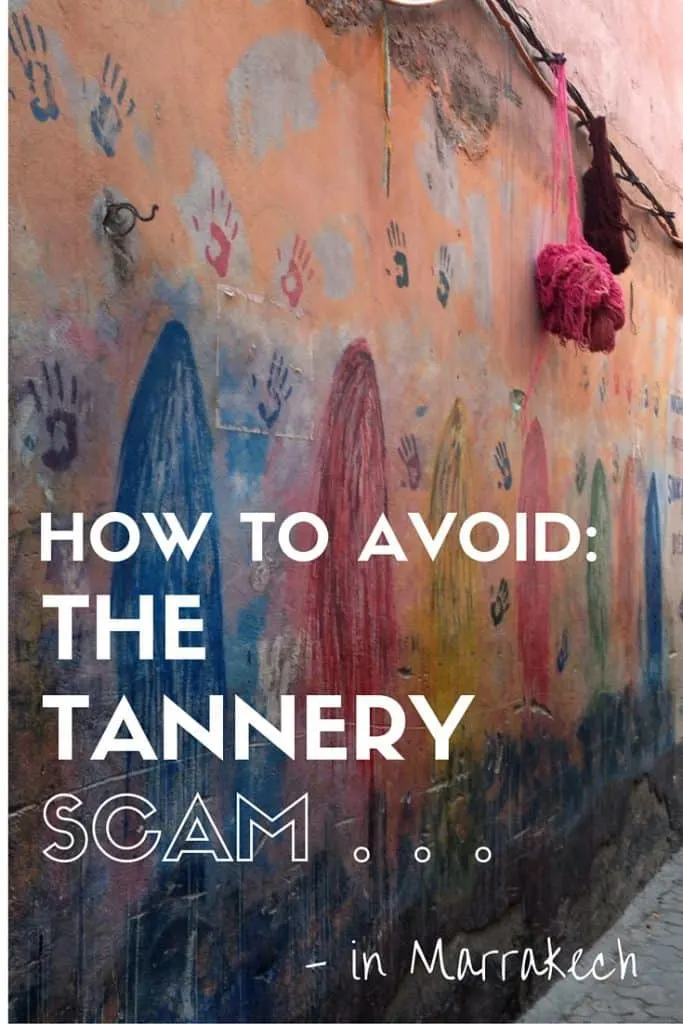 The pungent smell of curing hides attacks your nostrils and you've had enough. You turn to leave, explaining you never wanted to come here in the first place. But the pressure is on. You should buy a bag here, or at least a wallet. You won't find a better deal anywhere. This is the time. Reluctantly you give in, not wanting to cause a scene and you did want to get something, at some point right? Why not here? You pay and get ready to leave, expecting your guide to get you to where you were going to begin with but he turns, becoming hostile and wanting payment for having "guided" you around the tannery.
What??!?!
You didn't sign up for this!!!
This scenario is really common and unfortunately, too many tourists end up feeling taken advantage of and ripped off – for good reason. The entire plot is a complete scam.
It's easy to become jaded and untrusting of people especially when scams like this exist and permeate the "medina culture" but I'm going to give you some information to help you get around this.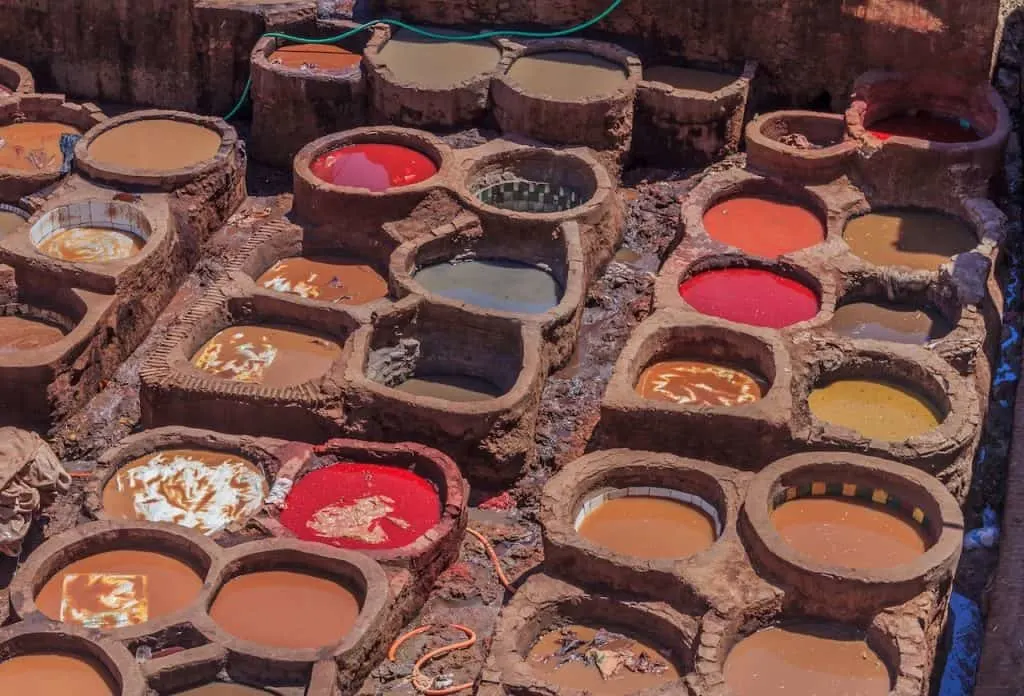 First, Here are the Things You'll Be Told That Aren't True (most of the time):
that street is closed.
if you want to see the tannery you need to hire a guide.
there's a special market day/celebration today – and I can show you.
the place that you want to go is closed.
"I can show you the way, no charge"
I'll help you get a good price.
If you hear any of the above phrases it's a good indicator that things are going to go downhill quickly. The first phrase is false nearly 100% of the time. People still say this to me and MarocBaba when we're walking in the medina. So don't feel bad if they say it to you too. The streets here don't randomly close, and even if they do there are ways around it. People are already nervous in the medina because it is so confusing, and they easily believe this myth. If you really do think a street is closed to go an actual shop and ask them.
How The Scam Works
In order to avoid this scam you need to know how it works. The streets between the Ben Youssef Medrassa, Maison de Photographie, and souks are prime real estate. You'll find older teenagers and young adult men loitering in this area. They're all working together on this scam. One guy will see someone coming and will try the scam, if that doesn't work the next one will, and so on. They're all working together with the same goal.
But how do they get away with it?
You know how the mafia works? (I'm Sicilian, I'm allowed to talk about this) You've got a city block that members of "the family" run. They visit all the shop owners and say, "listen you give us $20 a month and we'll make sure your shop is protected," and so on. They also pay off the police to look the other way and in reality "the family" is the one running the block and the economy. It pretty much works the same way albeit with a bit less violence and money changing hands.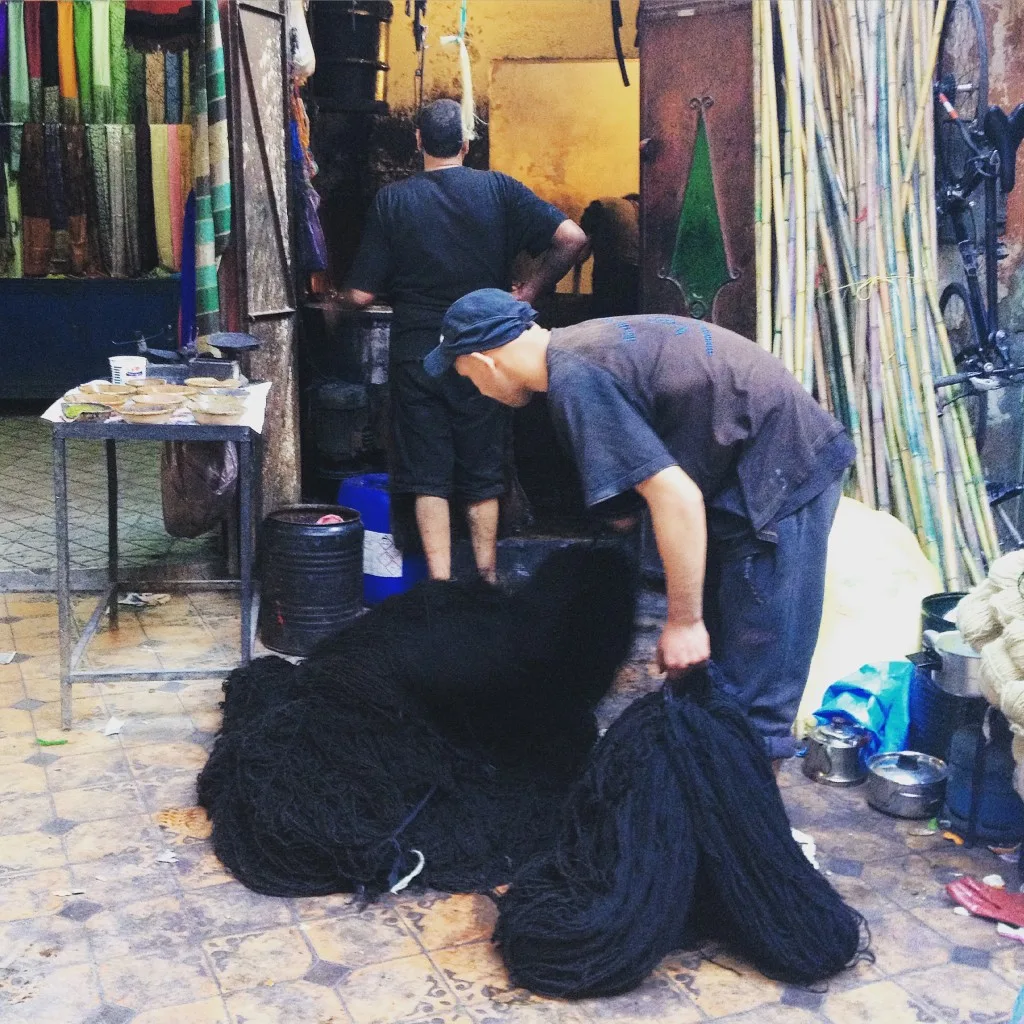 How to Avoid It
From the Beginning
If you're able to, try to completely avoid getting into the situation. If someone tries to tell you they can take you to the tannery or that a road you're walking down is closed, or they can help you get "unlost," don't take their offer. Just keep walking. If you really do need help, go into a restaurant or a shop and ask for help instead.
Asking someone who is loitering in the street = bad idea. If they try to talk to you, you can a) completely ignore them or b) say no, often and forcefully. If you are being followed, or they won't leave you alone, you can threaten to call the police.
(The number is 190 or 112 – program it in your phone)
If you really do feel threatened you should make a lot of noise to draw attention and then get your phone and call the police. There are undercover police officers in the medina and if you make a fuss, chances are they'll be close by. Then walk the opposite direction.
When you Realize You've Been Scammed
Maybe you thought someone was just being nice and didn't realize until half way into it that this really was a scam. What do you do? I would end it as soon as possible. Do not worry about hurting someone's feelings. When you are in a space that has many people (I don't advise this in an empty alley), look at your watch or pretend to answer the phone and then fiend an emergency and leave. You also can make up another excuse or just say that you've decided not to go. Thank the person and then leave.
When It's Too Late
You didn't know it but you've been trapped and end up at the tannery (or a carpet shop etc). This isn't where you intended to go and you have no desire to be there. In this situation, get upset. Show the person you are angry and this was not what you wanted. Then leave. Don't go see anything, don't take it any further, or wait for the end so that you can leave amicably. In the best case you will pay them nothing. You leave, making a scene if needed.
In the worst case they request payment. Give them NO MORE than 20 dirham. They will ask for more. They'll ask for 200 dirham, or even more. They want to get as much as possible. Give them the 20 and if they keep asking for more you can tell them you will give them nothing, as you didn't ask for them to take you there. Then leave. Or, threaten to call the police.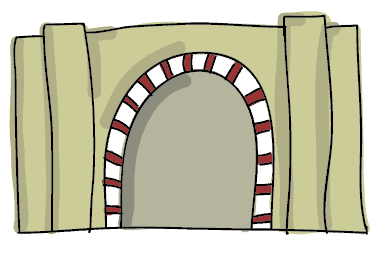 This tannery scam is one of the worst and I always find myself irritated when another tourist tells me they've been had this way. It's one area the police really should be ramping up their patrols but for some reason (see the mafia example above) they don't. Hopefully, with these tips, you'll be able to avoid falling into their trap!