Are you hoping to plan the perfect luxury honeymoon in Morocco?
With its endless desert, majestic mountains, and historic cities, it's no surprise that Morocco has long been a popular honeymoon destination. Morocco is now even more appealing for couples looking for an unforgettable trip to celebrate their nuptials.
Morocco's diverse landscape and rich culture have something to offer everyone: from the bustling cities of Marrakesh and Fes to the peaceful beaches of Essaouira, from the dramatic Atlas Mountains to the ancient ruins of Casablanca, from the vibrant markets of Meknes to the exotic souks of Tangier — there are endless ways to explore this beautiful country on your luxury Morocco honeymoon!
Is Morocco a Good Honeymoon Destination?
Morocco is a great honeymoon destination!
The country has stunning natural beauty, a distinct culture, and a rich history that will keep you amused while you're there!
When visiting Morocco, you can expect to see the best of the country, from its people to its food, architecture, and music.
Because the country's history is rich and diverse, there are endless possibilities for you and your partner to discover in this country for your luxury Morocco honeymoon.
Morocco is an amazing place to discover with your future spouse, whether you want to get lost in Marrakesh's winding streets or see the Atlas Mountains' beautiful landscapes and the Sahara Desert.
How Long Should a Morocco Honeymoon Be?
Morocco is a land of never-ending adventure, with the ideal balance of culture and relaxation. One of the most important aspects of your luxury Morocco honeymoon is ensuring that it is an experience you will never forget.
When planning your luxury Morocco honeymoon, allow at least six days to explore the country's many wonders.
We recommend staying in Marrakech for at least three days as it's an easy-to-reach point and one of the most popular destinations for newlyweds thanks to its fantastic hotel offerings.
You can visit the beautiful mosques and markets, as well as any number of outdoor activities.
You might also want to spend a few days exploring other cities, such as Agadir and Ouarzazate, which both have stunning views of desert landscapes and incredible architecture.
If you're looking for something more low-key, make sure to visit Essaouira – this charming seaside town has become increasingly popular with tourists in recent years!
If you want to take advantage of all of these incredible attractions, we recommend staying in Morocco for at least six nights to get the most out of your trip (and avoid jet lag!).
Luxury Hotels for Your Honeymoon in Morocco
To round out the best luxury honeymoon in Morocco, we've chosen seven of the most luxurious hotels that will make your honeymoons in Morocco unforgettable!
Mandarin Oriental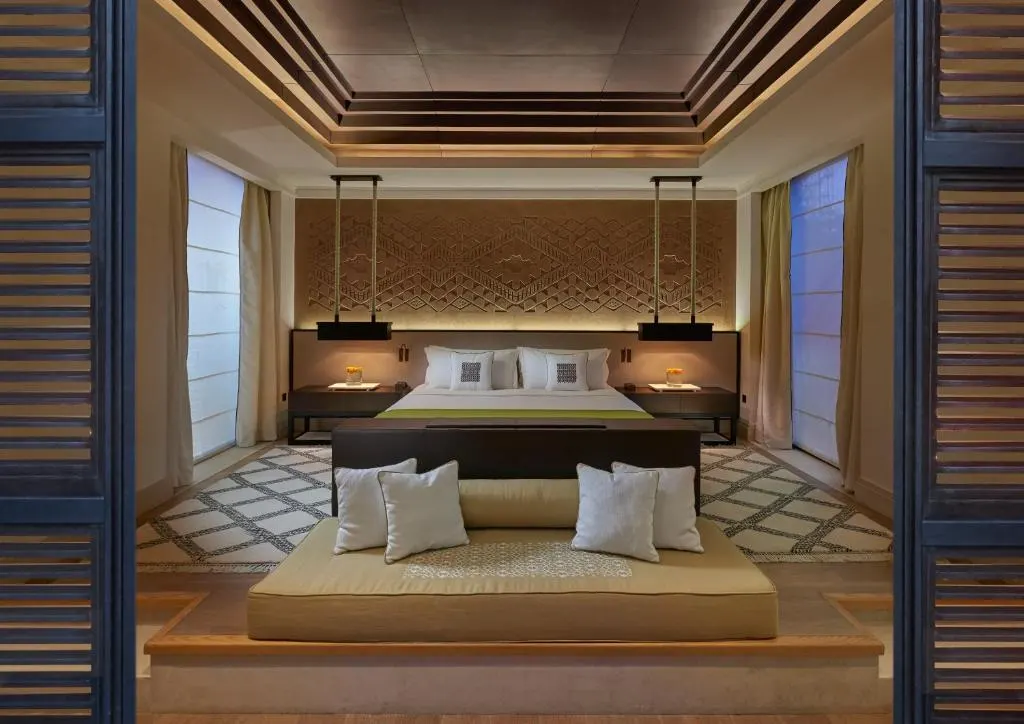 The Mandarin Oriental Hotel in Marrakech is a welcoming and engaging luxury hotel.
This hotel is in the center of Marrakech, Morocco. The hotel is perfect for your luxury Morocco honeymoon as it has a beautiful view of the city and overlooks the Atlas Mountains.
Moroccan artwork has been used to decorate the rooms, giving them a cozy atmosphere. The rooms are spacious and comfortable, with lovely city or mountain views.
The restaurant at Mandarin Oriental Hotel in Marrakech serves delicious food that has been carefully prepared to showcase local flavors.
There are also many other dining options available at the hotel, including room service and outdoor café seating areas where you can relax while enjoying your meal with a view of the city below.
Banyan Tree Tamouda Bay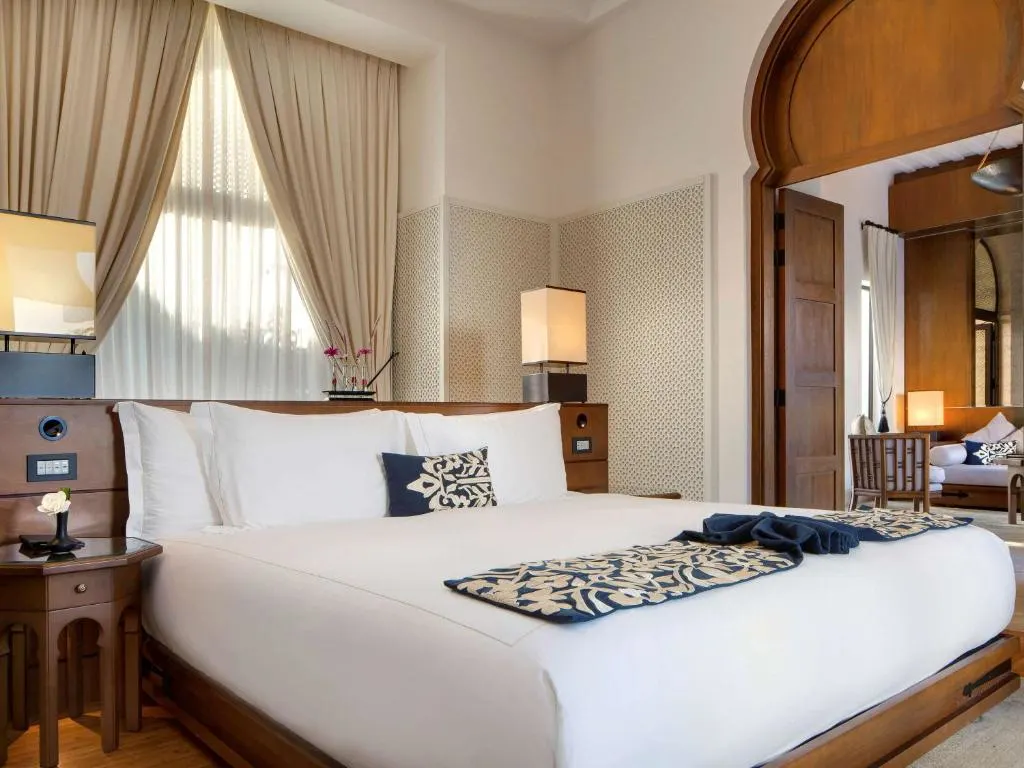 The Banyan Tree Tamouda Bay Hotel in Fnidek, Morocco, is the ideal location for a luxurious and relaxing honeymoon.
The property's spacious rooms have been thoughtfully designed with you in mind. Each room has its own private terrace or balcony with ocean or mountain views.
The hotel's dining options range from traditional Moroccan cuisine to international favorites.
You can eat at one of the on-site restaurants or order room service if you prefer to dine in the privacy of your own room. There's also a lounge where you can sip cocktails and snack on light fare while watching the sunset over the ocean.
Many local stores and markets are accessible by foot from the hotel, making them ideal for honeymooners who enjoy shopping and traveling.
The Oberoi Marrakech
The Oberoi Marrakech is a luxury hotel that first opened its doors in 2001. It is one of the world's top hotels and is located in the heart of Marrakech, Morocco. And epitomizes luxury, design, and service.
It's been a famous luxury Morocco honeymoon destination for decades, and it's easy to see why!
The Oberoi Marrakech is set on an 18-hectare estate complete with lush gardens and exotic wildlife. The hotel has a gym, a swimming pool, a spa, a library, and a restaurant, as well as luxurious suites with balconies overlooking the pool or garden.
The Oberoi Marrakech staff is well-known for their friendly demeanor—they'll go out of their way to ensure you have a pleasant stay. And if you're looking for something in particular? They'll go to any length to get it for you.
Whether you want an exhilarating desert excursion or a relaxing day at the spa for your luxury Morocco honeymoon, The Oberoi Marrakech has you covered.
Kasbah Tamadot
Kasbah Tamadot is the ideal destination if you're searching for a luxurious honeymoon getaway that will leave you feeling renewed and revitalized.
The hotel is built on the ruins of an ancient fortification high on a hill with views of the city and surrounding countryside. Each room is elegantly decorated with Moroccan touches and has its own private balcony with views of the surrounding landscape.
Guests can also participate in activities such as hiking tours, horseback riding excursions, and cooking classes at the hotel. Since 1964, the hotel has welcomed travelers and strives to provide guests with an unforgettable experience they will remember forever!
Mazagan Beach Resort
"Live your dream" is the motto of Mazagan Beach Resort.
And that is exactly what they do!
Mazagan is a luxury resort in the heart of El Jadida that offers honeymooners a world of possibilities, from swimming in the infinity pool overlooking the ocean and sunbathing on the beach to enjoying an exotic spa treatment or a gourmet meal in one of their five restaurants.
The Mazagan Beach Resort is styled after traditional Moroccan architecture, with white walls and a red roof. The lobby has high ceilings, marble floors, and natural light. Views can be enjoyed from guests' balconies or terraces and from their rooms, which all have private bathrooms!
Royal Mansour Marrakech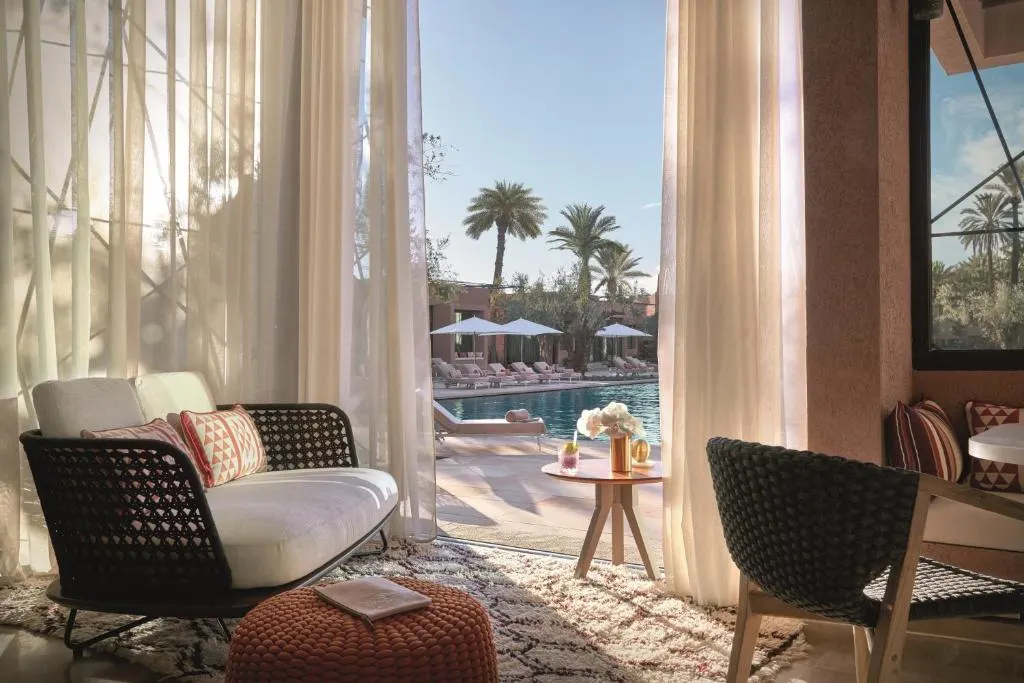 The Royal Mansour Marrakech is a 5-star luxury resort in the heart of Morocco's golden city. The hotel is a haven for honeymooners looking to escape the hustle and bustle of everyday life, providing a one-of-a-kind and serene experience that will leave you feeling refreshed and rejuvenated.
The hotel was recently renovated to provide its guests with even more luxurious experiences. It has three restaurants, a spa, an elegant lounge, and a stunning infinity pool with views of the Atlas Mountains.
Le Jardin des Sens, one of Morocco's only two Michelin-starred restaurants, is also located at Royal Mansour Marrakech. Don't miss this experience in Morocco with your new spouse!
Amanjena
Amanjena is the ideal location for your honeymoon.
Amanjena is a Marrakech hotel whose name means "a place where the soul rests." Originally a sultan's palace, the hotel was constructed in the late 19th century. The hotel has been restored to its former glory and offers a luxurious retreat for couples looking to relax and enjoy their surroundings.
The suites are large and comfortable, with king-sized beds, high ceilings, and marble bathrooms. They also have balconies from which to view the surrounding mountains and gardens. Each room has its own butler who will assist you with whatever you require during your stay at Amanjena.
The hotel has many amenities, including a spa and a poolside bar with healthy options that will allow you to enjoy a good time with your partner.
We hope you enjoyed our Morocco honeymoon travel guide because a honeymoon is one of the most special events in a couple's life!