You might not know it but New Year's Eve in Marrakech is party time! There are events, dinners and parties across the city and at all different price levels and experiences to be experienced. I've put together this list of events quickly in case you're visiting Marrakech this time of year and looking for something fun to do.
There are quite a few parties, and most are geared toward adults. I have attempted to find some family-friendly parties however they are few and far between.
Please note I am updating these listings as more information becomes available. Please double-check before booking. Listings with a star have been updated.
+61*
One of my favorite restaurants in Marrakech. This year they are hosting a New Year's Eve dinner and party with a live DJ. Price includes a 6-course dinner and welcome aperitif + midnight champagne.
2100dh per person
Reservations required with a cancellation policy and service starts at 8pm- email to [email protected]
The Source
Bubbles & nibbles at sunset followed by dinner in the restaurant at 8:30 from Chef Aissam Farhani. (Full menu on their Facebook Event page)
NewERA" party in the Spa from 11pm grooved LIVE by unique, wild, galactic, futuristic DJ Xander Pratt!

Price is : 950 dhs pp
BOOK your table & party:
[email protected]
or +212 (0)6 23 23 00 61
Comptoir Darna*
Celebrate the New Year in a magical setting, Comptoir Darna!
A beautiful evening and a perfect fusion between East and West: Traditional musicians, oriental dancers, DJs and other artists will be on the program for an unforgettable celebration.

Service begins at 8:00 PM – 3000dh per person excluding drinks. No children under 14.
Book online here
L'Envers
This year's party features an Arabian Nights theme and a party that goes until 3am.
For two people – 1500 MAD, including :
– Welcome cocktails
– 1 bottle of Champagne
– A degustation menu for 2

For 4 people – 3200 MAD, including :
– Welcome cocktails
– 1 bottle of Champagne
– 1 bottle of liquor
– A degustation menu for 4

The menu includes :
– Foie gras with fig and apricot chutney
– Salmon tartare with citrus fruits
– Blazed gambas with cèpes risotto
– Crusted Beef with grilled vegetables and feta cheese
– Flamiche quiche with leeks
All included for either the 2 or 4 person booking.
Visit their website and make reservations in advance.
Patron de la Mer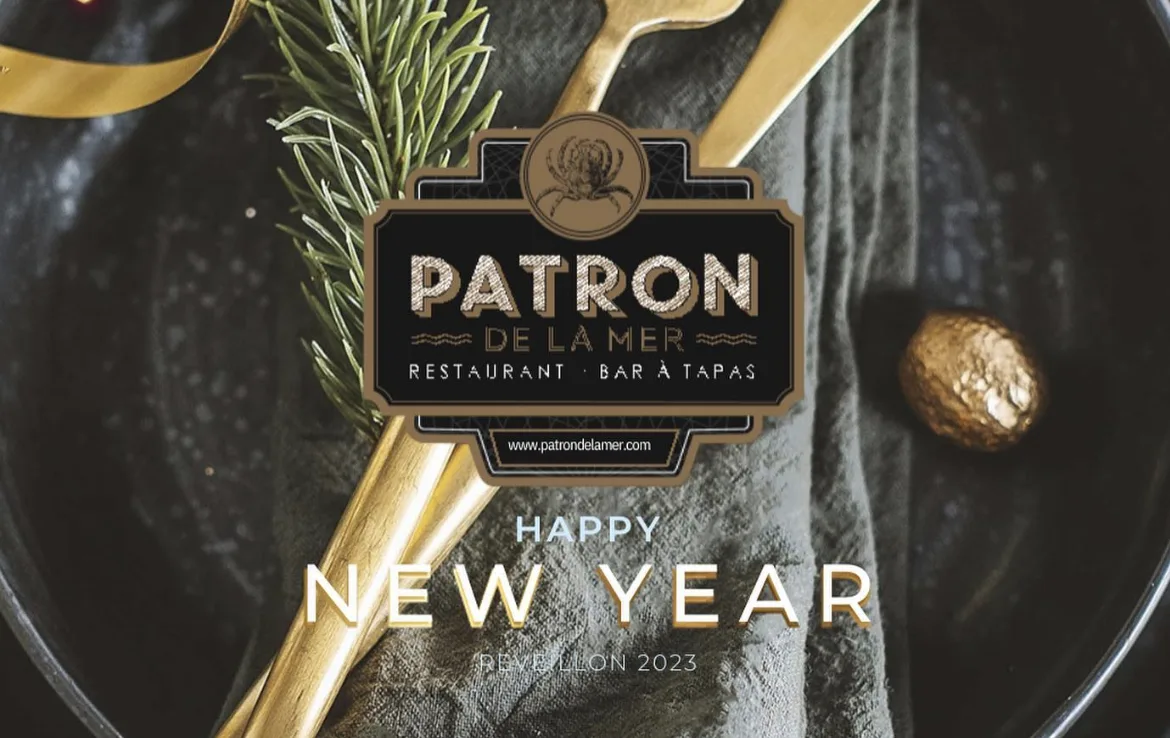 One of Marrakech's top seafood restaurants will offer a New Year's Eve meal. A welcome glass of champagne followed by multiple courses, live music and flamenco dancing. Reservations a must – more information and full menu available here. 1500 dirham per person drinks excluded.
Le Jardin*
For a lovely dinner in the medina, Le Jardin will have live music and a DJ throughout the evening. Hours are 8pm – 2am. Reservations highly recommended. Email for more information and reservations – [email protected] Subject: NY Le Jardin
Auberge Espagnol
A Spanish inspired New Year's event with a few different options depending on how you'd like to spend your time. (There's prizes too!)
650dh at the bar
750dh at the show
850 dh in the main room
For more information visit their event page.
Kabana*
This medina hot spot will host a party for New Year's Eve. The evening is a part of their multi-day celebration of lights with nightly entertainment before and after New Year's Eve. Reservations are highly recommended.
Minimum spend of 1000dh per person with live music all night.
Booking +212 0808 510 684
Le Blokk*
Live music and food will be on offer for the evening however details have not been released yet.
Sofitel Marrakech
The Sofitel typically hosts several parties. As of publication (December 16, 2022) there are no specifics that I have been able to find. They also generally have a New Year's Eve party for children if this is something you are looking for.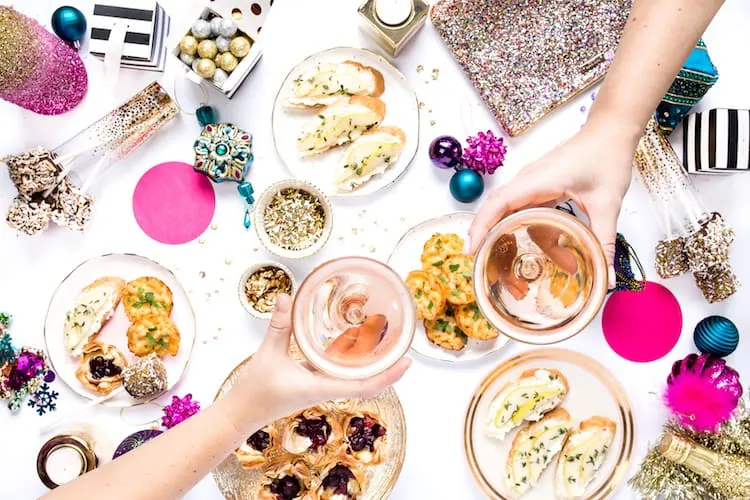 The Four Seasons*
Ring in the New Year with a glittering evening with the theme of party under the palms. Indulge in multiple food stations as well as passed hors d'oeuvres that will excite everyone's tastebuds while our live band and DJ will make you dance the night away and create a magical and memorable welcome to the New Year.
Reservations Required – 0524359200
Epicurien*
Dinner and live entertainment beyond just music. Admission includes dinner, a live concert, dancers, musicians and more. 1950dh per person Reservations required.
Entrepotes
A spot to consider to dance with DJ Juanjo Muro handling music for the evening. 2019 price was 450dh.
La Mamounia*
It's lauded as one of Marrakech's most historic and stylish addresses so it makes sense they'd have a great party to celebrate the New Year! Live music begins at 7pm and continues well into the night. Dinner options begin at 4500dh per person up to 8000dh per person. Dinner options are available in all of the restaurants and galleries. For more information visit their program for the winter season.
Royal Mansour*
There are two different restaurants on the property serving New Year's Eve dinner. Reservations required. Check their program of events for specific information and pricing.
Dar Zellij*
Offering welcome drinks on the rooftop and starters followed by a complete Moroccan feast, live music, a gnawa band and belly dancers you can have a full evening here. For a full menu and to book visit their website.
Buddha Bar
This year Buddha Bar will present the theme of Diamonds and Bubbles for their New Year's Eve celebrations. With multiple shows, live music, and a DJ the party will last all night. Cold and hot menu items will be served throughout the evening.
To make a reservation contact directly ([email protected])
Riad Monceau
Usually host a yearly party however details have not been released yet for this year.
Agafay Desert Parties
BE Agafay*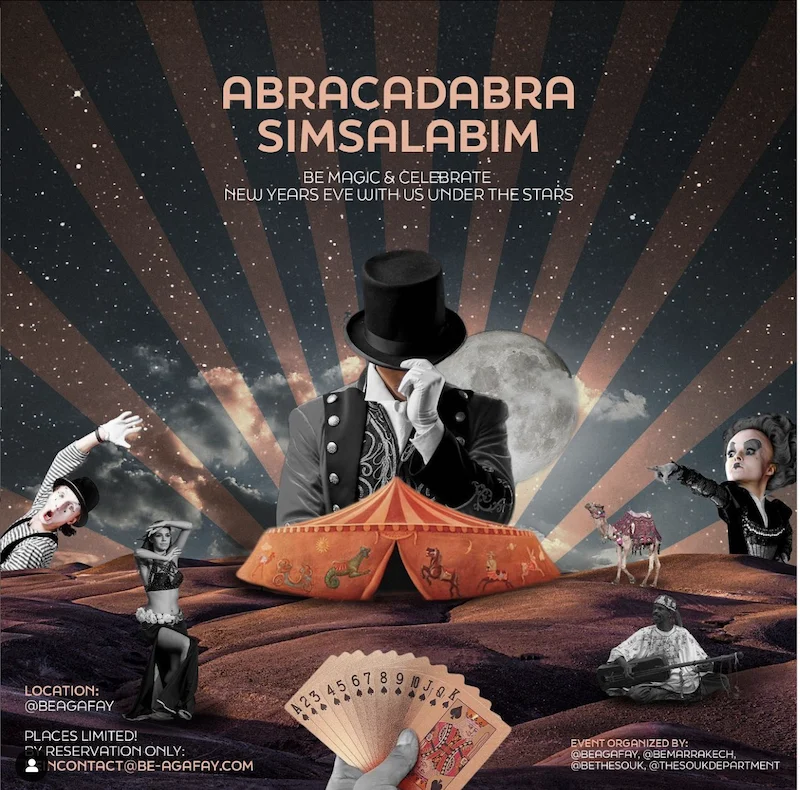 The newest Agafay camp just outside Marrakech is organizing an epic NYE party this year.
A five-course menu, sunset aperitif cocktail, NYE champagne are included as well as live music, DJ and more. Spend the night dancing in the stone desert. Event Tickets: 180€ pp with limited spots available.
Reservations required. Email – [email protected]
RAK Electronik *
This is an all night party located in the Palmeraie with options to spend the night and a variety of musical acts.
RAK NYE 2022 Package (Accommodation + NYE Diner + Breakfast / Brunch + 18 HRS Non-Stop Party) Solo, couple and quad tickets available.
▶ NYE Buffet Dinner + Breakfast/Brunch in the morning
▶ Roundtrip shuttle from Marrakech available
Budget Friendly Options
Most of the big parties also carry a heavy price tag. If you're looking for a more affordable way to ring in the New Year here are a few suggestions.
This is one of the medina restaurants that we enjoy. They also do serve alcohol so if you're looking to share a drink of bubbly they've got you covered.
Cafe Argana
A popular cafe on the square, grab a spot on the terrace early and enjoy either drinks or a full meal (they offer both). It's also a great place to view the activity below.
A brand new restaurant with one of the most stunning views of Marrakech and the Atlas Mountains. Inventive plays on Moroccan cuisine and a lovely atmosphere. Pop in here for a special dinner.
New Year's Day Brunch
Coming soon…
Looking for more ideas on where to party?