Choosing a tagine can be really intimidating. Especially, if you've never purchased one or cooked with one. How do you know what you need? In this post I'll give an Emile Henry tagine review as this is one of the more popular Moroccan tagines available outside Morocco.
After having tried my hand with a few different tagines, let's review what this famous cookware brand has to offer when it comes to tagines and tagine cooking.
Émile Henry is a French family-owned cookware company. They specialize in ceramic cookware and are well-known for their baking dishes and dutch ovens.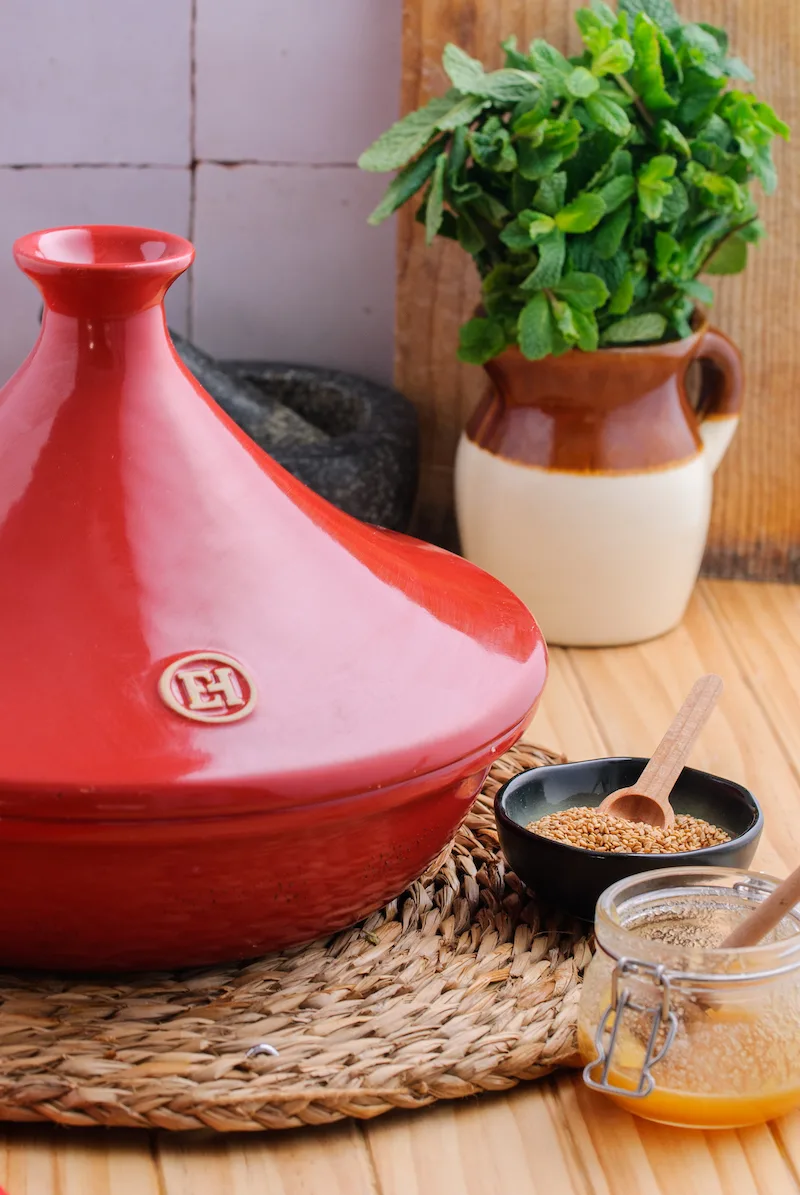 They have a long history starting in 1850, from a small town in Burgundy, France. They are still family-owned today (which is quite impressive in my opinion) and make all their products in France.
It might be interesting to know that tagines are very popular in France. This is due in large part to the high number of both Moroccans and Algerians that live in France and the connection between the two countries.
Is The Emile Henry Tagine Worth the Money?
Without any doubt, yes it is. We'll go deeper into their characteristics, but in summary, they are light, resistant, and very easy to clean. Also, not to speak about how pretty they look right? Their iconic bright red glazing is so luxurious looking.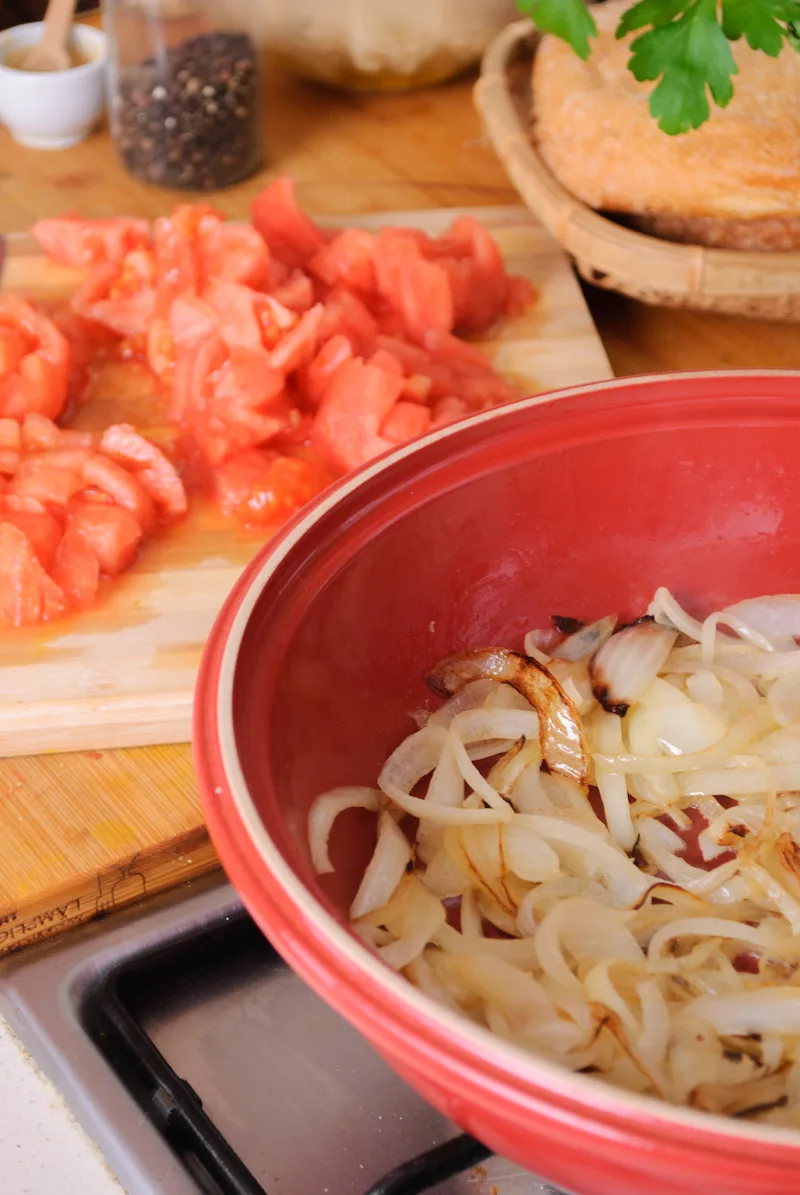 What Works with the Emile Henry Tagine
This is a good quality tagine that will last for many, many years. It is a good option especially if you are new to cooking with tagines as the material makes this a more forgiving option. For example, an unglazed clay tagine may be the tool of choice for someone that has experience with Moroccan cooking – it could be very intimidating for the uninitiated.
Emile Henry Tagine Sizes
This brand of tagine is available in two different sizes; either the 2.1 qt or 3.7 qt size. The smaller option is the better choice for smaller families or people who are on their own. The larger size could definitely make enough for 6 people and is a good option if you plan to entertain guests or have a larger family.
Emile Henry Tagine Lid
The lid has a closed-hole to allow full steam circulation.
This is a ceramic tagine so it is possible that the lid or base break. Emile Henry does offer a 10-year guarantee on their products so save your receipt just in case. You can get a new lid on their website if you break it.
Emile Henry vs. Le Creuset Tagine
These two tagine types often come up head to head with consumers wondering which is the better option to choose. The biggest difference between the two different companies is that they are made of different materials. Emile Henry tagines are made of flame ceramic while Le Creuset is an enameled cast iron.
This is a significant difference. The Emile Henry tagine is much lighter but also breaks easier (though not that easy).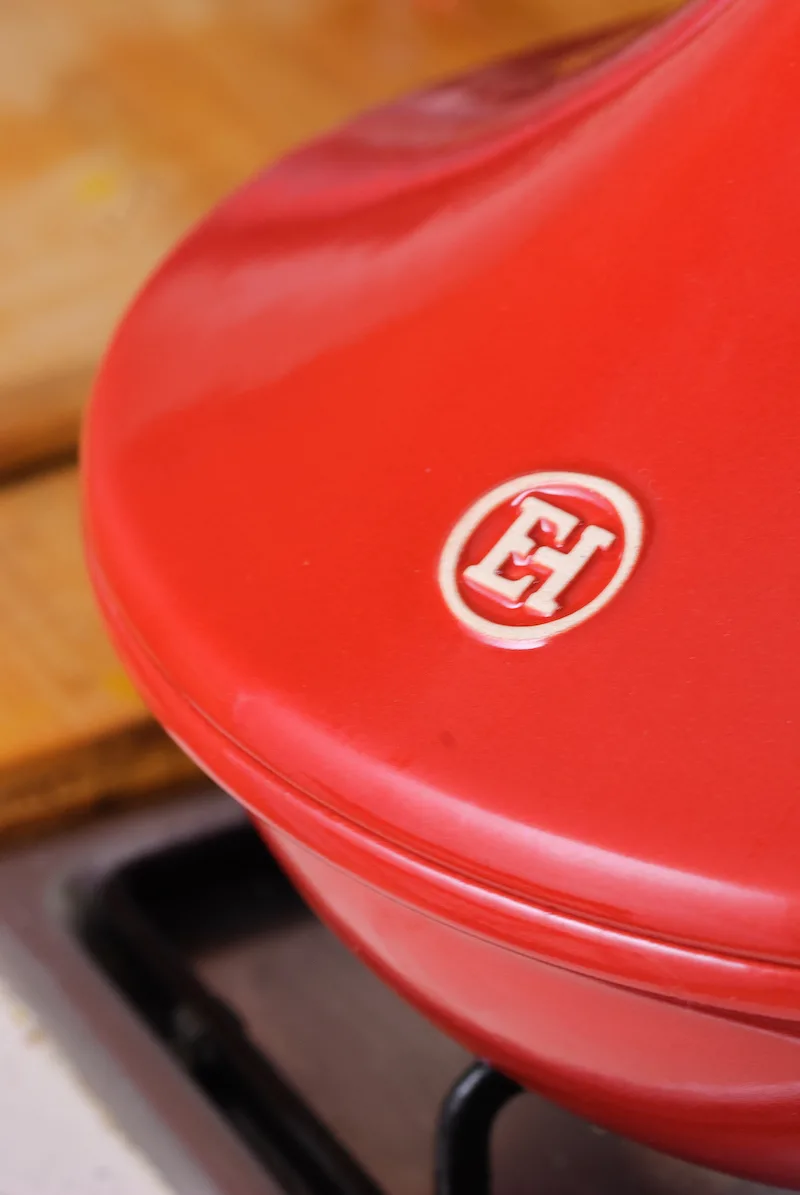 Pros of the Emile Henry Tagine
It is resistant and durable
They offer a 10-year warranty (for manufacturing defects) for all their products. The tagine feels very sturdy yet light which is very convenient, especially for handling when full.
They are food safe:
As they state on their website, their products are made using high-quality materials and do not contain lead.
It is lightweight
As I've already mentioned their tagine is quite light when compared to their clay tagines and of course lighter then cast iron ones.
Easy to use and clean
As much as tagine cooking is pretty hands-off since you don't need to constantly check on your food (but a few times to make sure there's enough liquid) I've found the Émile Henry tagine to be quite good in this department. When done right its glazing it's really good and prevents food from being burnt too easily.
But of course, take this with a grain of salt, since you'll still need to check on your food, but I just found it to be better than other brands.
Thanks to the glazing it's very easily cleaned (unless you've burned the food obviously), and also is dishwasher safe!
Retains heat for long periods
So convenient when cooking in advance and having the tagine sitting for a while waiting for you. I've done the tagine a couple of hours before lunchtime and found it still warm 2 hours later.
Great capacity, good closing with no spillages
Unlike other tagines I've tried, the Emile Henry has a very good seal between the top part and the bottom. Even full to the brim, when closed there's no spillage of liquids out of the base, this is not only quite convenient but a sign that all the steam stays inside the tagine, so all flavors are being trapped inside and the magic is happening!
The base is very deep, so it can hold a lot of food, it has enough space to hold meat, vegetables, and sauce.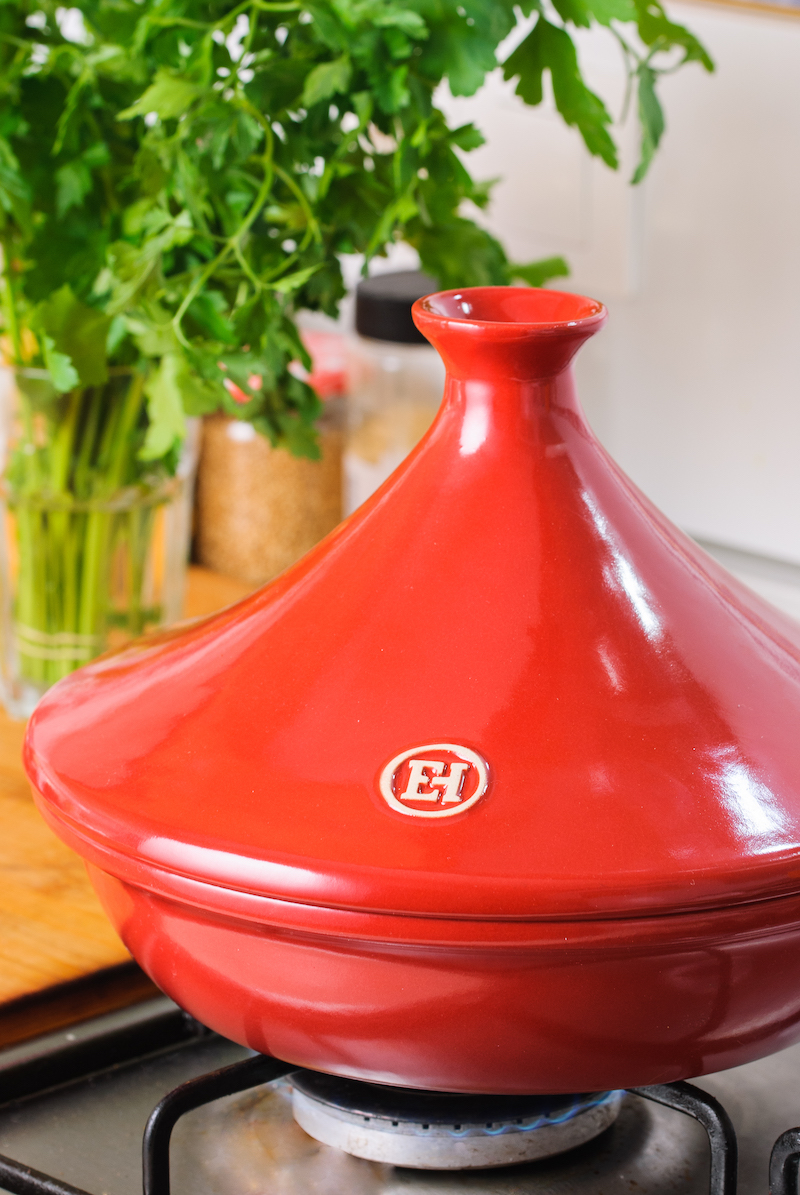 Emile Henry Tagine – Cons
The only downside I've found is the fact that when cooking on the stovetop the base slides a bit. The glazing on it has no grip so it moves around easily. But being careful about it prevents any unwanted disaster from happening.
Where To Buy This Tagine
Emile Henry Tagine, Charcoal,
Emile Henry Ceramic Tagine
Emile Henry Tagine, Burgundy
Want More Information?
If you're looking for more information about buying a tagine or finding the one that is right for you, you may want to read these posts as well.
Finding the Best Moroccan Tagine Pot for You
How to Prepare Your Clay Tagine
Le Creuset Tagine Review
Bruntmor Tagine Review