Right now, I'm on vacation with MarocBaba and the boys but as I prepared for the trip, a few ideas for posts came to me. We have had the good fortune of traveling a lot with our kids. They think nothing of a 4-5 hour road trip and don't balk at being told, "we're driving to New York," or any other place for that matter. They can entertain themselves and by in large don't complain – too much.
One thing I've noticed as they've gotten older is that their food demands are increasing. While a small snack would have held them over in the past, this is simply no longer the case. Instead of giving in to a fast food stop or trying to placate them with something I've instead start to pack snack boxes or meal boxes. These are perfect for the car and also for the airplane. Today's post is going to focus on kids but watch for another post coming soon that's snack ideas for flying.
So, these snack boxes have a two-fold purpose. The first, is, of course, to keep the kids fed and happy. Second, they give me a great chance to clean out the odds and ends in my fridge. Before we go somewhere, and especially if it's a longer trip, I clean out the fridge. There's nothing worse than coming home to a smelly fridge. My routine before we leave consists of;
packing snack boxes

tossing leftovers that haven't been used up
giving away whatever will go bad while we're gone
cleaning out the sink
running the dishwasher
taking out the garbage
Packing snack boxes are first because this is where I use up what we have. Each box can be different depending on the kid or adult. For example, MarocBaba wouldn't get gluten items in his box. I feel comfortable giving M items that are a little messier like dips. K is in a super picky stage so I can make just the right choices that will leave him happy.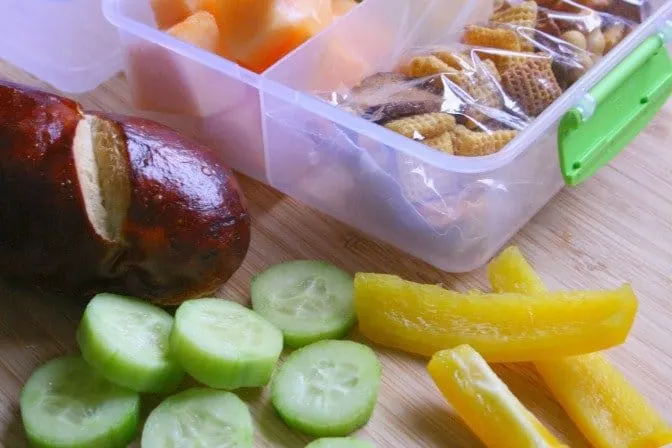 There's really no limit to what you can put in your snack boxes but I try to keep a few things in mind;
Snack boxes that I like;

Sistema Klip It Lunch Cube to Go Food Container, 48-Ounce

and

Snapware Airtight Medium Rectangle Storage Container, 4-1/2-Cup

have a good mixture of everything. You can see from the pictures there's fruit, vegetables, bread, and a snack mix so far.

add something sweet. Even if your kids don't normally get treats this is a great time to add something small like a mini Kit Kat or brownie.

keep it small. Don't add a whole sliced pepper – just add 3-4 strips. Variety is key

Place everything into a re-useable container but keep interior containers to a minimum. If you can empty out the box without having things to keep track of it works better
I stick with finger foods. Dealing with a fork/spoon is one more thing to contend with.
Don't forget some type of napkin or wipe. I think baby wipes in a travel pack should be in every parent's purse/backpack when traveling.
What are some good items to add to snack boxes?
sliced deli meats

a variety of soft and hard cheeses (like mozzerella, manchego, goat cheeses, sliced American etc)
vegetables – use up what you have. Clean, peel and slice
olives
fruit – anything goes but I think melons and berries hold up the best. Apples and pears can work but tend to brown and kids might reject that
bread/buns – I add butter to them before going. This way they can easily become a sandwich and aren't dry.
trail mix
snack mixes like Chex
crackers
pretzels
popcorn
animal crackers
dry fruit
dry cereals
nuts
Crunchy Chickpeas
something sweet – brownies, mini candy bars, etc.
homemade ranch dip
hummus
anything made in a muffin tin! The size is really nice to pack and for small hands
yogurt tubes or drinks
sandwich pinwheels
Peanut butter and jelly/nutella/marshmallow fluff
Don't limit yourself to my ideas – raid your fridge, pantry, and cupboards to find many interesting items that your kids will love. Opening their snack boxes has become a favorite part of traveling for my boys. The next time you take to the road, or to the skies, avoid the whining and the lure of junk fast food by preparing something you have control over. Trust me, they'll thank you for it!