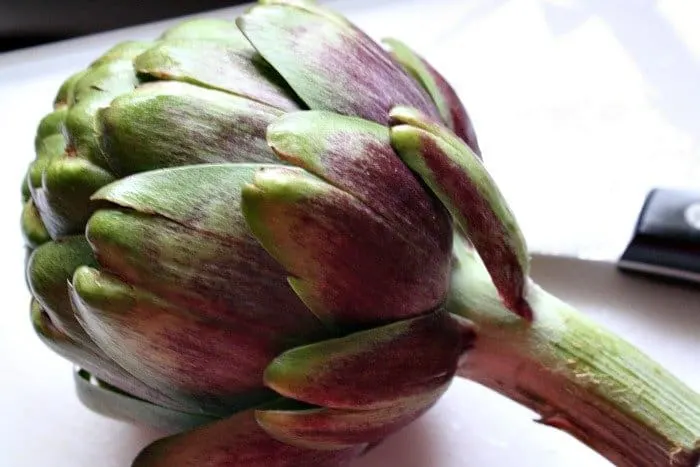 When I was growing up I never ate an artichoke. Never. I don't even know if artichokes were in grocery stores where I lived, but if they were my mom certainly wasn't buying them. When I began to cook Moroccan food artichokes popped up from time to time. They're not as common in Moroccan dishes as they are in other Middle Eastern or Mediterranean cuisines but they are there. I've found frozen artichoke hearts in the freezer case and have used them with mixed results. I don't think they really have much flavor. But, for the longest time the thought of breaking down a fresh artichoke scared me!
What do you do with that THING anyway?
Cooking for me has always been a journey outside of my comfort zone. Once I became confident with one skill I wanted to learn another. Master a recipe? Time to toss it in the file a make something else. So I knew I had to take on artichokes.
I watched a lot of videos, read tutorials and finally got an artichoke to try on my own. I've now been using fresh artichokes for a few years but know there are plenty of others like me who avoid fresh artichokes because they don't know how to cut them down. So, this post is for you! (psst there's going to be another post this week where you'll be able to put your artichoke chopping skills to use!)
So first let's look at a whole artichoke. This is a green globe artichoke and probably the most common found in North America. You will want to look for an artichoke that's a decent size and the stem isn't too thick and woody. Don't worry too much about the outside leaves as many of them will be removed in the cleaning process.
The first step is to cut off the stem. You will want to cut at the base of the artichoke but not too far up. Some of the outer leaves will fall off from this cut but it should not be so high that the whole vegetable falls apart. The bottom of the artichoke is one of the most flavorful parts so don't cut it all away!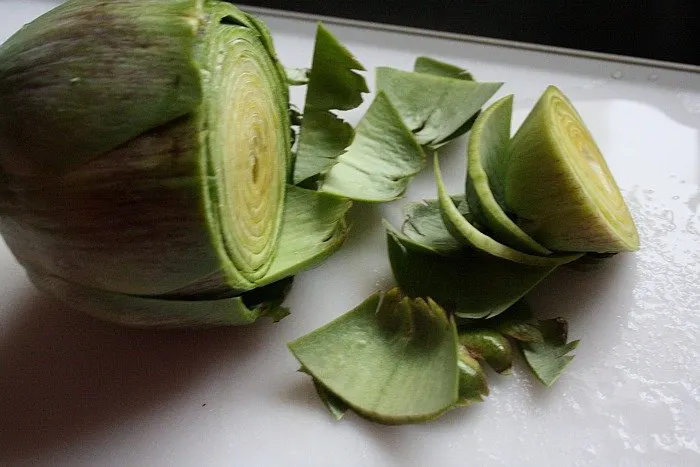 Next, cut off the top of the leaf portion. Both the bottom and the top of the artichoke will be flat at this point. You may want to remove several of the outside leaves. They will be quite tough and won't soften during the cooking process. You will notice the leaves get more and more tender the further into the artichoke you get. Once you've removed some of the outer leaves, gently loosen the remaining leaves.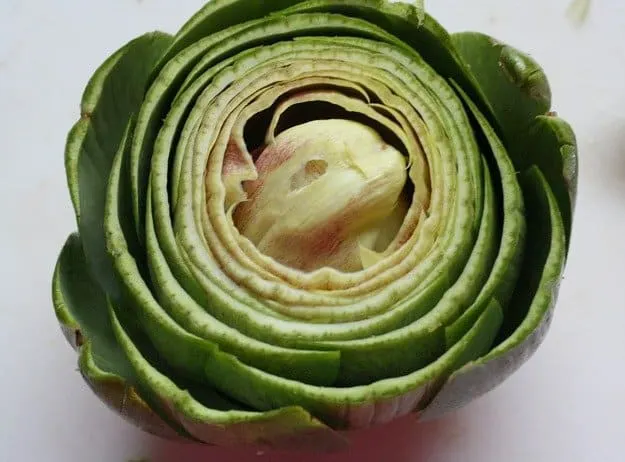 The final step in cleaning is to remove the choke. The choke is found in the middle of the vegetable. It may be difficult to get to the choke if the artichoke is very tight. If more of the outer leaves fall away – don't worry. You will be able to see the choke as it is the furry center of the vegetable. Use a large spoon or a melon baller to scoop out all of the choke.
You can now rinse the artichoke under cool water to remove any sediment or hairs from the choke. It's important to note that artichokes begin to brown very quickly. This won't affect the taste at all but it may not look pretty. You can put the artichoke into ice water to retain the color until you're ready to use them.
That's it!
I hope you'll come back on Wednesday when I'll be sharing a recipe for a Lamb and Artichoke tajine you won't want to miss!