Have you ever wished you could spice up your Eid recipes with fun desserts? Perhaps you're still looking for the best Eid cookie cutters to give as a gift or you just want some new options for your home.
During and after Ramadan, and ramping up to Eid al Adha, everyone is looking for something special to bake. It's a lot of fun to draw an Eid cookie cutter shape to decorate desserts!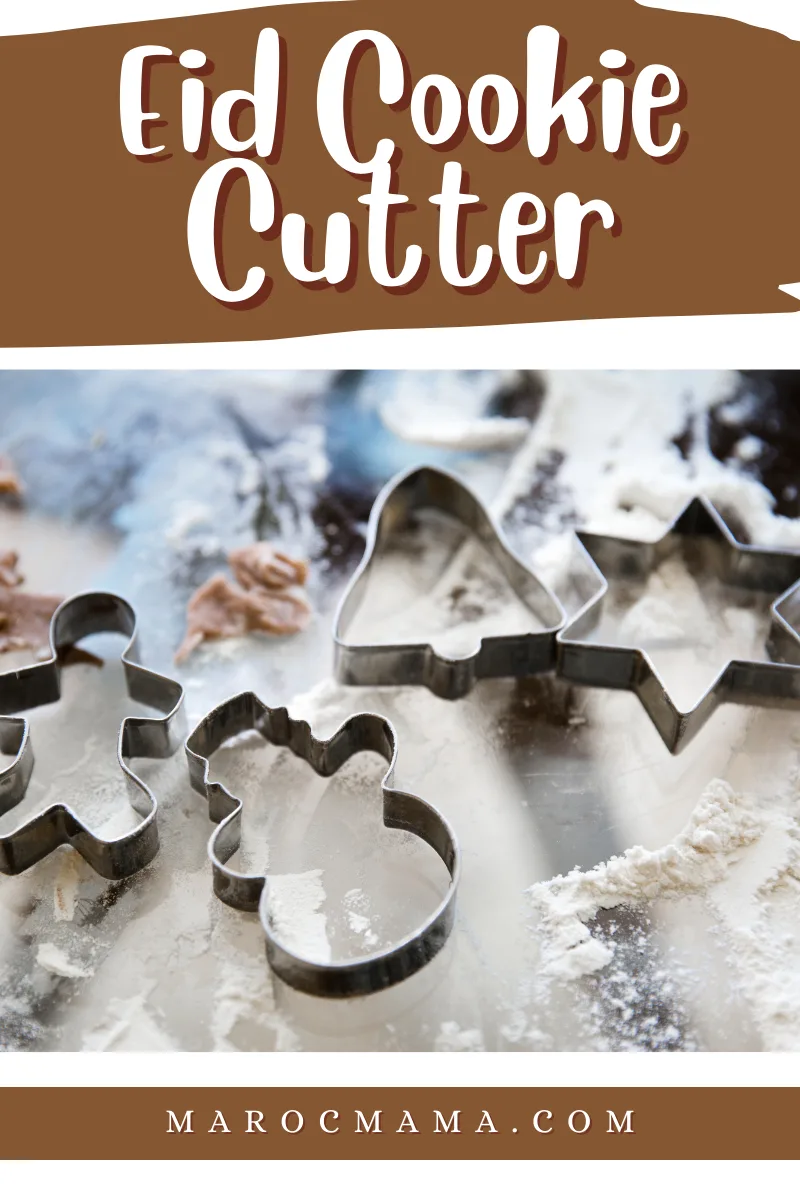 You can also purchase these Eid cookie cutters to use as decorations for your upcoming Eid party or give them as gifts to your loved ones.
Because cookies are festive and can bring a smile to anyone's face, I've compiled a list of cookie cutters to spice up your Eid dessert!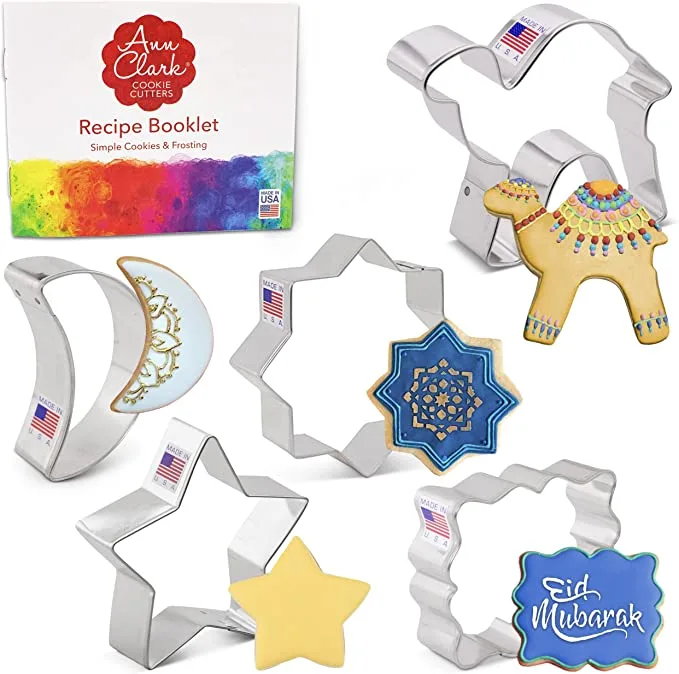 These Eid cookie cutters by Ann Clark are ideal for making delicious Ramadan cookies to break your fast! They're shaped like a camel, a crescent moon, a star, and an "Eid Mubarak" stamp in Arabic calligraphy.
Ann Clark makes each of these cutters in the United States, and you can use them for any occasion all year.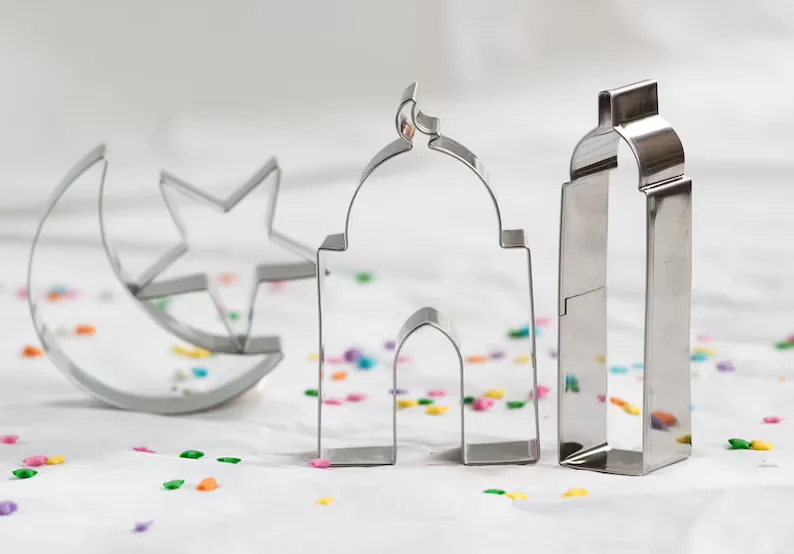 WithASpin's Islamic Celebration Cookie Cutter Set is the perfect way to commemorate and celebrate the end of Ramadan. Each set includes cookie cutters in the shape of a crescent, star, masjid (mosque), and minaret.
You can also use these Eid cookie cutters to make other things like clay or fondant decorations for parties and events.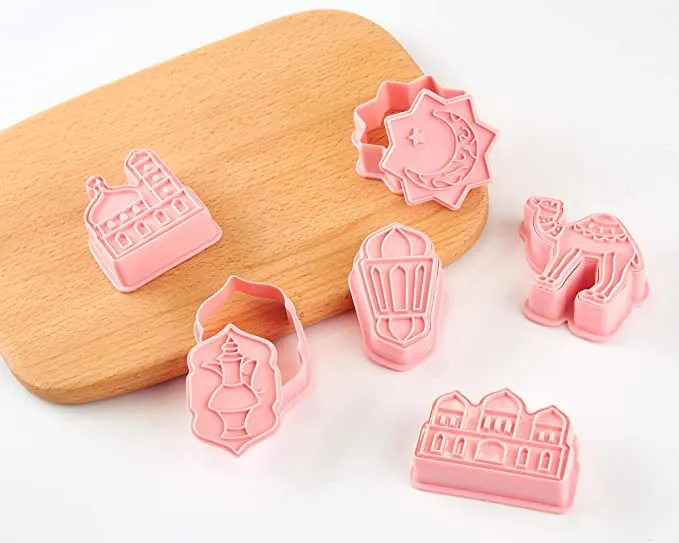 These Eid Mubarak cookie cutters from Amazon are the perfect tool to help you make delicious, custom cookies to share with friends and family. These pink plastic cutters are great for both kids and adults, and you can also use them to make fun home decorations.
Each set includes six different shapes, allowing you to be creative and create as many different designs as you want. These cutters are made of BPA-free plastic and come in a pack of six. They aren't dishwasher safe, but they are simple to clean by hand.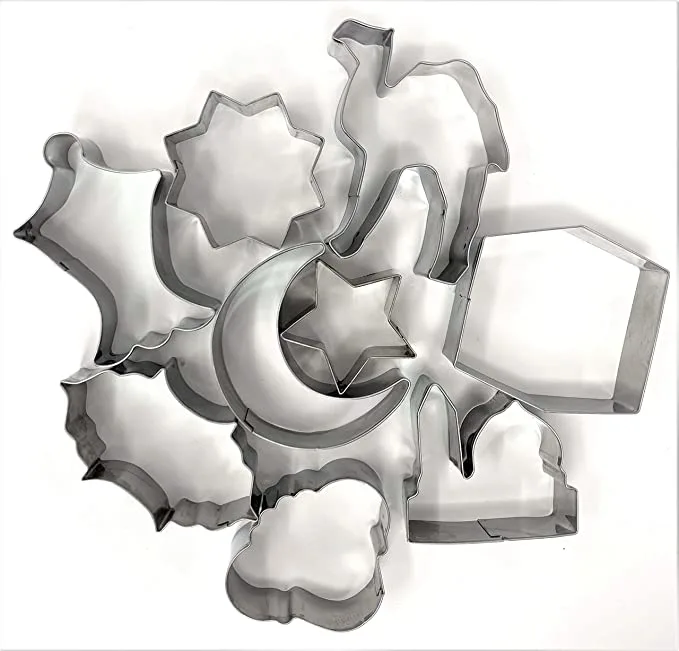 Are you looking for the ideal holiday present? Don't look any further!
These Eid & Ramadan Cookie Cutters are exactly what you need to bake some festive treats for the whole family!
These cookie cutters are made of sturdy stainless steel, so they will last for years. Cleanup will also be a breeze because they are dishwasher safe. The set includes seven stainless steel cookie cutters as well as two bonus cutters.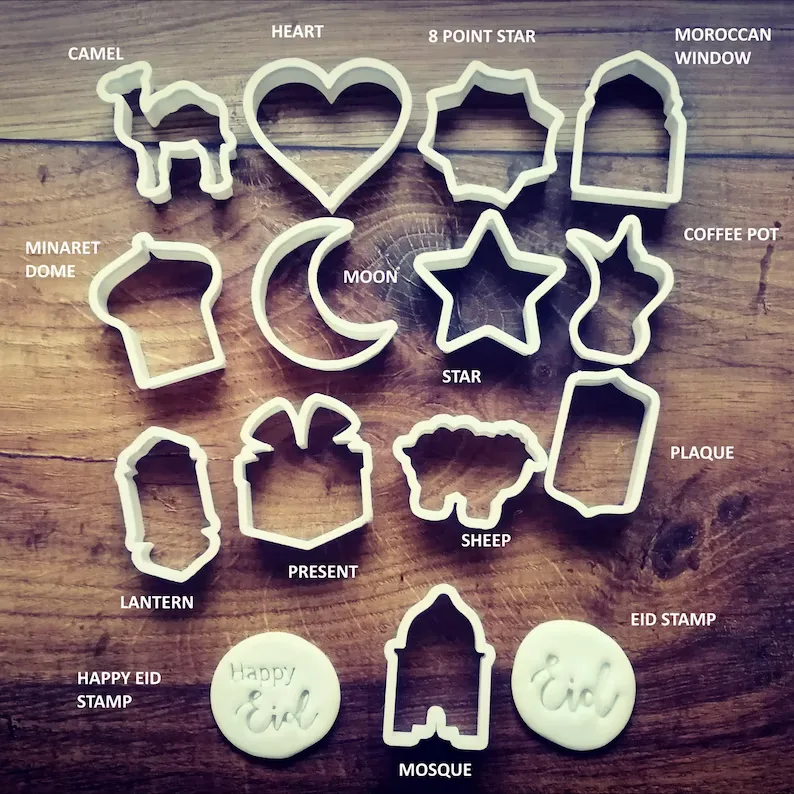 Cookies are a popular Eid treat, but why not make them a year-round treat? SEDDevelopments EID mini cookie cutters allow you to bake some seriously adorable cookies to enjoy at any time of year.
These Eid cookie cutters come in a variety of festive shapes, from lanterns to stars, Moroccan window to a minaret dome, and they're all made of food-safe plastic, so you can safely have fun!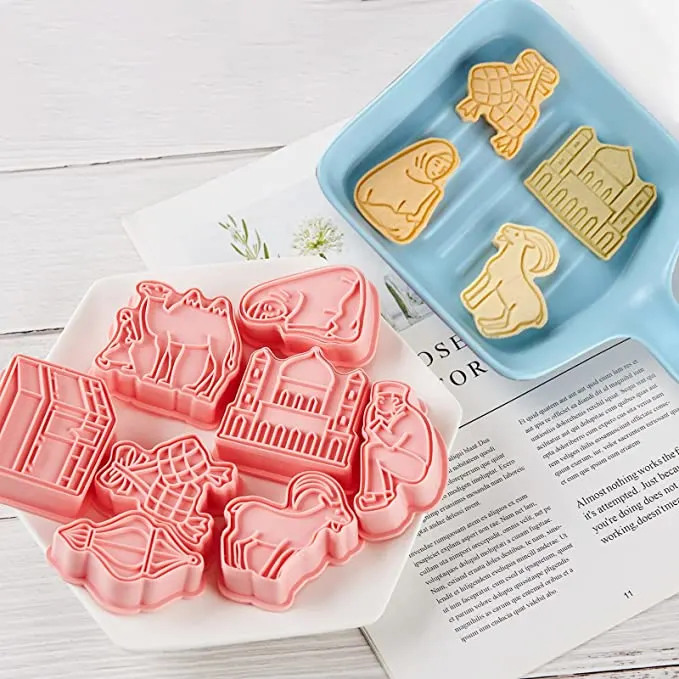 Decorate your holiday cookies with these Eid Mubarak Cookie Cutters and Plunger Stamps Set! These incredible cookie cutters will assist you in creating a batch of perfectly shaped and stamped cookies, ideal for celebrating Eid al-Fitr in style.
They come in eight different shapes and one stamp, making it fun and simple to create your own beautiful cookies. With this cookie cutter set, you can get creative and make the most delectable desserts!
With these fantastic WithASpin's Lantern Cookie Cutter, you're sure to be the hit of your next Eid celebration!
Nothing says "Eid Mubarak!" quite like a batch of delicious lantern-shaped cookies. With two different sizes and two different styles, the possibilities are endless when it comes to designing your next batch of delectable desserts!
When you're done cooking, use the cookie cutters as fun play-dough toys or stampers for your children's art projects! The sky is the limit when it comes to the number of ways you can put these incredible must-haves to use in your kitchen and elsewhere.
These cookie cutters are perfect for making Ramadan-themed cookies and cakes. They're made from high-quality stainless steel, so you can use them over and over again, year after year.
You'll adore the intricate detail on each of them—these Eid cookie cutters are ideal for creating intricate designs. And if you enjoy crafting, these cutters are a must-have! So get yourself a set of Cenryusa Cookie Cutters for Eid right now—you'll be glad you did!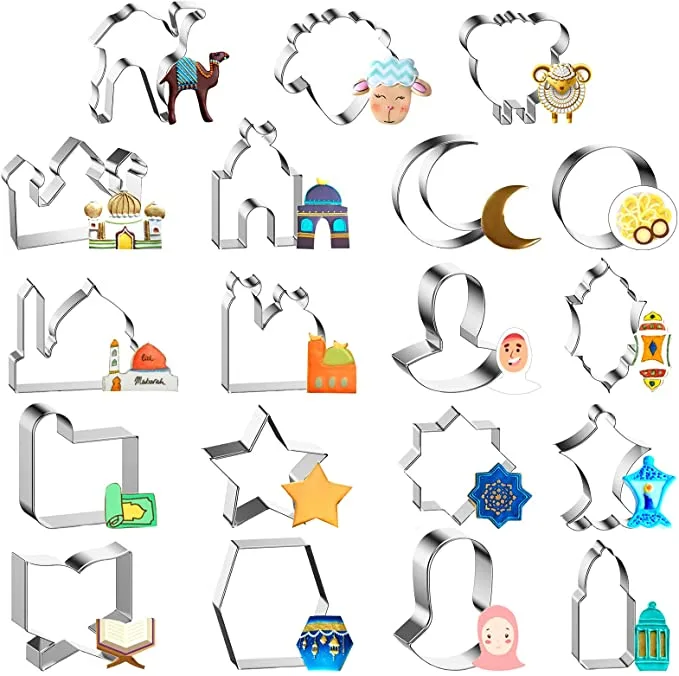 Eid Gift Ideas
The most anticipated aspect of Eid is the subsequent celebrations, which include gifts, lavish meals, and extended family time. Here are some Eid gift ideas for showing your appreciation and thanking your friends and family for their support throughout the year through gift-giving.
Have fun using cookie cutters for the Eid season and use them as gifts or make treats yourself. Eid is the best time to give edible gifts in different shapes and forms, so it is only fitting that we should be making the most of this opportunity!
Here's where you can get your favorite Eid cookie cutters: