A lot of people say gift-shopping for men is difficult and resort to some boring, or more essential than gift ideas. I don't think this is the case. I love seeking out special gifts for Eid and have a pretty simple approach to how I do it: be thoughtful and/or splurge! (But, let's be honest that's my general rule for gift giving!) That's not to say I don't pick up some socks and other typical guy gifts, but those are just extra bits not the bulk of the gift.
When you are trying to narrow down a great Eid gift idea for him, think outside the "needs" and give some thought to what else is out there. Here are 20 Eid gift ideas for the special men in your life.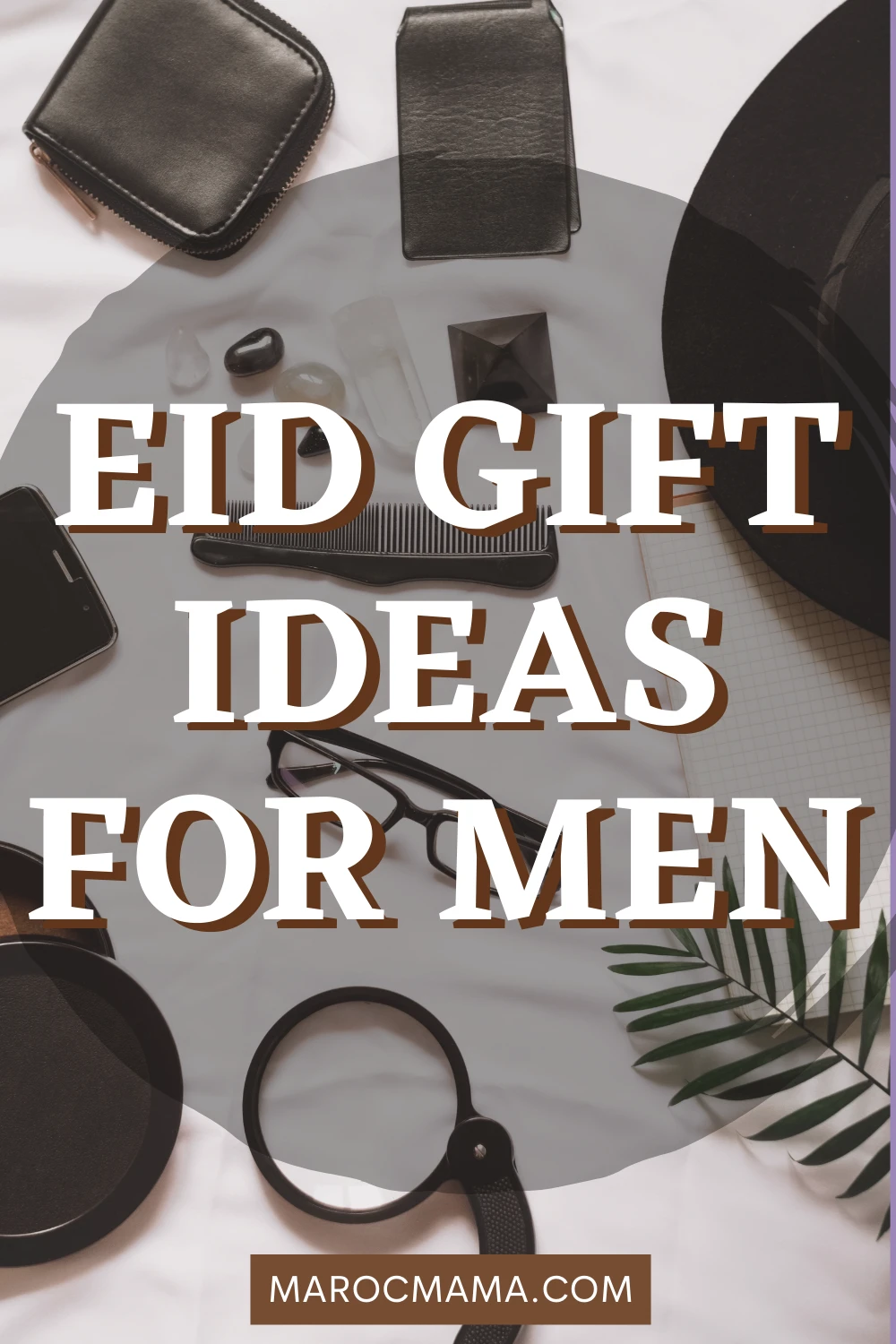 Gifts that Pamper Him
This past year we've all developed new relationships with selfcare. Many of us did a lot of neglecting, then we learned a bit about self-care, then fell off again… Here are my Eid gift ideas to really get him into taking better care of himself, body and soul.
Noise Cancelling Headphones
Not the same as ear plugs. These are incredible. Stuck in the house with too many people? Block it all out and relax. Why not get yourself a pair too!
Master & Dynamic MW65 Noise-Cancelling Wireless Headphones are beautiful leather, top of the line and will no doubt make him feel great.
COWIN E7 PRO Noise Cancelling Headphones are a more economical choice, but still an excellent choice with bluetooth, microphone, comfort and easy to use.
Read Him Some Stories
Not personally! But, an Audible subscription is great to relax to or get informed with some non-fiction in a more relaxing way. It's especially nice for those who look at screens all day or have tired eyes in general.
Perfect Spa Gifts
Let's move beyond just cologne and beard oil for men. Taking good care of your skin feels so good for everyone. Here are some inspiring kits to get him really going with some self-care home spa treatments. Given to him on the eve of Eid, these gifts will make him feel extra special on Eid day.
Gentlemen Spa Gift Set by Monita Natural Care is a lovely and practical starter kit focusing on face and hand care. A little tube of bath salts may entice him to take his self-care further.
Black Vanilla Lemongrass Body Spa Kit takes him further into self-care with body scrub, aromatherapy and it still has that much needed beard oil. The scent is brilliant.
Sandalwood Beard Kit If he's not already giving the beard proper attention, this sandalwood kit is going to inspire him. Plus the smell of sandalwood is divine!
Sporty Gift Ideas for Men
Is your man-in-mind athletic or wishes to be? Working out has been complicated for a lot of this past year, and a lot of us crave it more than ever. Here are some Eid gift ideas to encourage him to play more.
Nike Training Club App An award winning app, leave it to Nike to offer the best options and support for all skill levels and fitness goals. Just grab his phone for a second and add it.
Daily Burn App is also highly recommended and he can start with a 30-day free trial.
Fitbit Inspire He doesn't have one? Yalla. This is the foundation of achieving wellness. Help him track his activity.
Gorilla Bow Workout Systems are essentially resistance bands, but much funner and cool-looking to exercise with. Great for portable workouts or to see if he wants to get into weight lifting.
Hyperwear Weighted Vest is an easy way to add some weights to any workout. He can wear it under a jacket, but it actually looks very sporty.
Personal Accessories
Younger guys have no problem buying themselves a watch, jewelry, bag or whatever else they like to make themselves look and feel good. But it gets harder for providers to splurge on themselves like that. Here's how you can make them feel great and loved.
Jewelry
Jewelry can be tricky, a lot of guys don't wear it, but if you like it on him, urge him to. Otherwise it may be time for a new watch.
The Cuban Link Bracelet is classic. The design is quite clever, but looks simply stylish and it's nice and hefty too.
A leather bracelet may be more his style. Of course it should have some stainless steel or sterling silver detail. Hilfeger is a favorite designer for most guys, and this leather bracelet by him is very stylish, not overdone.
Go all out and get him an instant stack of bracelets. This one is perfect with both metal and leather layers.
Masculine rings are a bit more of a challenge with so many styles to choose from. Two popular styles with both locals and travelers in Morocco are traditional Amazigh signet and Saharan wood-inlay rings. The both have lovely detail work and boxy shapes that men appreciate.
Watches – the ultimate guy gift?
Buying a man a watch can be tricky. He likely has a particular style or brand that he's already attached to. If that's the case, get him that. Otherwise, I like to get him one that is a fashionable accessory he can swap out from his daily watch. These Bobo Bird watches are perfect for that. They are colorful, or not, with natural wood and bamboo faces, lots of cool styles to choose from and beautifully packaged. My favorites:
Would he be disappointed in a new Apple watch? Only you know. But if he doesn't already have one, this may be a sweet way for you to ask him to take better care of his health.
Bag Upgrade Gifts
Maybe your guy has a well-used backpack, duffle, sport bag or so on. He's likely due for a new one. He may even have been eyeing one. Again, here is an item he can get a lot of use out of or feel good using on special occasions, so go ahead and splurge for him.
Travel Backpack
Be optimistic! We will travel again soon. Maybe even regionally, but either way he should have a nice travel bag.
If he hasn't already been or is hoping to make umrah, Fejgear's Journey II+ Hajj Backpack is an especially sweet gift. Sturdy and lightweight, with safety reflectors and shoe compartments, of course it would be nice for hiking and camping too.
There are unlimited styles of leather bags in Morocco. I suggest going with a beautiful backpack or side bag, to start.
Nomatic's Anti-theft 30L Backpack is top of the line, having everything thought of, including no dangling straps, loads of compartments – even enough space for two pairs of shoes!
The Inateck Anti-theft 40L Weekender is an economical, great choice that is super durable for most travel. Has a laptop compartment as well as plenty of little pockets.
TIMBUK2 Rogue Laptop Backpack is an "urban" choice, cool enough for a younger man, especially a student with good compartments for books.
There you have it. Plenty of Eid gift ideas for him! Don't forget men also love a good box of chocolates and you really can never go wrong with a bunch of his favorite snacks!