Before I went to Morocco I had never eaten a pistachio. The closest I had come to a pistachio was in the Jello pudding my dad ate. But, once I ate one, well I was hooked – and a little upset that I had missed out on this delicious nut for the first 20 years of my life. I'm making up for it now.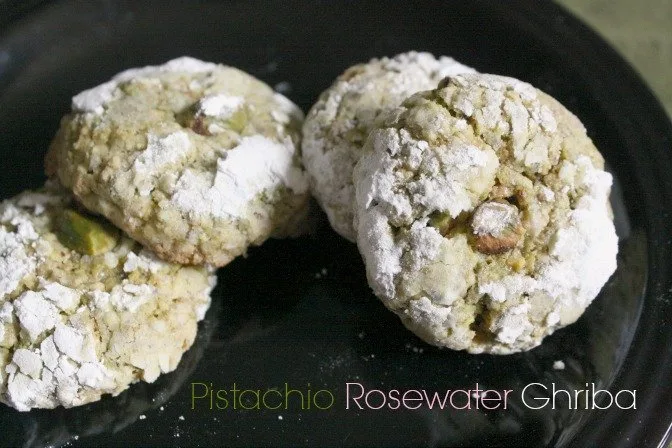 Like the lemon, vanilla, and almond ghriba I shared earlier this week, these ghriba are gluten-free and delicious. Pistachios have a unique flavor that some people really don't like. As I began to look for a good flavor to pair them with I struggled. What I remembered about the pudding my dad loved was that the pistachio pieces were a strange consistency.
They weren't crunchy and they weren't soft – they were something in the middle. I hated that texture. I succeeded with these cookies. The outsides have just a little crunch, while the insides are soft but not mush. I know not everyone has rosewater, so if you don't you can use vanilla.
Yield:

10-12 cookies
Pistachio Rosewater Ghriba
Gluten free Moroccan ghriba cookies with the flavors of pistachio and rosewater.
Ingredients
2 cups pistachios
1/2 cup granulated sugar
2 tsp rose water
4 egg yolks
1 tsp baking powder
4 Tbsp butter
powdered sugar for dusting
whole pistachios to top cookies
parchment paper or silpat
Instructions
Preheat your oven to 350F.
In a food processor, blend the pistachios until they are broken down to almost a powder.
In a large bowl combine pistachio flour, granulated sugar, and baking powder.
Add to the dry ingredients the rosewater and egg yolks.
Break up the butter with your hands or a pastry cutter and begin working into the dough.
Using your hands or pastry cutter mix all of the ingredients until everything has been combined, the dough will feel slightly sticky.
From small balls with your hands, about 1" in diameter.
Line a cookie sheet with parchment paper or a silpat sheet.
Coat the balls with powdered sugar and place onto a cookie sheet or plate.
Refrigerate the cookies for 30 minutes, or place in freezer for 10 minutes.
Arrange cookies on baking sheet and gently press a pistachio into the top of each. Do not flatten the cookies, they will naturally shape.
Bake for 10 - 12 minutes. The cookies should still be a pale color.
Leave on the baking sheet for 5-10 minutes to allow the cookies to finish setting, then transfer to a cooling rack.
When the cookies are completely cool, transfer to an air tight container.
Cookies can be stored on the counter for 1-2 weeks, or in the freezer for up to 3 months. To serve, remove from the freezer and allow to warm up before serving.
Notes
It is very important to refrigerate or freeze the dough before baking. If you do not the cookies will melt and not retain their form.