For Ramadan this year I decided to re-make several traditional Moroccan pastries. Usually MarocBaba's mom sends us a big box of Moroccan cookies. The problem with that is they all have gluten. Between MarocBaba's celiac disease and my difficulty eating gluten after gastric sleeve surgery we're pretty much a non-wheat home. The only thing to do is to make all of our favorite sweets gluten-free. I've shared my recipes for vanilla, almond, and preserved lemon ghriba and pistachio rosewater ghriba – they're our favorites. These are a little different.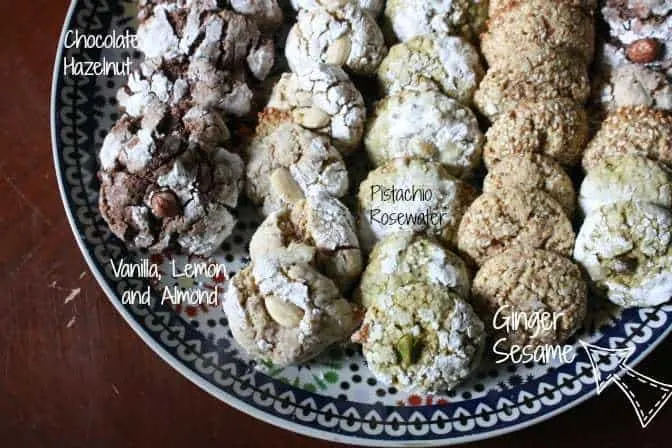 Ghriba are traditionally made a lot of different ways. There are many different variations depending on the region of the country, country (they're made all over the Middle East and North Africa), and family. That being said, I've never seen or heard of the variations I've created. With this cookie, I wanted to make something that incorporated ginger. When I first started making Moroccan food I was very light-handed with ginger – or omitted it completely. I learned that it's one of the most important flavors in Moroccan cooking. So this cookie is really an homage to that experience.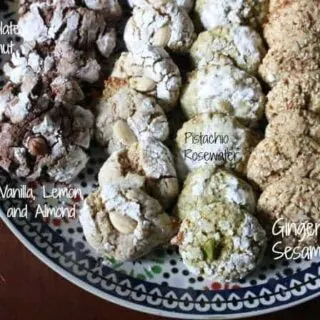 Yield:

10-12 cookies
Sesame Ginger Ghriba
Like a gingersnap with a Moroccan twist and they're gluten free!
Ingredients
2 c ground almonds
1 tsp fresh grated ginger
pinch salt
1/2 c granulated sugar
2 Tbsp toasted sesame seeds + extra for coating
1 tsp baking powder
4 egg yolks
4 Tbsp butter
Instructions
Preheat your oven to 350F.
In a food processor, blend the almonds until they are broken down to almost a powder.
In a large bowl combine almond flour, granulated sugar, salt, and baking powder.
Add to the dry ingredients the grated ginger, sesame seeds, and egg yolks.
Break up the butter with your hands or a pastry cutter and begin working into the dough.
Using your hands or a pastry cutter mix all of the ingredients until everything has been combined, the dough will feel slightly sticky.
Form small balls with your hands, about 1" in diameter.
Roll the balls in sesame seeds.
Place the balls onto a cookie sheet or plate.
Refrigerate the cookies for 30 minutes, or place in freezer for 15 minutes.
Line a cookie sheet with parchment paper or a silpat sheet.
Arrange cookies on baking sheet. Do not flatten the cookies, they will naturally shape.
Bake for 10 - 12 minutes.
The cookies should still be a pale color.
Leave on the baking sheet for 5-10 minutes to allow the cookies to finish setting, then transfer to a cooling rack.
When the cookies are completely cool, transfer to an air tight container. Cookies can be stored on the counter for 1-2 weeks, or in the freezer for up to 3 months.
To serve, remove from the freezer and allow to warm up before serving.
Notes
It is very important to refrigerate or freeze the dough before baking. If you do not the cookies will melt when baked.