Holy moly these lemon blueberry cream puffs are amazing. Every single bite is loaded down with lemon flavor and taste and they're just the perfect bite-sized dessert to not feel guilty about eating as well.
I'm always looking for simple and easy recipes that taste great and have everyone wanting more. I'm also a huge fan of having that delicious lemon flavor with that light and airy texture, too. When I realized that I could easily make my own and stop spending a fortune at the store, I knew that these lemon cream puffs were a game changer!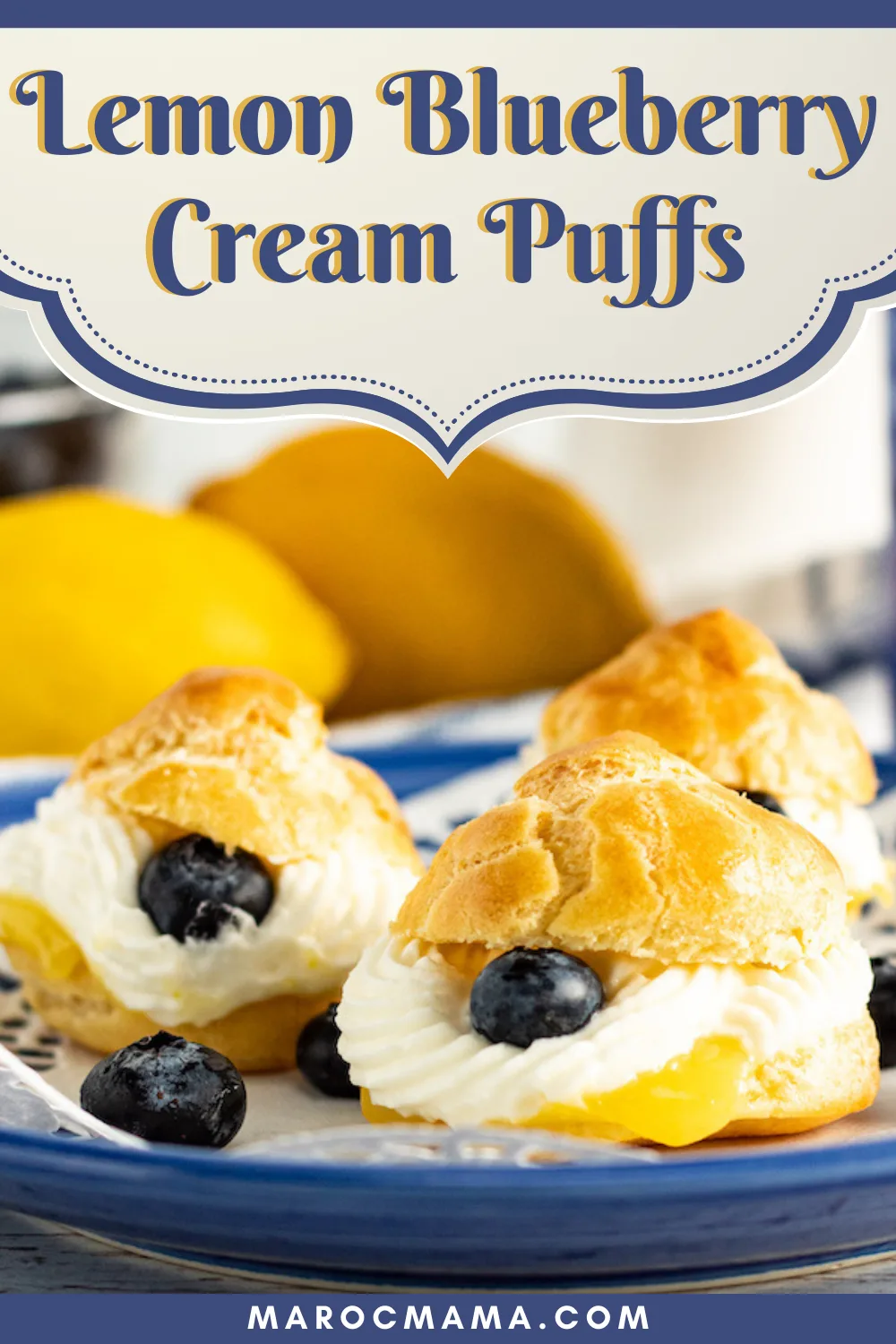 Since lemons are widely used in Morocco, this recipe is one I'm always happy to put together. While we can easily buy the pate a choux pastry thanks to the legacy of a French protectorate in Morocco, it's really not hard to make at home. Have I mentioned that I LOVE these mini cream puffs? I'm serious when I say that they're the perfect dessert and treat.
How do you zest a lemon?
Since you're going to need to know how to zest a lemon for these lemon cream puffs, it's important to make certain that you're doing it right! The biggest thing to keep in mind is that you're going to want to zest the yellow part of the lemon.
Before starting, make certain that you clean the outside of the lemon really well. Then use a zester or a small grater and zest your lemon into a bowl. If you zest so much that you get to the white part of the rind, you need to stop and rotate and move to another spot. You should only be zesting the yellow of the lemon! (this is where all the flavor is!)
Ingredients Needed To Make Lemon Blueberry Cream Puffs
Equipment
You do need to have a few pieces of equipment on hand to make these – however, chances are they are already in your kitchen. Check for mixing bowls, wooden spoon, measuring cup, cookie sheet, parchment paper or silpat, measuring spoons, stand mixer with a whisk, and paddle attachment.
Can you use frozen blueberries for this simple lemon dessert?
I would highly recommend using fresh blueberries just because the flavor and taste are so great. I
also think that when you add in frozen fruit, you run the risk of the end result being watered
down due to the fruit thawing and releasing the extra liquid.
This isn't to say that it might not work but I feel that you'll have a better result using fresh fruit
versus frozen.
What other fruit can you use for this recipe?
One of the other great aspects of this simple lemon dessert is that you can easily switch out and
use a different type of fruit! This is huge because it means that you'll be able to change up the
flavor and taste every single time without having to change up much else with the recipe.
Some other types of fruit that you could use would be bananas, cherries, strawberries, and
blackberries, too. Use fresh fruit if possible and enjoy the difference in flavor!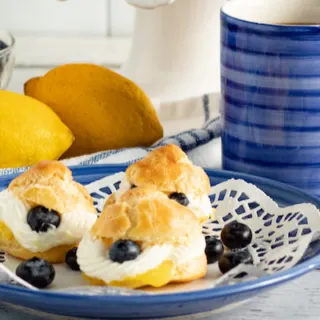 Lemon Blueberry Cream Puffs
Additional Time:
10 minutes
This dessert may look intimidating but is much easier than you think to make. You'll wow your guests when these come to the table!
Ingredients
Pate a Choux "The Puff"
115g unsalted butter (1/2 cup)
1 teaspoon sugar
150 grams flour
5 large eggs (4 recipe, 1 for glaze)
Lemon Filling
3 large eggs
1 cup sugar
1 Tbsp lemon zest
1/3 cup lemon juice
115 grams butter (1/2 cup)
1 cup fresh blueberries
Whipped Cream Filling
225 grams (8oz) cream cheese
1 cup powdered sugar
1/2 tsp vanilla extract
2 cups cold heavy whipping cream
Instructions
Making and Assembling Cream Puffs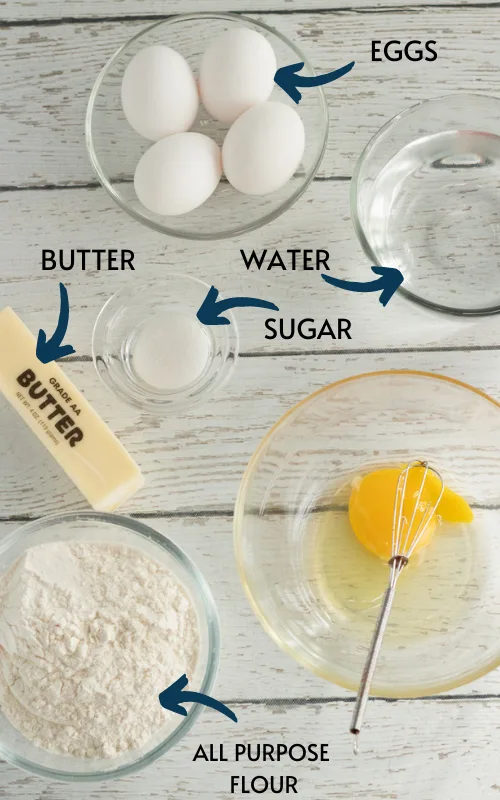 Preheat oven to 400°. Line baking sheets with parchment paper or use a silpat.
Combine butter, sugar, and water in a medium saucepan over medium heat. Bring the mixture to a boil, then quickly stir in the flour, stirring continuously with a wooden spoon. Continue to heat and stir until the mixture appears dry on the bottom of the pan. There should be a light film formed on the bottom of the pan.
Remove from the heat and transfer to a large bowl. Stir in 4 eggs, one at a time, Stir vigorously between egg additions (alternatively, you can use a stand mixer with the paddle attachment). The dough will be stiff and thick.
After thoroughly mixing, transfer the mixture to a piping bag with a large plain tip attached. Pipe dough in approx. 2-inch circles. There is a silpat with circles marked that makes this process more accurate. Mix 1 tsp water into the remaining egg and brush egg wash on top of each puff.
Bake for 15 min. then lower the oven temperature to 350° and continue to bake for about 20 min. until nicely browned. Turn oven off and leave the oven door slightly ajar with puffs still in the oven. You can insert a wooden spoon between the door and oven to help with this. Allow puffs to sit in the oven until the oven is just slightly warm. Remove to a cooling rack and cool completely.
Slice each puff in half and remove any excess dough from center.
How to Make Lemon Filling

In a medium saucepan, over a med-low heat, stir together eggs, sugar, lemon juice and zest, using a wooden spoon until the mix is creamy and smooth.
Turn heat to low and continue stirring until mixture thickens and coats the back of the spoon.
Add butter and stir well.
Remove from heat and allow to cool.

How to Make Whipped Cream Filling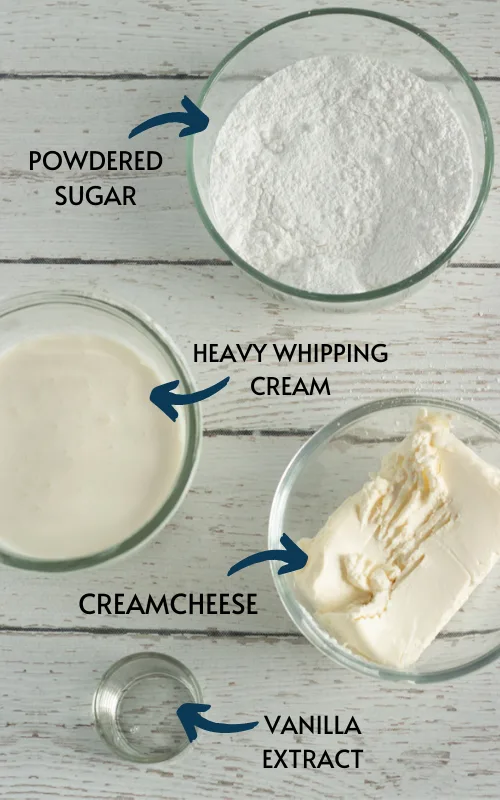 Beat cream cheese, powdered sugar, and vanilla until smooth and thick. Use a hand mixer or a stand mixer with the whisk attachment.
Slowly add the heavy cream while mixing on a medium setting. Continue whipping until the filling forms stiff peaks. It will resemble whipped cream but be thicker.
Fill a piping bag (with a large plain tip attached) with the lemon filling. Pipe the bottom of the puff full. Fill another piping bag (using a large plain tip or a large open star tip) with the whipped filling and pipe on top of the lemon filling. Be sure to pipe nice and full. Place 4-5 blueberries on top of cream filling. Place top of puff on top of the filling.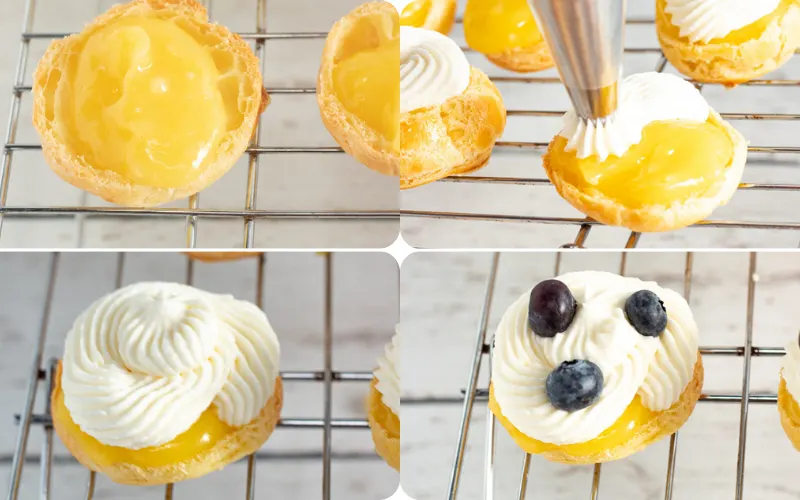 Looking for more easy and impressive desserts? Try these:
No Bake Mini Lemon Cheesecakes