Morocco is such an incredible country, with stark desert landscapes and amazingly fertile lands beside one another. Along with the rich culture and cuisines, they make up the experience of a lifetime.
While the country has some lovely hotels and B&Bs, these are some of the most exciting stays. In many of these cases, it's often locals opening up their spaces for you to experience – and Morocco has some of the coolest spaces out there. From fishermen's caves right on the beach to camps and desert palaces. There's a whole lot more on offer here than just a place to lay your head.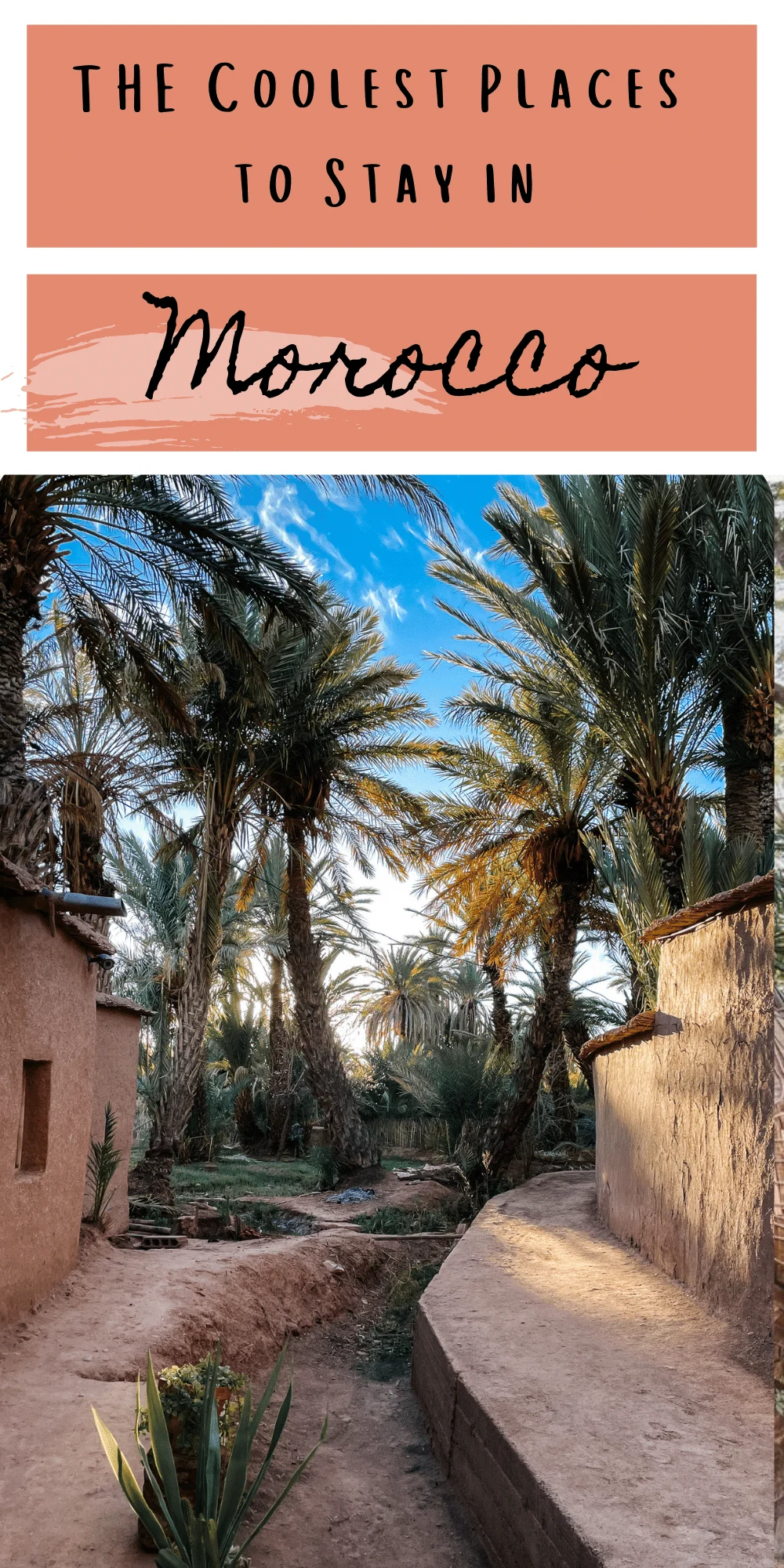 Let's jump right into the coolest places to stay in Morocco, so that you can find the perfect place for you, and make your accommodation the center of your adventure.
Ali & Sara's Desert Palace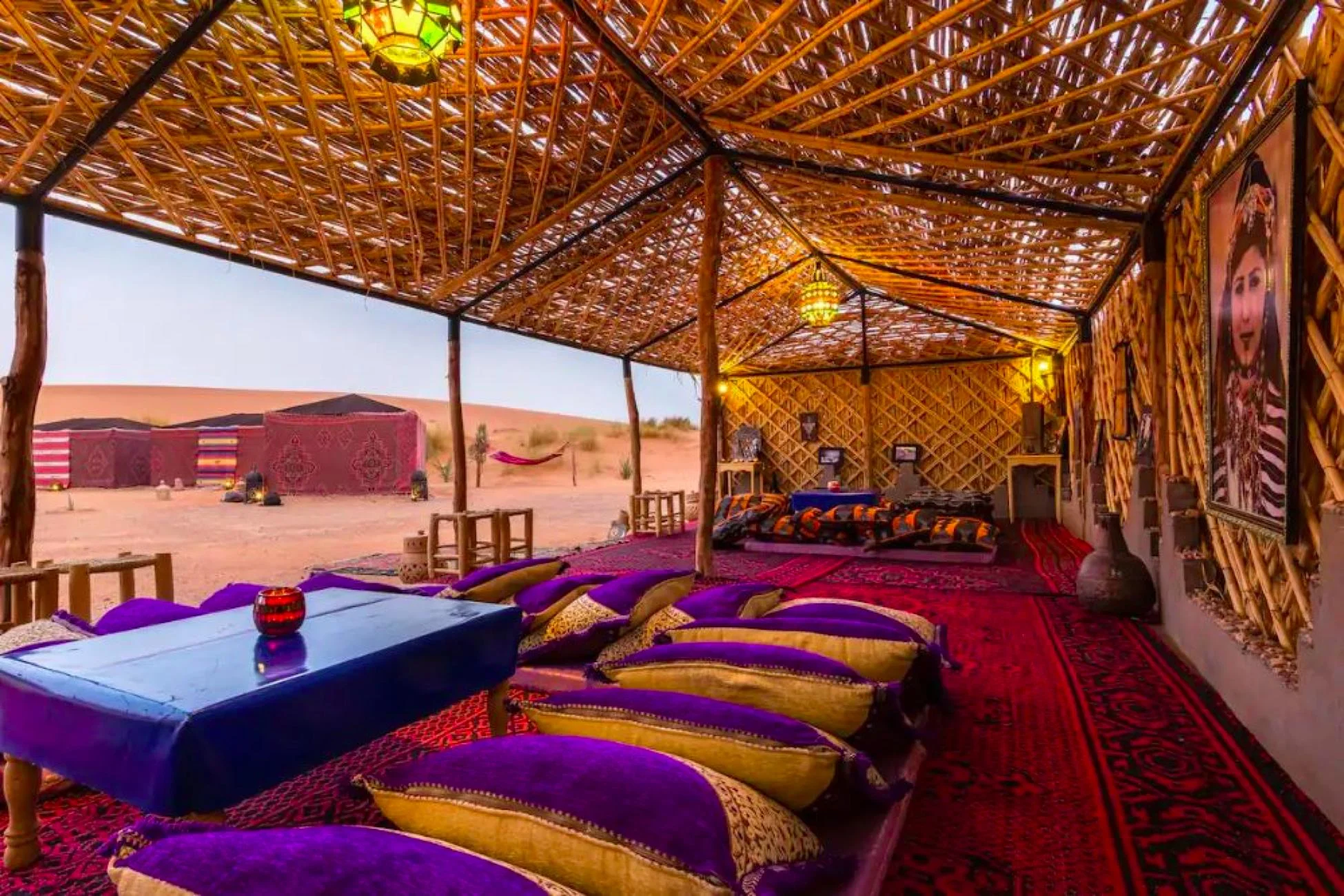 Location: Merdane, Chebbi Dunes
Price: Approximately $117/night
Guests: 1 (capacity of 16 in the camp)
If you're looking for a traditional stay in the Moroccan desert, this place is paradise. Enjoy your meals sitting on colorful cushions and laze in one of the bright hammocks. Have breakfast or traditional Moroccan mint tea on the dunes.
The beds are large and comfortable, and the shower rooms are a whole experience of their own.
This Berber-style camp is nestled in the Chebbi dunes, beautifully private and surrounded by sandy expanse. Your booking includes travel to and from the camp by 4×4 or camel, as well as a fresh dinner made from local produce and a tasty breakfast. It's sure to be an unforgettable addition to your Morocco itinerary.
Labyrinth Kasbah in The Heart of Dades Valley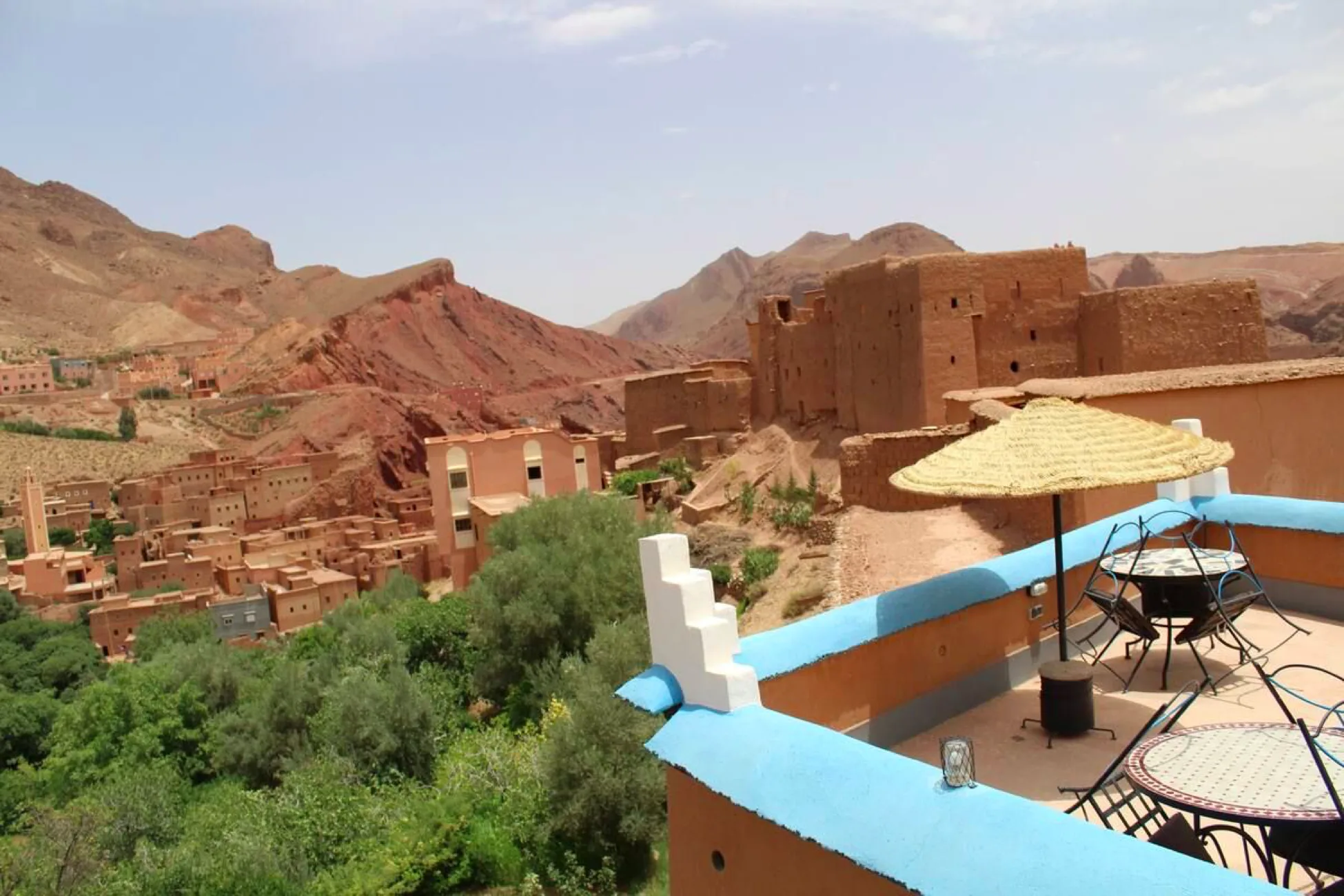 Location: Ait Ben Ali
Price: Approximately $37/night
Guests: 2
An entirely different but equally traditional stay is this beautiful Kasbah. An old building made from straw, bamboo, and adobe, among other materials, it's a naturally insulated 'earth house'. You can rent a room here, or even book out the whole place if you book early enough.
Three terraces connected by a wooden bridge allow you to take in the awe-inspiring landscape around you. You'll be surrounded by red-sand hills, with square-shaped red-sand buildings clambering up them. It truly feels like you've stepped back in time.
Riad Dar Zelda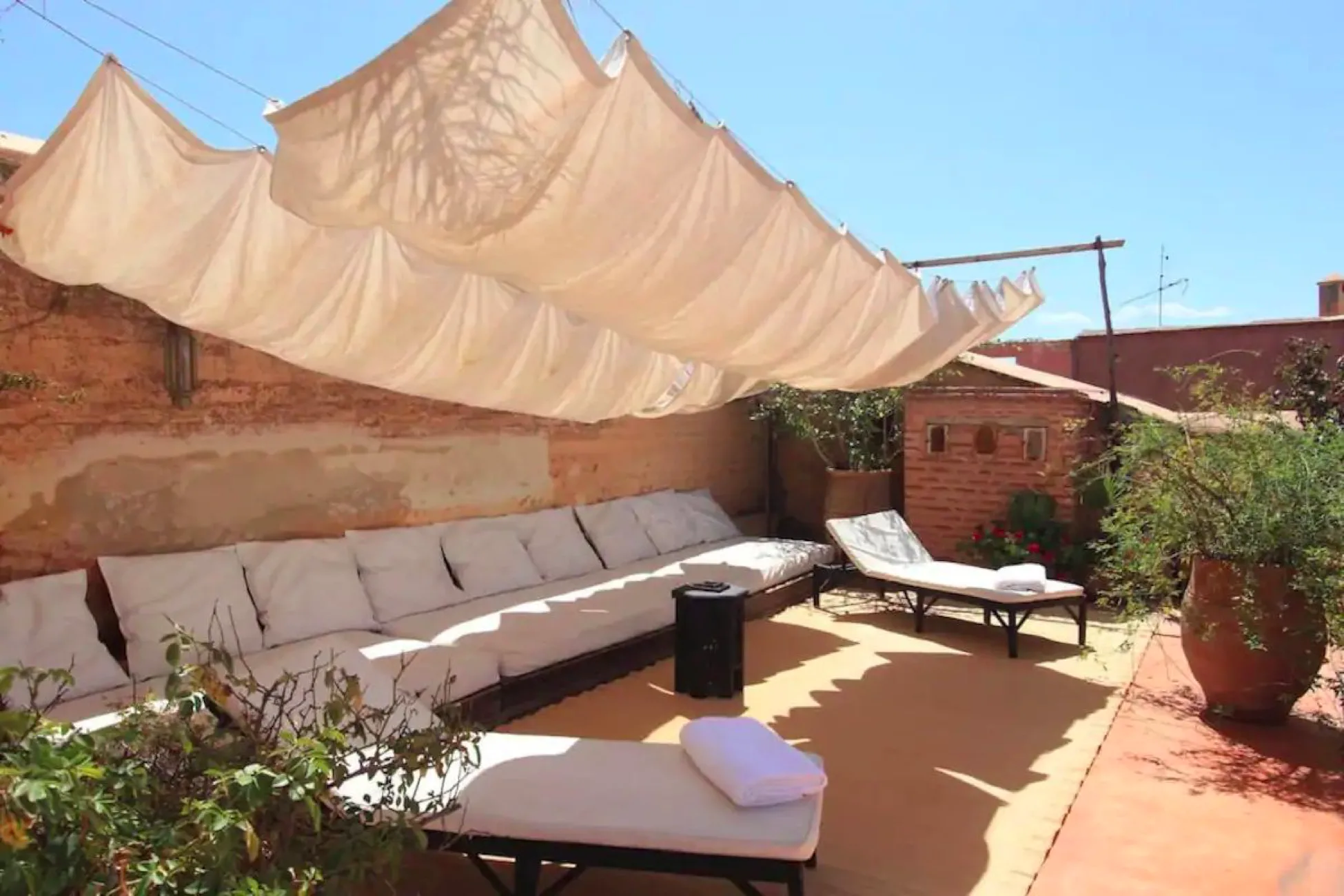 Location: Marrakech
Price: Approximately $110/night
Guests: 2 guests
If you're looking for a modern Moroccan apartment in Marrakech, this private room is idyllic. Built for couples, the riad includes a heated pool, a lovely courtyard, and a shaded rooftop terrace. It's super central, just a two-minute walk from the exciting city marketplace.
So, spend some time exploring one of Morocco's most popular cities, before enjoying a mint tea on the rooftop and settling in for a peaceful evening in this city oasis.
Lodge Hara Oasis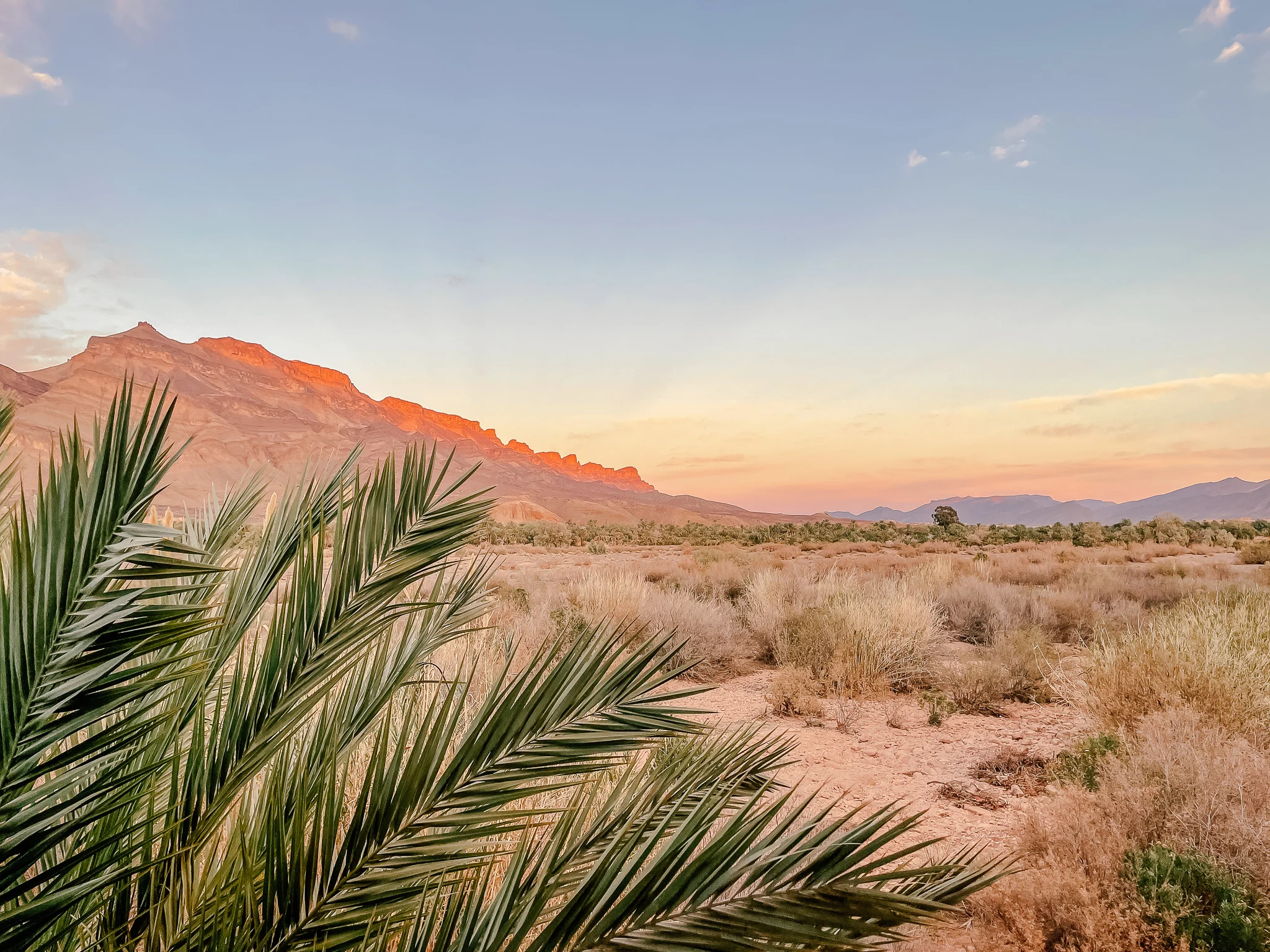 Location: Agdz, Zagora
Price: Approximately $93 /night
Guests: 1 – 2
Slip away to this peaceful oasis in the Souss-Massa-Draa Region in Agdz. As one of the best resorts in Morocco, each lodge is tastefully decorated with all the amenities to make your stay a comfortable one. Wake up to sprawling views of the mountains and the lake surrounding this unforgettable retreat.
Sit out on the patio and soak in the sun during the day before lighting up the barbecue grill to roast some s'mores in the evening. Guests can enjoy a delicious meal at the on-site restaurant and order packed lunches before embarking on any trips.
The lodge features sweeping views of River Draa and beautiful mountain ranges. If you're an avid hiker, you'll be in heaven with the incredible surrounding landscapes to explore. There are also cooking classes, cycling and walking tours, and bike rentals available.
Dar Kamal Chaoui
Location: Bhalil (near Fez)
Price: Approximately $84/night
Guests: 2
For an incredible stay, head to this beautifully decorated Dar Kamalchaoui home in the quiet area of Bhalil. Each room is tastefully adorned with traditional décor, wooden furniture, and a private bathroom.
To begin your day, wake up to sweeping views of Fès countryside. Sit out on the terrace and enjoy a scrumptious breakfast. In the afternoons, enjoy a lovely cup of traditional mint tea or a refreshing cocktail in the garden.
The hotel offers plenty of tours to explore the National Parc of Tazeka, Azrou, Moulay Idriss, and Meknes. Choose from an array of activities located within the area, from Spa treatments to cooking classes. It's the perfect space for families, romantic couples, and solo travelers.
AJARIF ⴰⵊⴰⵔⵉⴼ – Fisherman Cabin – Best Moroccan Beach Stay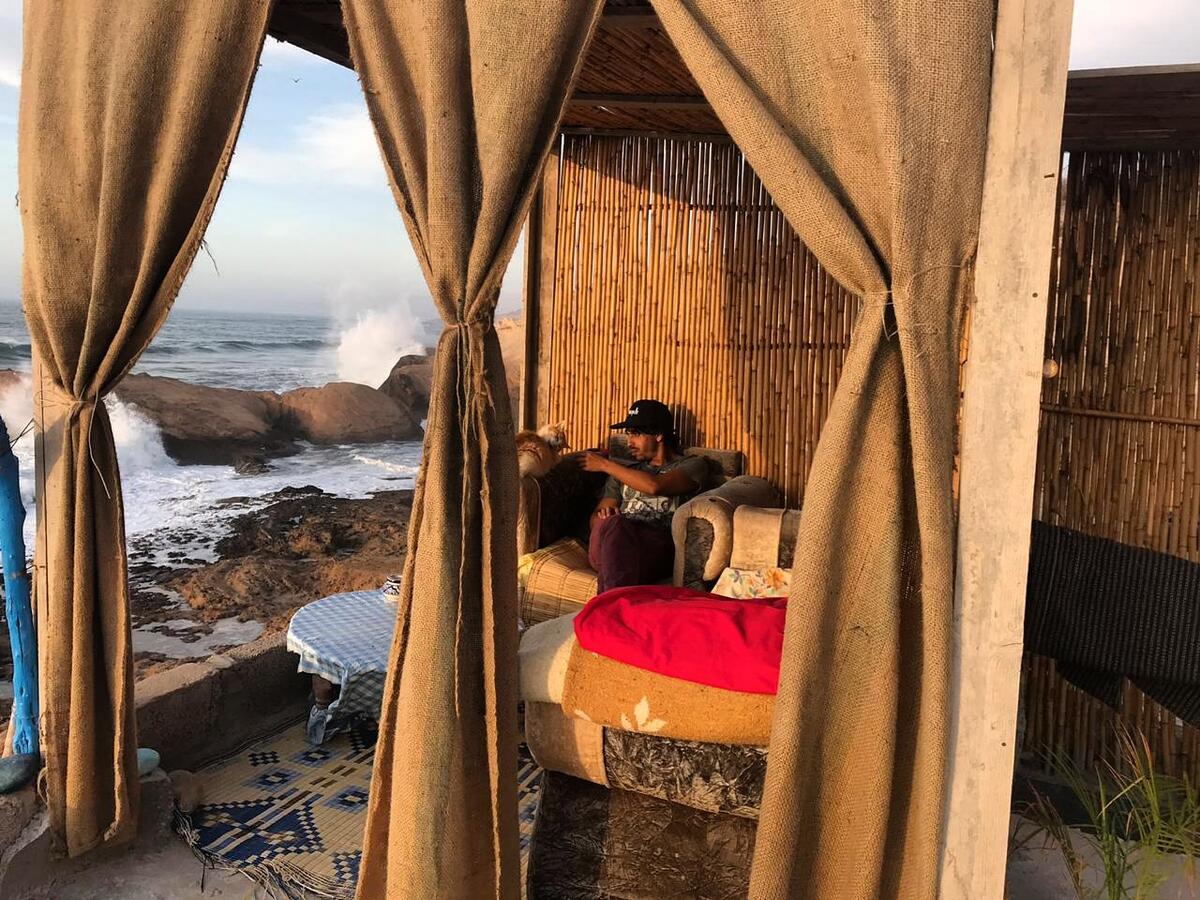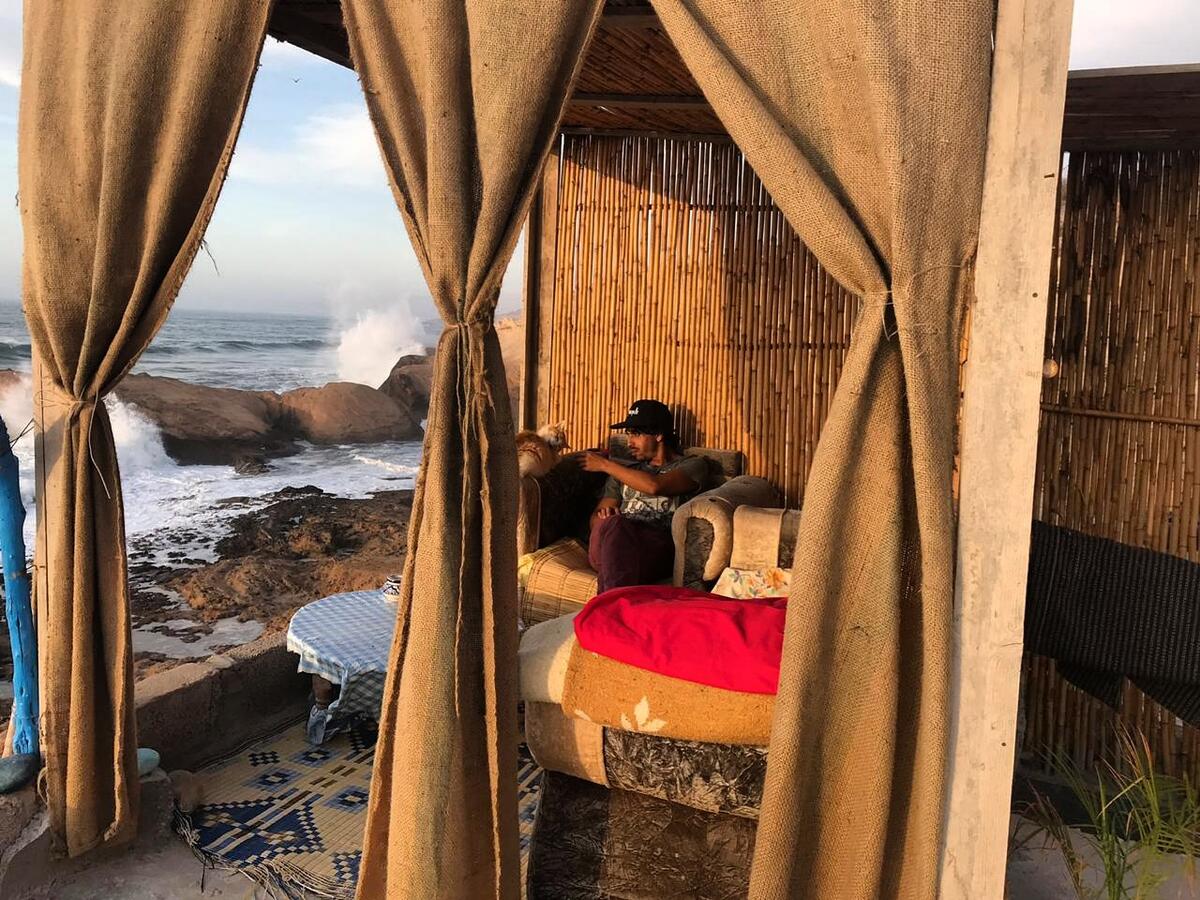 Location: Tamri (near Agadir)
Price: Approximately $35/night
Guests: 2 – 3
Located just 27 minutes from bustling Taghazout lies this charming Fisherman's cabin. Wake up to panoramic sea views in the morning. Sit out on the balcony and sip on some delicious coffee while listening to the waves crashing below.
This stunning cottage features a kitchen and a living area, perfect for whipping up your own meals. You'll be a short drive from the nearest grocery store and restaurant. It's the ideal retreat for solo travelers or couples looking to sit back, relax, and recharge on your Morocco beach vacation.
Maroc Lodge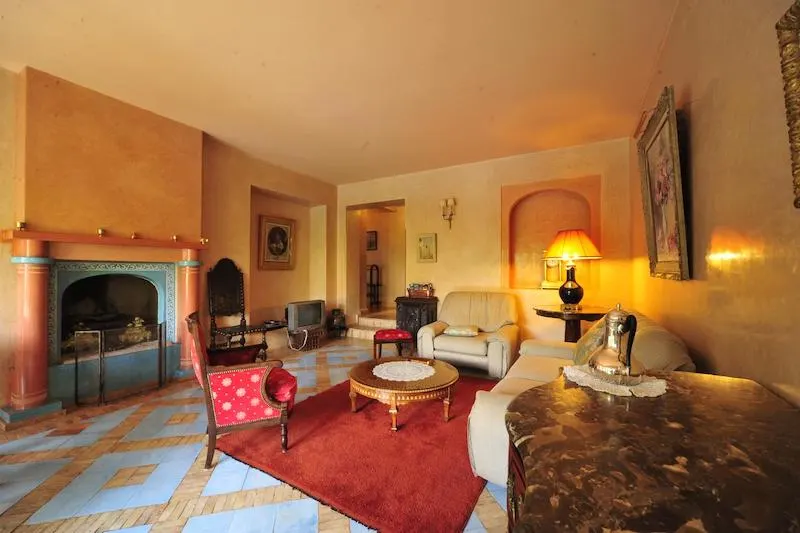 Location: Amizmiz (near Marrakech)
Price: Approximately $375/night
Guests: 2 – 4
Find your way to this exquisite getaway destination set in Amizmiz. Here, you'll be spoiled for choice amidst luxury features in one of the best places in Morocco. Wake up to incredible views of the surrounding gardens and mountains.
The lodge features a 24-hour front desk, a restaurant, and WiFi. On balmy days, spend time frolicking in the pool before lounging on the garden terrace. If you're looking for some R&R time, choose from one of the many spa facilities available.
Enjoy a delicious – continental, vegetarian, Kosher, or Halal – breakfast before heading out for a day of fun-filled activities such as hiring a bicycle to explore your surroundings.
La Brillante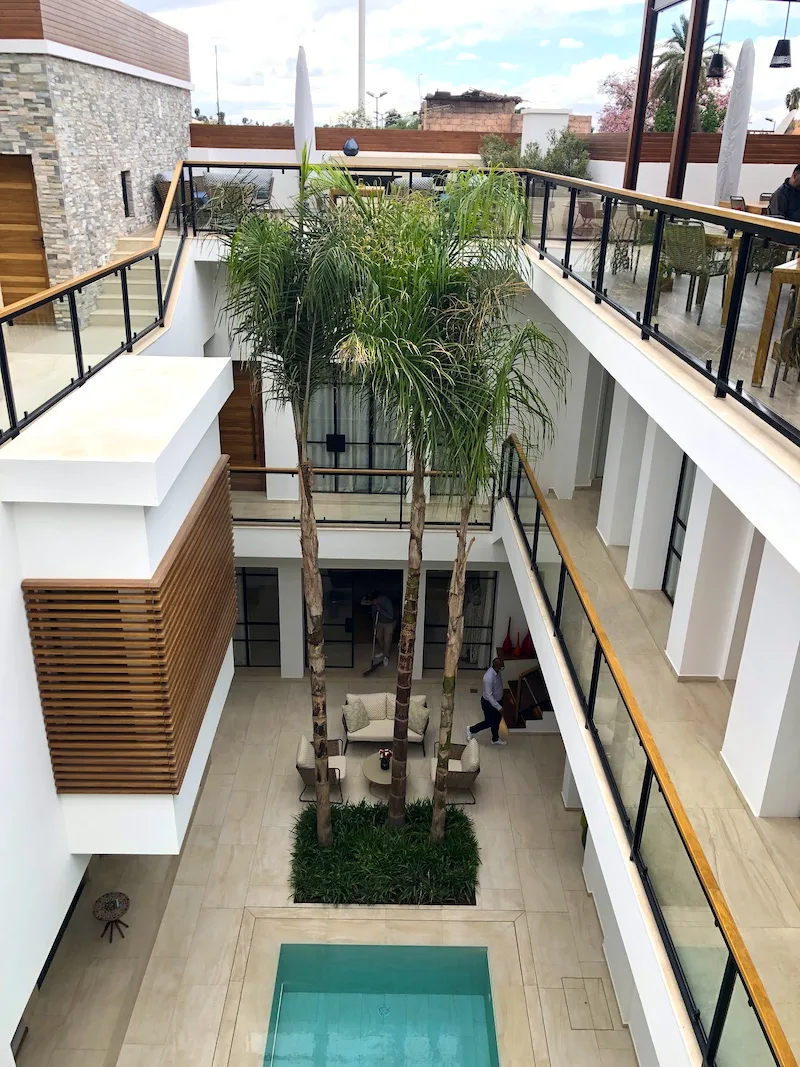 Location: Medina, Marrakesh
Price: Approximately $250/night
Guests: 2
If it's oh la luxury you're after, La Brillante in the Medina is one of the best places to stay in Marrakech. Relax in opulent yet minimalist rooms each with its own theme. Each room includes a private bathroom and free WiFi.
In the morning, you'll be spoiled with choices for breakfast and make sure you take lunch or dinner at the riad as well. Their chef and food service is exceptional. They offer Moroccan fare as well as modern dishes made with local products.
Head off to the spa to enjoy beauty treatments and massages. The riad is within walking distance from the Bahia Palace and you can easily reach all areas of the media from this hotel. If you are driving there is parking very close.
Atta Desert Camp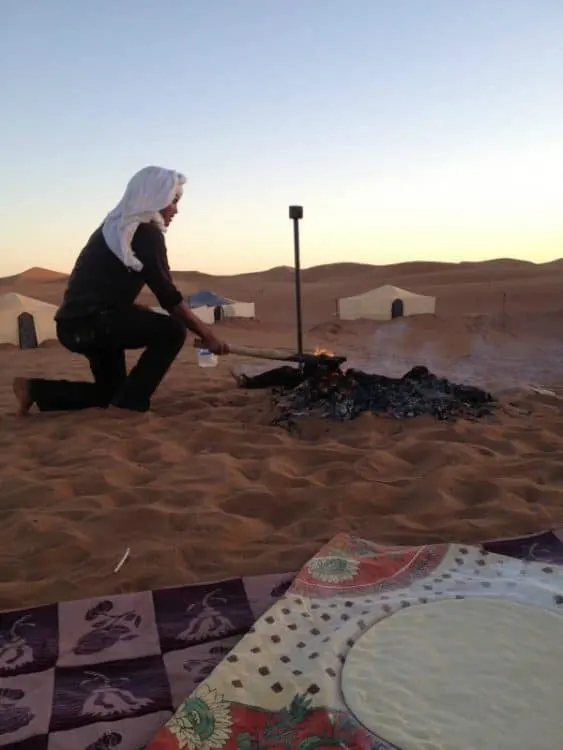 Location: Mhamid Ghizlane
Price: Approximately $75/night
Guests: 2 – 4
If you're looking for a desert camp experience, rather than hotels in Morocco, this luxury glamping site nestled in Merzouga ticks all the boxes. It's the perfect space for romantic couples and solo travelers looking for a unique experience in Morocco.
The camp provides all meals and the choice of shared or private accommodation. Enjoy activities like sandboarding or try your hand at make sand bread! With plenty of space to relax and unwind in the desert you also might spot local wildlife.
Riad Chay & Boutique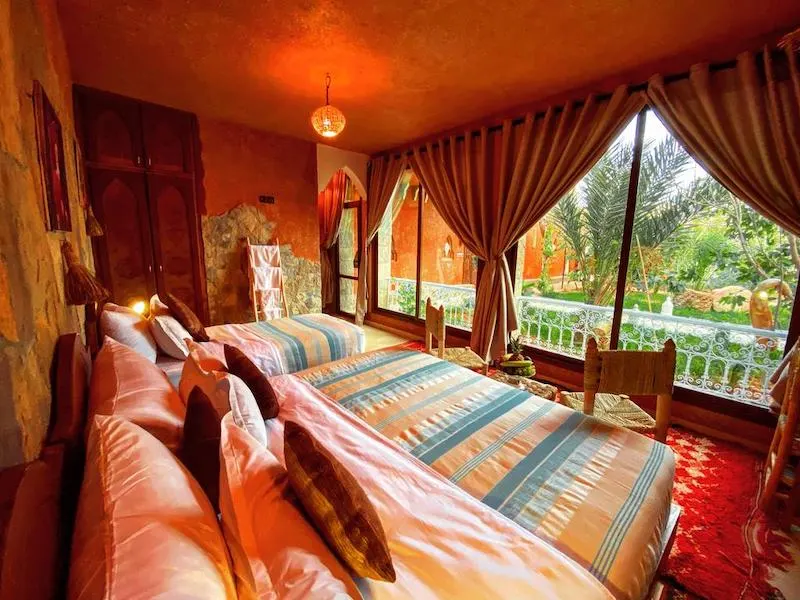 Location: Ouarzazate
Price: Approximately $77/night
Guests: 2 – 4
Stay in this colorful Riad Chay for an unforgettable Moroccan vacation. The grand space features a beautifully decorated terrace and a restaurant on-site, perfect for spending sunny afternoons admiring the panoramic views.
Rooms include sweeping mountain and garden views, a private bathroom, air conditioning, and a patio.
Spend your morning in bed and order room service while deciding what to see and do in the area. Visit the famous Ksar Ait-Ben-Haddou, a short distance away, or head to the lake for some exciting water activities.
Tikida Golf Palace

Location: Agadir
Price: Approximately $172/night
Guests: 2 – 4
If you're unsure where to stay in Morocco, a good start would be at the Tikida Golf Palace in Agadir. The luxury hotel gives you the best of the both worlds, traditional and modern. You'll find spacious suites decorated with a Moroccan-themed interior that falls open onto a balcony.
Open the windows and admire the sweeping views of the golf course and lake surrounding the Palace. On the property grounds, you'll find a gorgeous swimming pool, perfect for dipping in on those balmy days. There's also a free shuttle service to the beach. After a busy day basking in the sun, head to the spa for a Turkish bath or enjoy a relaxing massage.
As one of the best hotels in Agadir, you'll be spoiled for choice when it comes to delicious food at the restaurant. In the evenings, enjoy a glass of wine near the glowing fire under the starry skies.
Last Thoughts on the Coolest Places to Stay in Morocco
Morocco has such incredible accommodation options, to match its striking and unique culture, cuisine, and architecture. Whether you're interested in exploring the Saharan desert and experiencing Berber life, or isolating in a fisherman's cave in the middle of nowhere. Or even finding a unique city apartment, there's something wonderful for everyone.
If you're planning to leave cities far behind, have a little look into the language in Morocco, as well as what to wear in rural and urban areas. And most importantly, enjoy the environment! It's sure to be a once-in-a-lifetime experience.