Citrus is one of the things that can be found in abundance in Morocco and for a fraction of the cost I paid in the US. It, like everything else comes and goes in seasons so I try to take advantage of whatever appears in the market as soon as it arrives.
Lemons arrive in different varieties. There are tiny, tiny beldi lemons that are the size of a golf ball and while you can get juice from them you'll be squeezing drops out. Instead they're better for preserved lemons.
Then there's the thin skinned variety that I find full of juice and flavor. They would work great for this recipe as they have a thin skin that can be used for making the candied peels.
The final type are the extra large variety that look nearly like a small melon instead of a lemon. They have thick rinds and while the juice may be less than their skinny siblings, I find it to be the best.
Whatever lemons you choose for this recipe, you're sure to be happy. Go with what you've got on hand to keep things easy.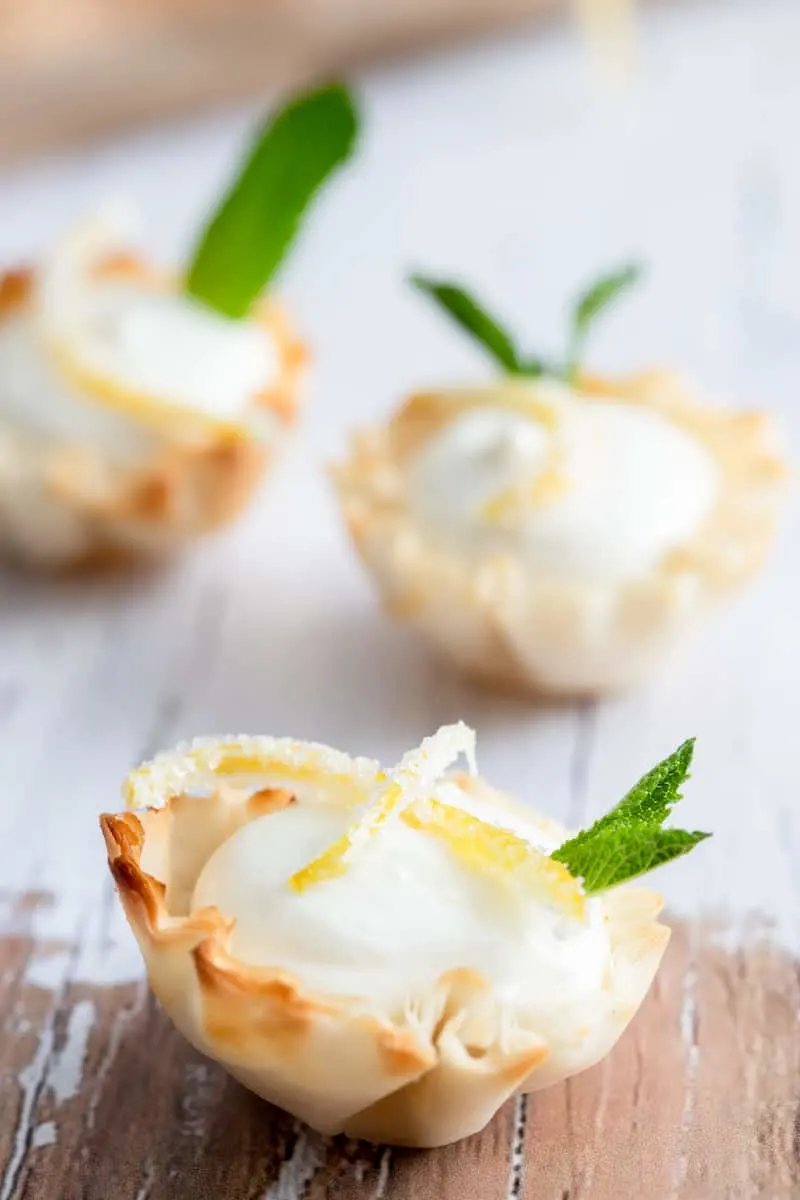 These mini lemon cheesecakes are perfect for any type of get together especially something like a Moroccan theme baby shower or tea party. By using pre-bought shells you cut a TON of time from the prep work.
If you don't want to make the candied lemon peels you can of course buy them already done.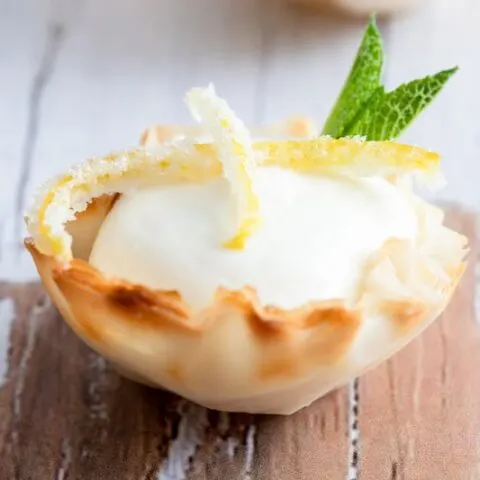 Easy Mini Lemon Cheesecakes
Total Time:
6 hours
10 minutes
These easy to make mini cheesecakes are sure to be a hit at your next party or gathering.
Ingredients
8 ounces cream cheese, softened
½ cup powdered sugar
1 tablespoon lemon juice, fresh squeezed,
1 tablespoon lemon zest
½ teaspoon vanilla extract
¼ cup heavy whipping cream
45 phyllo cups
Candied Lemon Peels
1 large lemon
¾ cup granulated sugar, divided
½ cup water
Instructions
Place the cream cheese in the body of a stand mixer with the whip attachment or in a large bowl with a hand mixer and whip the cream cheese on medium speed until smooth.
Add in the powdered sugar, and on low speed mix it in. Add in the lemon juice, lemon zest, vanilla, and whipping cream.
Starting on low speed, mix in the ingredients, once mixed in, turn the speed on to medium-high and whip until smooth, fluffy and thickened, about 3 minutes
Fill the phyllo cups with the filling using a piping bag, top with candied lemon peels and mint sprigs for garnish.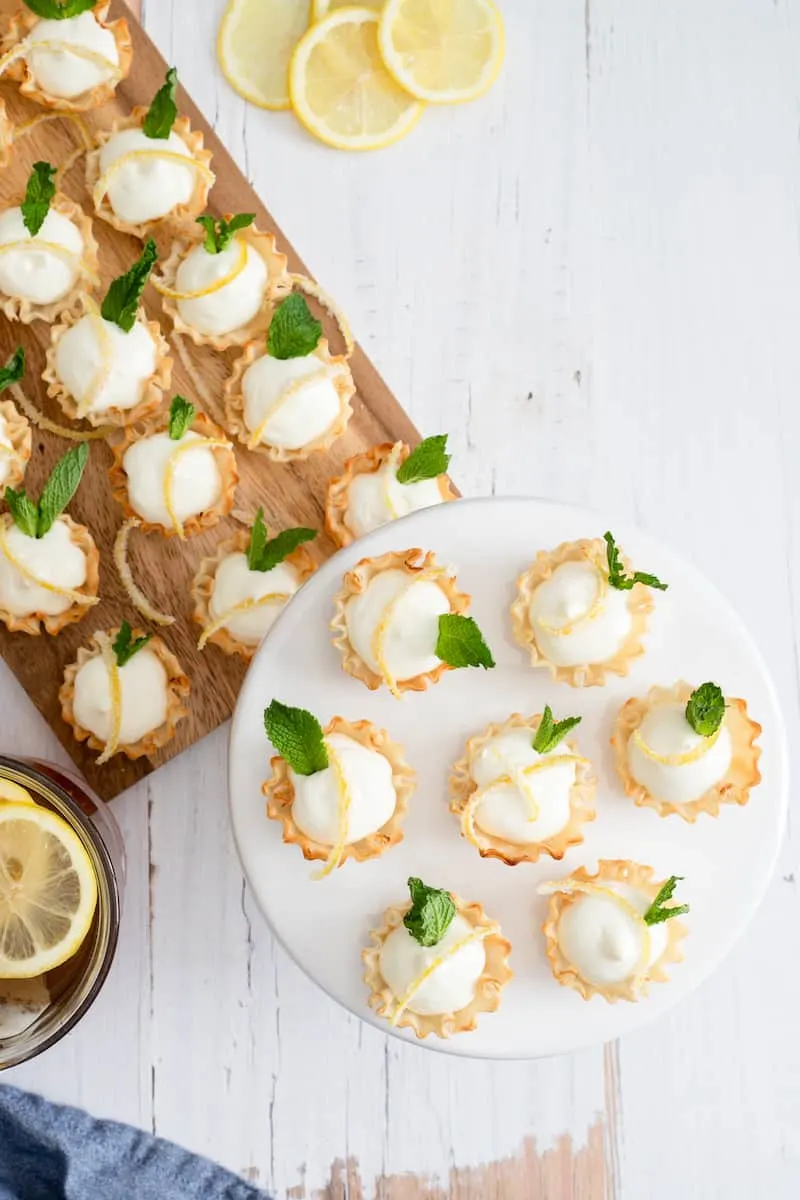 Candied Lemon Peels
Cut the peel off the lemon, take off as much of the pith as possible. Slice as thinly as possible, set aside. Place ¼ cup of the sugar in a small bowl, set aside
In a small saucepan over medium heat, warm ½ cup of the sugar and the water, stirring occasionally until the sugar is melted.
Take off the heat and add the lemon peels. Make sure the peels are coated.
Drain the peels thoroughly and place on a plate to dry slightly for one hour. Put the peels into the bowl with the sugar and coat well.
Take the peels out of the sugar and place on a separate plate, not touching. Let sit out until completely dried, about 6 hours or up to overnight.
Notes
I did not include the time needed to make the candied lemon peels. I suggest making them at least a day ahead or purchasing if you're short on time.
Recommended Products
As an Amazon Associate and member of other affiliate programs, I earn from qualifying purchases.
They're as simple as that! Of course the recipe could also be altered for just about any citrus fruit like oranges or grapefruit but there's something classic and delicious about a lemon cheesecake.