Quince were a fruit that I had never encountered until we moved to Morocco. Quince fruit recipes in Morocco are prepared to taste sweet but are served with savory dishes – a common element found in a lot of Moroccan food. So when I had the idea to make a quince cake I wasn't sure how it would go over.
I have to say this recipe was a major home run for me. Rarely do I make baked goods that my in-laws not only like but actively praise – especially my mother in law. This recipe was one that she really liked!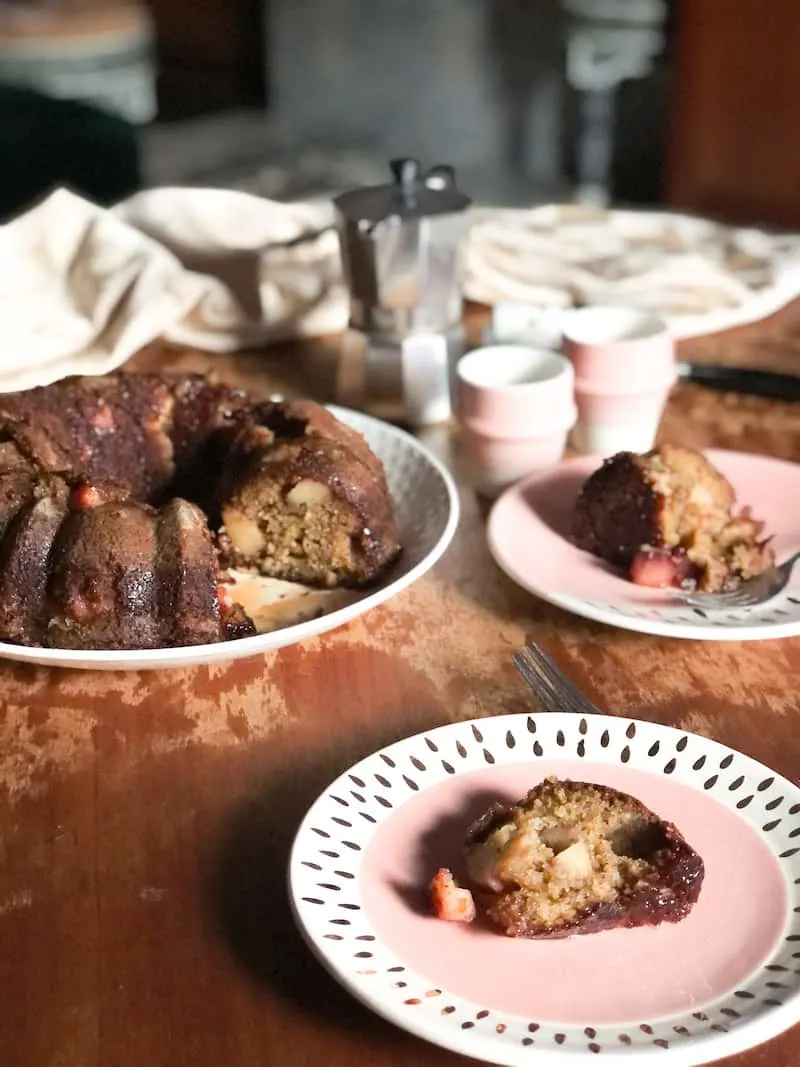 Even though this recipe uses fresh quince, the quince are cooked. You can eat quince raw but it tastes awful so I would highly recommend not trying that. You do need to wash and peel the quince first. They do have a hard core, much harder than an apple for example. I wasn't able to cut through the middle of the fruit so I cut around the edges – similar to how you'd cut a mango.
The fruit that you use can be any size or shape. I went with small cubes but you could just as easily use long strips or larger chunks. Just try to keep them all similar in size so that they cook through at rough the same time.
I served this warm with just the syrup on top however it would also be great with some whipped cream or really good vanilla ice cream.
Yield:

12 servings
Quince Cake with Walnuts
Cook Time:
1 hour
30 minutes
This coffee cake uses fresh quince and walnut for a decidedly fall-feeling dessert (or breakfast!)
Ingredients
3 medium quince, peeled, cored, and chopped
1/4 cup sugar
1 tablespoon ground cinnamon
2 3/4 cups all-purpose flour
1 teaspoon kosher salt
1 tablespoon baking powder
1 cup vegetable oil
1 cup granulated sugar
1/2 cup light brown sugar
4 large eggs
1/4 cup grape juice
1/2 cup walnuts chopped
Instructions
Heat oven to 350°F. Generously coat a bundt pan with butter and flour. Set aside.
Mix 1 tablespoon ground cinnamon and 1/4 cup sugar together in a small bowl to combine. Peel and core quince and cut into 1-2" pieces. Toss quince chunks with sugar and cinnamon blend.
Place quince mixture into a pot and add enough water to cover the quince about 1/2 way. Turn the heat to medium and allow to boil until the quince are fork tender.
You will need to watch and add more water if it boils down too much. You don't want the quince to burn while also creating a syrup.
When the quince are fork tender, remove. Further reduce the liquid remaining (if needed) until you have a thick syrup.
Whisk flour, salt, and baking powder together in a large bowl. Set aside.
In a separate bowl, whisk oil, 1 cup granulated sugar, 1/2 cup brown sugar, eggs, vanilla, and grape juice until well blended.
Pour wet ingredients into dry and stir until fully incorporated into a batter. Mix in half of the walnuts.
Pour half of batter into bundt pan, top with half of the quince mixture. Pour second layer of batter over quince, then top with remaining quince and walnuts.
Cover with aluminum foil and bake for 45 minutes. Remove foil and bake for an additional 45 minutes. The cake is ready when a knife comes out clean.
Warm up the syrup and pour the reduced syrup from the quince over the cake before serving.