I am a huge fan of freezer meals and have been since my kids were little and I was working full-time outside of the home. It was one way that I could make sure we had something for dinner and didn't rely on takeout. This is even more true during Ramadan. But when I search for Moroccan freezer meals or Middle Eastern freezer meals or even Ramadan freezer cooking there weren't a lot of options. It's also harder for us because MarocBaba has celiac disease so he can't eat a lot of the foods that tend to be freezer meals.
So, I came up with a handful of recipes that are good for anytime of year.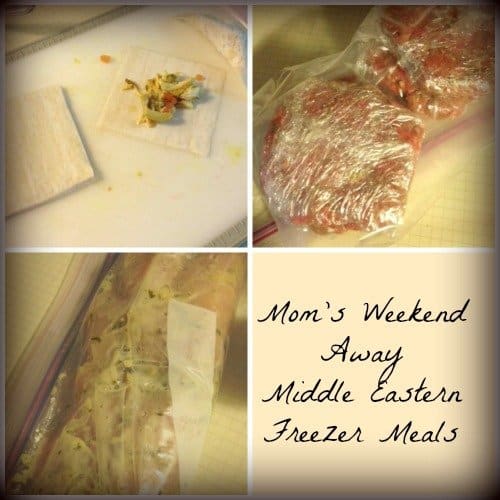 I tried to make these recipes be things that require very little effort to prepare, don't involve a ton of complicated steps to reheat or serve (this would mean I would be getting multiple phone calls to help with directions), and were foods everyone enjoys. If you're like me and were looking for these types of recipes as well I hope that you'll find some of these suggestions helpful.
The basic freezer recipes I made are;
Moroccan Harira Soup – leave out any starch like rice and add only when heating up. Portion into smaller sizes.
Tajine Briouats
Spiced Chicken for Kebabs or Pulled Chicken Sandwiches
Kefta Patties
Not in the freezer but on hand; salmon filets, sardines, boiled eggs, and gluten-free bread
Want to make the other meals? Here's how;
Spiced Chicken
This couldn't be easier! Simply add all of the ingredients to a freezer bag and freeze!
1 lb of chicken breasts cut into similar sized pieces

1/2 onion chopped
1-2 Tbsp chopped garlic
palmful chopped parsley
1 tsp cumin
1 tsp ginger
1/4 tsp turmeric
1/2 tsp salt
1/2 tsp black pepper
1 tsp olive oil
Directions
Add all of the ingredients to a freezer bag and seal. Use your hands to combine all of the ingredients so that the chicken is fully coated. Release any excess air and freeze. To serve, remove from the freezer and thaw completely. Chicken can be placed on skewers and grilled, cooked in a skillet on the stovetop, or added to a slow cooker (add 1/4 cup of chicken broth).
Tajine Briouats
Truthfully I made this up on a whim. I wasn't sure how they would turn out but was thrilled with the results. The only downside here is that you need some leftover tajine. I used a chicken and olive tajine but any kind works. I'll be making them regularly now.
Directions:
Preheat your oven to 350F.
1. Chop up the leftover tajine as finely as possible.
2. Wet the edges of the wonton wrapper and place one-quarter to one-half of a teaspoon of tajine mixture to the middle of the wrapper.
3. Pull up the edges to form a triangle. Squeezing the edges closed and using extra water if necessary.
4. Place the sealed wrappers onto a baking sheet.
5. Baste all of the briouats with melted butter (trust me it's better than egg wash – adds a great flavor!).
6. Partially bake brioats for 5-6 minutes. Let them cool completely and place into a Ziploc or freezer safe bag and place in the freezer..
To reheat: Heat oven to 350F. Remove from freezer and place directly on a baking sheet. Bake 10 minutes until warmed through and browned. Eat hot or at room temperature.
Kefta Patties
Kefta is the Middle Eastern version of hamburgers – but with a whole lot more flavor!
1 pound of ground sirloin (I use a 90/10 mix)

2 Tbsp chopped cilantro

2 tsp fresh grated ginger

2 tsp cumin

1 tsp onion powder

1/2 tsp each salt and pepper

1/2 tsp lemon zest

Directions
Combine all of the ingredients in a bowl and use your hands to mix all of the spices into the meat. Form into patties (however big or small you like them). I wrap the patties individually in plastic wrap so that one or two can be taken out at a time. Place the wrapped patties into a larger freezer bag and freeze. To thaw, remove as many packages as desired, thaw, and cook on the grill or in a skillet.
Want even more Middle Eastern Freezer recipes? Here are some options from other bloggers.

Lebanese Stuffed Kusa Squash – The Lemon Bowl
Slow Cooked Lebanese Green Beans and Beef – The Lemon Bowl
Meat Stuffed Grape Leaves – The Lemon Bowl
Lebanese Meat Pies – The Lemon Bowl
Turkey Shawarma Recipe – This American Bite
Baked Falafel Balls – The Culinary Life
Stuffed Cabbage – What Jew Wanna Eat?
Shish Taouk (Garlic chicken)- Perfect Pantry
Lubiya; Middle Eastern Black Eyed Pea Stew – Mrs. A's World