This blog post will teach you how to make air fryer cheese briouats. This is a Moroccan dish that's traditionally made with phyllo dough and stuffed with a cheese filling. It's usually deep-fried in oil, but this recipe calls for an air fryer and no oil at all. If you're looking for a new way to cook your favorite dishes while saving on calories, then read on!
My kids love traditional briouats and my sister-in-law makes them by the dozens for Ramadan. But, they're full of oil and a bit painstaking to make. If I do decide to make them I end up spending hours making a LOT so that I don't have to do it again for a while. With that in mind, I started experimenting with the air fryer to see what kind of results I could come up with.
If you haven't used an air fryer before I highly recommend it. It is healthier than other methods of frying because it "fries" food with hot air circulating around and not oil touching the food (unless you spray/dip it). To make this recipe I tried cooking the briouats coated in oil as well as not coated just to see if there was a noticeable difference.
There wasn't.
So this recipe uses no added oil at all. Traditionally briouats are made with warka pastry or filo dough but I opted to use wonton wrappers to get a little thicker texture. They also come precut and are fast and easy to use when making these.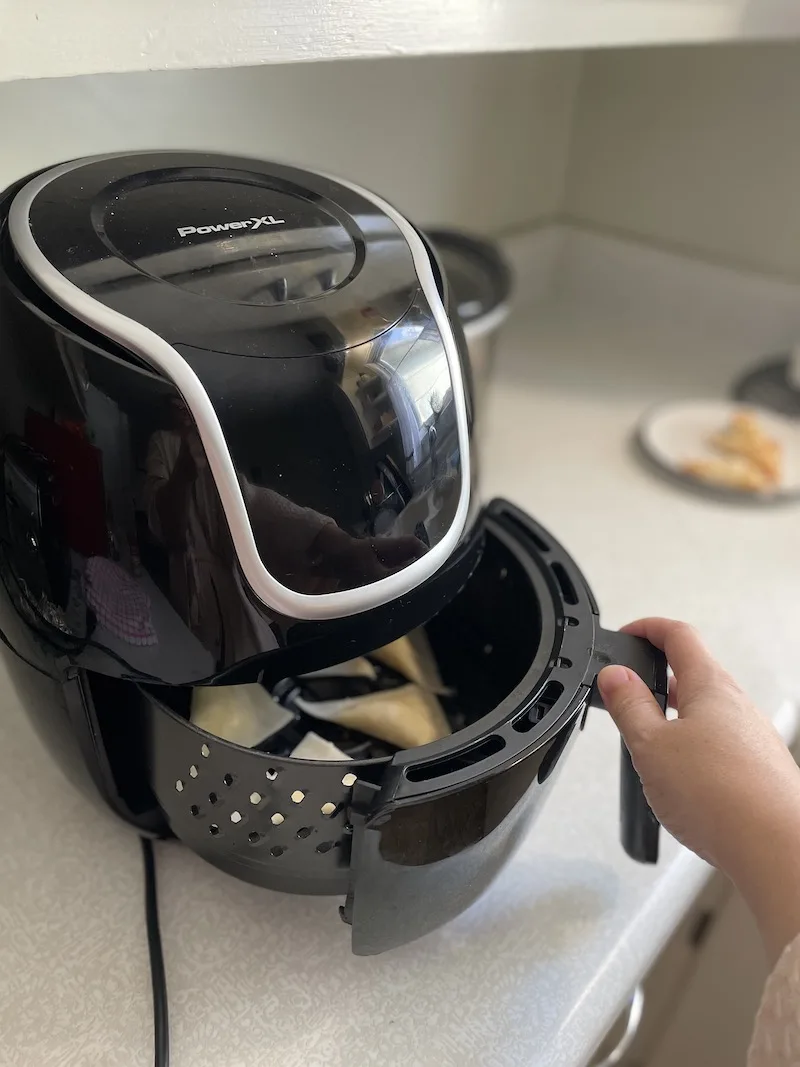 One of the only downsides of air fryers (in my opinion) is that they're quite small. I could cook about 6 briouats at a time in my machine which is fine if you're heating up a few for snacking or a party. But if you have a lot to make at one time it could become a little tedious.
My kids were my taste testers and they gave it two thumbs up; with the caveat that they were not the exact same as regular briouats. I agree with them. If you're looking for briouats like grandma made, this probably isn't the recipe for you. If you're open minded and looking for a faster, healthier option try it out!
This recipe can be doubled, tripled or more with the briouats frozen for later!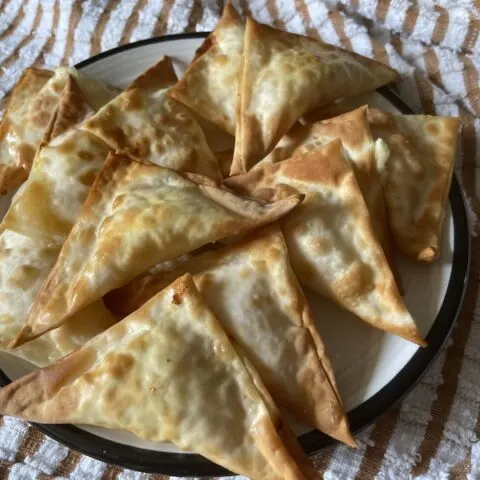 Yield:

appx. 20 briouats
Air Fryer Moroccan Cheese Briouats
Moroccan cheese briouats without the frying oil! These will take a bit longer to assemble than they do to cook but it's worth it!
Ingredients
1 package of wonton wrappers
4 oz Greek Feta
4 oz shredded mozzarella
1 eggs beaten
1/2 tsp crushed garlic
1/4 tsp pepper
Instructions
Have a small bowl with water ready.
In another bowl mix together the two cheeses, garlic, pepper and egg. I suggest breaking up any large chunks of feta that may be in the mixture.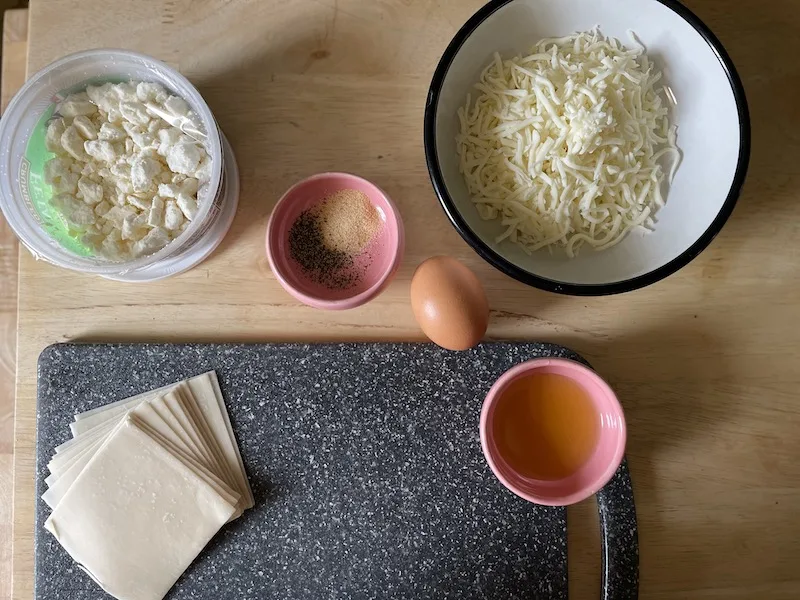 Place a wonton wrapper on your work surface and use your finger or a brush to apply water around the edges of the wrapper. In the middle scoop the cheese filling (appx ½ tsp).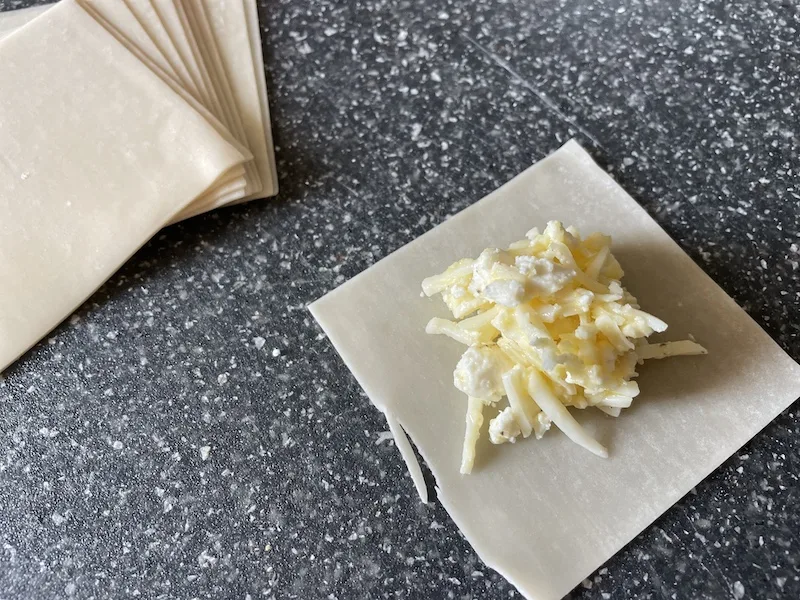 Fold over the edges to create a triangle. Press down so that all of the edges are closed and any excess air is removed. Set aside and move on to the next briouat.
Continue until all of the filling has been used.
Place the briouats into the basket of your air fryer and set heat to 350F for 4 minutes.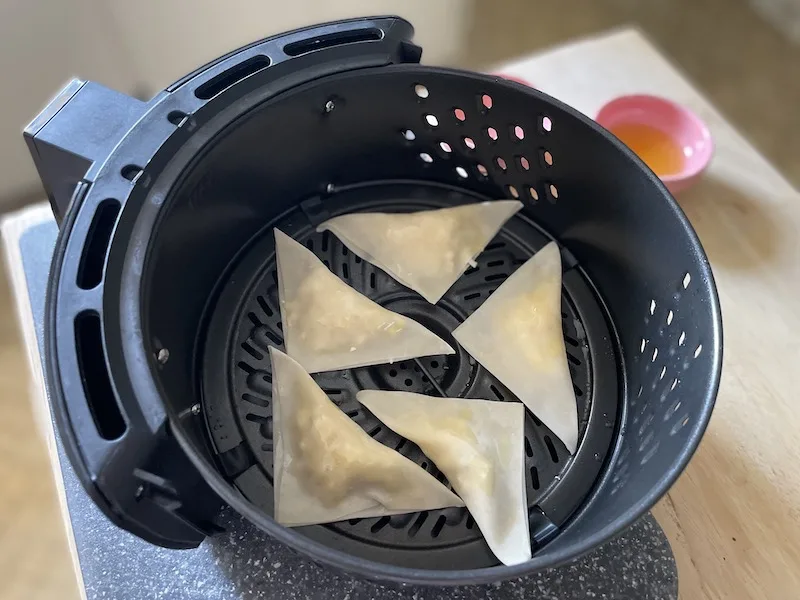 Notes
You can also freeze the briouats to cook later. To freeze, place a piece of parchment on a cookie sheet or another flat surface and layout the briouats in a single layer. Place in the freezer until solid and then transfer to a freezer-safe bag or container.
To heat from frozen place into the air fryer in a single layer.
Cook at 370F for 5 minutes.
Recommended Products
As an Amazon Associate and member of other affiliate programs, I earn from qualifying purchases.
Looking for More Easy Moroccan Recipes?
15 Minute Air Fryer Moroccan Chicken
Slow Cooker Moroccan Beef and Green Bean Tajine