If you're looking for a fun and easy craft for the younger kids to be able to join in on as well, this Moroccan Ramadan lantern craft is perfect! With just 7 simple supplies needed, the kids will be able to create their very own fun lantern craft with ease.
Moroccan-style lanterns are quite beautiful and often admired in homes by others so why not let the children have fun in creating their very own to have in their rooms as well? If you're looking for a simple craft that is easy, simple, and fun, let the kids be as creative as they want with their own lanterns.
What I love about this unique lantern craft is that each lantern that is created will turn out differently every single time. The kids can easily make Moroccan art and craft project in a short amount of time but display it for many moons to come!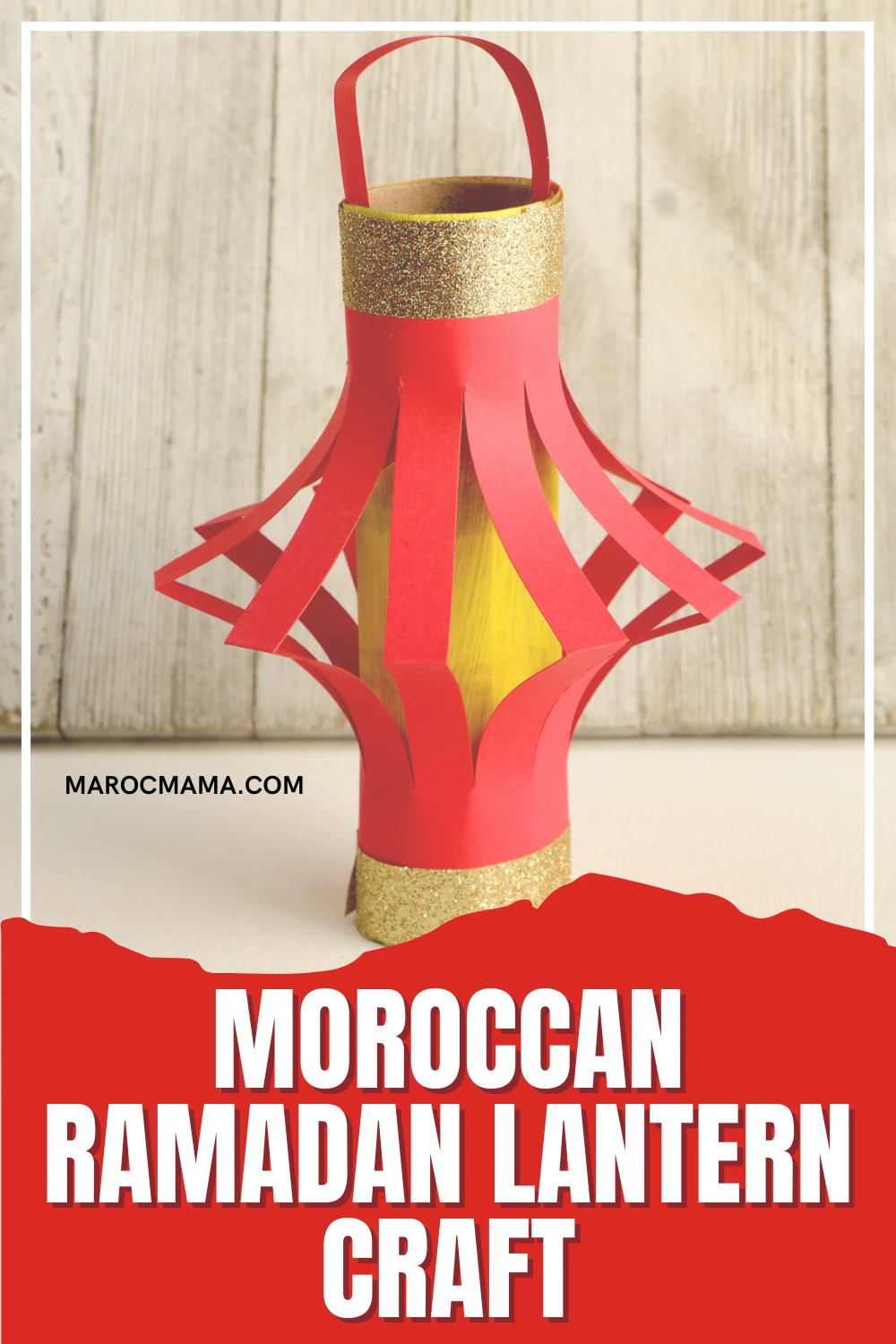 Can you use toilet paper tubes for this craft as well?
Absolutely. You just need to make certain that you have a cylinder tube that you can use, color on, and glue. The larger size is probably better to use, but a smaller size is just fine as well. (plus, it's a great way to use up those toilet paper rolls rather than just tossing them in the trash!)
Fun Ideas To Share This Moroccan Ramadan Lantern Craft
Since this craft is fun and simple to make, it also means that it's fun and simple to share with friends and family, too. And who wouldn't love having a homemade lantern "lighting" up their lives?
Since your child or little one is going to be creating this, it's the perfect way to have them build confidence in their creativity while also creating an amazing gift to share with others, too. Give this gift as a fun way to let someone know that they're a bright light in your life!
Supplies needed to make Moroccan Ramadan Lantern Craft
All you need are just a few simple supplies to get started on these fun craft lanterns.
Supplies
1cardboard tubes
Yellow paint
cardstock or construction paper
Glue or glue dots (I used glue dots)
Ribbon
Gather up all your supplies before you get started. There's nothing worse than starting a craft and not being able to finish it because you don't have everything that you need!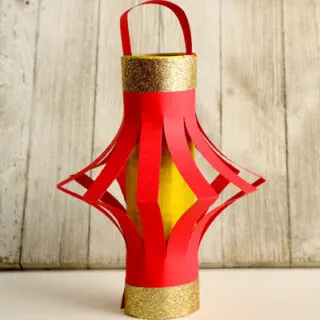 Moroccan Ramadan Lantern Craft
This cute Ramadan craft can be made in any color(s) that you like. Make your home shine this holiday season.
Materials
1 paper towel-sized cardboard tubes
Yellow paint (I used tempera, but acrylic would also work)
Red cardstock or construction paper
Glue or glue dots (I used glue dots)
Gold ribbon
Instructions
Paint cardboard tube with yellow paint and allow it to dry completely.
Fold the red paper in half through the width. Using scissors, cut even slits from the fold towards the opposite side in straight lines but do not cut all the way through the other side. Leave about 1 inch remaining.
For one strip, cut all the way across. This will be the handle for the lamp.
Open the paper and curl it around the cardboard tube, allowing the fold to pucker out. Glue where the paper meets the cardboard tube around the top and bottom.
Trim away any excess cardboard tube.
Cut the gold ribbon into two lengths to reach around the tube. Attach the ribbon with glue to the top and bottom of the tube.
Glue the cut strip on the inside of the top of the cardboard tube as a handle.
Can you use other colored paints on this DIY lantern craft?
It's really up to you on whatever colored paints that you want to add. Yellow is a common color used and it's also a way to showcase the light that would typically be shining from a lantern as well.
What other supplies could be used on this lantern craft?
Let the kids have fun creating this Moroccan-inspired craft. If they want to add stickers, glitter, or other fun crafting items, let them have a bit of fun. Lanterns are typically all different and beautiful in their own way, so this is a great way for them to branch out a bit and create a truly unique and beautiful lantern craft.
This Moroccan Ramadan lantern craft is a fun way to show the kids a bit of the history of Morocco while also using some simple crafting items to create something truly beautiful. They'll love being able to use their hands and their own imagination to start and complete this lantern craft as well. And once they're done, they're going to be certain to want to have it displayed for all to see!
Looking for more craft ideas? Try these!
Morocco Coloring Pages for Kids