One of my first "homemade" Moroccan meals (before that time I had eaten in Moroccan tourist restaurants that were bad!) was a roast chicken stuffed with spices and vermicelli noodles. To this day it still is one of my favorite things.
But, I also don't like making the noodle stuffing because if it's not done right they end up with a weird, chewy texture. That's why this stuffed chicken with matzo was so interesting to me.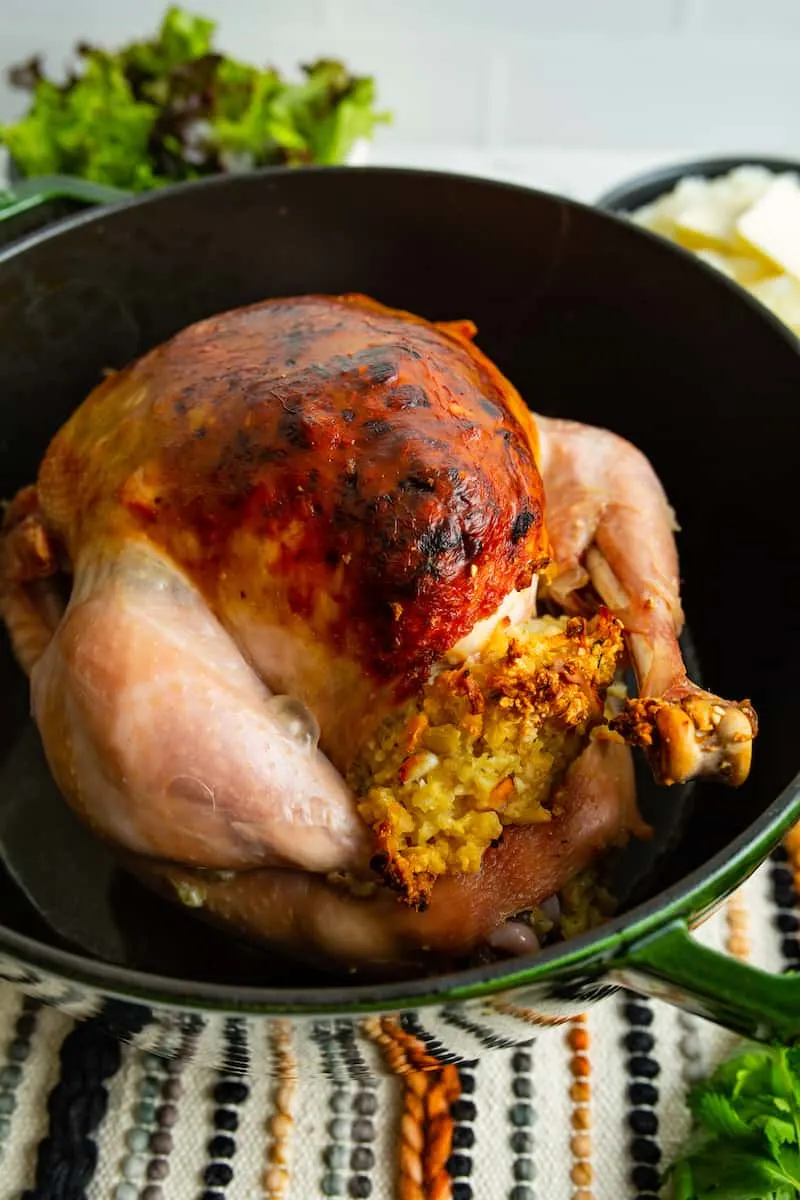 Unlike many Middle Eastern cultures, Moroccans don't have a big tradition of stuffing things. You might find things like stuffed grape leaves, kibbeh, and other stuffed vegetables commonly served in the Levant. They are just not part of the repertoire in Morocco.
What was interesting as I began exploring Moroccan Jewish food is that stuffing food appeared to be more common than with the Arab and Berber dishes. This might be part of historical culture or just what was passed on. I don't really know. This tradition is also seen with dafina, the popular shabbat dish as well.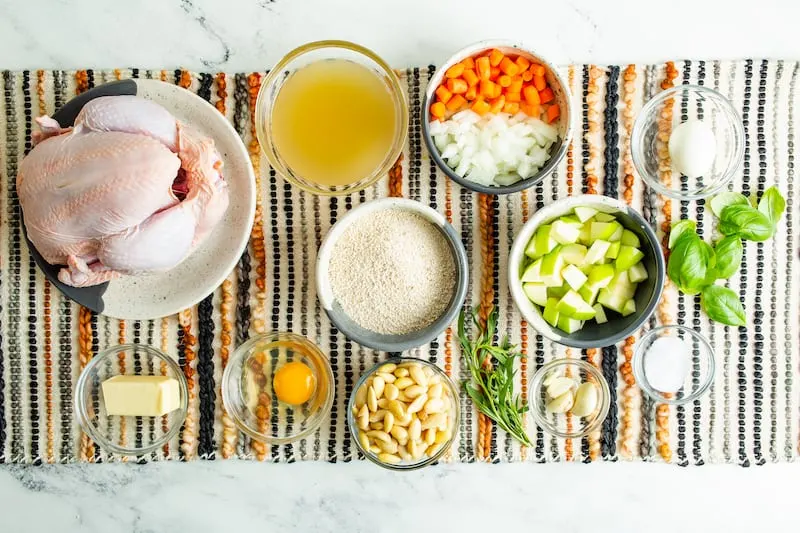 I cooked this stuffed roast chicken on Sunday when we were being blanketed with nearly a foot of snow. Everyone was stuck inside and it made perfect sense to me to turn the oven on for a roast chicken. I found this idea in the cookbook I mentioned in my introductory post but strayed from some of the steps and ingredients to fit what I had on hand. The one thing I did discover in creating this recipe was my love for tarragon.
Seriously where have you been all my life?!?!
I'm so excited to experiment with this herb.
One other note, I made this gluten-free. The original recipe calls for a matzo stuffing or bread crumbs – you can of course use either or both. I however used Glutino gluten-free table crackers for the stuffing. They resembled the taste of matzo very closely.
If you just want to make the stuffing part you can find the matzo stuffing recipe here. This stuffing works great for a Moroccan-inspired Thanksgiving meal too.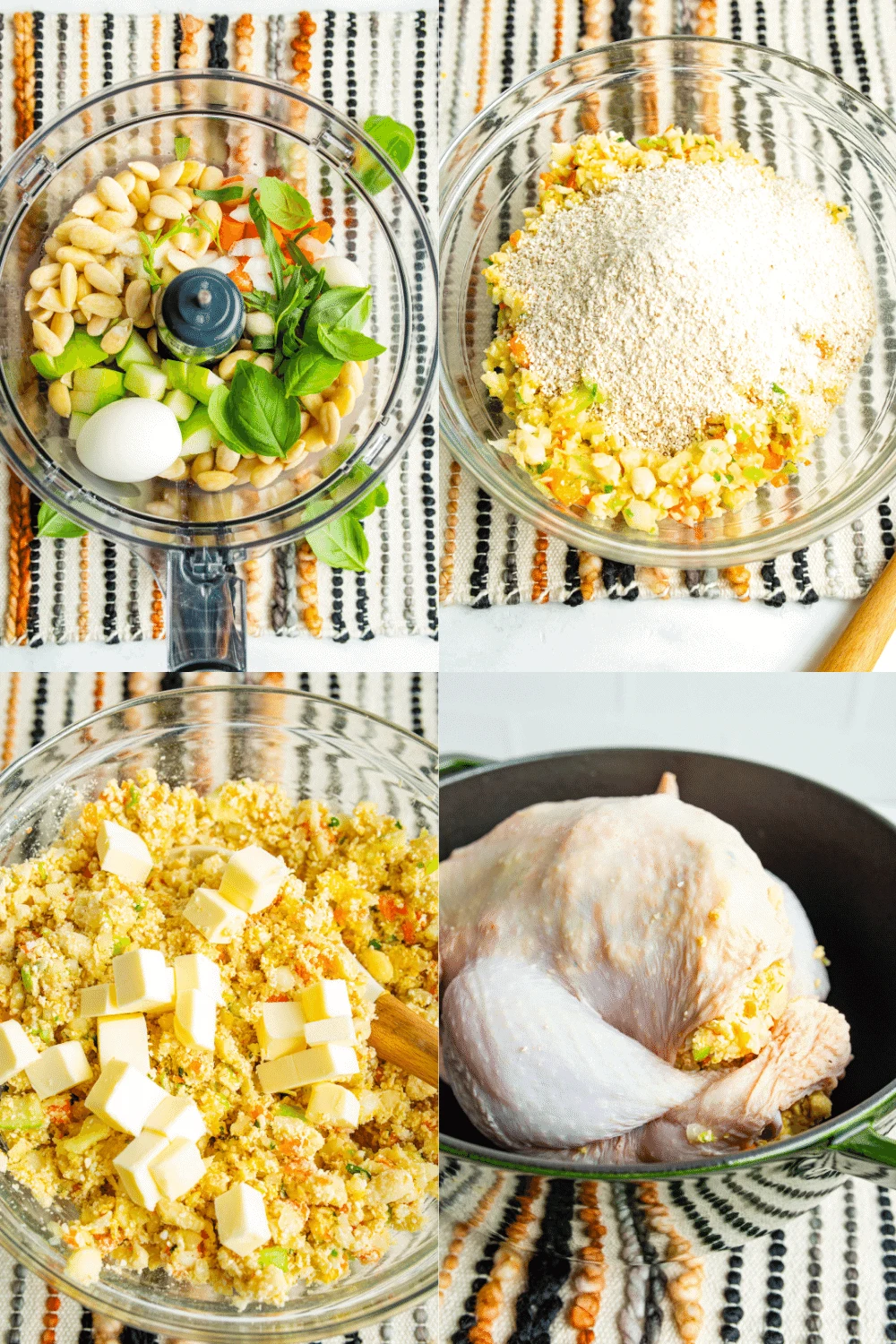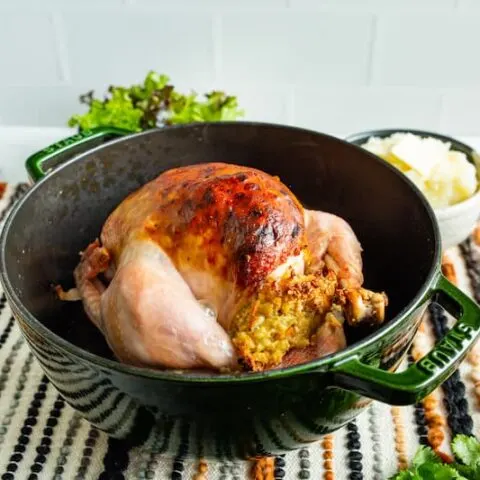 Yield:

4-6 servings
Chicken Stuffed with Almonds and Matzo
Cook Time:
1 hour
15 minutes
Total Time:
1 hour
35 minutes
My take on a roast chicken with almonds and matzo stuffing. A play on Thanksgiving flavors and Moroccan Jewish cuisine.
Ingredients
1 whole chicken
1 cup blanched almonds
1 tsp salt
2 sprigs tarragon
2 garlic cloves
1 medium onion
2 carrots
1 granny smith apple
1 hard boiled egg
3-4 springs basil
1 1/2 cups ground matzo
1/2 stick butter
1 egg
3/4 c chicken broth
Instructions
Preheat oven to 375F
Wash and clean the chicken very well, taking extra care to clean out the cavity. Do not remove the skin!
Recipe Matzoh stuffing
Peel the carrots, garlic, onion, and apple, and egg and roughly chop all of them.
In a food processor add all of the above plus the almonds, tarragon, salt and basil and pulse until broken down. You can blend them until they are completely broken apart or leave in larger chunks.
Pour the ground matzo into a large bowl.
Combine the mixture from the food processor to the matzo and stir to incorporate.
Break the egg and mix it into the stuffing.
Cut the 1/2 stick of butter into small cubes and gently mix with the stuffing.
To Stuff the Chicken
Place the chicken into a roasting pan. If you don't have a roasting pan, I found that using a large oven proof pot works just as well.
Gently separate the skin of the chicken from the flesh.
Begin stuffing by adding a layer of stuffing between the skin and flesh. Smooth out as much as possible.
Do this in as many places as possible.
Add the remaining stuffing to the interior cavity of the chicken.
Pour the 3/4 cup of chicken broth into the pot/pan.
Slide the pot/pan into the preheated oven and bake for 60-90 minutes. The baking time is going to depend on how large your chicken is. You want the juice to run clear and for there to be no pinkness in the meat.
The outside of the skin should be brown and crisp and the interior juicy.
Serve hot with a side salad and/or potatoes.