Stuffing is one of my favorite foods and THE item I look forward to at Thanksgiving. It's one reason I really like to play with the recipe to make new things, and is how this matzo stuffing recipe was born.
I love the combinations in this apple almond stuffing. When it was combined with the matzo it just took on a taste and texture that was different than traditional stuffings. It also uses tarragon and basil, to complement the flavors.
What can I do if I don't have matzoh meal on hand?
That's ok. This stuffing really does taste great using matzo however if you don't have any, or you don't have enough you can use saltine crackers (or really any cracker that you like). I would use a plain or salted version instead of flavored or it might compete with the other flavors in this stuffing.
How can I serve this matzo stuffing?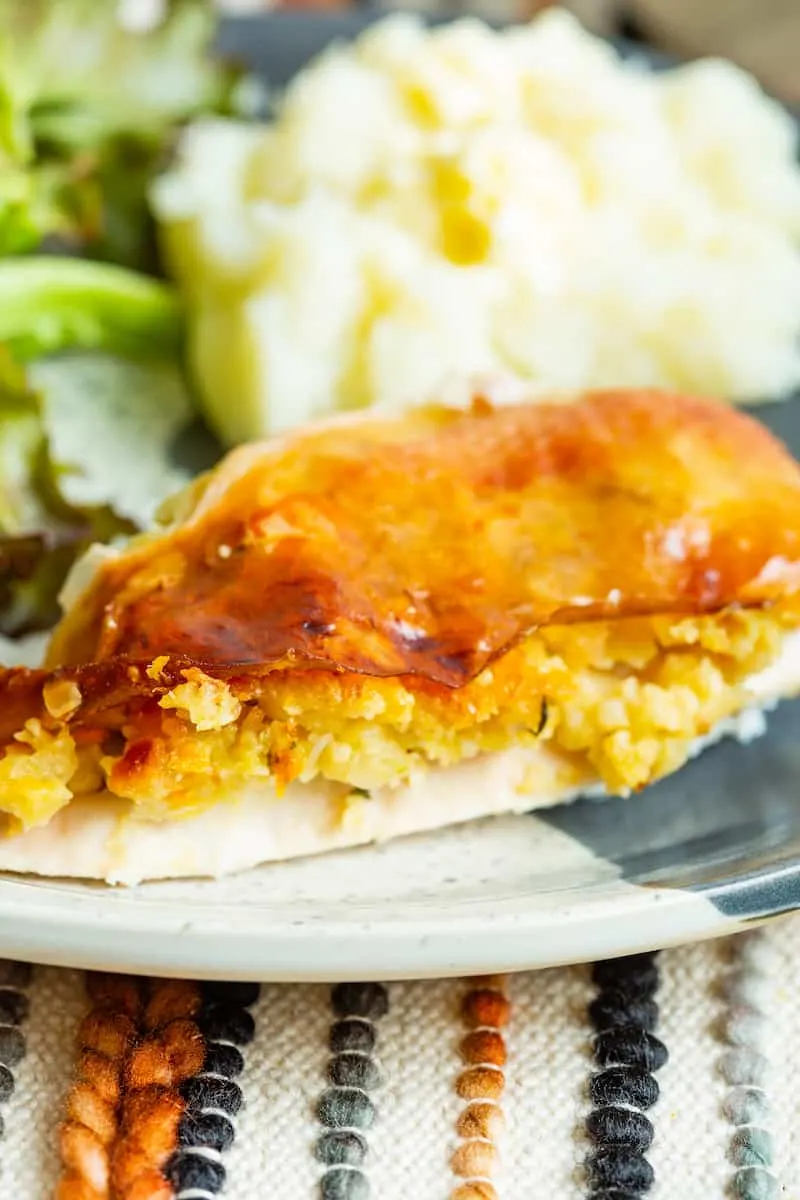 There are quite a few options for how it can be served. Make it and stuff it in a chicken or turkey for a Jewish inspired Thanksgiving dinner. It also could be a good side dish to just about any meat dish. I think with a simple gravy to accompany it would be tasty!
Moroccan Stuffed Chicken with Matzo Stuffing
How to make this simple Matzo Stuffing with Almonds and Apples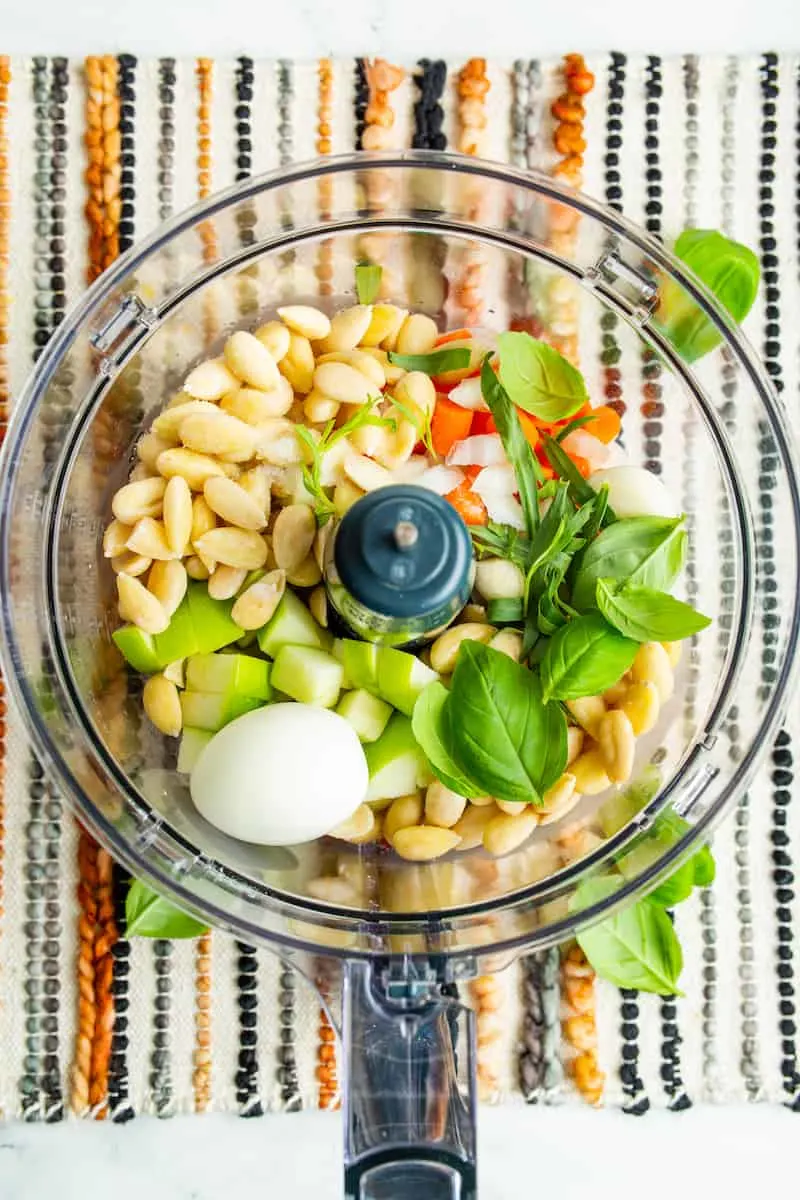 The food processor is your best friend to make your stuffing. To start you need to just clean and pop everything into the processor!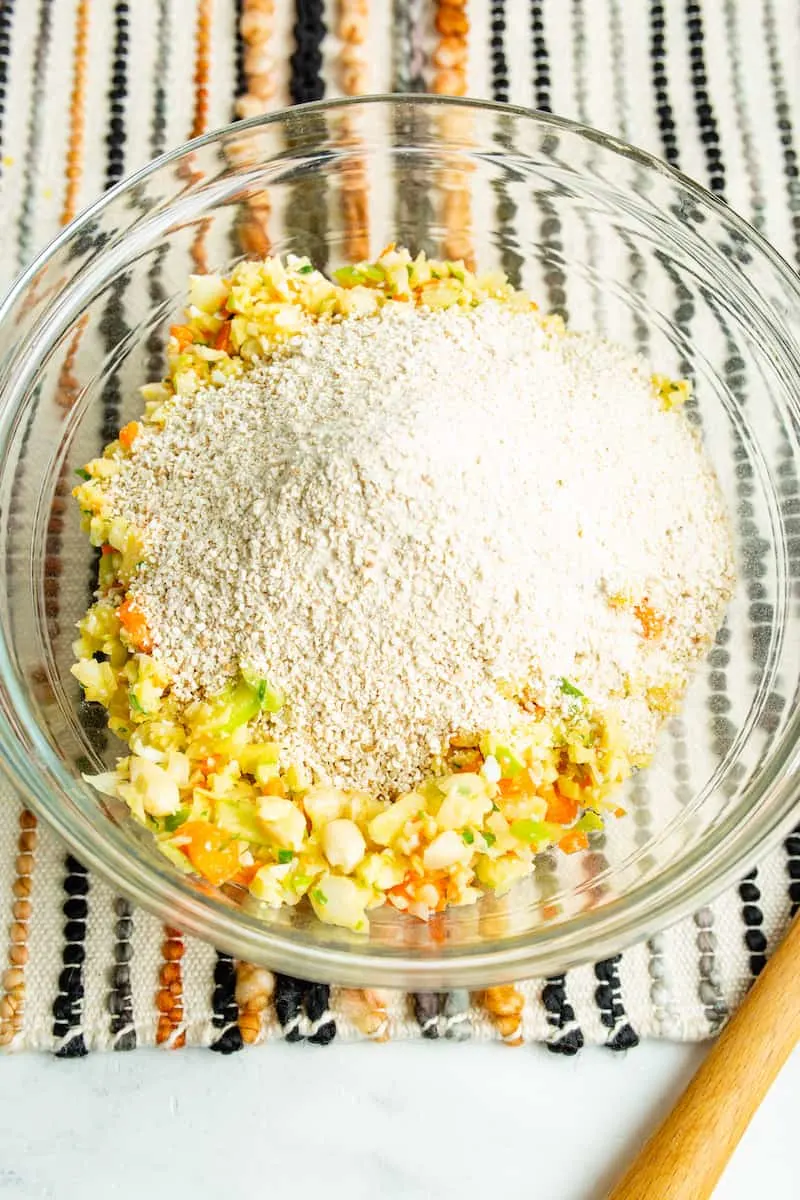 Next it's mixing in the matzo meal. If you don't have already blended matzo meal you can mix this in your food processor first. Simply use whole pieces of matzo and blend until you make a flour blend. Of course you can leave the pieces as large as you'd like for the stuffing.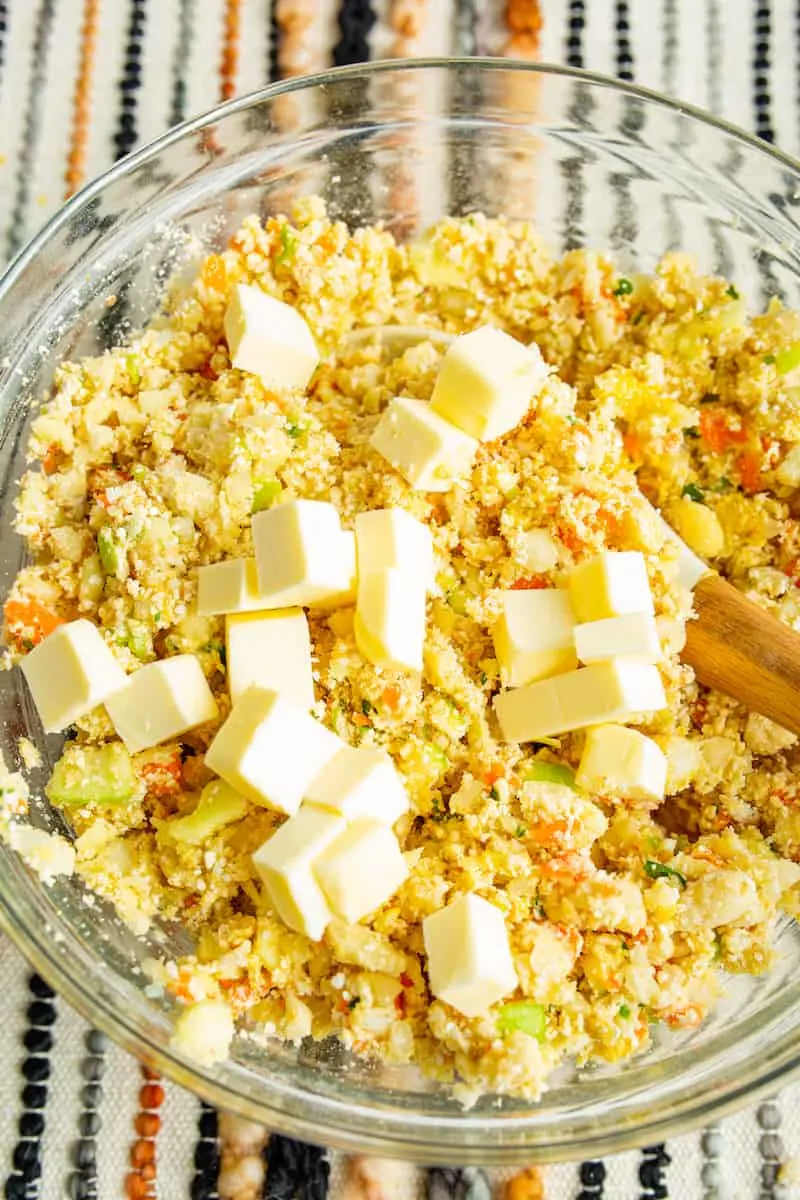 I used butter to keep the stuffing moist but you could also use olive oil, vegetable or chicken broth if you want to keep it a little lighter.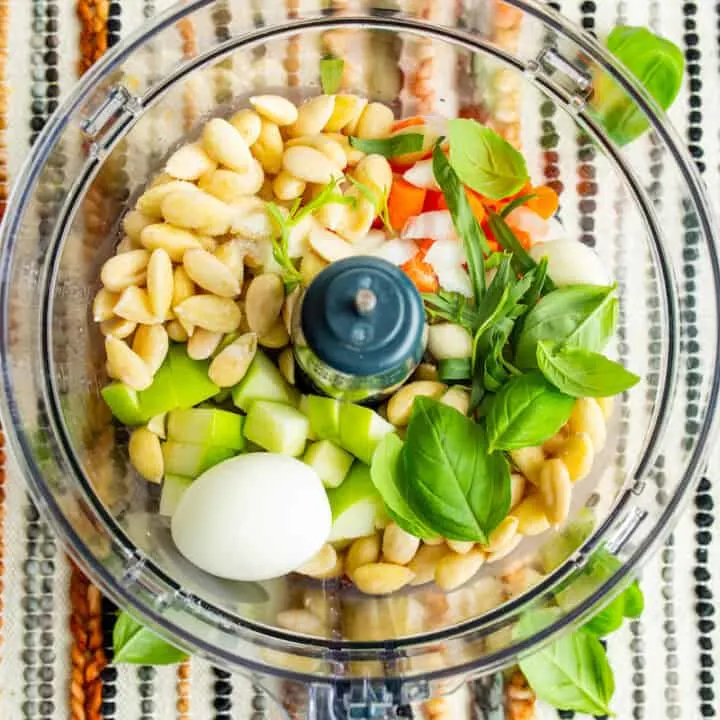 Yield:

4 servings
Matzo Stuffing Recipe
A simple stuffing recipe with fresh flavors that is perfect for chicken, fish or turkey.
Ingredients
1 cup blanched almonds
1 tsp salt
2 sprigs tarragon
2 garlic cloves
1 medium onion
2 carrots
1 granny smith apple
1 hard boiled egg
3-4 springs basil
1 1/2 cups ground matzo
1/2 stick butter
1 egg
Instructions
Peel the carrots, garlic, onion, and apple, and egg and roughly chop them.
In a food processor add all of the above plus the almonds, tarragon, salt and basil and pulse until broken down.
It is up to you how you would like your stuffing. It can be a fine stuffing, where you pulse until nearly a paste or you can leave in larger chunks. I suggest puling for 20-30 seconds and checking the consistency and then repeating.
Pour the ground matzo into a large bowl.
Combine the mixture from the food processor to the matzo and stir to incorporate.
Break the egg and mix it into the stuffing.
Cut the 1/2 stick of butter into small cubes and gently mix with the stuffing.
It can now be stuffed into a chicken, turkey or fish as desired.
To bake alone:
Add stuffing to a baking dish. Cook covered with aluminum foil for approximately 30 minutes at 375F. Use a fork to break up the stuffing and turn a bit so the underside and middle get mixed up and then leave uncovered for 10 minutes to brown the top.
Notes
To make this kosher (if stuffing into a chicken or turkey) you could omit the butter and use 1/4-1/2 cup olive oil instead.