Growing up in the Midwest, I was raised on stick to your ribs comfort food. This was certainly one of those dishes that I'd qualify as that! Stuffed peppers are so easy to make and I've found that kids of almost all ages enjoy them. Even better if you can get them to help you.
While you will find in other parts of the Middle East a lot of stuffed vegetables it really isn't very common in Morocco. So these really don't have any connection to Moroccan recipes, they are purely a memory of childhood for me.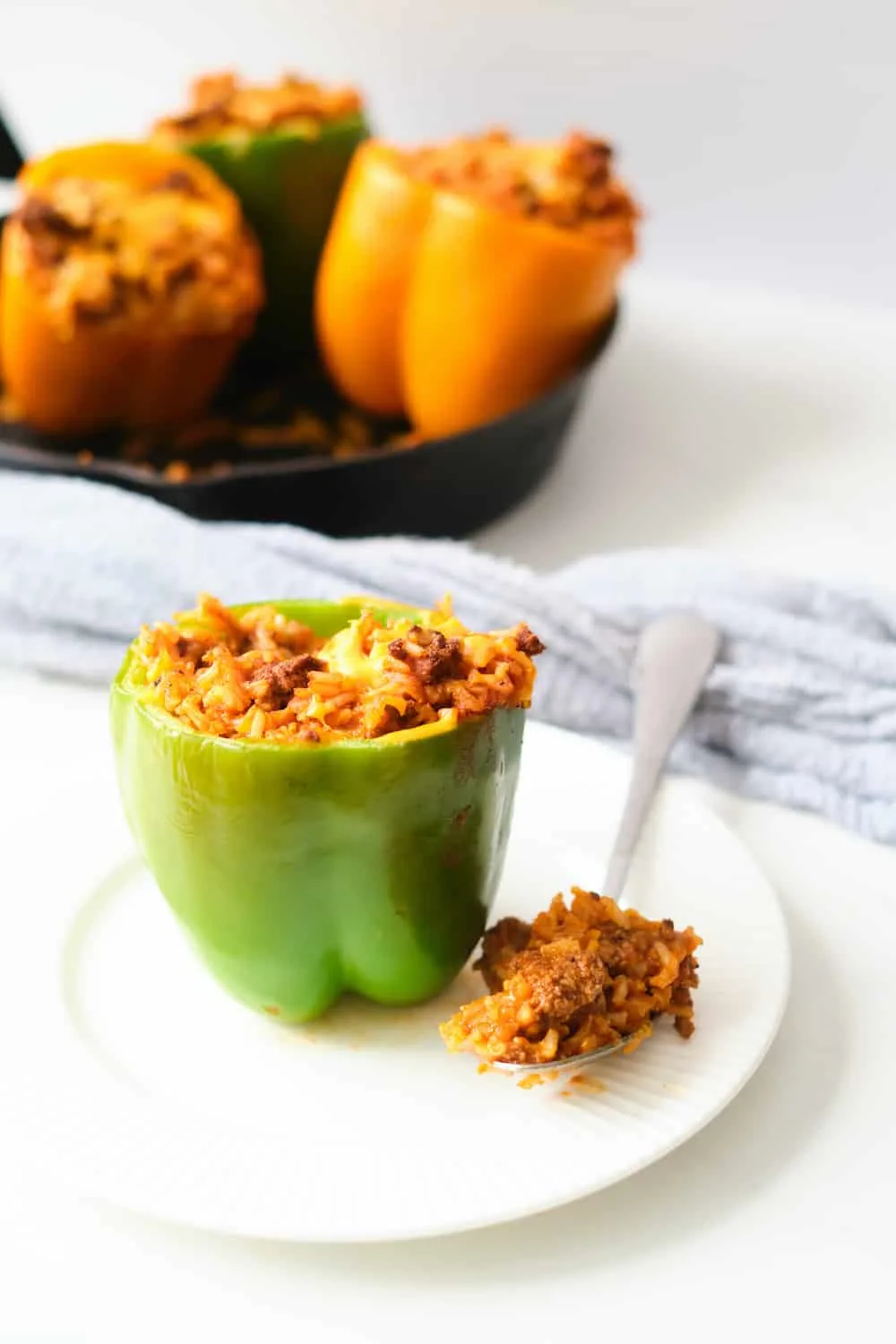 What else can you use to stuff these peppers?
In this recipe I used ground beef and brown rice but you don't need to!
You could use ground turkey or ground chicken,
mix in some more spicy peppers or even a jar of salsa.
Use white rice instead of brown rice.
Use barley instead of rice.
Dice up other vegetables to cook with the ground beef – like carrots or peas.
I think you'll enjoy this fast and easy recipe too. I think it's a great dish to warm you up, even on a cool spring night (if you're so lucky!).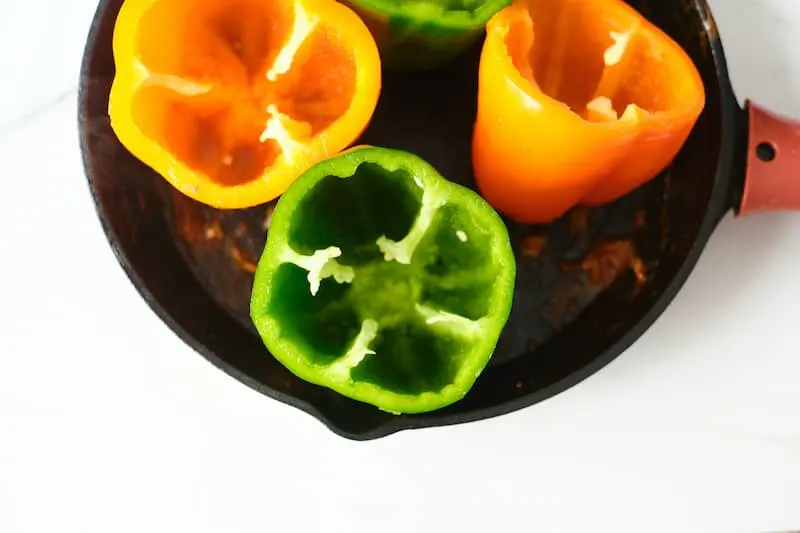 What do you serve with stuffed peppers?
The great thing about these is you really have most of the food groups combined in one. But if you want to add a little more volume to your meal I have served mine with green beans or a side salad to balance out the meat. I also tend to serve tomato sauce (just a simple marinara) on the side as I tend to like mine with a little more liquid.
A light soup like this Moroccan shrimp soup could also be really tasty.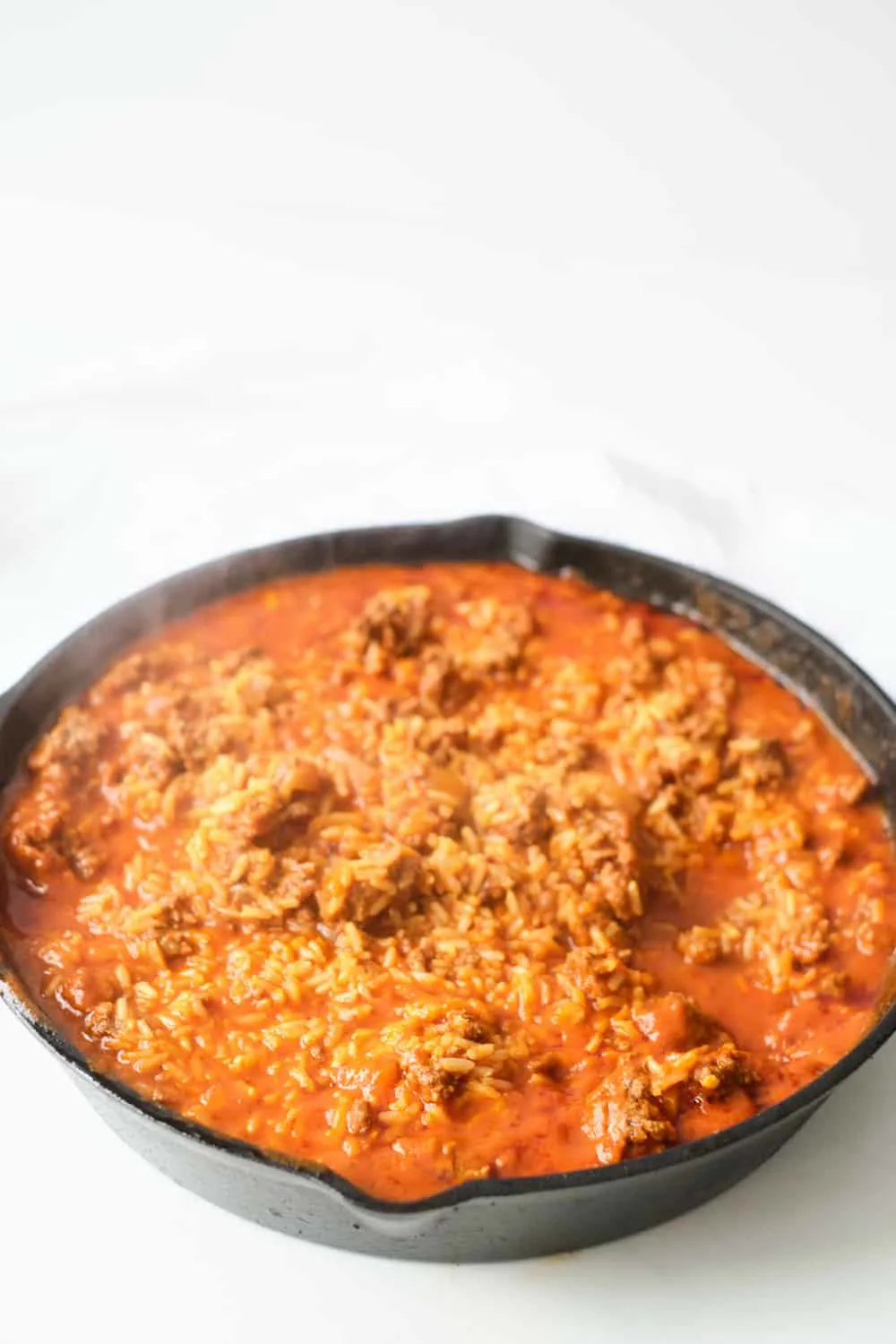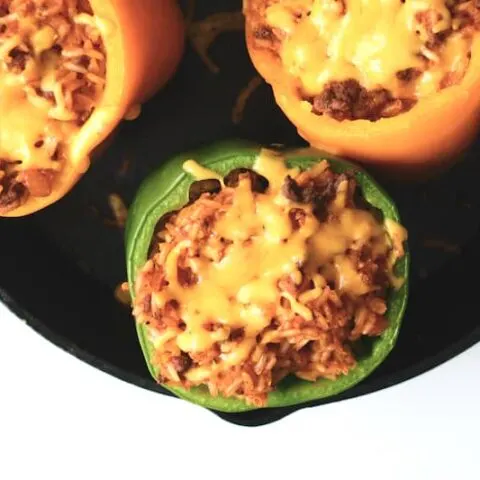 Yield:

4 peppers
The Easiest Stuffed Pepper Recipe
Ingredients
1 lb ground beef
12 oz crushed tomatoes or tomato sauce
12 oz water
3 tbsp crushed garlic
1/2 onion finely chopped
chopped jalapenos (optional- add based on your comfort level)
salt and pepper to taste
2 tsp cumin
4 bell peppers (you pick the color) seeded and cored
2 c brown rice
shredded cheese (optional - I used cheddar)
Instructions
Add ground beef to an oven-proof skillet and brown. If you're using a low fat content meat you may want to add a little olive oil to the pan after cooking the meat.
Once browned, remove from pan, leaving drippings behind.
Add onions and garlic and cook on low-medium high until translucent.
Add the meat back in and mix.
Pour in the tomato and water as well as mixing in the remaining spices. Add the rice.
Turn up the heat slightly and cover. Cook until rice is just tender.
You should still have some liquid remaining in the pot.
If not add a little more water to loosen up the mixture.
Spoon the mixture into your pepper shells. I still had some of the meat mixture left in the pan so I nestled my peppers into the remaining juice to cook a little while longer and melt some cheese on top.
Place a sheet of aluminum foil over the peppers and slide into the oven for about 10 minutes to melt the cheese and thicken up the sauce.