Everyone has heard about the typical famous Spanish dishes like paella, tapas and churros, but if you know anything about Catalonia, it is that they are very proud of their unique culture. So, of course, the people of Catalan also boast their own great cuisines. Although Catalonia is not technically its own country, this region is entirely different from the rest of Spain and deserves a lot of recognition for its unique culture!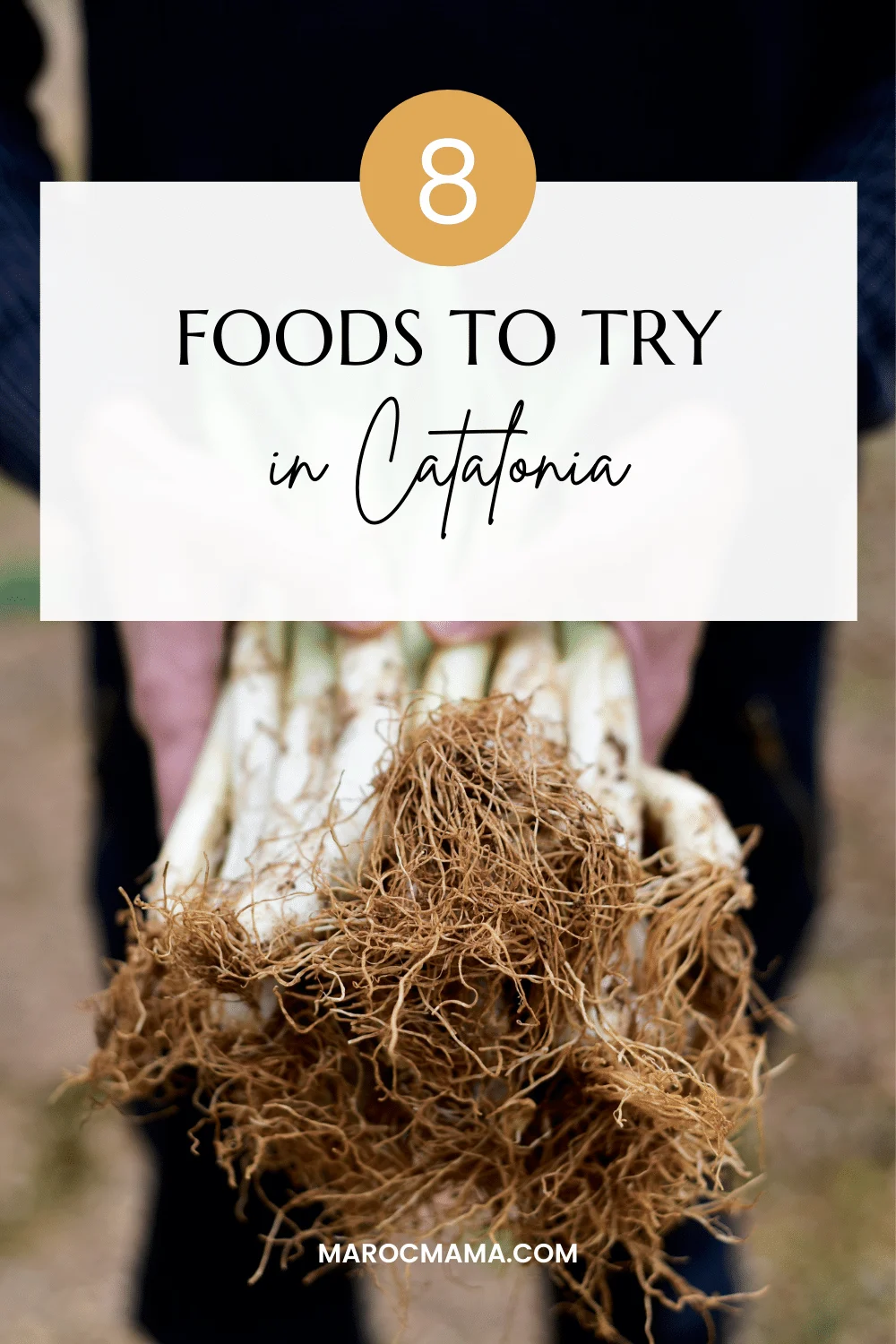 If you are traveling to Spain, you will likely find yourself in the capital of Catalonia, Barcelona. While it's highly recommended that you also take time to visit some of the other towns in this incredible area, even if you are just visiting Barcelona, here are eight Catalan dishes you absolutely must try before leaving!
1. Pan con Tomate (Pà amb Tomàquet)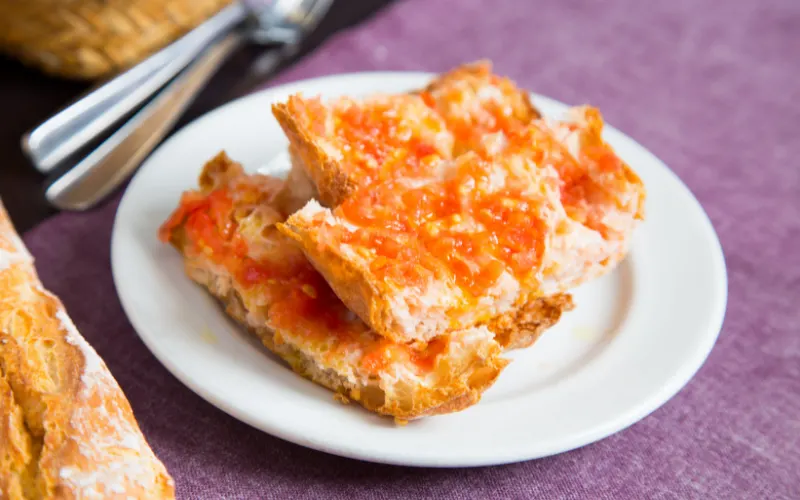 While it might easily be confused with other tomato and bead combinations such as bruschetta, Pan con Tomate has taken the art form to new heights. Starting from the 4 ingredients, Catalan people take pride in using very specific foods to achieve the Pan con Tomate perfection that they are so proud of.
Only the best Coca bread will be used as the base, which is then covered in some premium olive oil. Next comes the stand-out step, perfectly soft, red tomatoes are rubbed onto the bread (rather than sliced or spread) before a sprinkling of salt tops off the masterpiece. It's sometimes debated whether the oil should come first or last and whether or not garlic should be added, but however, eating this incredible dish will change your ideas about bread with tomatoes for good!
2. Calcots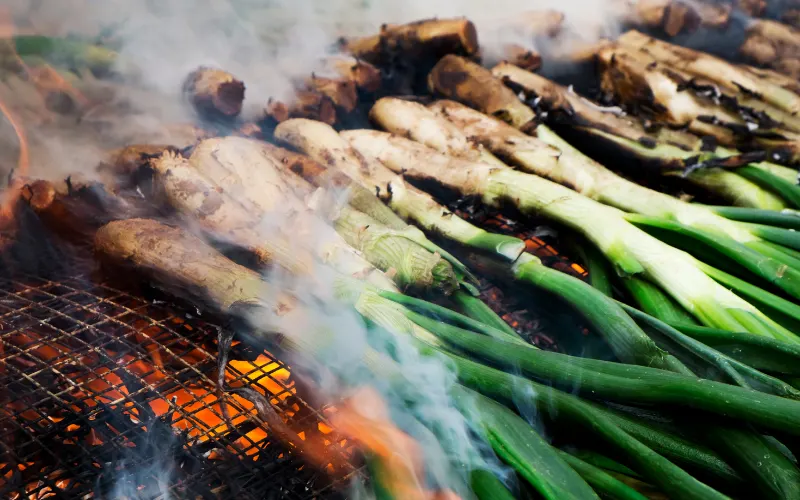 Calçots is more than just a delicious dish, eating Calcots is an event! This seasonal specialty is best enjoyed straight from farm side Masías (large estate-like buildings found in rural Cataluña) and is a great day trip from Barcelona, just make sure not to wear your best clothes. 😉
Calcots are a type of green onion enjoyed in February and March to signal the start of spring! They have extra-large stalks and a sweeter flavor than common onions that you may have tried before and are best eaten outdoors, where you can embrace the messy side of this traditional dish.
Calcots are typically grilled until charged over a fire made from grapevines. Next, they are wrapped in newspaper to preserve the flavors and textures of this unique vegetable as they cool down. To eat them, you must hold them but the top end (watch out for the charcoal-covered fingers), peel off the outer layer, dip in a nutty, red, garlic sauce and get it to your mouth as quickly as possible! Don't worry, you will be provided with a bib (and sometimes gloves), but expect to have red stains all down your front after a calçotada event.
3. Caldo de Nadal amb Pilota
Caldo de Nadal amb Pilota is exactly how it sounds, "warm broth with balls enjoyed at Christmas." This dish is traditionally the first dish of a Catalan Christmas lunch but is a great way to warm up anytime during the winter months. The soup is made in a wide variety of ways but usually consists of a mix of vegetables in a tasty broth accompanied by pasta and meatballs.
4. Canelons de Nadal
This one actually didn't originate in Catalan or Spain at all, but of course, the Catalans have put their own spin on it, and it's now definitely something you should try!
At first glance, you may mistake it for normal cannelloni, but this variety is stuffed with roast meat instead of minced meat or spinach. Both cannelloni and canelons are then covered in bechamel sauce and cheese. Catalan Canelons are typically served the day after Christmas to use up the leftovers and traditionally must be meat and homemade. Canelons can, however, still be enjoyed all year round.
5. Botifarra amb Mongetes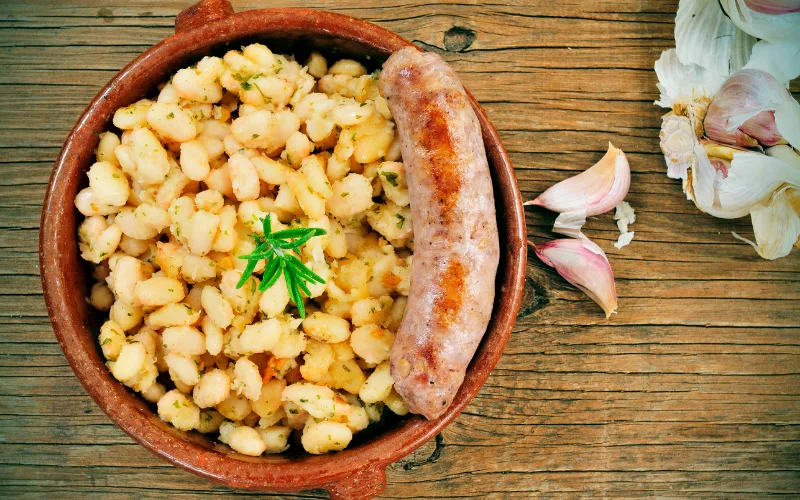 This simple dish can be most closely compared to typical British comfort food 'bangers and mash' in both appearance and ease. In this typical Catalan dish, a sausage (botifarra) is combined with white beans (mongetes) as opposed to the potato mash in its British counterpart. It's hard to say which came first and whether either dish inspired the other, but rather it's a nice way to recognize that enjoying simple comfort food is shared between the cultures.
In the Catalan dish, the sausages can be anything from a basic pork sausage to a more decadent variation with additions such as blood, liver, garlic, or spices. Both the sausage and beans are fried in butter and oil before being garnished with garlic and parsley. Probably not the most healthy dish you can try but something sure to warm your soul as well as your stomach.
6. Crema Catalana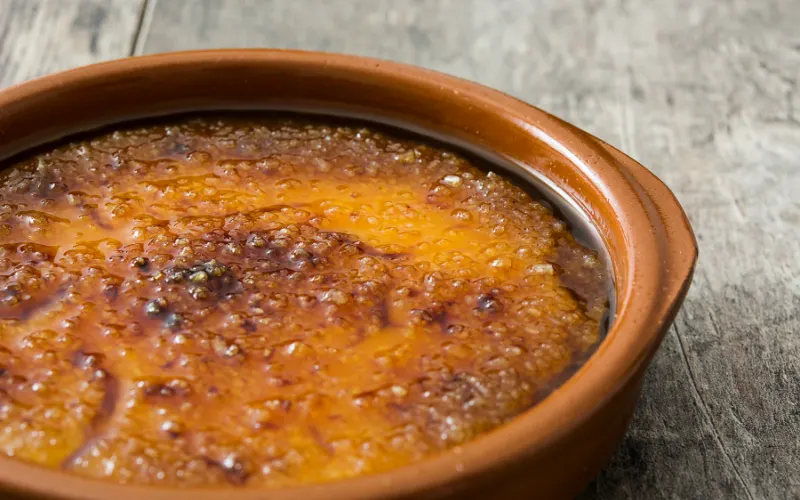 At first glance, Crema Catalana is easily confused with the french dessert Creme Brulee. While it is almost identical in appearance, it's the subtle differences that make crema Catalana unique and something you should definitely try during your time in Spain!
Crema Catalan is made with fine corn flour and milk as opposed to the heavy cream used in the French variety. Another difference is the way that Crema Catalana is flavored with lemon zest and cinnamon as opposed to vanilla, giving it a different flavor. Interestingly, the first recorded mention of Crema Catalana was actually in the 17th century, which was before the French recipe was published. You will have to try it for yourself to decide which is better!
7. Bombas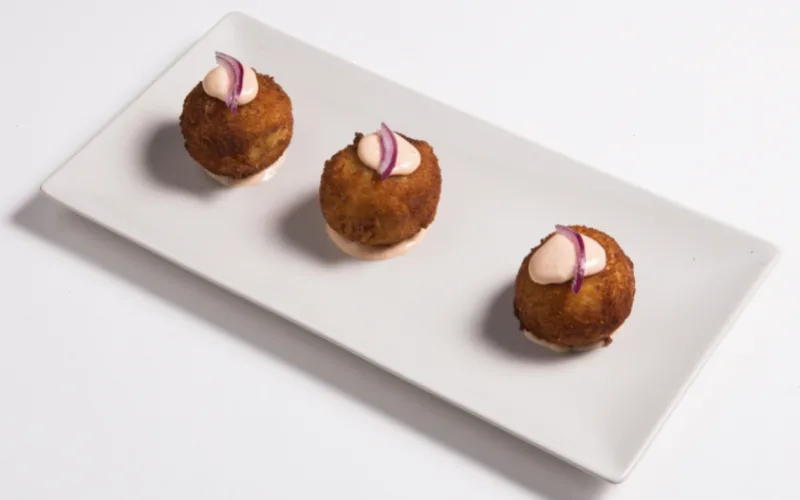 As opposed to many other dishes on this list originating from the Catalan countryside, Bombas is said to have been created in Barcelona! This yummy tapas is a meat and potato bomb that is breaded and fried then served with a spicy sauce. If that hasn't gotten your mouth watering, I don't know what will. Who doesn't love a fried ball of potato goodness?
Bombas is one of the most popular tapas dishes throughout Spain, but what's better than trying it in its place of origin. Nearly every tapas bar and restaurant in Barcelona serves this delicious dish but if you are looking for the best places, try to avoid the touristy restaurants in the blocks surrounding the Sagrada Familia.
8. Coca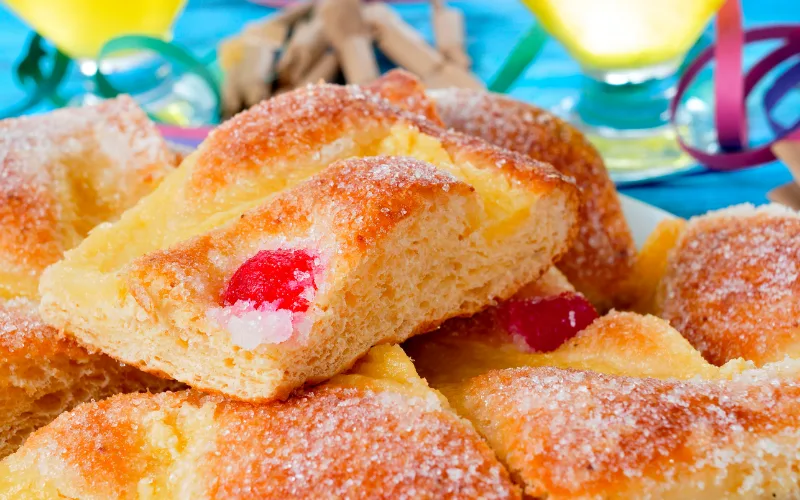 Coca is a delicious pastry that comes in a number of different forms. Sweet, savory, open, or closed, Coca is the perfect afternoon snack while exploring the country. All the varieties have one thing in common, they consist of a dough pastry (somewhere between bread and pastry), covered in a plethora of toppings. This means you will never run out of Cocas to try!
Coca is probably most closely compared to Catalonia's version of pizza and can be made up to a meter in length! Sometimes, you might even be able to combine two of the foods on this list if you find a Crema Catalana Coca.
So there you have it, 8 must-try dishes during your time in Catalan. Although a lot of this list may look similar to other countries' specialties, Catalans are sure to have put their own spin on it, and it is something not to miss!
So whether you're staying in Barcelona for a day or travelling the whole region for a matter of months, be sure to try as many of these Catalan dishes as you can, you might just discover a new favourite food!
Read More About This Region of Spain
How to Have A Foodie Weekend in Barcelona
What to do on a layover in Barcelona, Spain
This is a guest post from Yulia of Miss Tourist an adventure blog with destinations from around the world.