Yawning our way through an early morning wake up, MarocBaba and I set out with the boys on a Saturday morning in Barcelona. They had touched down less than twelve hours before our tour and I wasn't sure if our timing for this food adventure would work out. The kids were ready to take on the day, excited to be in a new city. I only hoped the incessant questions of, "so can we go see the stadium now?" would be at a minimum. (That's the FC Barcelona football/soccer stadium in case you weren't sure!)
We stayed in an AirBnB apartment in the Born neighborhood of Barcelona and while we could walk to the starting point of the Devour Barcelona tour on Passeig de Gracia, a taxi was under 10 euro and much easier to manage knowing we had four hours of walking and eating ahead of us. Food tour adventure here we come!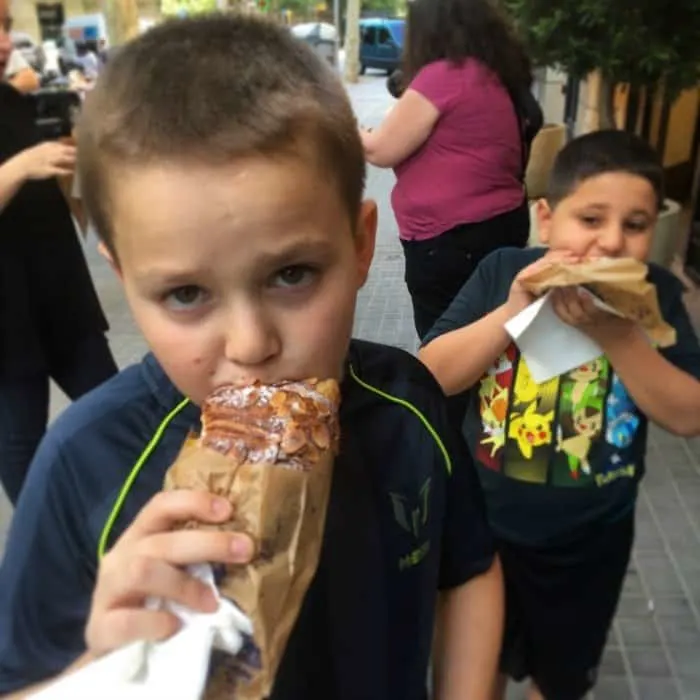 The kids knew exactly what they were in for, they know what mom and dad do in Marrakech, but this time they were on the participant side. We met up with the group at the easy-to-find location and set out. Our first stop was one of the favorites – croissants! I'm not ashamed to say it was also one of my favorites. I only wished I had brought a mug of coffee along, though that would have been quite the faux pas in Spain.
A journey of about fifteen minutes brought us to one of the mercados scattered around Barcelona, and commonplace in other cities as well. We tasted some olives and pickled vegetables in one stall as well as local cheeses in another. I love markets for the glimpse they give into local cultures. I highly recommend seeking them out wherever you go. If you're observant, you'll learn a lot just by watching how people shop and what they eat. While there are supermarkets to be found, it seems many people did their regular shopping in these markets. A range of products was readily available and comparable in price to grocery markets.
We liked the mixture of food stops with big things and stops with smaller bites. I think the boys may have surprised the guide when they were head over heels at the olive oil store. We tried three different varieties and while most of the other participants liked the lighter tasting oils our kids preferred the deeper flavored oil which is much like Moroccan olive oil. K asked for extra bread and his own splash of oil to eat. Spaniards love olive oil as much (or maybe more than Moroccans) no complaints from our crew!
A few stops later found us eating bombas, a tapas unique to Barcelona. These were our favorite thing on the tour. If we would have had more time in the city we certainly would have come back for a visit. We also had a lesson in creating pan con tomate, the famous Catalan bread with tomatoes and olive oil. Another kid favorite. Truthfully my children are not so picky, they will try almost everything but that doesn't mean they enjoy it. Of all the foods we sampled they liked about ¾ of them.
It's true the people of Barcelona are proud of their heritage and food, but they also have space for immigrants. One familiar stop (for us at least) was at a Syrian bakery. The owner has been in Barcelona for over 30 years and has a counter full of Middle Eastern deserts. The hardest part here was just choosing which treat we wanted. We grabbed a few extra (at our own expense) to take with for the road. I only wish he would have had konafa available that day!

We later stopped for fideous, the Catalan version of paella but due to the seafood component, they weren't sold. Personally, I enjoy it topped with lots of garlic aioli. I opted to also try a spinach and raisin dish topped with chickpeas. You will see shops across the city selling cooked beans. It seems really odd, but makes great sense.
In many places where the population was at one time (or still is) impoverished beans provide a staple source of protein and sustenance. It's cheap and will fill you up. When women went to work in Spain they still had to take on the role of homemaker. It was during this time that the bean shops popped up. Catalan cuisine features lots of beans, so why not buy the dried beans already prepared instead of relying on heavily salted canned beans.
Our final stop was in a café for drinks and a special crème catalan dessert. They're only made in this one shop and they were delicious. It was a good way to end the tour. We didn't end at the same place we started however it wasn't too difficult to find a taxi or bus to continue on for the rest of the day of exploring.
Having worked now in food and tourism for a while a trend that I've picked up on is that many people who end up in the field at other jobs during a different part of their lives. We heard this was the case more than once during our food tour in Barcelona. Whether out of boredom or necessity (economic) they've reinvented themselves. Is this good? I think so. All of the skills and experiences from a previous career carry over to create a customer experience that goes beyond. Of course, this is not always the case but it does seem to occur more and more often.
The area of Barcelona we visited was not a neighborhood we likely would have gone on our own. It's residential and away from most of the tourist attractions, which is a great place to find good food. There was more than enough food but we didn't feel too overwhelmed – I'm sure the walking helped a lot. I think this is a fun tour to do with children, though would recommend bringing a stroller for younger children.
Our 8 year old was ok but did start complaining towards the end. I think younger children would struggle a bit, especially if doing the tour in warmer months. Depending on any dietary restrictions you have (or don't have) the foods you'll try may vary.
Food tours cost 75€ per person and 55€ for children under 12. You can book on the Devour Barcelona website and check out their other tours in Madrid and Seville! I'm planning to try the Seville tour very soon.
UPDATE: We went to Seville and tried the tour — read all about it in this post!
Disclaimer: We were provided a complimentary tour however all opinions are our own.