Every year my mom comes to Morocco to visit. I always try to plan fun things for us to do during her time here. She knows how much I love Spain and mentioned some time ago that she would like to visit too. Like the good daughter I am, I set to make it happen. Before long, I decided we'd be traveling to Barcelona for her first taste of Spain. While it's not my very favorite city in Spain it is special and I found there was a very special food activity happening this time of year.
For me traveling means culinary travel – eating. This trip was no different. The whole reason I decided on Barcelona was because it would be calçot season (more on those later) and Devour Barcelona was offering a full day experience. One day down! But how did we fill the rest of our time? If you guessed food tours, you would be right! If you need to burn off some of the calories from all your eating adventures than you might also want to check out some of the nearby cycling options in the Costa Brava region!
La Sagrada Familia
Mom had never been to a European cathedral and I wanted to make sure this was one experience she was able to have. I had never been to the Sagrada Familia, at least not the inside so it would be a first for me too. I do like to mix up my eating with a few unique things to see wherever we are so this was a great fit. I HIGHLY recommend seeing this if you're in Barcelona. A few of my tips for this experience;
Visit in winter. Seriously. Traveling to Barcelona in winter is a great idea for a lot of reasons. The last time I was here it was mid-May and there were so many people. There are always a lot of people, but in winter there are a lot fewer.
Additional tower entry. I'm split 50/50 on this. It was very cool to see the city from above and admire the architecture from up high. But, it's a long way down and very tight so if you're claustrophobic or have lower mobility it may be tough.
Take your time. Once you're in the door you really have no time limit. Wander, explore, listen to the audio prompts and really get a feel for the place. It looks a lot bigger on the outside than it is inside but there's a lot to see.
ORDER YOUR TICKETS EARLY! This is a must. All entries are timed and having our tickets in hand was a huge time saver. You can also book special guided tours if you want a more in-depth experience.
Sagrada Familia Afternoon Tour with Optional Towers Access
Calçot Adventure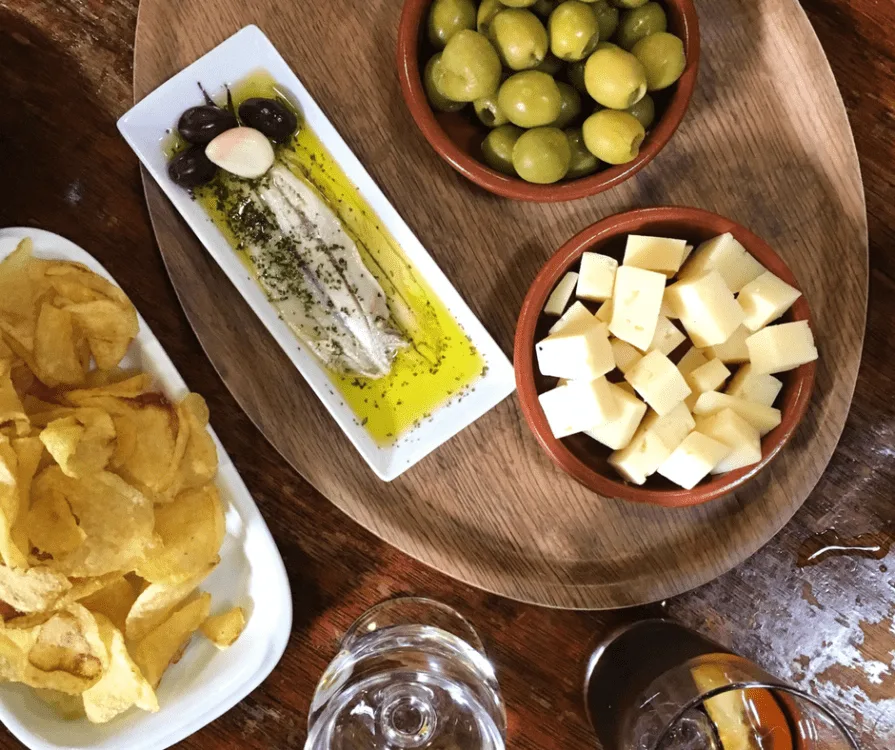 This was the entire reason I booked our trip to Barcelona and it was so worth it! Our day started early when we went outside Barcelona to a small village nearby. We first stopped at this little wine shop/eatery for a few nibbles and to sample local wines and vermout (well mom sampled them!). It was full of locals and more and more filtered in as our stay lingered on. Next we went to a small food market in the village just to see what was on offer. Our third stop was a local winery with amazing views and fantastic hospitality. Then it was the main event….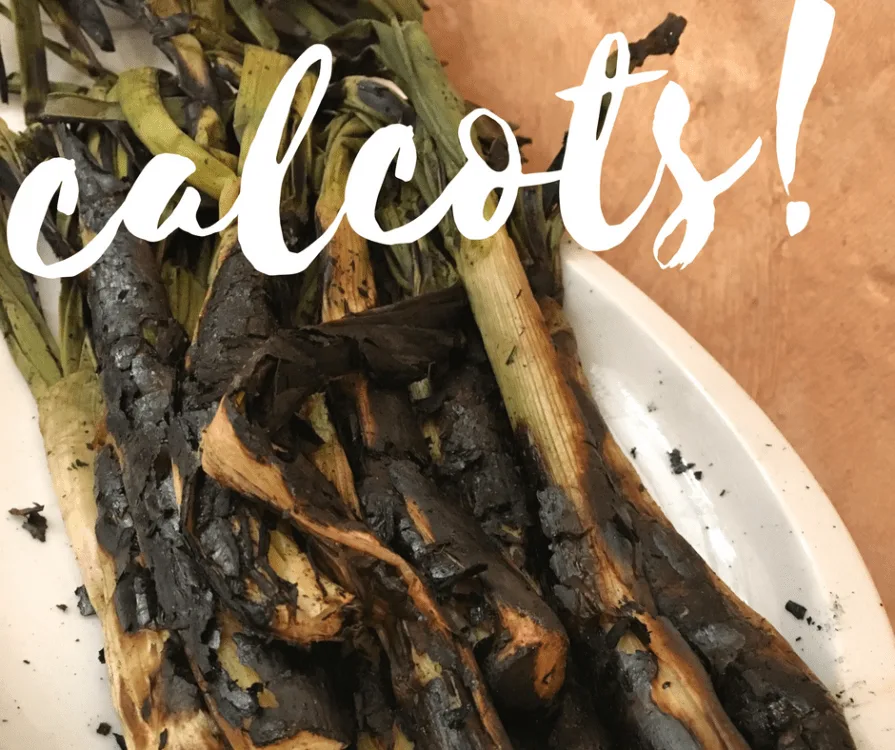 So, what's a calcot and who cares? These are a very special type of onion that are grown in the Catalan region of Spain. They look like spring onions but they're not. They are grown in a special way; as the onion grows more and more dirt is added to the base, elongating the white portion of the onion. When they are ready to harvest (between November and April) they're picked and grilled. Bibs are a good idea, and we were also given gloves if we didn't want our hands to get dirty – we skipped them.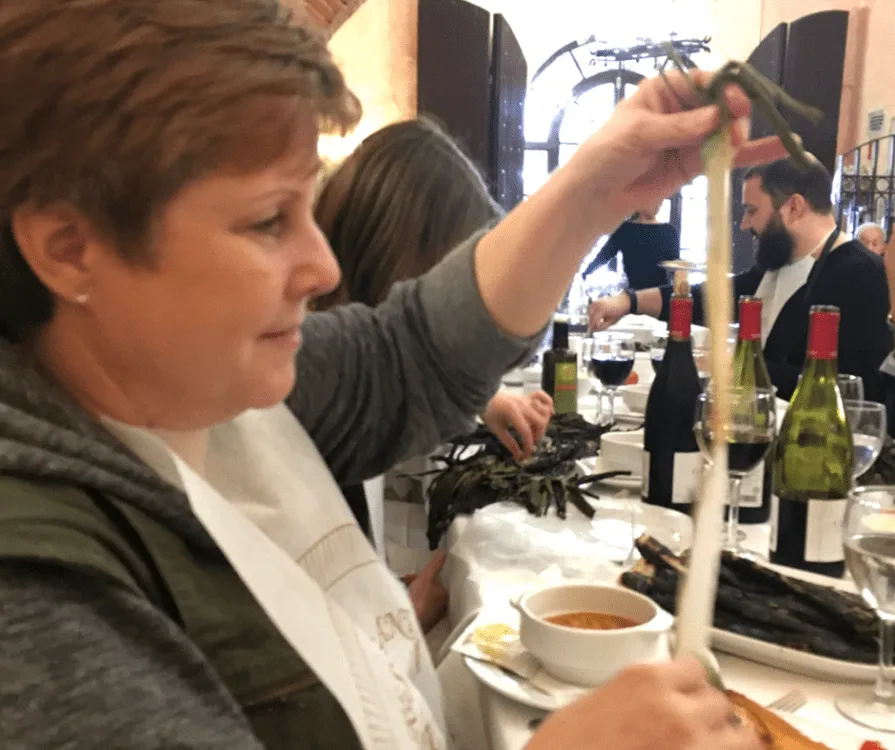 Then you dig in!
The outer, grilled portion of the onion is removed by pulling downward. It comes off very easily. They are then dunked in romanesco sauce. These are typically the first course and everyone at the table got a huge portion. Afterwards grilled meats are served. Things like lamb chops and Catalan sausages are on the menu for course two. Finally dessert of course! It was such a special meal and I'm so glad we not only were able to attend but to share it.
Barcelona Food Tour
We love food tours and I've taken mom on one or two as well. So we totally food toured ourselves out in Barcelona! You can read my full post on our experience with Food Lovers Company in Barcelona to find out more. As I've said before food tours are a great way to experience local food culture without spending all your time hunting down places. Do it!
What Else Did We Love?
There is plenty to do in Barcelona but we barely scratched the surface between our eating and exploring! I have two more recommendations. First, the hotel we stayed at.
This hotel was really centrally located and near the meeting point for our calcot tour. The room was a good size and they had a really nice breakfast buffet that was included with our reservation. Our first day there we ordered room service for a late lunch and it was affordable and super convenient. I was very happy with this choice.
Brunch and Cake
This is a super popular restaurant and we had to wait quite awhile for a table at lunch on a Friday but the food was good. It was all really lovely with lots of gluten free, vegetarian and vegan options. We really wanted cake but after eating lunch we didn't have anymore room so we ordered a slice to go. It was everything I dreamed it would be. Totally worth going if you just want a piece of cake and coffee.
This isn't a thing to do, but a car service I regularly use when I travel. Sometimes time and convenience matters a bit more than cost. We could have taken the airport bus that goes downtown but with limited time in Barcelona I didn't want the hassle. Also when I figured out the price it was only slightly more to go this route for two people. This isn't always the case. For example in New York when I was traveling alone it didn't make sense financially. But, in Berlin when I arrived at 11pm alone it was easy, fast, and safe. I have used them many times and have never had any issues.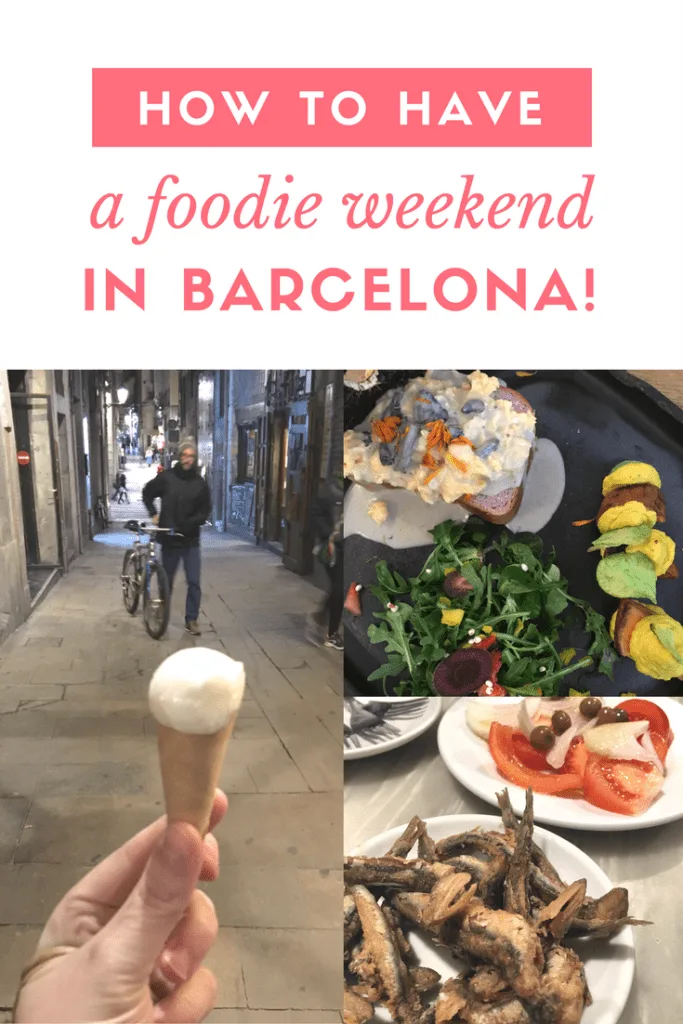 Be a part of the MarocMama family!
Do you want access to all things MarocMama? Join our community of readers to get updates on new posts, inside information that won't go on the blog and so much more!
Sound good? Pop your email below and you're in!