Looking for new buddha bowl ideas? Look no further! I've got a Moroccan inspired bowl ready for you plus a couple different ways you can play with the base recipe to make it your own.
What is a buddha bowl?
You may have heard this term before but have wondered what does it really mean? There are a few definitions but overall it is a vegetarian based bowl made up of multiple components; a protein, some greens, other vegetable combinations, and a delicious dressing.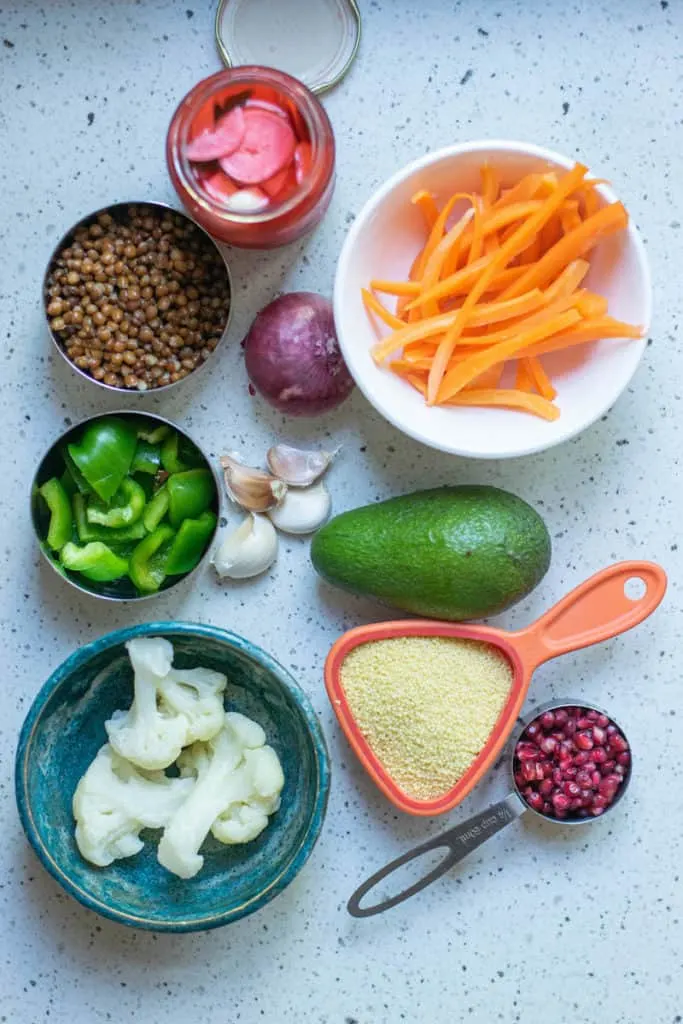 Are buddha bowls hot or cold?
Either! I've had them both ways and I don't think there's really a wrong way to eat them. I've most commonly found them at about room temperature so all of the components don't need to be one way or the other. But I enjoy it better when things are warm – personal preference!
In this buddha bowl I've left off any lettuce greens. You could certainly add something like a baby spinach or even cooked swiss chard. It's just not my favorite things to eat. That's what makes these so great – they're totally customizable to what you want!
Can you make buddha bowls in advance?
Yes! These are an amazing dish to do as a meal prep option. I don't usually combine all the ingredients in mine but make each of the components and store them separately. That way they stay fresh a little longer. I also prefer to cook the grain part fresh – it just doesn't hold up as well in the fridge. This is also a great use of little odds and ends you might have. In the notes of the recipe I shared a couple more Moroccan dishes that would work well in the bowl.
Yield:

4 bowls
Moroccan Inspired Buddha Bowl
Ingredients
COUSCOUS
1/2 cup couscous, uncooked
1 cup / 250 ml hot water
VEGETABLES
1 cup cauliflower
1 medium green bell pepper, diced
4 medium carrots, sliced
1 big onion, peeled and quartered
1 batch charmoula marinade
4 - 8 garlic cloves, peeled
LENTILS
1 cup lentils, drained and washed
2 Tbsp olive oil
1 large tomato
1/2 onion diced
2 garlic cloves
1 tsp cumin
1 tsp ground ginger
1 tsp paprika
1/4 tsp salt
1/4 tsp black pepper
1/4 cup pomegranate seeds
1 avocado, sliced
2 Tbsp olive oil (optional)
salt and pepper to taste
pickled radish
Instructions
1. Pre heat oven on 190C or 375F.
2. Mix together charmoula marinade (find full recipe by clicking)
3. Coat cauliflower, carrots, onion, garlic and bell pepper in charmoula marinade and lay flat in a baking dish. Place in oven for about 30 minutes to roast.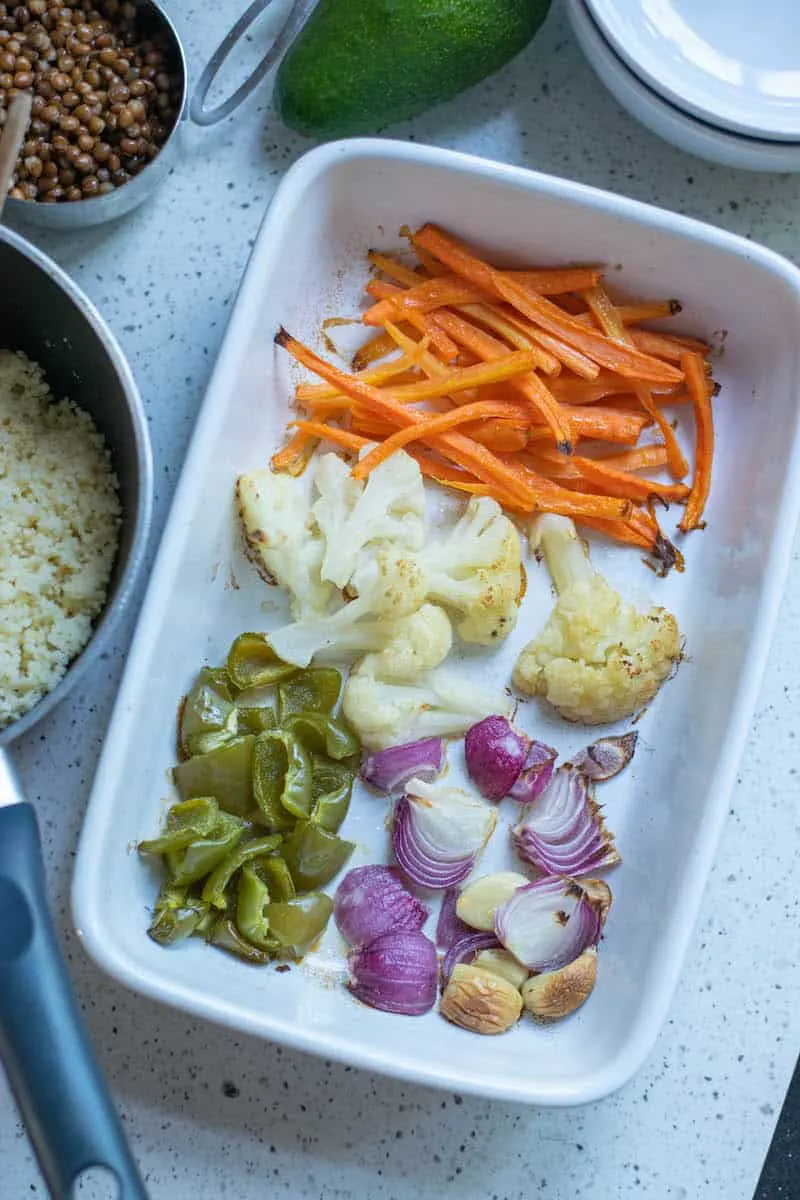 Lentil Recipe Instructions
In a pressure cooker add the olive oil and saute the onions and garlic. Grate the tomato to remove the pulp but discard the skin. Add the lentils and all of the spices as well as 3 cups of water. Cook for 30-40 minutes.
For the stove top repeat the same steps however cook covered on low for 90 minutes, checking lentils and remove when soft. You may need to add additional water as cooking, so check ever 20 minutes or so.
4. In a bowl, pour hot water on couscous while veggies are roasting.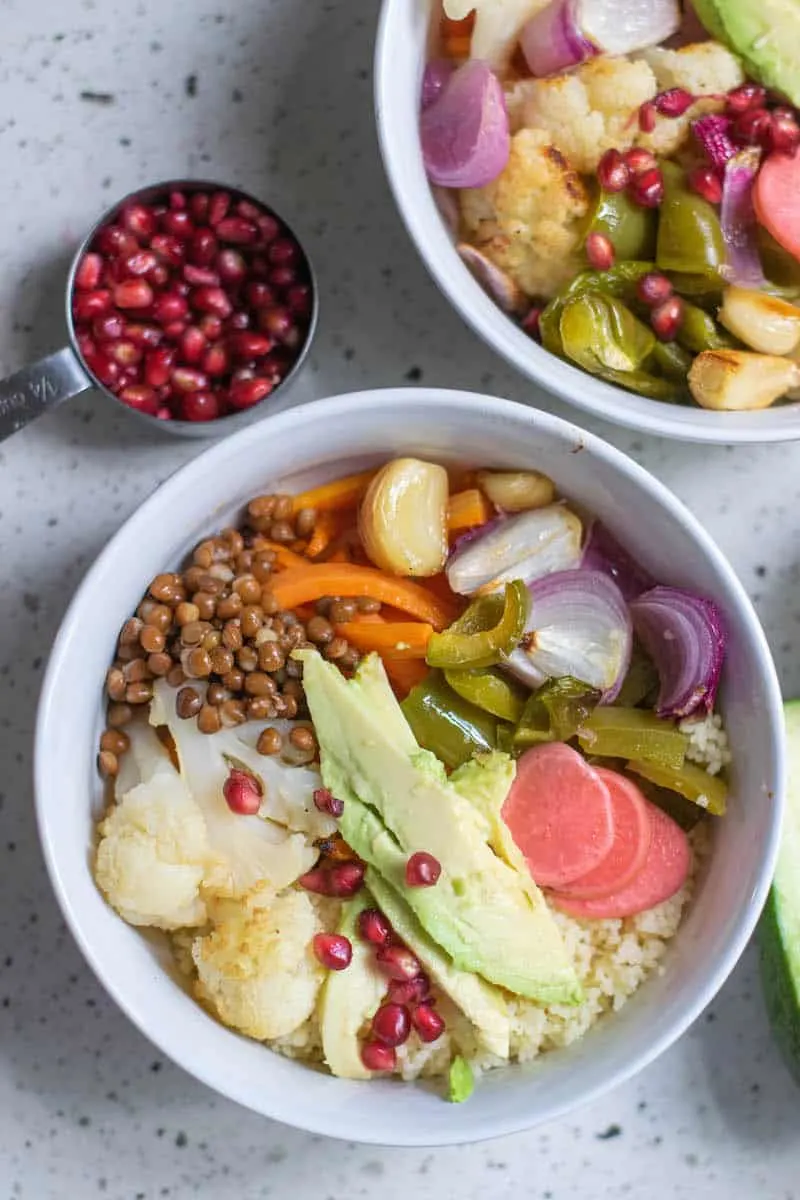 5. When veggies are ready, divide all ingredients; couscous, vegetables, lentils, and pomegranate seeds in 4 portions.
Serve with avocado, pickled radish and a drizzle of extra olive oil if you'd like.