With a range of influences including Berber, Moorish, Arab and Mediterranean, Moroccan food is incredibly diverse. You will find Moroccan food full of flavor, with spices being featured heavily in most dishes.
If you are interested in giving some Moroccan cooking a try, you will love these Moroccan cookery books. I have selected some of the best Moroccan cookbooks from chefs around the world who are renowned for cooking great Moroccan food (and a few added suggestions at the end).
Within these Moroccan cookbook options, you will find some amazing traditional Moroccan food recipes which I know you will just love.
The Food of Morocco – Paula Wolfert
Paula Wolfert was my first teacher when it came to Moroccan food. I poured through her cookbooks and have made so many of her recipes. This cookbook is the last Moroccan cookbook she published. Not only is it full of great recipes but beautiful pictures as well.
American chef, Paula Wolfert, is renowned for her Mediterranean cooking, particularly for cooking Moroccan food. In The Food of Morocco cookbook, Paula shows home cooks to experienced chefs how to cook Moroccan food such as Berber skillet bread, the classic soup – spiced harira, chicken with tangy preserved lemon and olives and steamed sweet and savory breast of lamb stuffed with couscous and dates.
This cookbook contains Moroccan food recipes with pictures to get you inspired to make delicious Moroccan food in your own home. This Moroccan recipe book is the perfect addition to Paula's Couscous and Other Good Food from Morocco.
If you order only one cookbook, consider this one. It will teach you the classic Moroccan recipes and some more unique offerings as well.
Mourad: New Moroccan by Morad Lahlou
Born and raised in Marrakesh, Mourad Lahlou has lived in the USA since he was 20 years of age and now operates a Michelin starred restaurant in San Francisco. In his Moroccan cook book, you will find traditional Moroccan cuisine recipes such as the basteeya (bstila), couscous, preserved lemons, and more but with Lahlou's creative twist. Don't miss the lamb bacon recipe!
The Mourad New Moroccan cookbook features 100 plus recipes, including plenty of images to get you inspired.
Cooking at the Kasbah – Kitty Morse
Moroccan recipe books are filled with Mediterranean cuisines with unique combinations of simple ingredients and spices, and this cookbook by Kitty Morse is no exception.
Kitty grew up in Casablanca and in this book, she brings together some of her favorite Moroccan food as well as details about life in Morocco. Recipes include savory tagine of lamb, preserved lemon, artichoke hearts, sweet and flaky filo, shredded chicken, spiced salads, ground almonds, and cinnamon pastry called b'stila.
Kitty provides easy step-by-step instructions so that cooks of all levels can create these beautiful Moroccan dishes.
Learn more – Cooking at the Kasbah
Casablanca: My Moroccan Food by Nargisse Benkabbou
Casablanca: My Moroccan Food is the first cookbook by Moroccan chef Nargisse Benkabbou which includes both traditional Moroccan cuisine as well as some contemporary dishes.
Traditional and fusion Moroccan dishes include artichoke, baby potato & preserved lemon tagine, sticky ras el hanout & peach short ribs and buttermilk chicken kebabs.
Nargisse also includes more western style dishes with her own unique Moroccan twist such as orange blossom, beetroot & goats' cheese galette, roasted almond & rainbow couscous stuffed poussin and Moroccan mint tea infused chocolate pots.
From starters to desserts and everything in between, this cookbook is full of simple yet delicious Moroccan recipes.
My Moroccan Kitchen – by ME!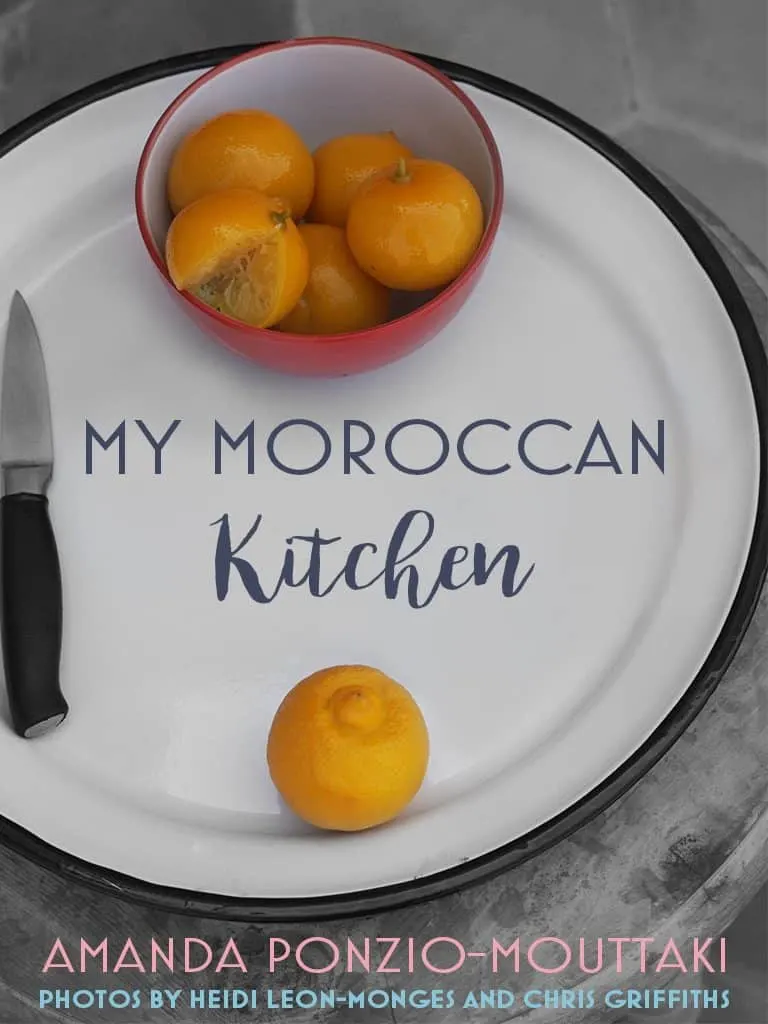 Yes, this is my cookbook! It's a digital cookbook and includes 30+ Moroccan recipes, many of which have been converted for those suffering with allergies like celiac disease. There's really something for everyone in this book. It is a digital book that can be read on any device or download the PDF to print.
Moroccan Cookbook for Preschoolers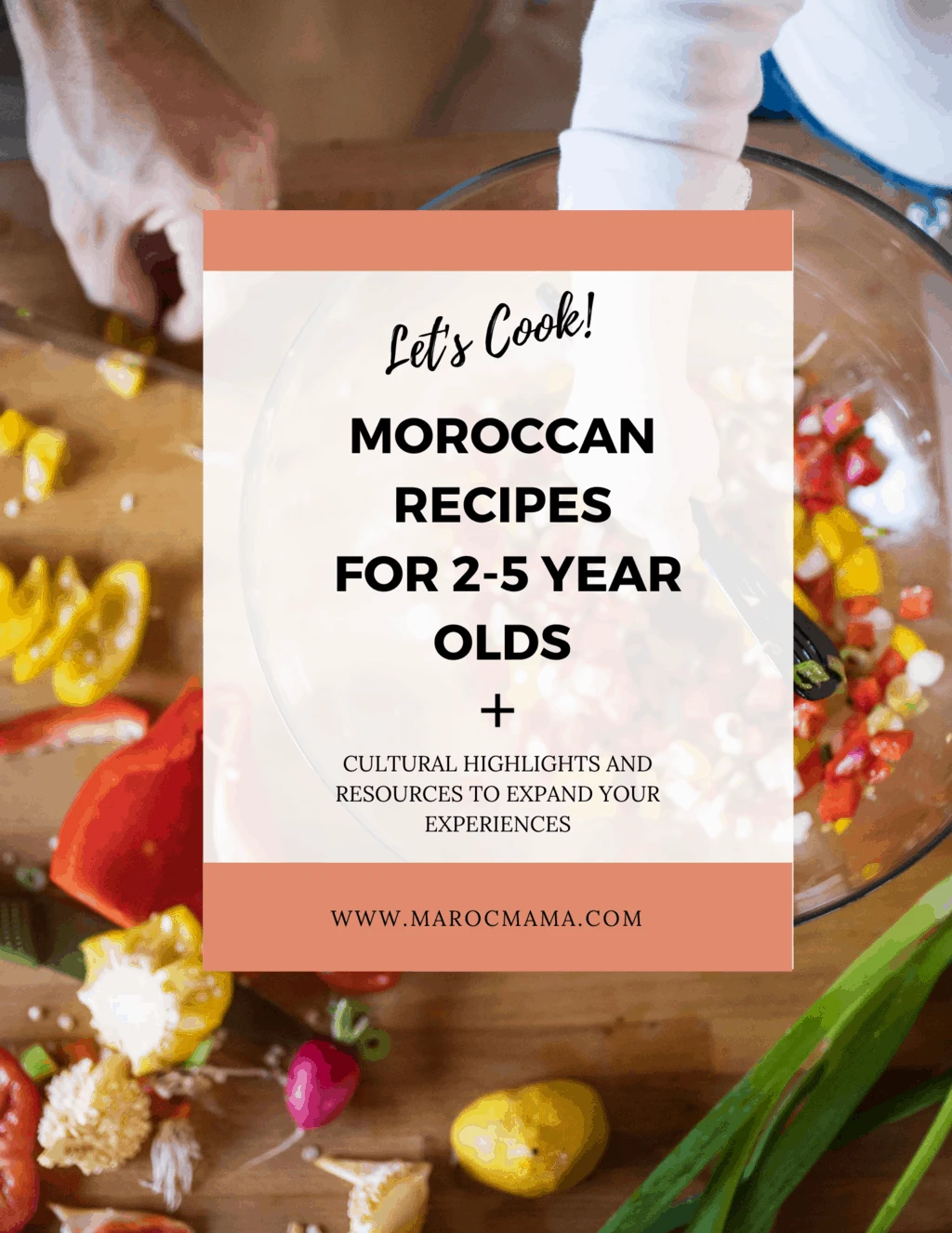 I put together this short cookbook when my sister asked me to create something that her kids could cook from. So inside you will find recipes that a 2-5 year old can help with. They will need adult help and supervision but I've broken down how to get them involved as well as some learning extensions for them.
This is an a great guide if you're planning to homeschool your preschool or kindergartener and want to get them in the kitchen trying new things.
You may also want to read;
Finding the Best Tagine Pot for You